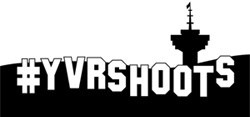 This new series had its genesis when I began photographing Vancouver area location shoots last summer to get over a long post-Olympics funk. Film and TV productions like This Means War, Mission Impossible 4, Fringe and the new AMC series The Killing showcase our city in similar fashion and sometimes put a celebrity actor or two in the frame.
I had heard that Tom Cruise does his own stunts and is absolutely fearless with fans but discounted both claims until last Friday night when Mission Impossible: Ghost Protocol (MI-4) turned the street outside the Vancouver Convention Centre into wedding procession traffic in Bangalore, India. Cruise ran very quickly through the vehicles and 350 Indian extras in take after take, at one point leaping over a car several times. And after midnight he walked straight into a scrum of fans watching the filming.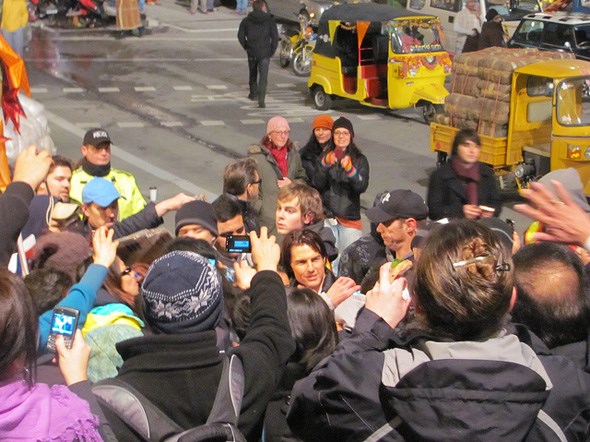 MI-4 rolled into Vancouver back at the beginning of December but Cruise proved elusive, spending most of his time filming in studio at Canada Motion Picture Park in Burnaby. Some wondered if MI-4 would do any big exterior shoots downtown. Then on Dec 16, an ad appeared in The Vancouver Sun calling for movie extras for Aries (MI-4's working title) to depict a city in India in January.
On the first Monday of the new year, Cruise and co-star Simon Pegg (Star Trek) filmed a small scene under the Burrard Bridge. And that same day, MI-4 crew started prepping the VCC to look like Bangalore: attaching leaves to bare trees, unloading palm trees and affixing Indian signs & banners to the exterior. Buzz grew over the five days of prep that Cruise himself would be at the shoot, scheduled for the end of the week. (Simon Pegg was not in the India scenes, spending the day snow boarding at Grouse Mountain).
By 4 p.m. Friday, everything was in place from tuk tuks to saris for the star to do his own running stunt as spectators gathered in the bitter cold. Cruise took a detour to say hello on arrival. jogging on the spot to keep warm while some girls screamed in delight.
What amazed me was Cruise's speed or as @jdcasa tweeted on #MI4: "He's pretty spry for an old guy". Production assistants moved spectators up to West Cordova – not a great vantage - for the second leg of the running stunt where Cruise lept over a car and some grumbled until Cruise's wife Katie Holmes and daughter Suri showed up for a photo op like no other.
All three left at "Lunch" around 10 p.m. with only Tom Cruise returning for the third leg of his running stunt. Spectators got to watch that action from the corner of Burrard & Canada Place. And after his final take, Cruise walked right into the fan mob of about 100, staying for fifteen minutes to pose for photographs, sign autographs and chat with everyone there.
Filming continued until 4 a.m. with Indian extras wearing blankets between takes and retreating into the VCC between scenes (outside caterer Curry in a Hurry provided their "Lunch"). By late afternoon Saturday, MI-4's cleanup crew had removed all traces of Bangalore, India.
I'm sure there will be other MI-4 location shoots to see before the production finishes filming here in early March. For example, MI-4 crew is said to have started a many-week prep of Vancouver Drydocks in North Vancouver for a shoot next month.
**************