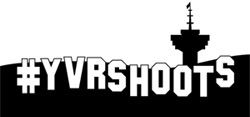 In the third year of this series, expect me to photograph and write about more of the film and TV productions which showcase our city and sometimes put a celebrity actor or two in the frame. 2013 brings Man of Steel and Elysium to theatres and ongoing filming of Once Upon a Time, Supernatural, Arrow and our own Continuum. You can find more on my daily blog yvrshoots.com.
One Valentine's night. Three shoots. Vancouver production crews worked late into the night on Valentine's Day to film scenes for TV series Supernatural, Arrow and Vancouver's own Continuum in the downtown area. I looped around from Supernatural on Station Street beside Pacific Central Station to Arrow on Franklin Street near the Terminal City Ironworks complex to Continuum at the Plaza of Nations and back again to capture our crews at work.
Supernatural crew worked inside and outside the Ivanhoe Hotel at the rear on Station Street, not packing up until 2 a.m. One exterior scene had Sam and Dean Winchester (Jared Padalecki and Jensen Ackles) arriving at the motorhome below and possibly loading a prop dead body into the trunk of a car. Arrow set up on Franklin Street either in or near the Terminal City Ironworks complex in east Vancouver to film motorcycle scenes in the morning, Moira Queen (Susanna Thompson) in a rooftop meeting and much later, someone shooting arrows into a black town car. Wonder who? Arrow ran late so probably packed up past its scheduled 2 a.m. departure. Continuum's crew started early too at the Plaza of Nations on the dock to film scenes aboard Kellogg (Vancouver actor Stephen Lobo)'s yacht (Adriana), then moved inside their Vancouver police station set with background performers and back outside for night scenes aboard Kellogg's yacht and a steadicam scene of mad time traveller Jason (Vancouver actor Ian Tracey).
Our crews work up to sixteen hours a day five days a week to bring scripts to life in all kinds of weather. Mostly cold and wet. Those lucky enough to still have jobs don't have enough time to see their loved ones on Valentine's Day far less watch the shows they work on. So no, these aren't "Hollywood jobs",  but they are good well-paid ones. And they've left for Toronto because of Ontario's superior tax credits.  As a result, Vancouver lost its bragging rights as North America's third biggest film and TV production centre to Toronto (after Los Angeles and New York).And lately, it's gone from bad to worse. British Columbia's third biggest industry, generating over $1 billion, faced unprecedented unemployment last month. Only one-tenth of 25,000 B.C. film and television workers had work here.
But there is optimism. A new survey showed three out of four British Columbians strongly support govenment tax incentives for our film and TV production industry.  So please keep the Save BC Film social media campaign going on Twitter  -- hashtags #SaveBCFilm and #WeCreateBC -- and on Facebook -- Save BC Film -- and add your signature to the petition calling on the B.C. government to move closer to Ontario and Quebec's tax incentives. Our beautiful backdrops, studios, VFX wizards and crews will do the rest. White filming trucks are a part of our city's DNA not empty studios.
Save BC Film.