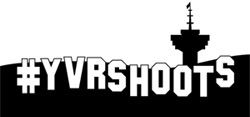 In the fourth year of this series, expect me to interview filmmakers and photograph film and TV productions -- Fifty Shades of Grey, Age of Adaline, Once Upon a Time, Arrow, Supernatural, Bates Motel and our own Continuum and Motive -- which showcase our city and sometimes put a celebrity actor or two in the frame. Find out more on my daily blog yvrshoots.com.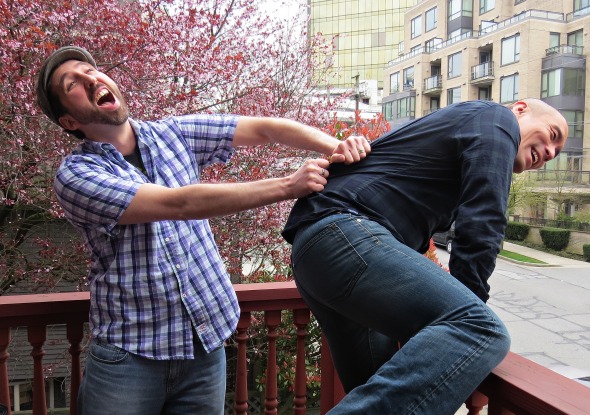 Vancouver filmmakers Clif Prowse and Derek Lee developed their feature film debut Afflicted as a web series where they would play themselves on a worldwide year-long backpacking adventure told through a video travel blog and use all their real social media accounts to facilitate a "real-people-in-a-real-situation" docu-style drama. Afflicted starts off as a European version of One Week with Joshua Jackson except Derek's life-threatening condition is AVM not cancer and he's not alone on his trip.
The two BFFs go skydiving and cross off several other items on their Bucket Lists until one night in Paris when the film takes a sharp turn into horror as Derek is attacked after taking the wrong girl home and starts to exhibit bizarre symptoms like an allergy to sunlight and superhuman speed and strength. Could Derek be turning into a vampire?
Definitely.
Afflicted is the first feature from the two Vancouver filmmakers who met in high school and have been making films together for the past fifteen years but never anything of this magnitude. How did they pull it off?  How did they shoot in all these European locations on a relatively small $300,000+ budget with 26 out of 31 days on location? It was guerilla filmmaking at its finest, Robert Rodriguez-style,  shot mainly with a $5000 DSLR camera on trains and in the streets because filming permits proved too expensive in the big cities. But the pair did shell out for a permit in the small Italian town where they filmed Entry 130 in the video blog -- the 110 foot crane stunt below.
A Derek stunt double jumps off a 30 to 40 foot ledge in a three-part shot stitched together afterward. Pretty impressive.
Afflicted is playing at the International Village and several other theatres in the Lower Mainland.