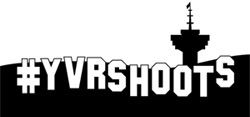 In the third year of this series, expect me to photograph and write about more of the film and TV productions which showcase our city and sometimes put a celebrity actor or two in the frame. 2013 brings Man of Steel and Elysium to theatres and filming of Godzilla, Once Upon a Time, Supernatural, Arrow, The Killing and Continuum. You can find more on my daily blog yvrshoots.com.
How did this crazy-good film-accelerator competition start? Back at VIFF's Film & TV Forum, CineCoup founder and Vancouver digital media entrepreneur Jason Joly made a two-hour presentation and then took it on the road to other major cities across Canada. The official launch party took place at the Whistler Film Festival in early December. Word spread and 90 teams from every region submitted two-minute trailers and then began weekly filmmaker missions in March designed to help them package a pitch and build an early fan base with social media tools. Soon after, a trailer with clips from the entrants started a year-long run in 1200 Cineplex theatres nationwide. Over several rounds of fan votes, the 90 whittled down to ten in mid-May, with six of the finalists from here -- Alien Abduction, Bad, Grade Nine, Scam, The Fall and The Mill and the Mountain. Let me repeat: six out of ten from Vancouver!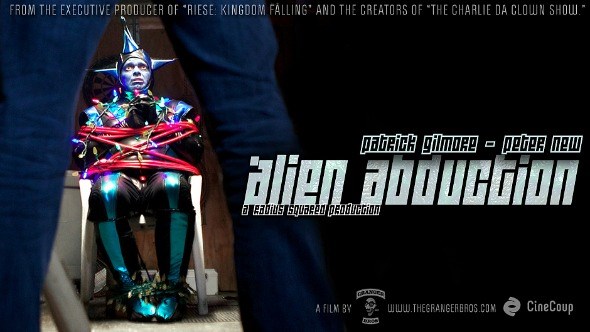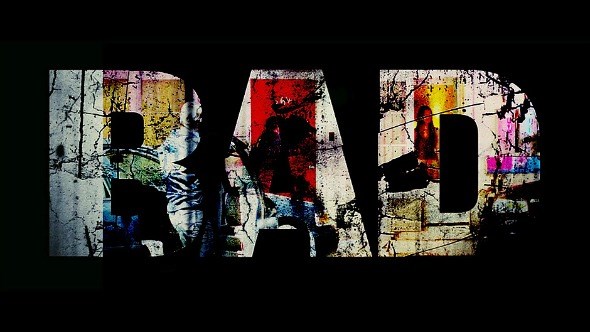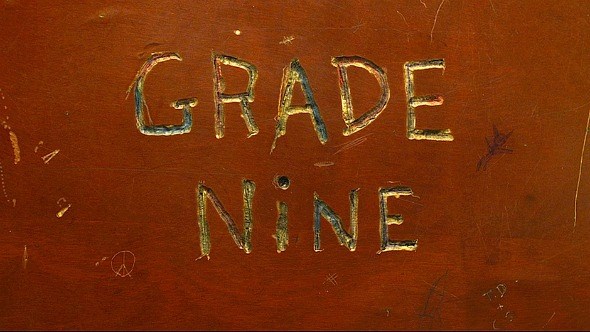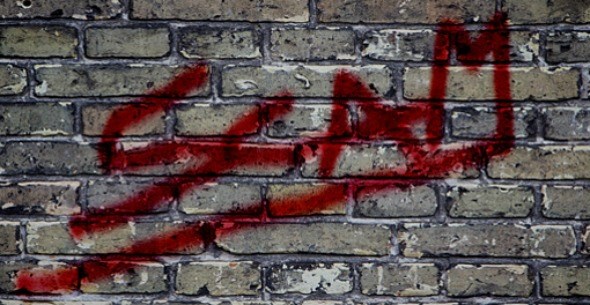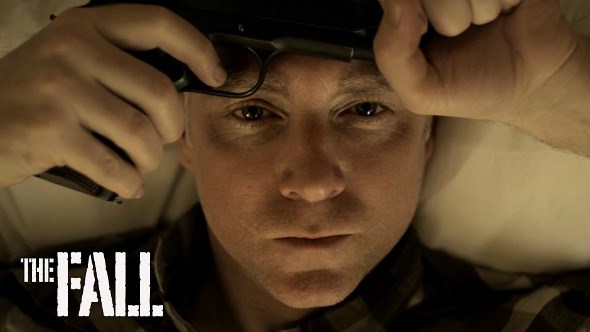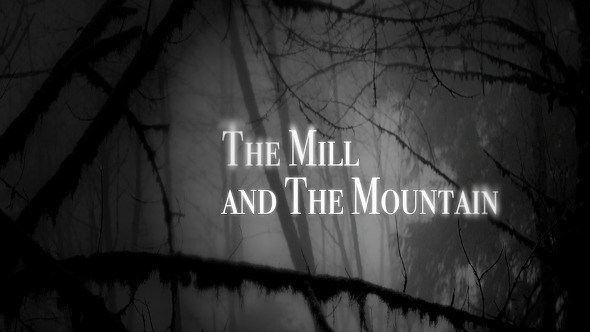 So if you haven't already, sign up at CineCoup today for the final vote and help local teams make the final five this Monday, June 3rd. They will be the lucky ones to pitch to and be grilled by a panel of film industry professionals (including uber-Canadian filmmaker Robert Lantos) at the Banff World Media Festival on June 10th. What's the prize? Up to $1-million in production financing and guaranteed theatrical release through Cineplex next year. And a movie that goes into production at the end of June.
But all six Vancouver finalists are winners no matter what happens, since the top ten projects were all optioned for development and pitched at Cannes. And there is a smaller amount of crowd-source funding to help some of them get their movies made.
For the only BC film industry "outsiders" still in competition, this has been an unbelievable five-and-a-half month journey. The Mill and The Mountain writer-director Sean Horlor was familiar with tech accelerators and liked the idea of applying it to film using a three-person filmmaking team of director, producer and marketer like a tech startup. It meant turning the traditional model upside down. Instead of writing a script, going to Telefilm or private sources for funding, making a film and then marketing it to build an audience, you market it to build an audience before making it. And a process that normally takes several years to complete is done in one. Horlor and Steve Adams (below) and the third member of their team, Sean Cox, took the real-life mystery of 40 to 60 women missing on the "Highway of Tears" from Prince George to Prince Rupert and adapted it for their own thriller -- A man tries to connect a coincidence: a teen that was found near a US-Canada border crossing and a grisly murder in a remote town 1000 km away -- hoping to capture the dark mood of movies like Girl With the Dragon Tattoo, Insomnia or Fargo. Their trailer makes good use of our X-Files spooky forests and the iconic 2400 Motel on Kingsway.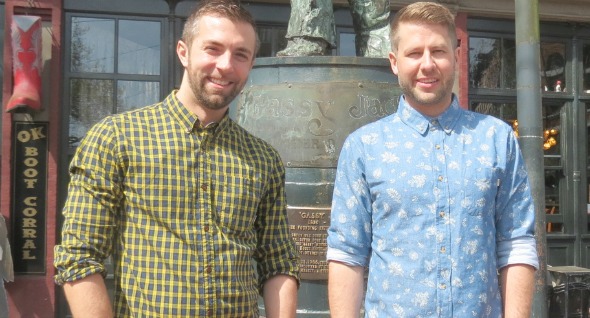 The Fall from acclaimed screenwriting trio Dana Barnaby, Shawn McLaughlin and Mike Mityok is a thriller about a waitress who falls in love with a killer played by Vincent Gale. Both Gale and the recently-cast Ian Tracey are friends of  "The Ranch", a Kitsilano house where a group of young actors and filmmakers like McLaughlin  lived fifteen years ago and talked of making a feature film together. Is The Fall that film? Their trailer is certainly a polished piece of cinematography. That kind of polish provoked some complaints early on from teams who felt the more professional trailers should have been excluded simply because they don't look like indie productions. But Barnaby says it's a "film accelerator for filmmakers" and without his team's collective experience and industry contacts they couldn't have handled the speedy turnaround expected by CineCoup for videos in the weekly missions far less a film.
The team behind suspense/thriller Scam appreciate the fan feedback on the CineCoup website. "It helps us see what's missing, like a climatic third act," Psych actor Sage Brocklebank and actor/stuntman Patrick Sabongui told me. The third member,writer Allan Morrison, couldn't make it to our last-minute meetup. Their suspense/thriller movie is based on the real-life issue of Sabongui's grandfather getting scammed out of his money. After some research, they discovered Canada is a world leader in telephone cons. Something not to be proud of but worth knowing about all the same. Scam logline: Phone lines run both ways... if you're not careful, so can the scam. A telephone scam-artist, who preys on the elderly, picks the wrong victim. To capture this seedy underworld of lowlife conmen, the Scam team used mainly handheld cameras to tell the story. It's a good fit.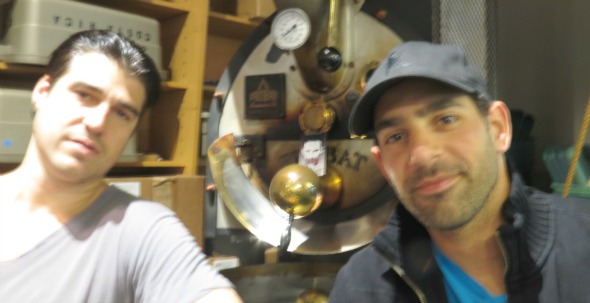 Crime drama Bad comes from a team of  BC film industry veterans -- director-writer Jeff Cassidy and producers Riley Walsh and Kristian Andresen -- and it shows in their extended trailer with a remote-controlled camera-helicopter shot of traffic on a highway and a technocrane shot of the iconic 2400 Motel on Kingsway used by so many TV series and another finalist. Plus the casting of Cassidy's friend Tyler Labine as the drug dealer who sets up the young brother and sister to take the fall for missing drugs. That's what pushes the pair into a crime spree where they discover they like being Bad. Being bad might be fun but making the Bad extended trailer sounds expensive. Cassidy says it wasn't because he called in every favour he could  to get gear donated, including the helicopter, technocranes, camera equipment, police cars and 40' lifts for lights and paid people with food. Industry cred helps:  "CineCoup could be really huge and help propel Canadian cinema to the next level and I think without extensive experience in film, how can you expect success at that level?"
Dramedy Grade Nine bridges the line between full-on drama and comedy for a story about a young Dungeons & Dragons-playing  Indo-Canadian kid who discovers his gift at wrestling gives him access to the violent world of a small northern high school in 1989. It's from another veteran BC Film team: Jay Rathore, Toby Gorman and Seth Campbell. Writer-director Rathore says he knew they were in for a heavy workload, but "the reality of  grinding out the weekly mission videos, with very little money,while juggling regular life, is brutal." On the plus side, the film accelerator pushed them to develop their story and "shoot key moments from it" and charged Rathore creatively more than ever before in his life. Team Grade Nine is ready to make a movie.
And for laugh-out-loud funny, nothing beats Alien Abduction from Gen Y writer/directors Matt and Mike Granger of  Funny or Die fame (The Charlie Da Clown Show) and producer Kaleena Kiff, the only female on six Vancouver teams of three. "It's a boys club", she says ruefully. Alien Abduction is about turning the tables on the aliens who have been abducting us for decades. Patrick Gilmore is the abductor and Peter New the Alien. The two pals last worked together on the wickedly funny mockumentary Sunflower Hour. But this time it's Peter New's face that cracks me up not Gilmore's. Like Mad Men Yourself or Walking Dead Yourself, Alien Abduction even has a mobile app to Alienate Yourself using New's alien face. Team Alien Abduction has been wonderfully inventive in their missions. It helps that beer is a constant in their movie and in their choice of office at The Moose pub off Granville, where I met them. It's also how everyone involved gets paid. For now. But after months of preparation, this comedy team is serious about going into production, either way.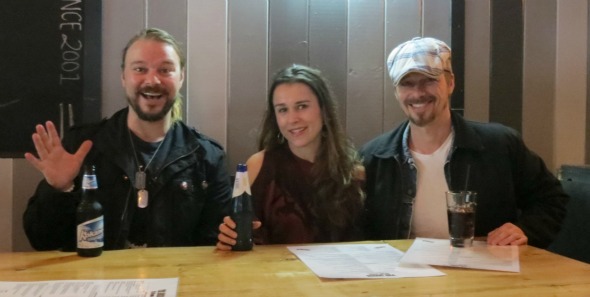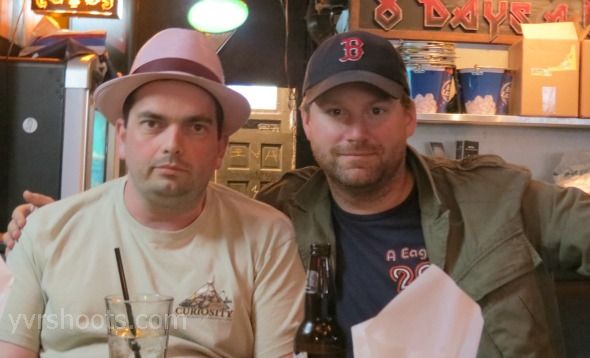 Good luck to all six teams and to their fans who've given them feedback and advanced them this far in the inaugural CineCoup Film Accelerator.
UPDATE: Three Vancouver film teams -- Alien Abduction, Bad and Grade Nine -- will be pitching at the Banff Media Festival. Congratulations !