Metro Vancouverites might have an opportunity to view the northern lights this week -- but it probably won't be a jaw-dropping display if they do.
The National Oceanic and Atmospheric Administration (NOAA)'s Space Weather Prediction Center has not issued a geomagnetic storm watch this week, meaning that there likely won't be a vibrant local viewing opportunity.
When there have been significant geomagnetic storms, residents of the Lower Mainland have captured spellbinding videos and photos of the aurora borealis.
But sky-watchers may still be able to catch some of the display locally.
When to see the northern lights in Metro Vancouver
The University of Alaska Fairbanks (UAF) says stormy space conditions could make viewing the aurora's green glow visible on Thursday, Sept. 14 night "Inuvik, Yellowknife, Rankin and Iqaluit to Juneau, Edmonton, Winnipeg and Sept-Iles, and visible low on the horizon from Vancouver, Great Falls, Pierre, Madison, Lansing, Ottawa, Portland and St. Johns.'
The university's online aurora monitor map shows what regions the aurora's green glow will likely reach, as well as other areas where there is less of a possibility. Additionally, there is a brief description below the map of the aurora activity on that particular day. You can switch to other days to see the forecast, too.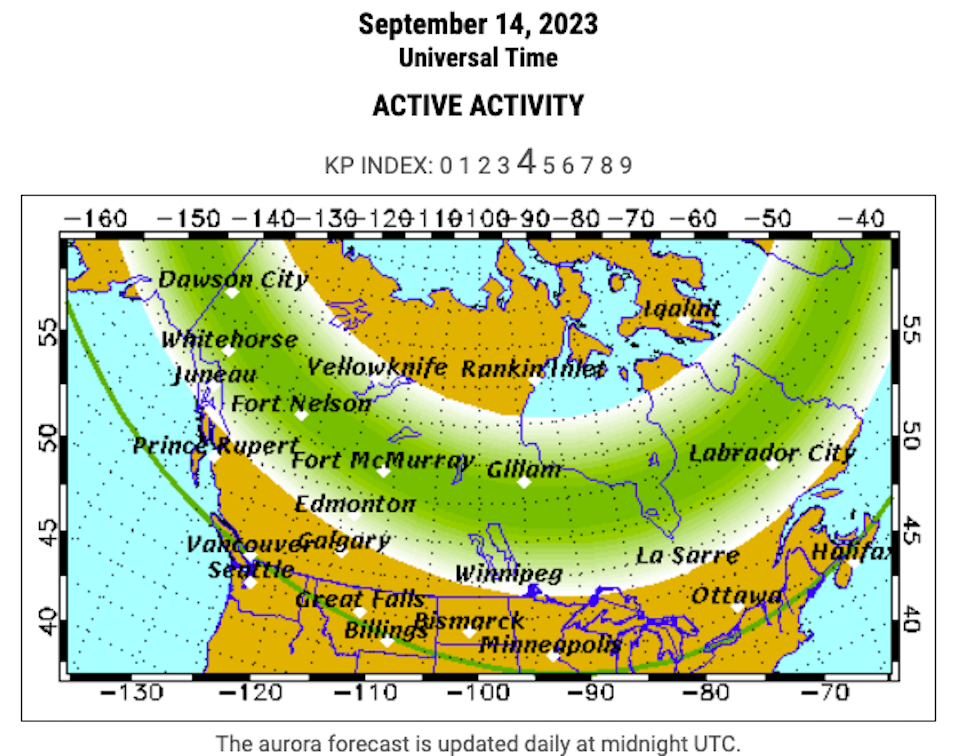 The aurora's haunting green glow may reach the same places on Friday, with the UAF's map indicating that Vancouverites might see some of the heavenly manifestation low on the horizon.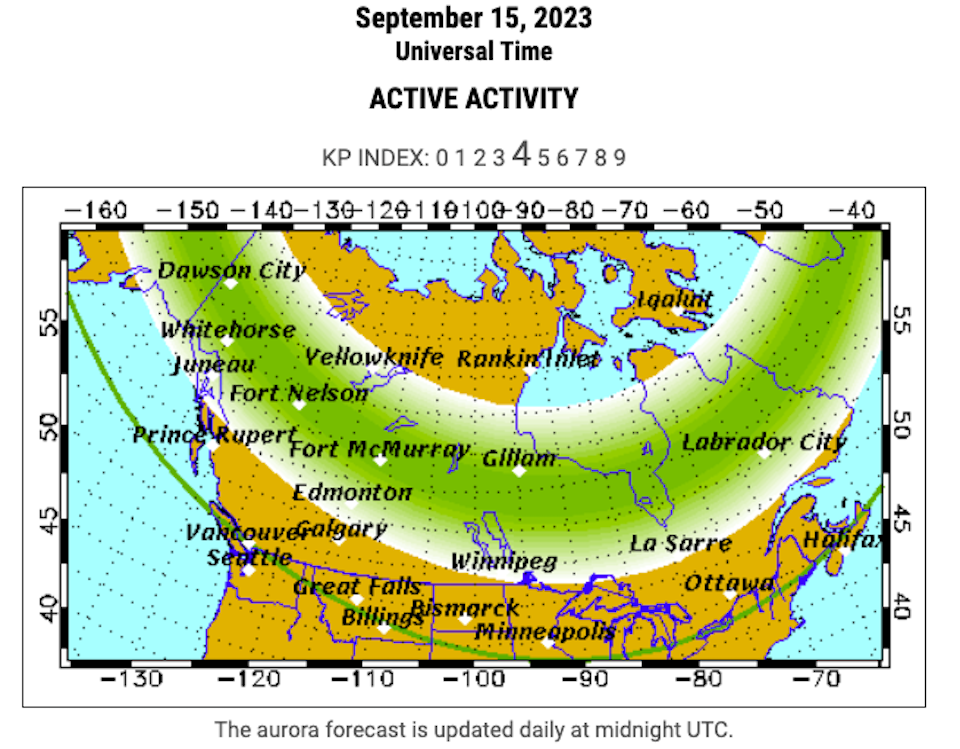 Metro Vancouver weather forecast offers ideal conditions for viewing northern lights
V.I.A.'s weather forecasting platform, Weatherhood, provides detailed, neighbourhood-specific forecasts for places across the Lower Mainland that include metrics like temperature, precipitation, air quality, humidity, and wind pressure.
For the remainder of the week, most neighbourhoods in the Lower Mainland show bright sunshine and climbing temperatures.
While it is possible to view the northern lights in Vancouver, your best bet for seeing the green glow is up north or outside of the city where there is less light pollution.
If you spot the aurora, it might not appear green or any other colour. Instead, you'll see an arcing, milky manifestation moving in the sky. In order to capture that green glow, you'll need to use a camera with a longer exposure.
Find out more northern lights information and viewing tips with our comprehensive guide.