| | | |
| --- | --- | --- |
| | | THE OPENING is all about delving into the fascinating, quirky and wonderful visual arts in Vancouver. Each week we'll feature an artist, cover an exhibition, discuss a lecture and everything else in-between to delve deep into who and what makes art happen! |
To say that Jason Gowans and Michael Love can do it all is no exaggeration: at once gallery proprietors, curators, artists, and collaborators, they can just as easily build a smokehouse with their bare hands as they can see an exhibition through from production to installation. It was the former state of affairs that Love was initially occupied with when he let me into Gallery 295 on a torrential Sunday morning, rain-slicked from a motorcycle ride into the city from his home in the outlying suburbs. Under the industrious moniker of their collaborative effort, The Everything Co., Gowans and Love were to construct a cedar smokehouse in the heart of downtown Toronto for Nuit Blanche, during which they would smoke enough sushi-grade salmon to feed hundreds of spectators. (Though they had been fretting about the feasibility of such an undertaking at the time of this interview, a newly-returned and euphorically exhausted-looking Gowans reported to me last week that everything had gone even better than planned.)
Unsurprisingly, it was their collaborative work for The Everything Co. that allowed Gowans and Love to gain a foothold in the infamously reticent local scene after they moved here from Montreal. The pair threw barely-legal speakeasies that brought the art community together in otherwise inaccessible heritage spaces in the city, highlighting hidden local histories while serving up gallons of moonshine that they had distilled in their own basements. Like any law-dodgin' moonshiners, however, Gowans and Love gave up the gig once word spread too far. Instead, they channelled their energy into opening Gallery 295 in the burgeoning contemporary art district at the base of Mount Pleasant, and now divide their time between their individual art practices, collaborations, and programming what has come to be the best roster of contemporary photography in the city.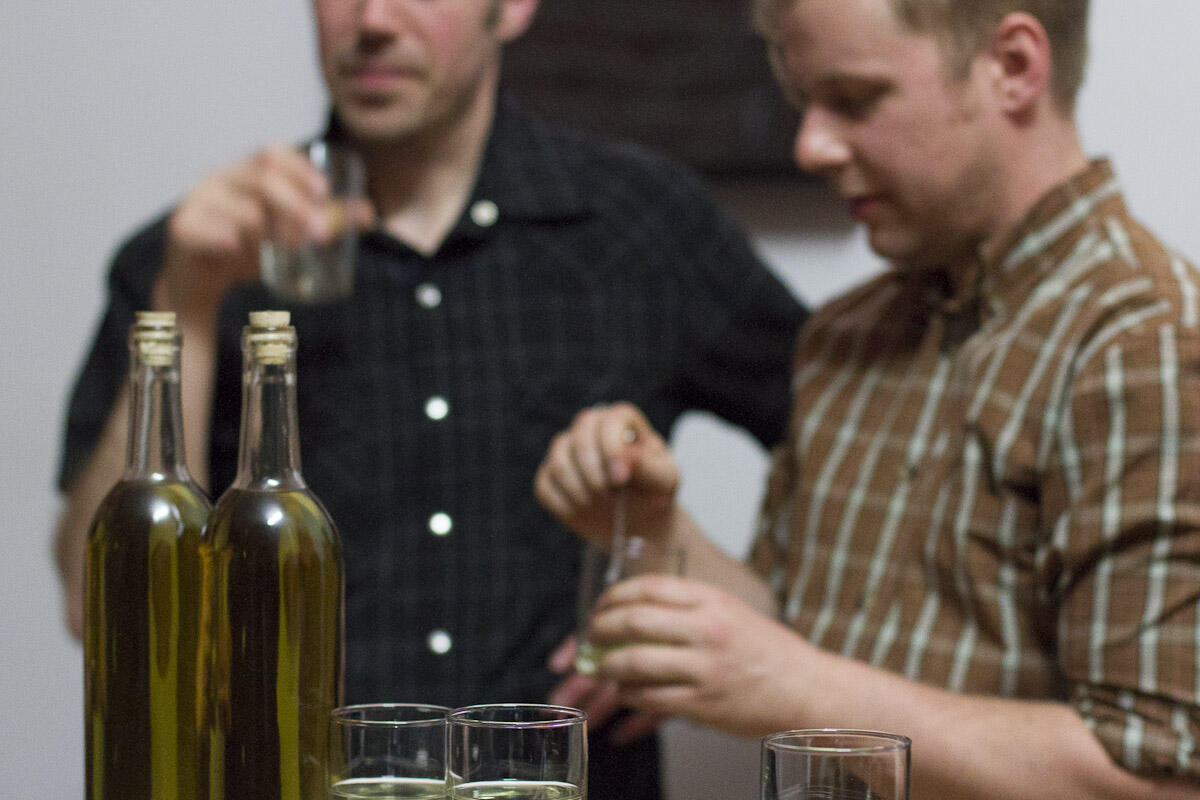 Jason Gowans & Michael Love taste-testing some moonshine at 221A. Photo: 221A.
VIA: What made you two decide to start a gallery together?
Jason Gowans: It all started when Mike and I were working at the Lab. We both grew up in Chilliwack, but we met in Montreal at Concordia. I think that one of the major problems that happens when you do your degree in photography is that you're privy to all these facilities, but once you exit, you're on your own. What cost me $50 before will now cost me $500. Your practice can go totally downhill in terms of production. Quite honestly, that's why we worked at the Lab — having access to these facilities as photographers is amazing and keeps you doing this sort of work.
When I got back to Vancouver I started Googling which places had light jet printers or inkjet printers and sent out resumes to any place that had them, because I knew that I could use it as a studio so to speak. Hugh, the owner of the Lab, was really interested in opening a gallery and approached us about curating it. We thought it was a great opportunity to create a new dialogue of photography.
Michael Love: The way that we envisioned running it was sort of like a residency, in that most of the work would be made here and that we would make the means of production more accessible to each artist.
JG: Essentially we saw the gallery as being a solution to the problem that we had in terms of access to facilities. Dan Siney, for example, is very prolific — he'll just shoot and shoot and shoot and shoot. We were able to process film for free for him for a year. He would drop off film, we would process it and scan it, and that facilitated this work flow for him. At the end, we were able to have this exhibition.
ML: These are sort of things that Jason and I work on after hours — it's our own time that we put into helping artists produce the work.
JG: And we've been interested in working with people who aren't photographers as well. When Until We Had A Helicopter came in, they had never shot photos before. They would approach us with ideas and we would go shoot for them, drive out to Chilliwack or to their studio. These things get kind of mushy, though, because Mike and I are artists and we collaborate together, and we're producing works for these artists. You enter into kind-of collaborations, weird spaces where everything kind of overlaps.
ML: I think Jason would agree that we have started to see the gallery as an extension of the Everything Co.
The Everything Co., Backpack Smoker. Photo: The Everything Co. 
VIA: What is the Everything Co.?
ML: The Everything Co. was started by Jason in Montreal with another artist, Max Powell. How long did you guys work together?
JG: Just a year. When I came out of undergrad, I had two elements to my practice: one was more performative and less clearly defined, and one was a pretty distinctly studio based practice. Separating things between my solo practice and the Everything Co. allowed me to bring on people and collaborate with them and take on projects that I didn't really think belonged within my studio practice. It allowed me to work with friends, which was really important to me.
ML: On that note too, I feel like my practice is divided into two as well. I've got a near-documentary photo practice that I do, but also I work in a more conceptual vein with some projects. I kind of approach my work from project to project, but it tends to be between these two ways of working. So to make sense of it, when Jason invited me into the Everything Co. it made sense to push these other projects towards the Everything Co.
JG: Also, on a purely practical basis, when we first started working on the Everything Co. when it came to Vancouver, we started working with Access Gallery on this project where we were distilling our own liquor and essentially started holding illegal speakeasies at various locations. We were making whiskey and making gin and coming into places with specific histories and holding these events to highlight the histories of the buildings we were in and things like that. We were doing an interview with a magazine and all of a sudden I was like, well, we shouldn't use our real names! This is really illegal!
At the time, I had a friend who was published in a magazine and it was found out that he was involved in some illegal activity, and he couldn't cross the border. So we used the name the Everything Co. as a way of anonymizing ourselves. We've relaxed in terms of our willingness to say our names in regards to that project —
ML: That project's pretty much over at this point.
JG: — and it's not as public. So that came out of practical terms too.
ML: That project got out of hand really fast. We thought that we'd have these speakeasies, thinking maybe thirty people would show up, but there would be a hundred or more people there.
JG: Oh, it was crazy! I would distill and distill and distill, and come with fifteen litres of alcohol and it would be gone in an hour! I remember this one speakeasy we were doing, and it was the first time that we really realized that things had gotten out of hand, when we were making old fashioneds with this whisky I had made in the basement of the Chinatown Freemasons Hall on Pender. I remember our mailing list was really small but word spread — we kept everything off of Facebook — and I remember making just a few old fashioneds and looking up and there was a line-up of what must have been 45 feet long.
ML: It went through the whole room. It just turned into an assembly line after that.
JG: I totally called upon all my instincts as a cook and was like, lining up twenty five glasses and double handing it. That project got pretty crazy pretty fast. Unfortunately, when that happens, things get focused less on the histories and more on the party. We've had a chance to give a few artist talks about it, and we feel like if that project goes any further, we are going to use it as a facet of the same thing we are doing with 295 — we'll use it and set it up once in a while, but we won't give it away for free like we were doing before. We'll charge for it in a way to establish a sort of grant system to fund a project that we like. Let's say an artist has an idea that they just didn't get Canada Council Funding for — we would take on that artist and moonshine for them a little while with hopes to fund that project.
What Gallery 295 and The Everything Co. have in common is this idea of working for people. Obviously there is artwork that is created through that, but I think that a good portion of what we're doing is facilitating things — being a company that facilitates projects.
ML: And I think in a lot of our projects, too, there is this idea of giving — we put in all this effort and just give it away to somebody else! In the Nuit Blanche smokehouse project, for example, we're giving out fish to the entirety of Toronto.
JG: The Everything Co. also references the NE Thing Co. Both them and us I believe are referencing this idea of corporation within in the art world. But, if we are a corporation or a company, we are the worst company! We have no idea how to make profit —
ML: — we're so in the red!
JG: We just give away — we're in the sample business. That being said, that sort of translates to the art gallery too. We're really bad at selling work here! Every other gallery in our neighbourhood, except for Grunt and the Western Front, are commercial galleries.
Dan Siney's exhibition installed at Gallery 295. Photo: Gallery 295.   
VIA: Do you see yourself as an artist run centre or a commercial gallery?
JG: We're somewhere in the middle, I think. We don't have a board, we don't have any funding.
ML: We have this space for free — the owner of the Lab is giving it to us as a place to use. We kind of have to justify ourselves by trying to sell work, but we're really bad at it and we don't sell much work. Most commercial galleries take fifty percent, but we only take twenty five. It's a nice space to be in where you show work that you want to show, not because you think that it's going to sell, but because you think it's good work.
JG: But that being said, if we were an artist run centre, we'd be a weird artist run centre because everything that we show is on the walls. An artist run centre is a space that's kind of made for all these other arts that don't necessarily have a spot in a commercial gallery. But part of photography is inherently having an object that sits on a wall. People can think about it in a way that goes above their couch, or in that it's something that a collector could collect.
JG: We're also in a place with photography where photography is so over saturated with images right now that photographers are trying to make sense of the medium in a way that's different from this constant feed of images that we are faced with every day. It's understandable that photography starts to come off the wall and take sculptural or experimental forms.
ML: These are all sort of ideas that we're concerned with at the gallery — where photography stands at the moment.
JG: And for that, I think that Vancouver is known for a very specific photo history, and we are trying to present a different one than that. Vancouver's got a white male history, and we are trying to program things within 2013-2014 that present alternatives to the photo conceptualist history that Vancouver has.
 Jason Gowans, Five Landscape Modes
VIA: How do you see yourselves fitting in with the future of photography?
JG: I think the way we think of photography is different now; or it's becoming different. There is more going on than photography's index, you know. The thing represented in the image is not just the main quality of the photograph anymore. I think a really good example of how we view images is through this idea of a network, where you google something or you're on Instagram and there's a hashtag to it, and you're just hit with a barrage of images of that thing.
If you're doing research or you want to see something or you're just sifting through things, you don't have to go to that place and take a picture and see it, or flip through books and just see one picture. You can be confronted with multiples of the exact same view over and over and over again. I think that what's happening with photography that's really interesting is that it's not singular images, but networks of images; that becomes an interesting space to understand the reference of photography and how it fits into a bigger picture.
Also, I think that one of the things about photography that we're really interested in with the gallery it that everything is funnelled through printers nowadays; at the Lab, we do two process of printing, inkjet printing and light jet printing. But the majority of printing is done inkjet now, which means that the condo sign down the road and the print in the gallery are printed on the same thing. I think a lot of artists these days are really recognizing that, and subsequently everything is collapsed or mixed up into these grey areas of what photography can be now.
ML: It's become more of a print medium than it traditionally has been.
JG: So those are the kinds of issues that we had at the gallery: what does it mean to make photographs in a place where everything is digitized? You see a lot of artists where the qualities of photography become different properties that they have to deal with.
ML: When we started the gallery, we were thinking that it would be great to get artists who don't traditionally work in photography to come in here and see what they do with the facilities. When we were thinking of the output, we can do illustrator files or whatever. Pretty much anything can be spat out of these machines now. We were hoping that someone would come in and challenge the medium — we just need to find the right person.
 Felicia E. Gail, Blanket Horizon exhibited in Gallery 295's Lightbox. Photo: Gallery 295.
VIA: Another thing you feature in the gallery is the Lightbox project, which runs concurrently with your exhibitions. Could you tell me more about that?
JG: So far it seems like we've been able to match up the lightbox with the current exhibitions in an interesting way. Sometimes there are artists we want to work with who can't fill the space yet, so we will invite them to propose a project for the lightbox. They come in, they're allowed to print at cost, it's something we have up for three months or two exhibitions. We see it as a way to have a singular work up and engage with artists we can't give a solo show to.
ML: I also feel like most photographers want to put their work in a lightbox at least once! A lightbox is not a cheap thing to make or have, so it's a good opportunity for people.
JG: It's something that, when we're programming, we try to program at least eight months in advance, but with the lightbox we try to keep it a bit more open in case we have a studio visit and someone has a project idea — we can kind of help them realize it.
 Michael Love, Self Portrait with Rifle.
VIA: So why are you guys so generous?
JG: Because we're suckers!
ML: I feel like coming into Vancouver, I mean, we both used to live here, but we never got established in the art scene here. I think for us it's been a way of helping ourselves along — to help other people.
JG: It's completely selfish.
ML: But in seriousness, I feel that art should be about a community and sharing ideas. One of the best ways to build a community is to help each another out.
—
Jason and Mike have lots coming up: see their new projects below.