Coming to Vancouver next week: a special opening of sorts by
Drawn and Quarterly.
  A double book launch and opening to be exact. On the 16th of July, Marc Bell and Anders Nilsen, two acclaimed cartoonists whose work straddles the dividing lines of fine art and comics will be at
Lucky's Comics
at 7pm to talk with folks about their two new publications that have just been released by Drawn and Quarterly:
Stroppy
 and
Poetry Is Useless.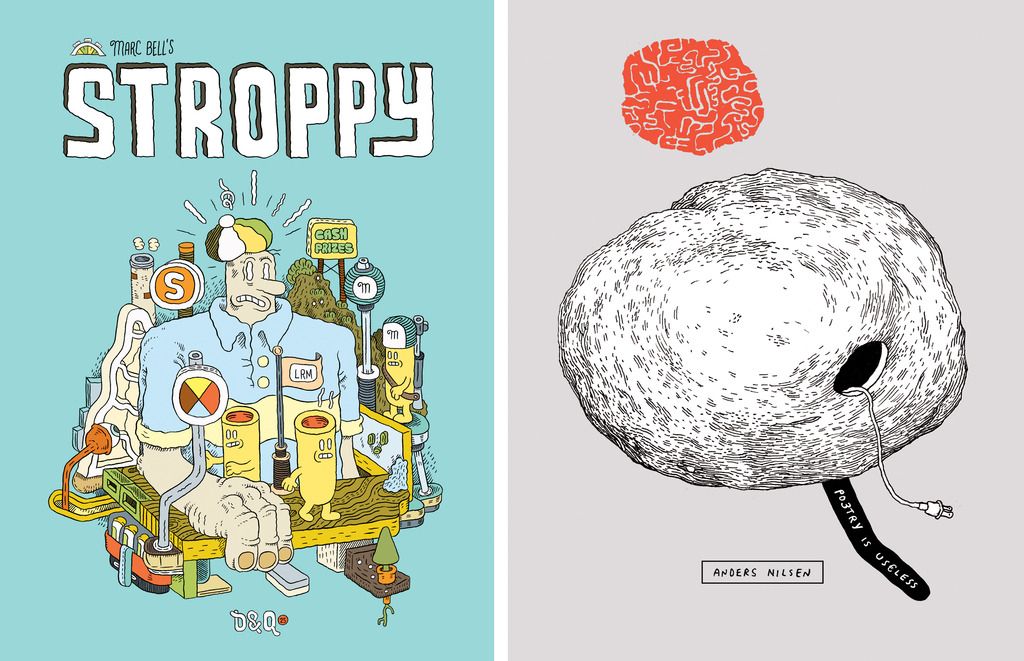 VIA caught up with Bell and Nilsen on the road as they are currently travelling the West Coast promoting their books in Los Angeles, San Diego, San Francisco, Portland, Seattle and Vancouver. They gave up some interesting intel on their books, perhaps it will be enough to entice readers to visit Lucky's on Main Street next Thursday and meet the artists in person.
ABOUT POETRY IS USELESS:
Part travelogue and memoir, part commentary on politics and culture, and part playful conversational ping pong match with his readers, this sketchbook-as-graphic-novel by Anders Nilsen pairs elegant, inventive drawing with a genuinely funny, raw, and unexpectedly moving take on contemporary life. This work is a selection of comics, illustrations and musings from Nilsen's sketchbooks from roughly 2007-2014.
Q&A with Nilsen:
VIA:  Concepts and story-lines ebb and flow in some sections of the book, yet they are completely disjointed in other places. Reading this book chronologically is difficult. It was much more satisfying to jump around to different sections. Perhaps there are parallels between the disordered chaos of the book to experiencing life; with many distractions at hand, many things that draw on our attention… In composing the book, were you thinking about rhythm?
NILSEN:  Yeah, I always think about rhythm in putting together a story or a book, or even when hanging drawings on a wall. The structures of stories to me are similar to the structures of music – there are loud parts and quiet parts, the establishment and development of themes and the fulfilling and breaking of expectations, etc etc. Some songs are a little dissonant in places, maybe this book is a little like that.
VIA:  In a previous interview with Marc Sobel where he asked you about the origins of the title of your new book, Poetry is Useless, you highlighted that it pointed, in some ways, towards your ambivalence towards Art. Can you elaborate a bit more on this?
NILSEN:  If art has a function it's not obvious the way, it is for plumbing, say, or medicine, or engineering. And there is arguably a self-indulgent aspect to being an artist. You aren't saving lives, or delivering food or making people's lives easier in any obvious way. I basically accepted that for the most part when I was younger. I even made a book partly about it. Some would argue that the point of making art is precisely it's purposelessness. But I have a more nuanced sense of this now, having lived a bit more of my life. Art has a lot of things you might call 'functions', one of which – especially in the telling of stories – has something to do with wrangling a feeling of sense and order from a life and universe that can be very chaotic and absurd and feel senseless. So that's one of its functions, but sometimes it fails, too. In which case it is as useful as, say, a broken hammer is for pounding nails. Hence, ambivalence.
VIA:  How are you able to strike a balance that is challenging but also further develops your work when experimenting in multiple contexts? For example, you illustrate, create comics and also create art all within different contexts. Surely there are things that must be sacrificed as well as things that are gained from this way of working, what are your thoughts?
NILSEN:  You mean from interdisciplinary-ness? I don't know that I think about it in terms of things that are gained or lost, pro and con… the work I make just turns out that way. Part of what I like about making art is that I sometimes surprise myself. Drawings pro stories take unexpected directions. That seems harder to do if you stick to one way of working. On the other hand It I think that shifting styles and formats can be confusing, and potentially off-putting to my readers. I mostly just hope that they are willing to give me the benefit of the doubt that the different modes are going to be worth it.
VIA:  Please give your three favourite pages from your book and explain why.
NILSEN:  My favourite pages are probably the ones that manage to shift between being funny, poetic and dark the most quickly. And a little absurd. And ones that are both visually and textually engaging. Page 66 has a nice little monologue about love, and two drawings of ears that I really like. The spread on pages 100-101 has a little of everything, including God, the Devil, an nice abstract shape drawing, and Winnie-the-Pooh. And page 217 has a nice little story about Pluto and its moon cast as angst ridden lovers, that I really like.
VIA:  You've already begun touring with your book, what has been your favourite feedback on the book to date?
NILSEN:  The tour is just barely starting as I write this and I've only done one reading from the book so far –  at a poetry event, strangely enough. And tonight I'm doing a reading at the Poetry Foundation in Chicago, so apparently poets either have a good sense of humor, or else they are very slightly masochistic. Either way, the reaction has been very positive. One of them did make an attempt at defending the art form to me after the first event, though, so I explained that the title was not necessarily meant to be taken literally, that it is meant to be, as they say, "poetic".
ABOUT STROPPY:
Enter the strange and wordplay-loving world of cartoonist and fine artist Marc Bell (Shrimpy and Paul, Hot Potatoe), where the All-Star Schnauzer Band runs things and tiny beings hold signs saying "It's under control." Densely detailed not-so-secret underground societies, little robots, and heavy weight humdingers leap off the page in full color.
With
Stroppy
, Bell continues to explode the divide between fine art, doodling, and comics.  Sean Rogers from the Globe and Mail wrote about Stroppy
"

Bell's wacky allegory about precarious living conditions and co-opting culture is less graphic novel than full-on concept album: a posthippie fantasia, filled with high-minded ideals about labour and art, but orchestrated with gleeful, low brow verve."
VIA:  Please tell us about the three main characters in this story: Stroppy, Mr. Sean and Monsieur Moustache.
BELL:  Stroppy is sort of a working-class everyman? I suppose he is also irritable. And a bit of a flat character: a lot of nonsense is thrown at him. Sean is just plain irritating (or at least I intend him to be). Sean will throw his own mother out of her house if it means he can get ahead. Monsieur Moustache is a French stereotype. He is also a petty tyrant. Or perhaps, an old world version of a petty tyrant?
VIA:  Are any of them based on individuals you know in life?
BELL:  None of these characters are based on specific people in real life. Monsieur is sort of based on a Jim Henson kind of character I guess? Those eyeballs? He is my longest running character in this book if I am recalling correctly, I have been drawing him as far back as 1993.
VIA:  Absurdity and excess are in great abundance in this graphic novel both in the storyline and aesthetically. It is a delight to unfold and discover all of the visual and literary information on each page. What really intrigues me is the colouring of the book, each strip and page has a unique palette, and it seems to ground the chaos in some respects. Can you tell us about the process of colouring for this novel?
BELL:  I love colour and, fortunately, it is very popular to print books in colour these days. I chose a basic palette and coloured a few pages and I had some great help with Drawn & Quarterly (the publisher) to fill in the blanks. Of course, many characters are introduced throughout the story, usually more than one on each new page and so I had to carefully supervise the process. And I am very picky about colour so I would always go over and over the pages to get that certain look I wanted. I am happy you like the colours.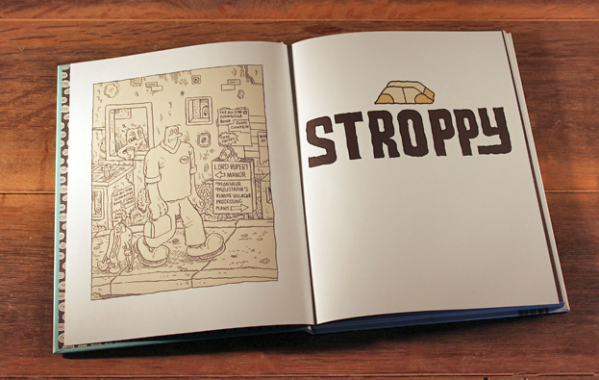 VIA:You've already begun touring with your book, what has been your favourite feedback on the book to date?
BELL: Sean Rogers wrote a very nice review about it in the Globe and Mail which I thought summed it up nicely. And there was a review in Paste Magazine that was great as well. When the book debuted at TCAF, a young person approached the table and he was very excited that Monsieur was in the book. He seemed to know a lot about him and he gave me an envelope filled with drawings he had made of the characters. If you wish I could send you a scan.
VIA:If you had to describe this graphic Novel in just five words, what would they be?
BELL: Goofball-Vaudville-Power Structure-Comics.
About Drawn & Quarterly:
This last year Drawn and Quarterly celebrated 25th year anniversary and launched this book: Drawn & Quarterly: Twenty-Five Years of Contemporary Cartooning, Comics, and Graphic Novels is an eight hundred-page thank-you letter to the cartoonists whose steadfast belief in a Canadian micro-publisher never wavered. In 1989, a prescient Chris Oliveros created D+Q with a simple mandate to publish the world's best cartoonists. Thanks to his taste-making visual acumen and the support of over fifty cartoonists from the past two decades, D+Q has grown from an annual stapled anthology into one of the world's leading graphic novel publishers. Drawn and Quarterly's catalog is distributed widely in Canada, the US and the UK, it's headquartered in Montreal, where it also has a storefront.
MORE INFO: