Earlier in the year The Opening series on VIA wrote about the
New Media Gallery
. Their impressive line-up of international artists continues with a new exhibition entitled 
5600K
 that will open on Friday August 14th. Three installations will compete for your attention, more specifically, they will compete for your retinas!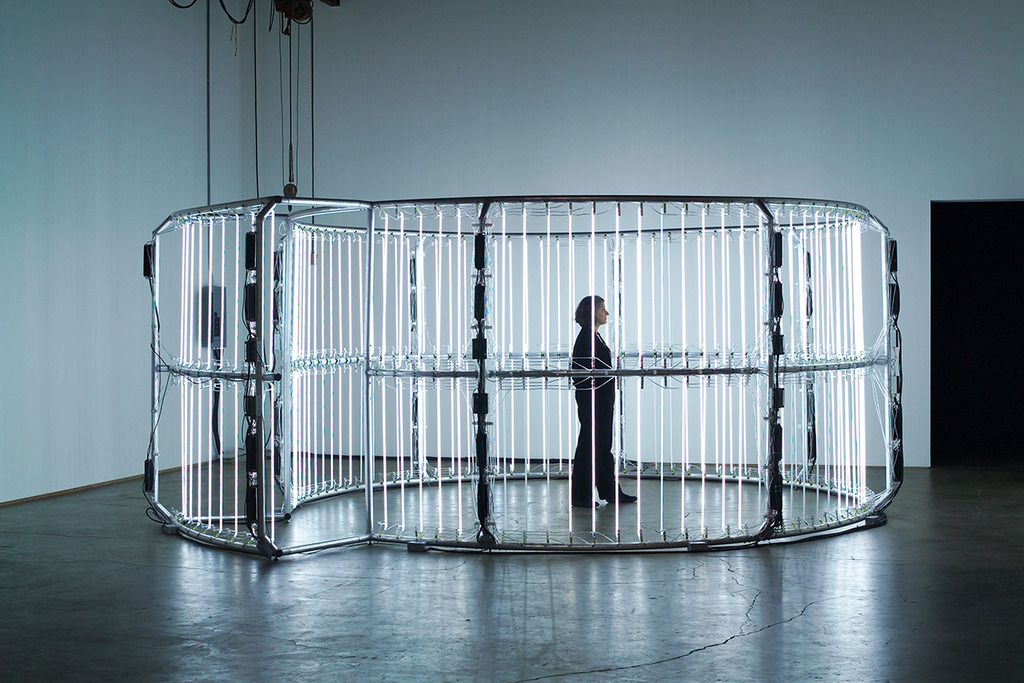 The opening of 
5600K
 also happens to be the official launch of ISEA2015. Kicking off the start of the Friday evening, ISEA2015 Symposium Director
Philippe Pasquier
will introduce highlights on what will be happening over the 14th-18th of August. Following this he will also introduce the first keynote speaker for ISEA2015,
Dominique Moulon
. Visitors will then be invited by The New Media Gallery curators to get their fix of
5600K.
As a preview of what the 5600K is about, curators Joyce and Duggan prepared this exhibition statement:
5600K refers to the colour temperature of a defined, white light that has become a standard in film production, used to replicate the appearance of natural light at the brightest time of day.  It is understood as both real and false: a verisimilitude, a simulacrum. The manipulation of light in visceral, illusionary and poetic ways, the attempt to dismantle boundaries, space, structures, bodies and perception itself, the fascination with finding new languages of visual experience…all are of particular interest to the three artists in this exhibition: Carsten Holler, Gunda Förster and Elizabeth McAlpine.
VIA also chatted with curators Joyce and Duggan about the exhibition, their connection to ISEA and their thoughts on Disruption:
VIA: How did the theme of 5600K as an exhibition come about?
Joyce & Duggan: Early on our curatorial thought process was hovering somewhere in the broad area of light, movement & perception.  We have a bit of a history working with light.  Living in the UK we worked with light installations by Dan Flavin, Martin Creed, Olaffur Eliasson, Allora & Calzadilla.   We knew we wanted to do something visceral, completely immersive and very exciting.  At that point the exhibition was planned for a later date in 2016.
We always spend a lot of time thinking about how the works will physically sit together in the gallery – how they will animate the space and read in relation to each other.  Often we will make digital mock-ups so we have some real time sensory understanding of what might happen if you put certain works together.  We are fairly ambitious when it comes to rebuilding the gallery for every exhibition.  NMG is not a large gallery and it is very particular in its requirements.  A lot of thought is put into the design of each exhibition.  Light is an aggressive, expansive medium.  When works of new media art play together there are always surprises.
The idea of 5600K was introduced just before ISEA2015 contacted us.  5600K is the colour temperature of white light.  It is also a colour temperature that has been chosen by the film industry to represent or reimagine bright daylight…for example high noon.  The idea of restricting the exhibition to white light helped narrow our focus.  We also became more interested in works that incorporated or perhaps confused layers of the real and the imaginary.   A few works began to sit well together. Their physicality, the way they mirrored each other conceptually and physically, the fact that they were distributed along a 15 year time span.  At this point we were contacted by ISEA2015  who were interested in including our exhibition in their schedule.  We were delighted to participate.
Partly through necessity and also desire we to try to remain as flexible as possible.  We want to be able to take advantage of great ideas and opportunities.  We're not interested in setting up any particular expectations or patterns in the way we curate or present work apart from making good exhibitions.  We feel it is important to step back  and hear new opinions and ideas from outside. This allows for flexibility and growth.  After we read about the ISEA theme of Disruption we realized this exhibition we had been planning for the future was very much about disrupting the senses, perception and conceptual frameworks.  And the exhibition that was scheduled for the ISEA timeframe would not work.  So we began to quickly contact lenders and try to move 5600K up so it would coincide with ISEA2015.   At this time we also approached a Vancouver artist who we very much wanted to include in the exhibition.  In the end, purely because of space constrictions, we had to make the difficult decision to let his work go.  The three works in 5600K definitely fill the gallery!
VIA: You have had a ton of enthusiastic feedback from the New Media Gallery's recently ended POPart, the works that will be on exhibit for 5600K will be less hands on but equally immersive and interactive for the senses. What do you hope your visitors and audience takes away from 5600K?
J&D: Our last exhibition POPart had 7000 visitors through the door.  All of them had some interaction with the curators or a docent.  At this early point in the existence of the gallery, visitor engagement is vitally important.  We don't have history or precedent to fall back on.  Such active engagement has caused the gallery to build up a devoted audience very quickly.   Let's face it, people like information, they like to feel included, they generally don't wish to feel ignorant.  The best way to make art galleries vital is to make the work accessible.  We're not  interested in confining ourselves to any particular audience.  We are a public art gallery.  People who are unfamiliar with art galleries feel comfortable in NMG as do people who visit galleries regularly.   During POPart we had groups of people who just hung out.  We had visitors returning for multiple visits.  There were literally hundreds of comments in our comment book.  As curators that was exciting for us.  The public were able to experience some challenging works of art in POPart by well known, international artists.  They felt comfortable enough to ask questions, give opinions and be heard.  And the people who were familiar with contemporary art and galleries were able to take in the gallery on their own terms. And from what we heard, they felt inspired too.
We hope 5600K is provocative and inspires discussion in and out of the gallery.  We want our visitors to experience a completely different gallery than the one they saw in POPart.     Perhaps a more challenging space.  Possibly even more immersive.    We want our visitors to leave filled with ideas.   We hope they have a mind-blowing experience that will have them wondering what's next in store and marking their calendars for their next gallery visit.
VIA: How do you see 5600K connecting with the theme of Disruption?
J&D: Disruption is a big part of this exhibition in many ways.  The artists in the show manipulate light in visceral, illusionary and poetic ways. Each work alludes to the disruptive potential of light on physical bodies and the surrounding space.  The works themselves disrupt narratives, boundaries, physical bodies and perception itself.  There seems to be a fascination with using the malleable and symbolic qualities of light to disorient and deceive the viewer.  When you visit the space you will see we have designed it in such a way that there are also disruptions to the physical space.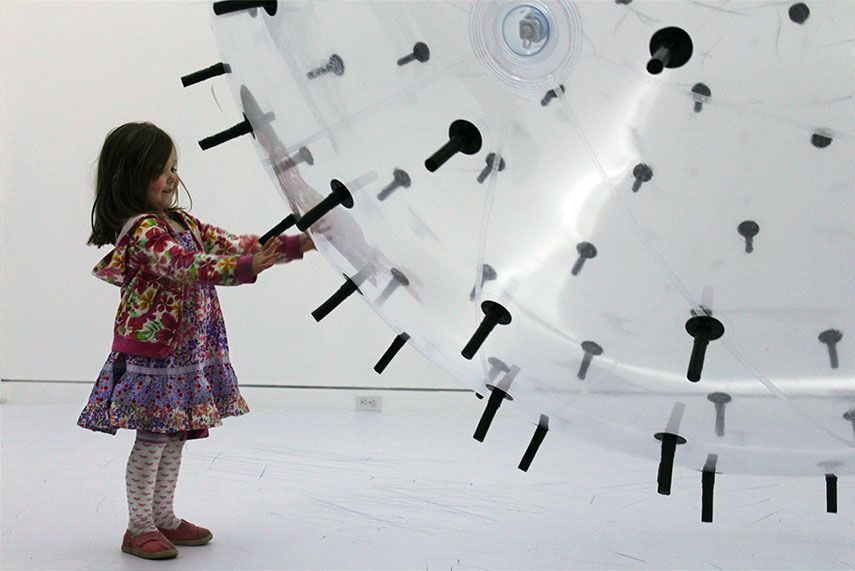 More information:
ISEA2015: http://isea2015.org/about/
The New Media Gallery: http://newmediagallery.ca/
Dominique Moulon: http://isea2015.sched.org/speaker/dominiquemoulon#.VcUt5J1Viko
Philippe Pasquier: http://isea2015.sched.org/moderator/philippe_pasquier.6fimbgz#.VcUt_Z1Viko
Sarah Joyce: http://isea2015.sched.org/sarahjoyce1#.VcUuFp1Viko
Gordon Duggan: http://isea2015.sched.org/gordonduggan#.VcUuOJ1Viko
If you would like to attend ISEA, please visit the Registration Page for more information.