The International Symposium of Electronic Art is not only about exhibiting and discussing electronic art, it is also about making. Oh will there be a lot of making and creating!
The 2015 schedule provides multiple tutorials and workshops for interested artists and students to learn new skills in diverse media including coding, processing, electronics, electronic musical instrument making, pure data and other open-source programming and much more. Daily from the 14th to the 18th interested individuals can sign up and take classes with experienced media practitioners. The sheer number of workshops and tutorials is worth checking out. If you want to register, visit the ISEA2015 registration page.
VIA has chosen a couple that seemed like a whole lot of fun. Both involve hacking. Firstly you can take part in a science art hackathon. Yes please! If that doesn't tickle your fancy, you can take a tutorial on how to hack a knitting machine. Wunderbar! Get your hack on at ISEA!
This is an all day (9:30am-5:30pm) tutorial taking place at SFU – Goldcorp Centre for the Arts (149 West Hastings) on August 14th.
Tutorial Preview: This hack day will apply the hackathon methodology to science art. Participants will collaborate with others to design and make science art projects with a view to continued development beyond the ISEA2015 conference. To participate all you need is an interest in science art and a willingness to think creatively and collaboratively. David Harris is a science communication designer based in Palo Alto, California.
Hacking the Knitting Machine – Facilitated by Taylor Hokanson & Dieter Kirkwood
This is an all day (9am-5pm) tutorial taking place at SFU – Goldcorp Centre for the Arts (149 West Hastings) on August 14th.
Quick preview on the tutorial:  Textiles are the original digital medium. After all, the Luddites were named for artisans that protested against the mechanization of textile production in 17th century England. Unlike their predecessors, today's Luddites are associated with a distaste for the virtuality of modern devices. However, with the arrival of the Internet of Things, ushered in by affordable 3D printing, it's becoming clear that the technologist need not choose between digital and actual. Machine knitting is a great example of this overlap. Taylor Hokanson and Dieter Kirkwood will demonstrate a useful modification, originally exploited by Davi Post and Becky Stern, to the Brother KH-930e knitting machine attendees will learn how to upload custom patterns, and "print" them into actual knit shapes.
Dieter Kirkwood is a clothing designer, pattern maker, and educator investigating fashion through the relationship between craft, technology, clothing and the body. Taylor Hokanson is a DIY engineer, CAD/CAM evangelist, and an Assistant Professor of Art ad Columbia College Chicago. He frequently works with hacked electronics, changing the function of common consumer gadgets so that they become alien and unfamiliar.
VIA got in touch with the Dieter Kirkwood who is teaching the Hacking the Knitting Machine workshop to learn what folks can expect in session as they hack their way to new heights. Get out your knitting patterns, coding is going meta, and most importantly soft and snuggly. Purrrr!
Q&A with Dieter Kirkwood
VIA: Dieter, this sounds like a sweet hack that has multiple hipster purposes such as the lovely knitted beer cozy image that is used to promote the workshop, so so much potential! What types of items will you be knitting once you have gotten on with the hacking? Is the sky really the limit?
You are correct, these machines have a lot of creative potential. However, there is a bit of a learning curve to using knitting machines. For this workshop each participant will create their own imagery and knit that into a beer koozy. With more time and experience fully fashioned garments can be produced. We welcome participants to find other creative ways to use the machines as well.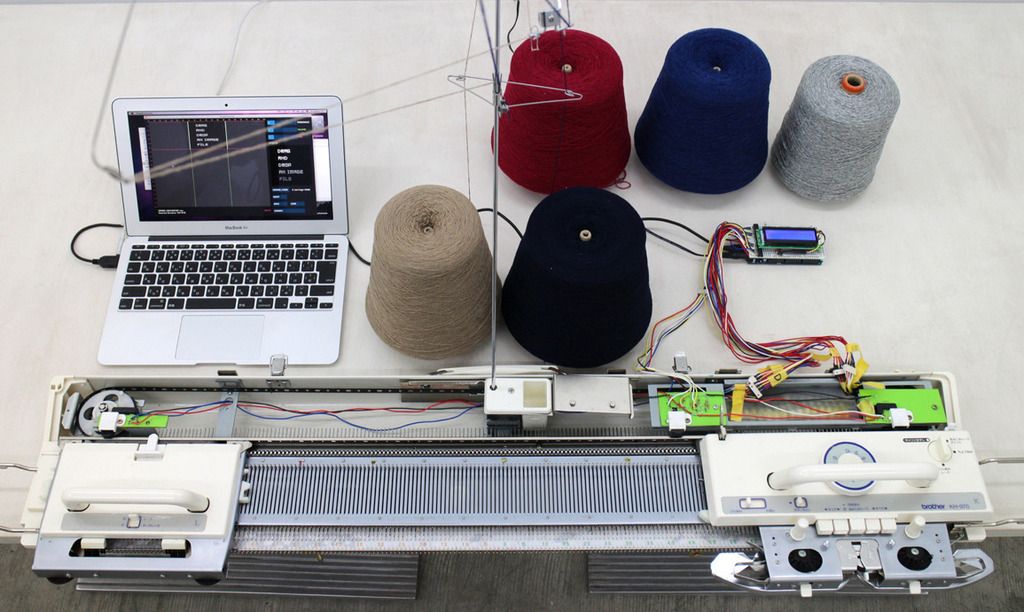 VIA: What level of difficulty would you classify the tutorial? Should interested individuals have some programming knowledge and experience, or can anyone pick this up? 
Working with knitting machines is not very difficult, most people pick it up after a few attempts. No coding or programming skills are necessary. Familiarity with a software platform that can create or alter jpegs or bitmaps is helpful, but not required.
VIA: Have you taught the workshop before?
If yes, any fun experiences or new projects evolve from that experience? 
If no, what do you see as the most important thing that will be accomplished in the tutorial?
Yes, Taylor and I taught a similar workshop at the Harold Washington Library Innovation Lab in Chicago. Those participants created individual knit tiles using their own imagery. We eventually sewed them together to create a knitted quilt, which is hanging in the Innovation Lab. It turned out great.
VIA: Are there any places on the net where folks can learn more about knit-hacks? Where would you recommend visiting? 
There are a few resources on the net. Adafruit is a good starting place: https://learn.adafruit.com/electroknit
If you would like to attend ISEA, please visit the Registration Page for more information.