More often than not, private art collections are concealed from the public eye – safely preserved in climate controlled storage facilities. But alas, times are changing…
Over the past six years, a number of art collectors across Canada have founded public galleries in order to showcase their private collections. These same collectors are also establishing arts foundations that provide programming and publishing opportunities. This new trend is an exciting cultural and philanthropic endeavour for all Canadians. It means that hundreds, if not thousands, of works that have been hidden away, will be exhibited and accessible to the public. Local communities will have the chance to learn more about international contemporary art, which will provide new contexts for creating and interpreting local art practices.
Brigitte and Henning Freybe are longtime residents of Vancouver who have collected art for nearly fifty years. Over this time they have amassed an extensive amount of work. Although all pieces in the collection have been researched and carefully considered, the Freybes have ultimately allowed passion to drive their acquisitions. This is what collecting is all about.
From the 1970's all the way up to the present, many types of media are found within the Freybe's collection: conceptual art, painting, sculpture, photography, mixed media and video art. The Freybes have been supporting and encouraging many practices for decades now.  Also important, as curator Helga Pakasaar points out, the Freybes maintain a keen interest in supporting emerging practices. Pakasaar, who is the curator of Presentation House Gallery, met with VIA at Griffin Art Projects in North Vancouver last week. Griffin Art Projects is the name of the arts foundation recently established by the Freybes.
Pakasaar was invited by the Freybes to curate the inaugural exhibition at Griffin Art Projects. WOOSH is the title of the show. It features contemporary art from two north shore collections: the Frebyes' and the Browns' (Kathleen and Laing). Both couples are committed collectors and arts philanthropists. The exhibition includes works from local, national and international artists: Liz Magor, Ron Terada, Pier Paolo Calzolari, Santiago Sierra, Andrew Dadson, Mona Hatoum and Carsten Nicolai among others.
Although WOOSH features works from the Freybe's collection, Pakasaar was quick to mention that the couple has been adamant that Griffin Art Projects will not be about showcasing works from their collection. It will exhibit a variety of works from many different private collections and promises to bring new perspectives on contemporary art to Vancouver.
This is but one interest of the couple at this early stage in the project. Pakasaar noted that that they are also keen to give back to Vancouver's vibrant arts community by working with young curators and critics.
One observation of note to take away from the inaugural exhibition at Griffin Art Projects is the theme of the binary. Two sets of couples whose collections are, according to Pakasaar, "two of the best kept secrets in Vancouver. The Freybes and the Browns are very knowledgeable about international contemporary art and make bold moves with their collecting". both make bold moves in terms of collecting". In curating the show, Pakasaar tried to demonstrate "the high quality and scope of their remarkable collections, and also, their ongoing support for artists who are still emerging."
At the entrance to the exhibition, Kris Martin's work bisects the space. A work that consists of a sign stating "Do Not Cross the Red Line" and a red line of tape installed on the floor. One must repeatedly cross the red line to visit different areas of the exhibition.
There are several other serendipitous duets occurring within the space. Alfredo Jaar's Three Women explores the role of public identity and imagery. The piece features miniature portraits of Graça Machel, Aung San Suu Kyi, and Ela Bhatt. Each of these women are influential figureheads for the causes that they promote and support, but their activism is not typically recognized outside of their respective sphere's of influence. Jaar's work literally shines a light on their identities – there are approximately 20 lights shining onto these three images. This work is part of a larger project that will eventually highlight 300 women who are passionate activists. The piece exposes the disparity between presence and recognition within a global context.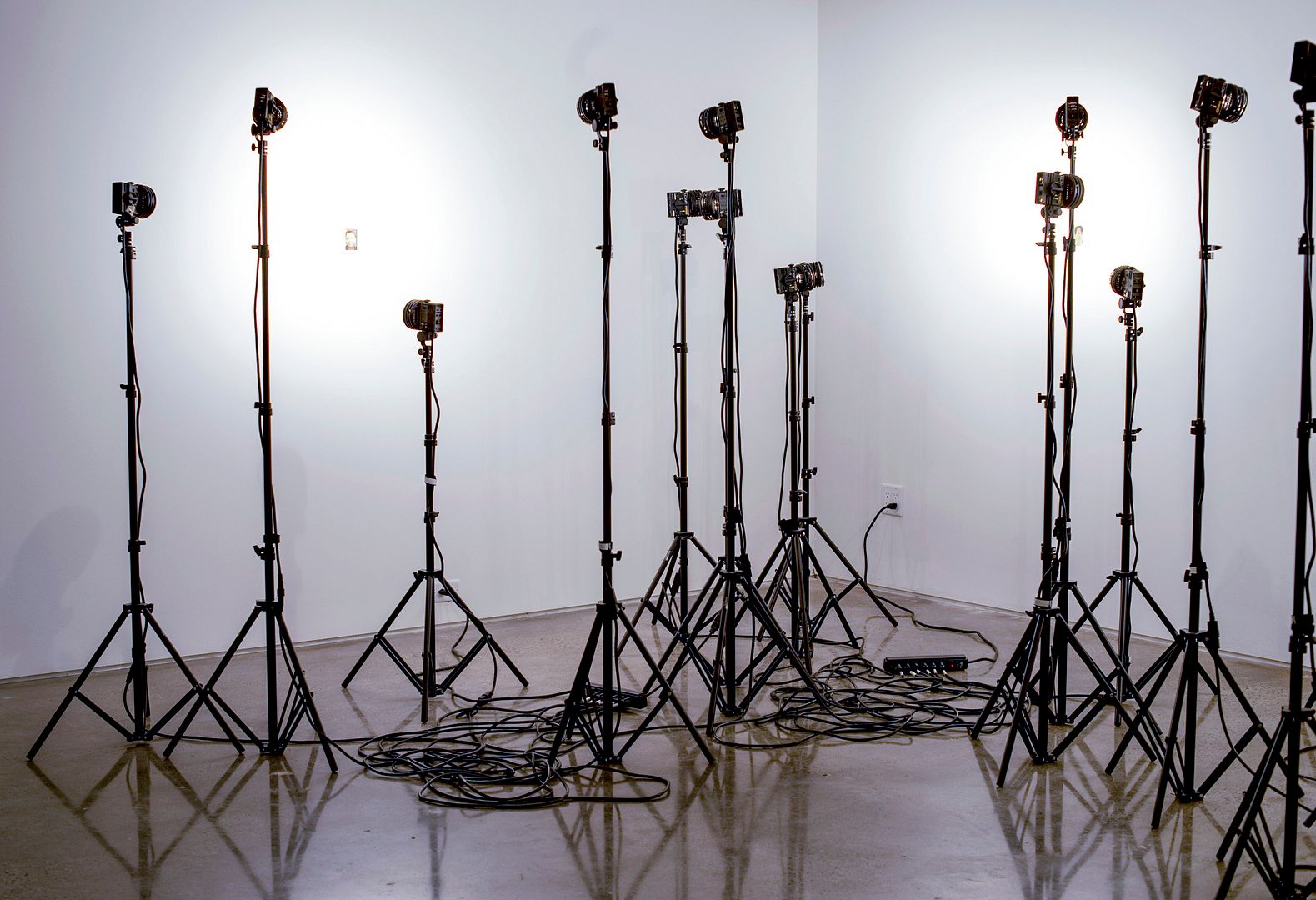 Nearby, Ian Wallace's instructional work entitled Magazine Piece presents viewers with tear sheets from magazines. Often featured, women who are well-known pop culture icons: super models and celebrities. Both works are act in their own subversive ways. Jaar's work brings focus onto the seemingly invisible. Wallace's piece acts as more of a conceptual construct, his work consists of a set of instructions that can be reproduced in sequence with imagery from any magazine from the current era of the time that the piece is being recreated. Thus exposing specific aesthetic tendencies of a certain time and place. When exhibited in proximity to each other the meaning of each work expands into new territory. Binary contrasts, between clarity and obscurity, and value and recognition, can be drawn. Time and effort are also divided differently in each piece, the tear sheets in Wallace's work suggest a rapid eclipse of time as fashion is fickle. His work, if reproduced in three years time, would have a completely different look and feel in some ways, in others, the tropes of presentation and fashion poetics would remain the same. Jaar's photographs are meant to stand as monuments that recognize hard work, change and dedication. His work intends to write women more permanently into history. Shown close to one another, these two works create new connections and associations.
Mona Hatoum's work explores on double imagery. Her wall based work features the words You Are Still Here written in Arabic and etched onto the surface a mirror. Viewers confront a reflection of themselves and the meaning of their presence in the world.
A duet of political works installed adjacent to each other share an interesting conceptual dialogue. Sierra's 100 Beggars, Plaza Estudiantes, Mexico City, confronts viewers with 100 itinerants who were all paid a sum money to be photographed. Yevgeniy Fiks' work Adopt Lenin features a metal bust of Vladimir Lenin as well as signed and framed adoption papers for the bust. The shift from certificate of authenticity to a certificate of adoption, symbolically turns collectors into parents and the patriotic object-turned-artwork, into a living entity. Both works question the economies of art and capital, systems of value, and the respective roles of artists, viewers, participants and collectors.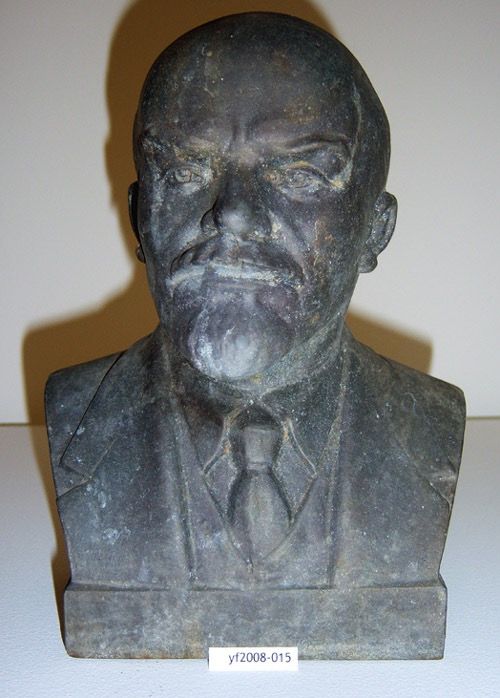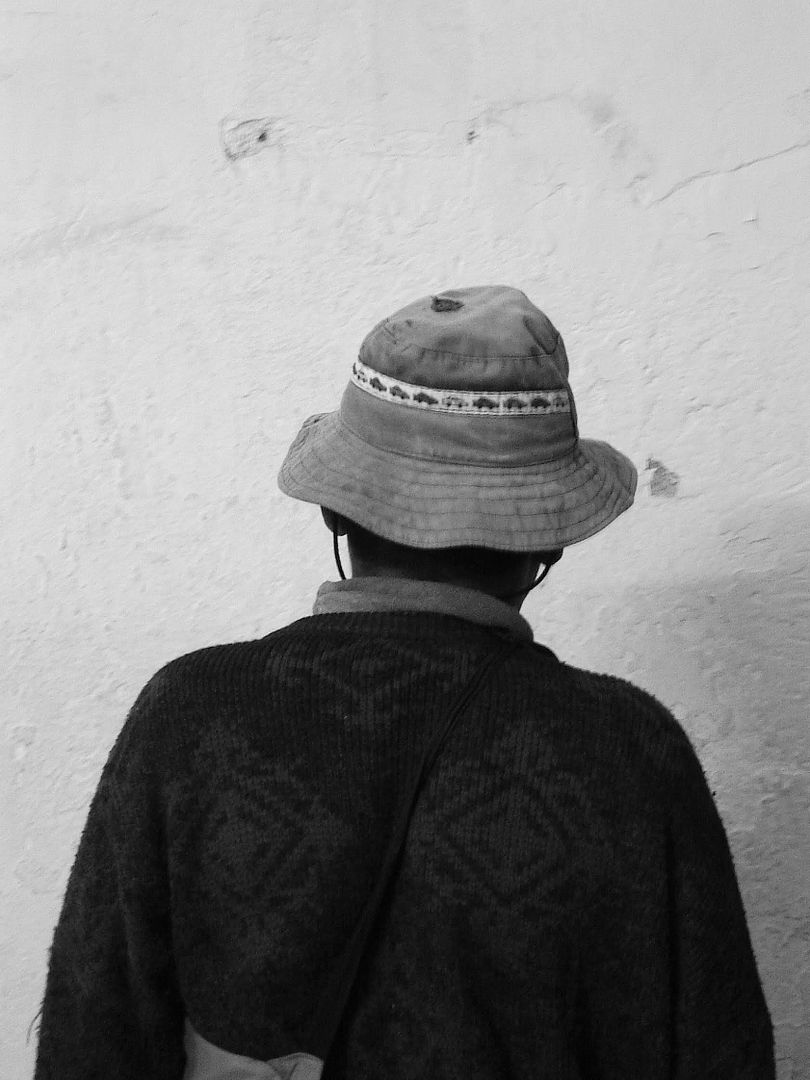 In WOOSH, Magor's work entitled KD – The Original has a doppelgänger. One edition of the work is shown at the entrance of the exhibition, and a second edition can be found towards the back end of the exhibition space. Pakasaar highlights the fact that both collectors, found the work of importance, and have it in their respective collections. The Browns' and the Freybes' collections are unique, it is interesting to see what crosses over, and more specifically that this "original" work is part of both collections. An engaging exploration of authenticity that has definitely gone meta.
Griffin Art Projects promises to be an exciting place to visit in the coming months. VIA looks forward to seeing what collectors and artworks will be shown in the future!  WOOSH: From Two North Shore Collections will remain on exhibit at Griffin Art Projects until the 19th of December. Helga Pakasaar will also curate the second exhibition for the space, which will open in the second half of January. Opening hours for Griffin Art Projects are 12 noon until 5pm every Saturday. For those interested in visiting outside of these hours, Griffin Art Projects is also open by appointment. Contact: info@griffinartprojects.ca
Griffin Art Projects is located in North Vancouver at 1174 Welch Street.
Additional Insight into the Canadian private collector/project space landscape:
In 2009, Bob Rennie opened The Rennie Collection as a way to showcase the 40+ artists that he collects comprehensively. The entire collection consists of work from over 200 artists, but it maintains in-depth collections of works by 40+ prominent Canadian and international artists. The Rennie Collection also provides talks, public docent led tours and creates publications for each exhibition. http://renniecollection.org/ 
In 2011 Scrap Metal Gallery opened in Toronto. Owned by Samara Walbohm and Joe Shlesinger, the gallery shows works from the couples collection, works from other private collections and also features curated exhibitions from other members of the Toronto art community. http://www.scrapmetalgallery.com/
In 2012 The Esker Foundation opened in Calgary. It runs three exhibitions per year. The foundation also runs educational programs, artist talks, and develops publications. The foundation is dedicated to the production of contemporary work, ideas and research. It was founded by Jim and Susan Hill who are also passionate art collectors. http://eskerfoundation.com/

A former shipyard, re-opened in 2012 as a private collection exhibition space by Montreal collectors Pierre and Anne-Marie Trahan, Arsenal Art Contemporain combines private exhibitions with large scale events. Arsenal Art Contemporain expanded to over 80,000 square feet in 2015 when it took over the adjoining space in the shipyard from another business. The space also now houses Division Gallery on the upper level in the building. http://arsenalmontreal.com/

In 2013, Michael Audain announced that he would be building a 25,000 square foot museum to house a portion of the collection he has built over the years with his wife Yoshiko Karasawa. The Audain Art Museum is due to open in early 2016 in Whistler. http://www.audainartmuseum.com/

In 2015 Brigitte and Henning Freybe opened Griffin Art Projects in North Vancouver. The project space showcases contemporary art exhibitions from private collections. Griffin Art Projects seeks to promote the important role that collectors and contemporary artists play in BC's cultural landscape. The space will host exhibitions and events and create publications. The foundation was established to make visual arts widely accessible. http://griffinartprojects.ca/

Opening in 2016, Remai Modern, in Saskatoon, is a museum space that is supported by The City Council of Saskatoon, The Province of Saskatchewan, The Federal Government and philanthropist Ellen Remai. In addition to civic, provincial and federal funding, a 30 million dollar donation from the Frank and Ellen Remai Foundation was promised towards the building of The Art Gallery of Saskatchewan. Additionally, Ellen Remai donated the world's most comprehensive collection of Picasso linocuts to the museum. It is one of the largest private donations to the arts in Canadian History, hence the renaming of the Art Gallery of Saskatchewan to Remai Modern. http://www.remaimodern.org/