The MASHUP exhibition at the Vancouver Art Gallery is, in one word, BIG.
1st & 2nd Floor – exhibitions ending May 15
3rd & 4th Floor – exhibitions ending June 12
It spans a century's worth of art and history and all four floors of the gallery. Try not be too overwhelmed, there are only around 370 works of art to look at by over 150 artists. No big deal. You have two weeks of holiday time to kill… right?
Honestly, that is what you need. There is a lot of ground to cover. With less than a week left to explore this exhibition you need a plan of attack. How does one explore this explosive representation of 100+ years in art and culture in a single visit? Perhaps the answer would be to not over think it. Instead, why not take a sonic dérive through the exhibition.
Give your cones and rods a break, heaven knows they are overworked thanks to twitt-insta-chat-book. Let your ears be your guide and open up to the expansive and subtle power of the oracular. Allow your tympanic membrane, hammer, anvil, stirrup and cochlea to envelop your mind. Here is a proposal to bring forth different type of sensitivity and a new understanding. Feel the vibrations and convert your passive hearing into to active listening.
YOUR SONIC DERIVE STARTS HERE:
POUNCE!…. s a u n t e r ….. ATTACK, plink, plonk, meow, thump! Cat video choreography and an innovative piano composition, these co-joined elements could easily go amiss as they are hidden in the corner of the entrance of MASHUP. They are somewhat eclipsed by a visually arresting and pulsating wall of digital screens right at the exhibition entrance. If you walk by these cats, you just might miss the secret to unlocking the key to Mashup.
If you are facing the multi-screen installation, look to the doorway nook on your right to find one of the best works in the show. Cory Arcangel's remake of Arnold Schoenberg's Opus 11 entitled Drei Klavierstücke (aka Three Piano Pieces) uses coding, youtube, and the cats of the internet, to recreate Schoenberg's 1909 Opus; a work that was considered a new departure in composition at the turn of the 20th Century.
Arcangel's piano-feline fuelled video trifecta is a brilliant gem. With so many intersecting conceptual layers it is impossible to know where to begin. By watching and listening, you may think that this is just a collection of random cat videos that are all tied together by the fact that they are all pouncing on piano keys. (There are over 170 featured videos total) However, what you are hearing is a piece of avant-garde composition that caused quite a commotion in its day. The work could be considered a form of aural abstraction, it is not easy to listen to, nor to follow, but try. It may open up something else in your mind entirely.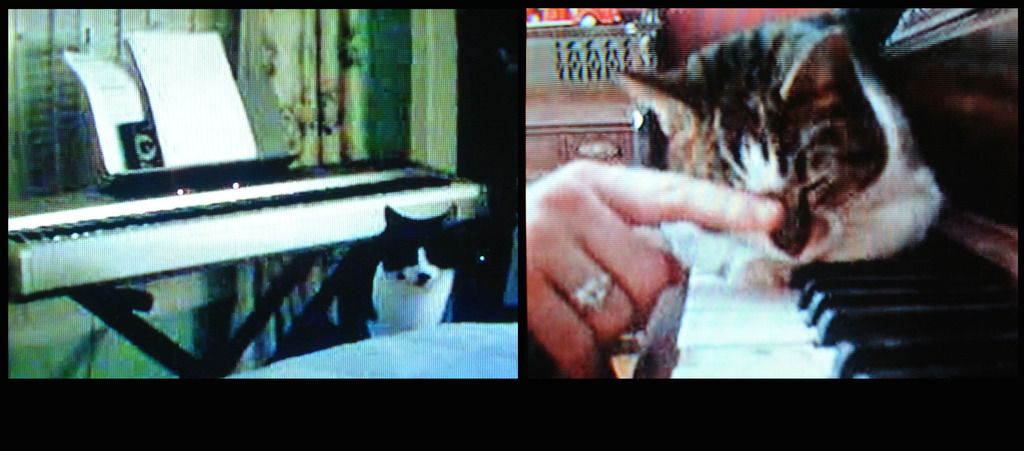 Stills from Arcangel's Drie Klavierstücke, 2009
Drei Klavierstück is noted as the point where Schoenberg did away with the last traces of tonality and common-practice harmony in his music, a practice that was deeply embedded in western music for centuries. In 1909, this was quite the radical move.
Works like this create fissures for others to investigate, explore, and question. New ideas emerge, by connecting together multiple experimental concepts.
Flash forward to today, what does that mean when a seminal work is then re-appropriated by a hacker who wanted to see it remade with cats playing the piano from the internet? Given the complex algorithmic analysis involved in replicating the composition with hundreds of videos, some would argue it is a stroke of genius already, but perhaps it will take the context of 100 years from now for us to fully comprehend the significance of this particular remix. All will be revealed, no, wait, scratch that…reconfigured.
Installation view of works on the 1st floor
This is the heartbeat of Mashup – cut, copy, paste – histories & fictions told, retold, merged, replicated and constantly reinterpreted. Consider time as cyclical not linear, you'll go further in this adventure if you do.

MOVING ALONG:
Also on the first floor, your ears can escape the busy bustle of the visitors to the gallery. Cover them up by putting on a headphone set and explore the Grey Album by Danger Mouse. As you listen, you'll hear vocal tracks by rapper Jay Z from his Black Album intermingling with songs from the Beatles' White Album. Released in 2004, the Grey Album was incredibly controversial as it exploded the conversation on sampling and copyright in music in America. Danger Mouse considered this an art project and had intended to produce small limited edition of 3,000 album copies.
Mouse had permission from the two surviving Beatles and Jay Z to do so. But then, Beatles copyright holder EMI caught wind of the project which was fast gaining critical attention, they ordered production and distribution to stop. In a grand gesture of electronic civil disobedience, activist group Downhill Battle posted copies of the album for download for a 24-hour period where over 100,000 copies were downloaded.
Can sampling and riffing be considered as tools and techniques to illustrate a new idea, or is the original sample so powerful, that it cannot be hybridized and amalgamated into a new form? Ultimately, it comes down to perspective… What do you hear? The White Album, the Black Album, or something fluttering between these worlds? A new departure perhaps?
One final aural challenge on the first floor:
Explore the installation titled Plywood City by artist Ujino Muneteru with your eyes closed, no peaking!
Sculpturally the work is fascinating to look at, the artist has created an orchestra out of tools, crates, domestic appliances, a record player, a guitar, bits and bobs, and machinery. Close your eyes and have a listen. You'll hear a myriad of beats and timbres that ebb and flow throughout the room. Welcome to the wonderfully chaotic world of Experimental Noise Music. Have a friend, or maybe a total stranger, walk you around the room so you can experience the surround sound of the installation. In addition to hearing the noises produced by this orchestra, you'll likely also experience expressions of awe and wonder from other visitors taking in the piece.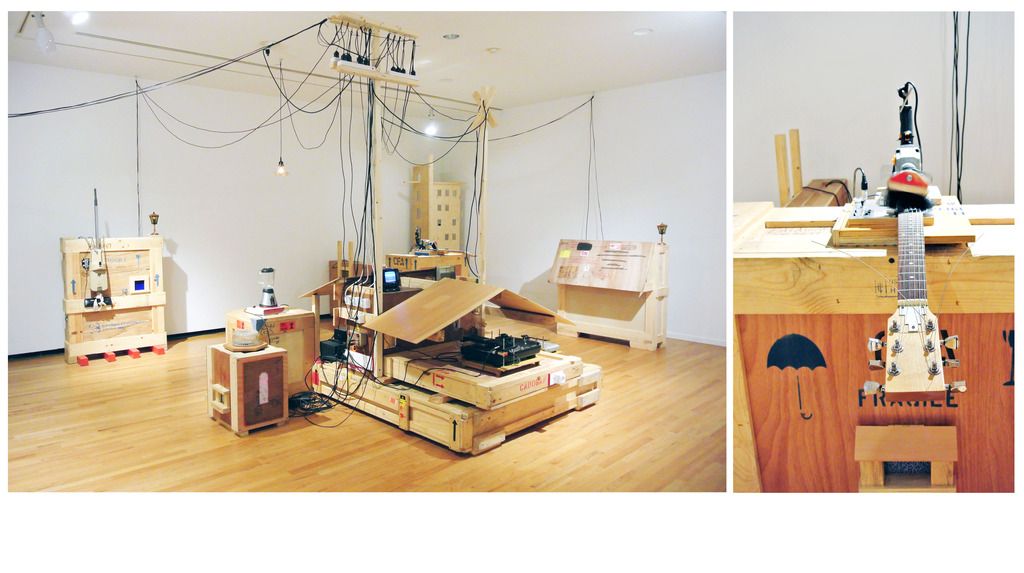 Installation view of Ujino
Quietly, walk back to the heart of the exhibition, enter into Barbara Kruger's monochromatic installation in the circular staircase. Remain quiet, taking in the sounds as you walk up the marble stairs. Turn right on the second floor and head up on the escalators to the third floor. You will be skipping the second.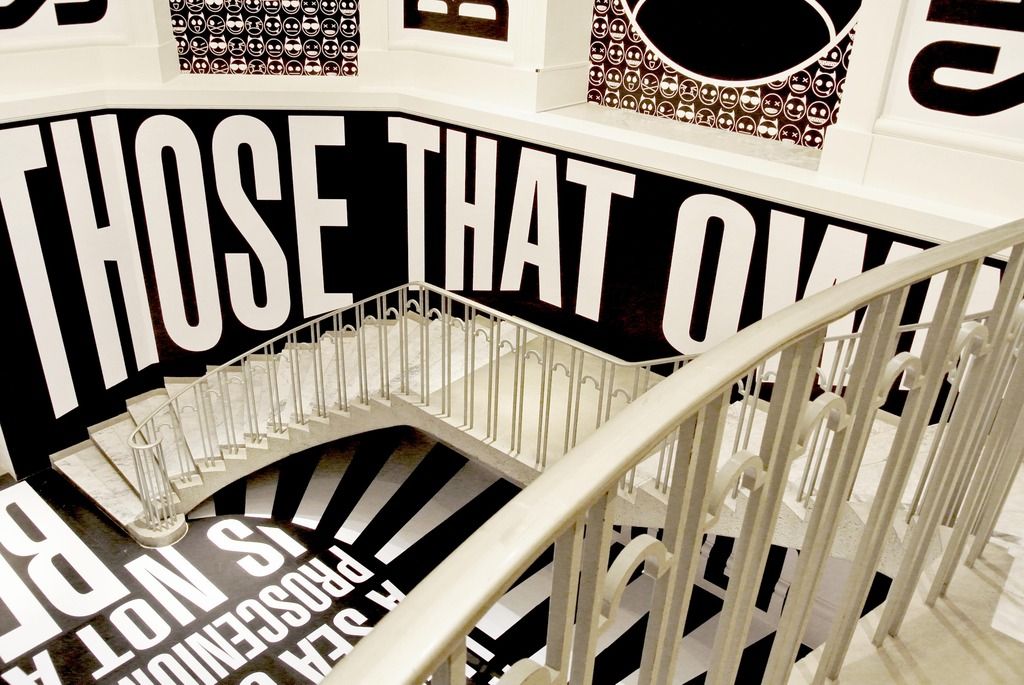 Installation view of Barbara Kruger's site specific work Untitled (Smashup)
On the third floor, find your way over to the John Cage work which features two small grey speakers flanked on either side of a framed graphic musical score. The work, entitled Concert for Piano and Orchestra (1957-1958) is a composition that redefined the constructs of what one could call music. The score is actually 63 pages long, and basically, you can think of it as a choose your own adventure piece. Each performative iteration of this work could feature as many or as little performers as deemed necessary, any of the 84 "types" of composition found within the work could be played in part or in their entirety.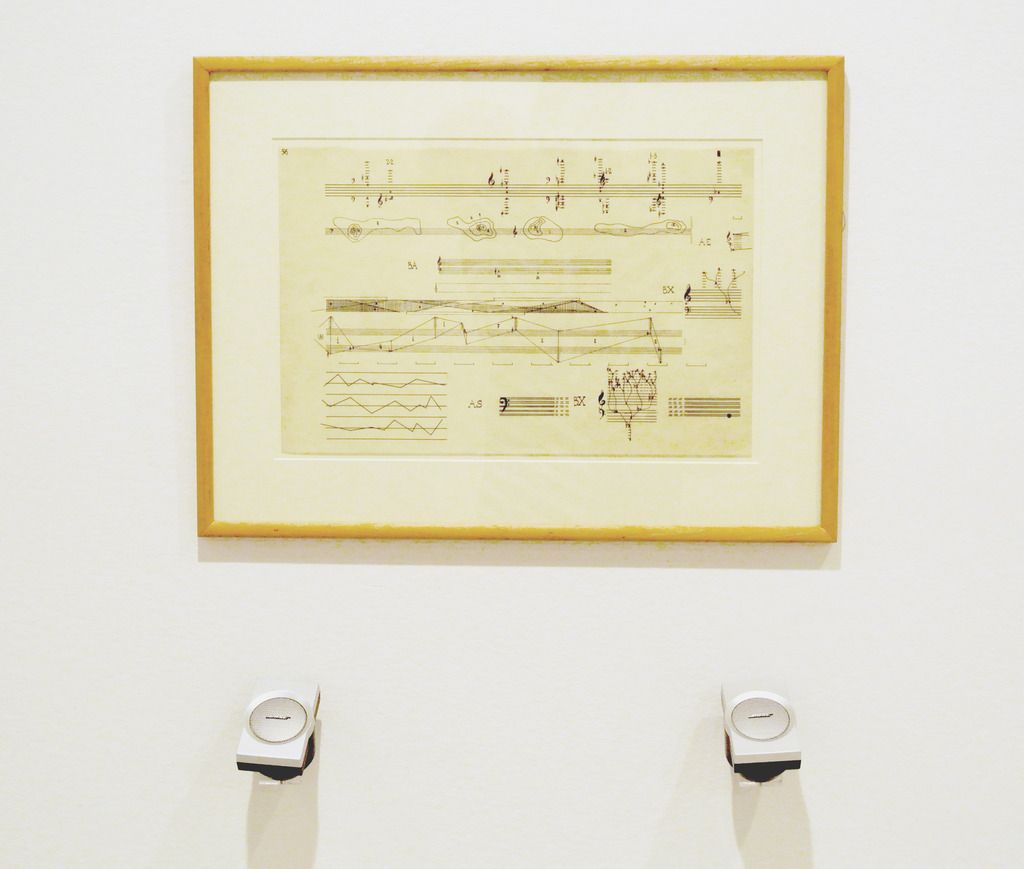 John Cage's Concert for Piano & Orchestra
Have a listen to the piece, consider it's limitations within this exhibition. It is within a large room with many people wandering about, next to a moving sculpture that makes noise, and the speakers are small and not very powerful. Then consider that, this version of the piece that you hear, with the exception of recording technology, could never be reproduced in the same way. Ever. Even if one tried, the performers would be different people, the location where the piece was performed would have changed and so on. There is no defining 'version' of this work, which begs the question, can there ever be for any piece? The idea of this type of open-ended composition and performance has led to the offspring of hundreds, if not thousands, of projects exploring composition, music and time in so many exciting ways. Cage understood the concept of open-source long before it became popularized in computing, art and music in the early 2000's.
With your mind blown, allow your thoughts settle in your mind as you meander over to the escalators and head up to the fourth floor.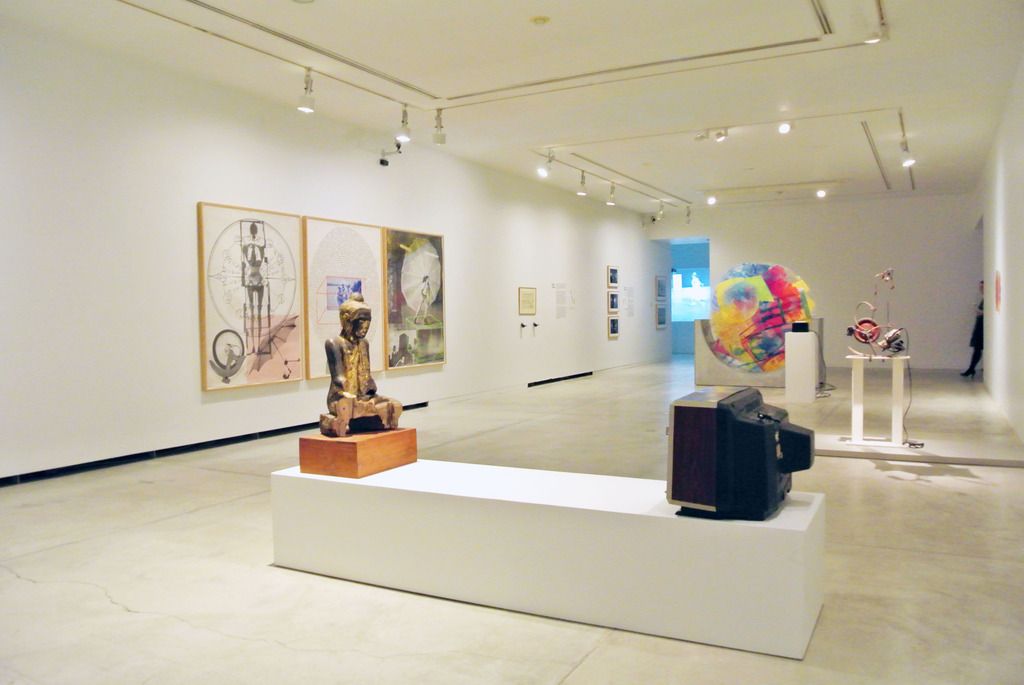 Installation View, third floor, MASHUP.
Look for a room that features wooden frames and collage works on paper. Then locate a piece entitled Ursonate (1922-1932) by poet Kurt Schwitters. The poem is an absurdist work exploring sound through abstraction. Pure nonsense, and intensity. See if you can settle in to listen to the work in its glorious eighteen minute entirety. It is a difficult but fascinating thing to listen to. Schwitters performed the work first in 1925, he continued to develop it over the span of ten years. Schwitters was an interdisciplinary artist he worked in poetry, sound, painting, collage, sculpture, graphic design and installation art.
Installation view of work on the fourth floor
Once the staccato dust of the vowels and consonants settles…
Make your way along the fourth floor to the room featuring large black box sculptures that have cone like extensions. Welcome to the the Intonarumori room. A space dedicated to presenting working replicas of, futurist composer, Luigi Russolo's instruments. If you were lucky, you would have had the chance to witness a performance of these instruments. Although these little beasts are silent, you can still hear what they sounded like in original recordings of the original instruments exist online. Russolo invented the Intonarumori in 1914, his first official concert with the instruments caused a riot. Russolo proposed that noise and the hums, bangs, hisses, booms, creaking and rustling of the city could be music. He performed a program comprised of what he called networks of noises. Pause here for a while and ruminate on what these may have sounded like.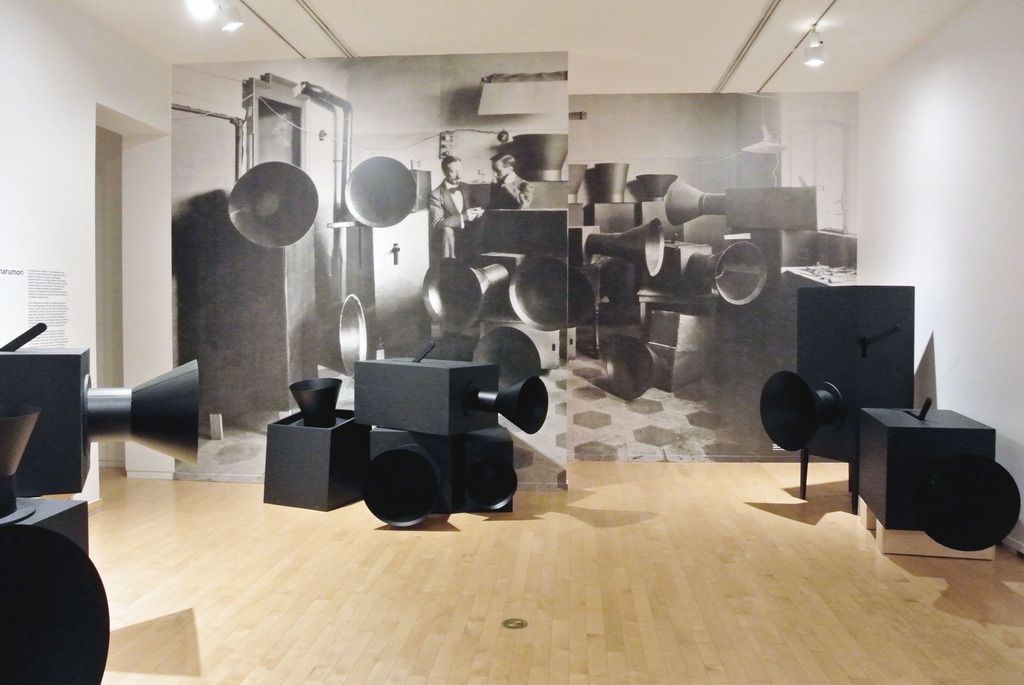 Russolo's Intonarumori, installation view.
Russolo's provocative gesture of stating that all noise is music came true. In the many decades that have followed, musicians and composers have pretty much experimented with and intermingled any type of noise(s) you can think of; including cats jumping on pianos, abstract sound poetry and electrical appliances. You name it, they have played with it.
This concludes your sonic dérive, an aural mashup of MASHUP. May your ears guide you back through the exhibition and out into the sounds of the street.
View of the central atrium in the primary stairwell at the gallery.
All images taken by Sunshine Frere.