Bo Horvat had talked about the team needing to give Vancouver Canucks fans a reason to cheer. On Tuesday night, they did exactly that.
No one gave fans more reason to cheer than Thatcher Demko, whose series of saves with a few minutes left in regulation was simply incredible, producing a clear save-of-the-year candidate. More than anything else, however, it was the situation and the heightened stakes that made those saves so crucial and produced such a strong reaction from the Rogers Arena crowd.
The Canucks, having already dropped three straight games on home ice, were down 2-0 heading into the third period but scored two great goals in the first five minutes to tie the game. They needed to win this game but put themselves in a precarious position when Nils Höglander got called for holding Adam Fox with five minutes remaining to put the Rangers on the power play, where they had already scored both of their goals.
A hooking call on Oliver Ekman-Larsson — a necessary one that prevented a clearcut scoring chance from Filip Chytil — made matters worse, giving the Rangers 36 seconds with a two-man advantage.
That set the stage for Demko's heroics. The Canucks needed to hang on to give themselves a chance to win the game, whether in the brief minutes after the Rangers' power play or in overtime. Fail and the Canucks would drop their fourth-straight game on home ice to start the season, wasting a gutsy comeback effort, and falling to 3-6-1 on the season.
What ensued deserves a full breakdown in a PITB feature we like to call "Breakdowning."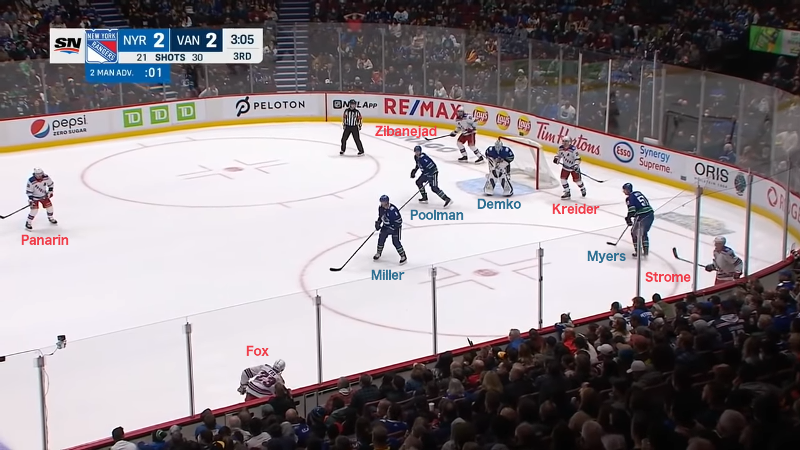 Establishing shot!
We pick things up at the tail end of the 5-on-3. The penalty killers — Tucker Poolman, Tyler Myers, J.T. Miller, and Thatcher Demko — have mostly succeeded at killing off the two-man advantage without a shot on goal. Poolman has already blocked two shots.
The Rangers power play consists of Norris-winning defenceman Adam Fox, Artemi Panarin, Mika Zibanejad, Chris Kreider, and Ryan Strome. Zibanejad and Panarin already have power play goals in the game.
Also, take note of how much space there is at the top of the zone because…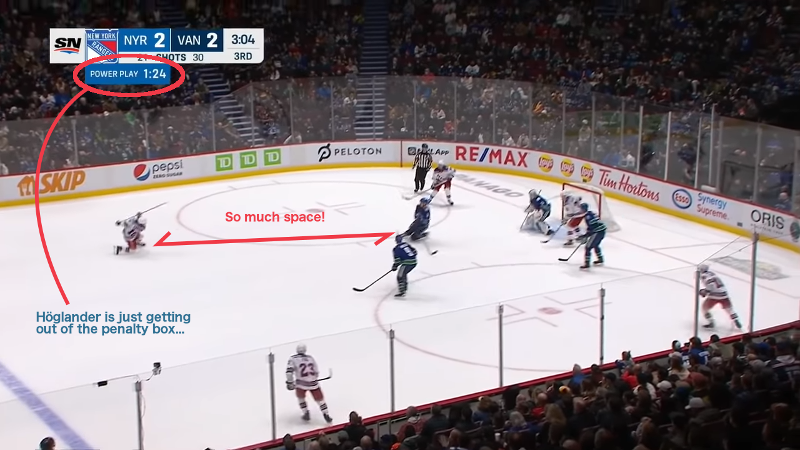 Clap-bomb! Panarin unleashes a one-timer from well above the left faceoff circle. It's an exceptionally poor shot selection by Panarin for a couple of reasons.
First of all, Panarin has so much space between himself and the nearest penalty killer, who is Poolman, who charges out and slides to the ice for yet another shot block. With that much space on a 5-on-3, settling for a slap shot from that far out instead of creating a closer shot seems counter productive.
More dangerously, the Canucks have Nils Höglander coming out of the penalty box behind Panarin. All it takes is Panarin's shot hitting a shinpad and careening out into the neutral zone or the rebound getting picked up by a Canuck to send Höglander on a breakaway.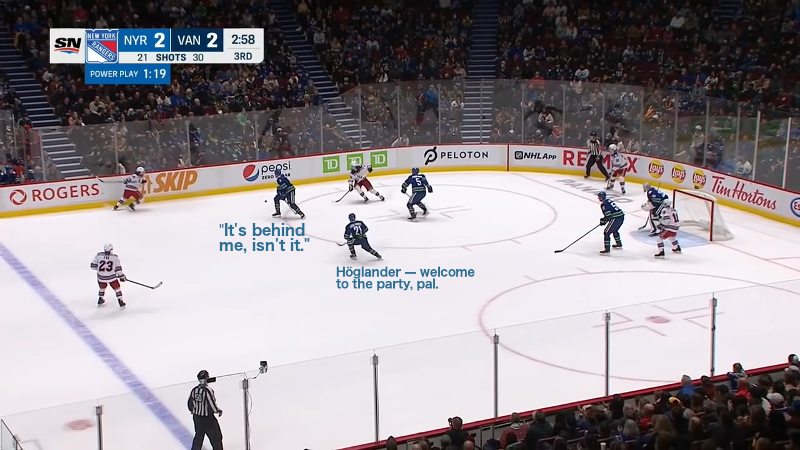 It's a moot point. Panarin's shot does hit Poolman's shinpads but it pops up into the air instead of out to the neutral zone and Zibanejad recovers it. Höglander joins the fray, having to suddenly play the unfamiliar role of a penalty killer.
Miller does a good job getting in the passing lane and Zibanejad's pass back to Panarin at the point hits Miller in the skates. Unfortunately, like Miller had been talking trash about it to his pals, the puck was right behind him.
Miller's skates are pointing the wrong direction for him to quickly get to the puck and Panarin jumps down to get it.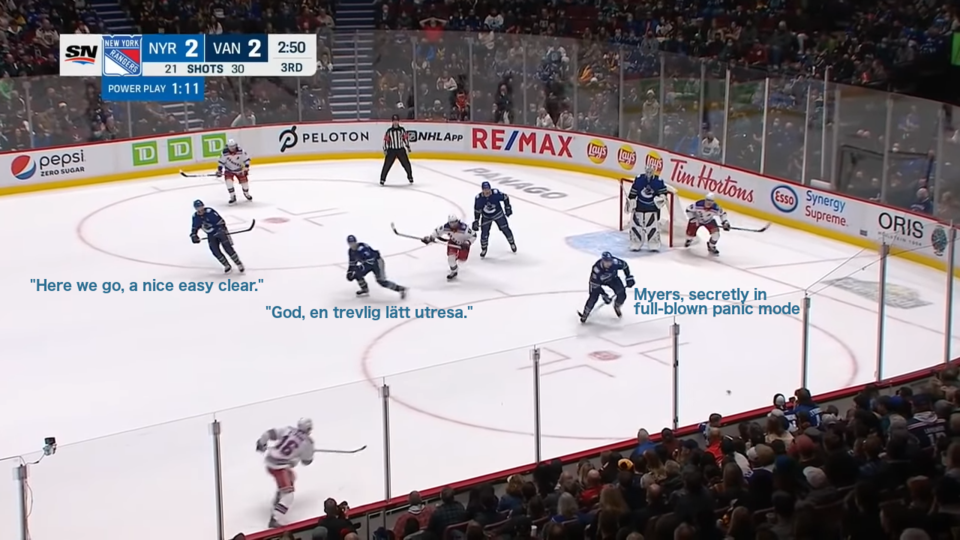 Still, the Canucks get exactly what they want. A Panarin pass to Zibanejad in the middle doesn't connect and the puck is loose for Myers to clear. It should be an easy clear: Myers can go off the glass and out on his backhand and also has the time to instead pull the puck to his forehand to fire it the length of the ice and get himself and his teammates a much-needed line change.
Miller and Höglander both start out of the zone because clearly, nothing could go wrong.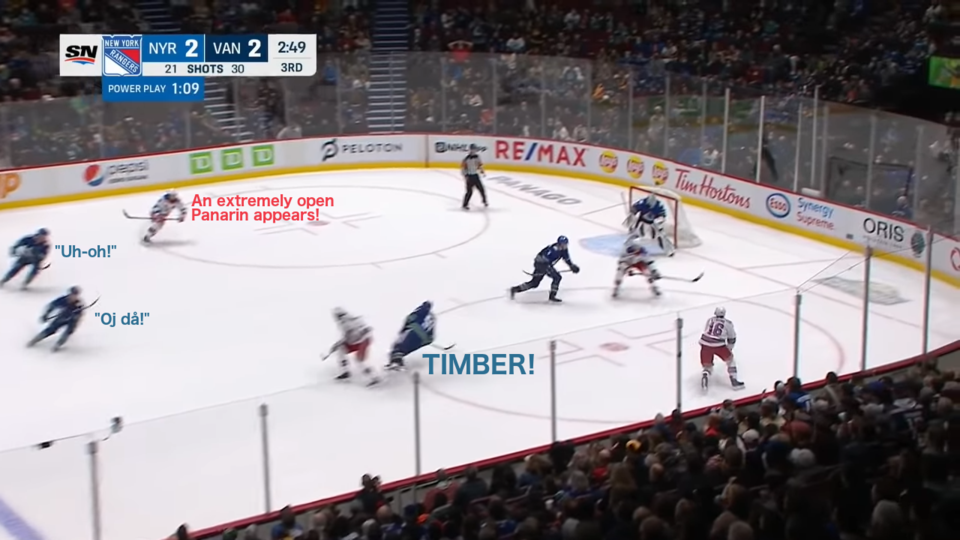 Something went wrong.
A fatigued Myers makes the poor decision of just whacking the puck as hard as he can on the backhand. It goes straight into the onrushing Strome for a turnover.
Myers tries to turn and get back into the play, but gets accidentally-on-purpose tripped by Zibanejad and goes crashing to the ice like a towering Redwood. This leads to the question, if Tyler Myers gets tripped away from the puck and no referees seem to see it, is it a penalty?
Meanwhile, with both Miller and Höglander breaking out of the zone in anticipation of Myers clearing the puck, Panarin is wide open behind them.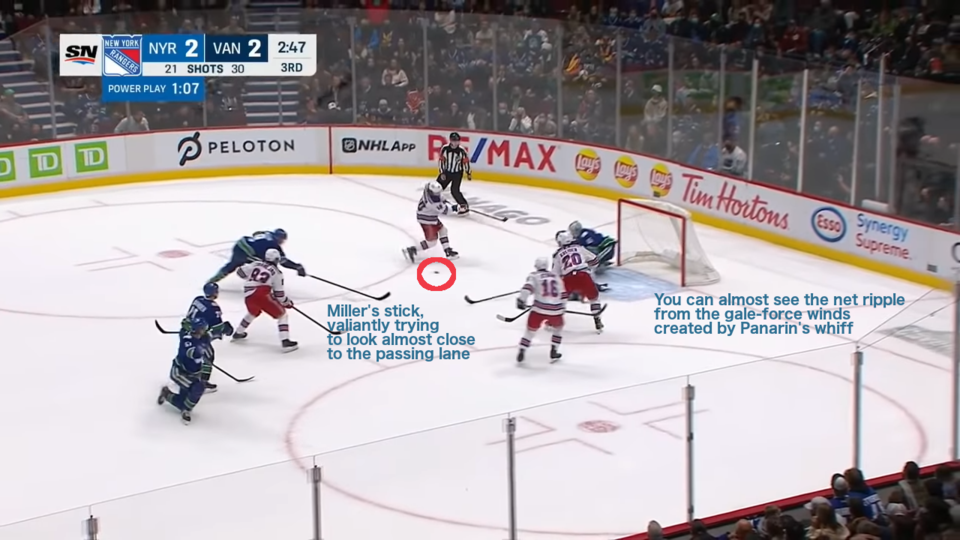 Panarin probably scores if he can one-time the pass but the puck is rolling. Poolman might have tipped the pass, it's hard to tell. Because Panarin has to settle the puck, Demko has time to get across.
Here's where everything goes higgledy-piggledy. Panarin fans on his shot. If he got all of his shot, Demko was there to make the save. As soon as he fans on it, things go haywire, as Panarin manages to recover and poke at the puck to send it squiggling over to Kreider on the opposite side.
Demko, who sold out for the shot from Panarin, is left helpless. Is this the end for our heroes?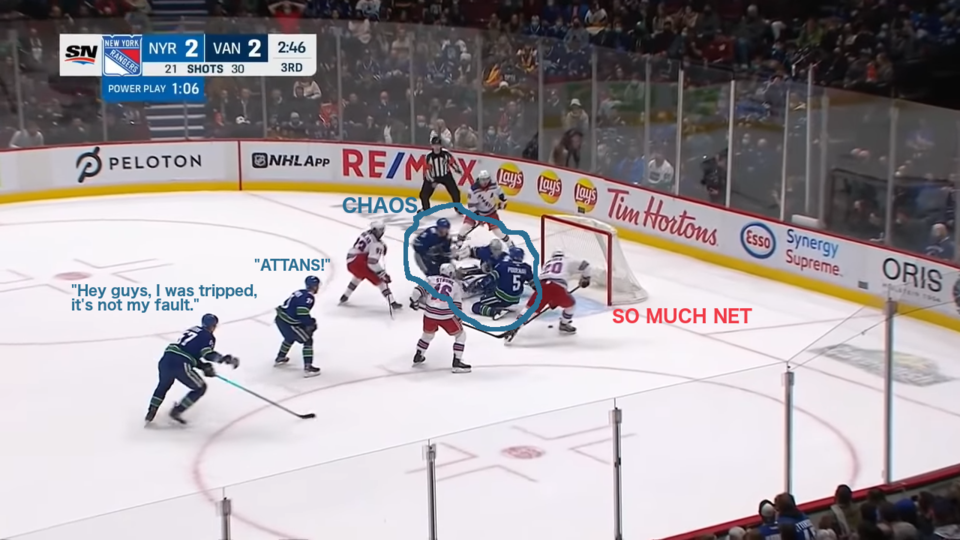 Seriously, look at how much room Kreider has to finish, with only Poolman close enough to have any effect and he has his back turned to the puck. What could he possibly do?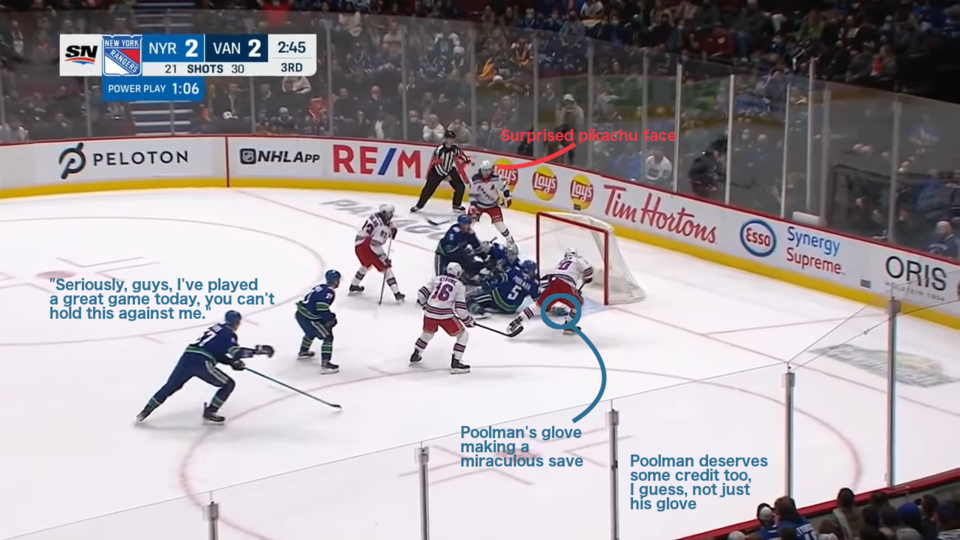 GLOVE SAVE, POOLMAN!
Let's get a close up on that from photographer Rich Lam:
Embed from Getty Images
Incredible.
J.T. Miller also lunged back to try to block the shot, which leads to the next wild moment.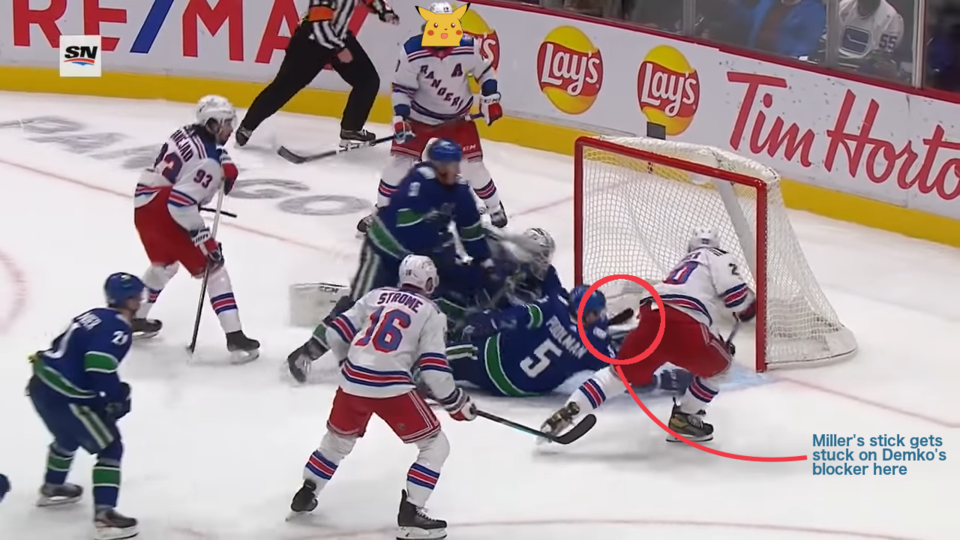 You can see here that Miller's stick gets stuck on Demko's blocker, forcing it off his right hand and pushing it into the back of the net.
Photographer Derek Cain captured the aftermath best from an overhead camera.
Embed from Getty Images
What a wild image: Demko lying prone, with his bare right hand peaking out and his stick comically lying across his back. He still has his head up, tracking the puck as it goes behind the net.
His blocker is off and in the back of the net, looking a lot like the two padded bags that contain the camera transmission systems for the in-net cameras.
Miller and Poolman are likewise splayed out in the crease, both their sticks also in the back of the net with Demko's blocker.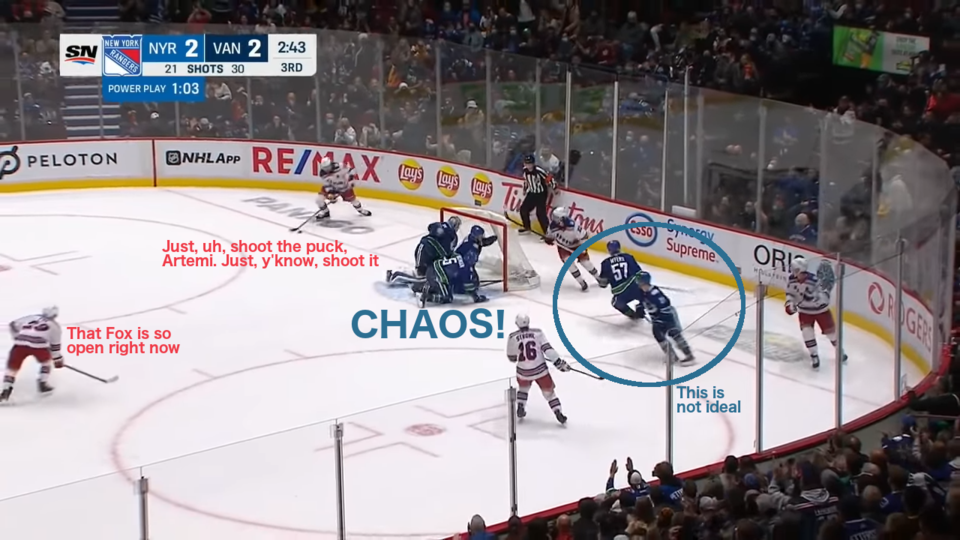 The play's not over and the Canucks are in a bad spot. Kreider has quickly moved the puck behind the net to Panarin, who is all alone. Demko has tracked the puck to Panarin, but has his back to the Rangers star.
Myers and Höglander have both pursued the puck into the near corner and Miller and Poolman are still tangled up in the crease, meaning Panarin isn't the only wide-open Ranger: Adam Fox is all alone in the slot too. It seems all but certain that this will result in a goal. How can it not?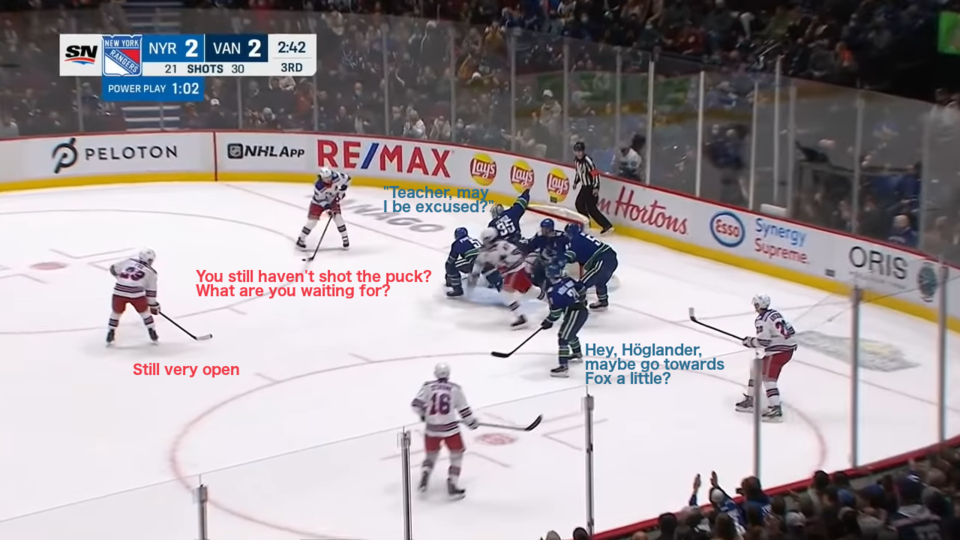 Here's how: Panarin doesn't shoot right away, probably because he's not on home ice and dooesn't have a legion of Rangers fans screaming, "SHOOT!" at him. Instead, he takes his time, looking to pick a spot and that allows Demko to get spun around in his net, with his bare right hand waving wildly in the air to get the referee's attention.
Here's the thing: there's nothing in the rulebook that says the refs have to blow play dead immediately if a goaltender loses a piece of his equipment unless it's his mask. In fact, if the opposing team has the puck and has a scoring opportunity, they must allow play to continue. When they finally blow play dead, we'll see that it was after one last save by Demko and the puck had gone into the corner and was not in the Rangers' possession.
"I went over and talked to the ref after the buzzer had gone to end regulation just to clear up what the rule was there," said Demko. "I had no idea, I thought it was similar to the helmet rule when something comes off, you blow it down...It's good to know now, I guess."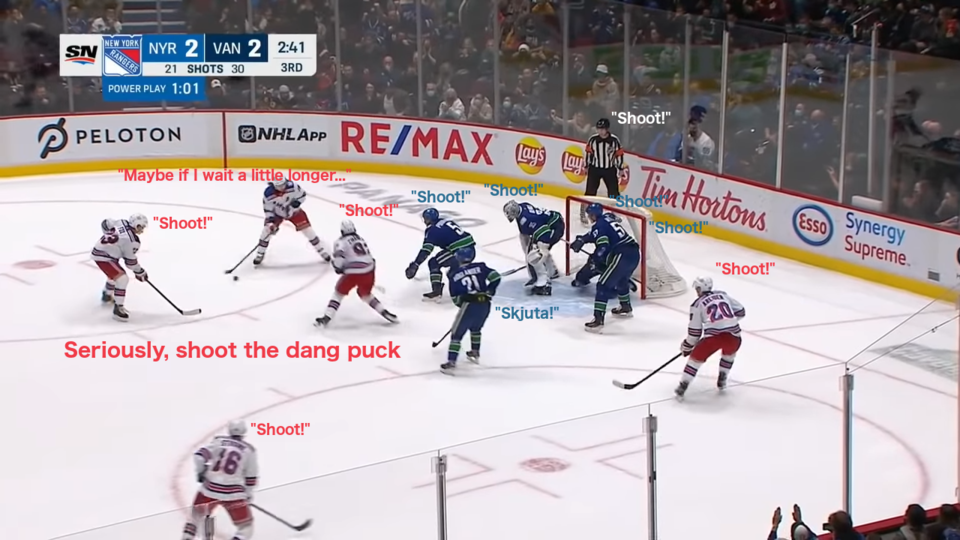 Holy moley, Panarin still hasn't taken the shot. He gives Demko enough time to get to his feet and Poolman is able to get out of the crease and challenge the shot. Miller's still stuck behind Demko but Panarin has wasted a golden opportunity
Demko makes a kick save on Panarin with his right pad and simultaneously kicks his own goalie stick away. Even if he wanted to pick up his stick with his bare hand and use it — he probably doesn't — now he can't.
In the replay, it almost looks like Demko steps on his stick, causing him to slip, but that's not the case. Another angle posted by the Canucks shows that he kicked the stick. In any case, Demko ends up back where he was when he first lost his blocker: unemployed, in Greenland.
Er, I mean, prone on the ice.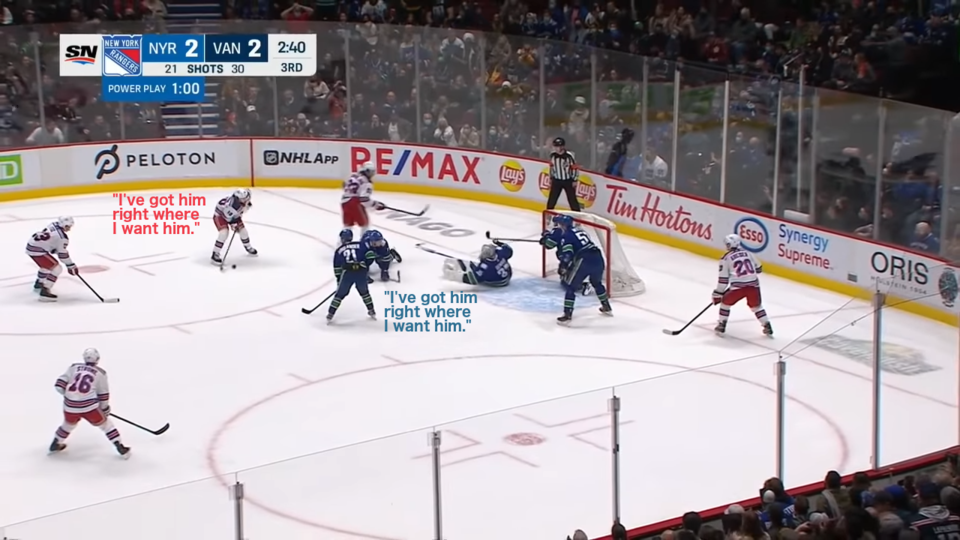 After Demko's save, Panarin gets the puck back immediately, with Demko seemingly at his mercy. But he also has to contend with Miller getting up behind Demko, blocking part of the net.
At this point, Demko is sitting on his rear end. In a normal situation, he might try to stack the pads and use his blocker to try to take away the top of the net but there's one issue with that: no blocker.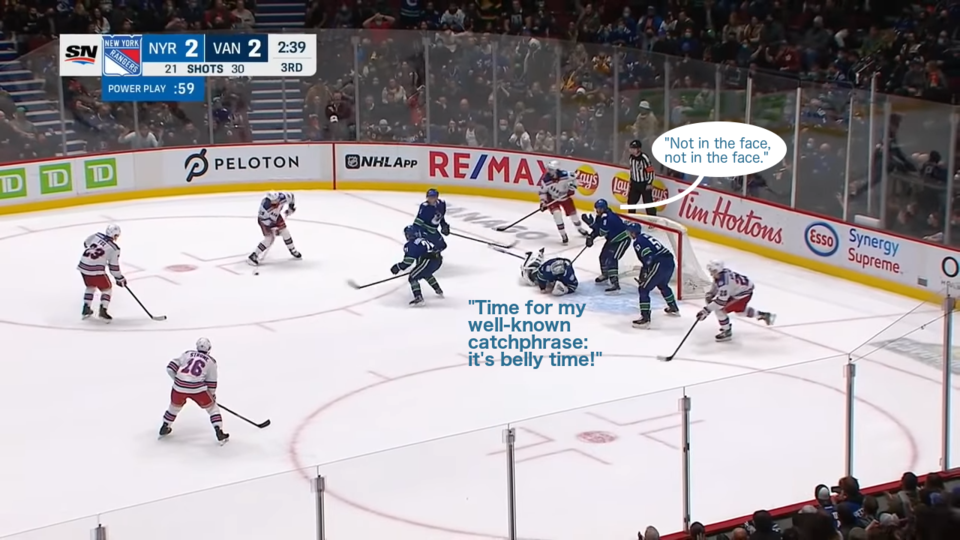 Thinking quickly, Demko intentionally gets on his belly. Seriously, Demko's incredible adaptability is the most amazing part of this save. He doesn't go on his belly by accident, he does it because he has no blocker and needs some other way to take away the top of the net. He has to use his pad and the only way to do that is to flop facedown on the ice.
Meanwhile, all Panarin had to do was pick his head up and pass off to Strome for an open net or spot Kreider opening up at the backdoor, with Myers none the wiser. Instead, he tries to shoot. It's understandable — he thought he had Demko at his mercy.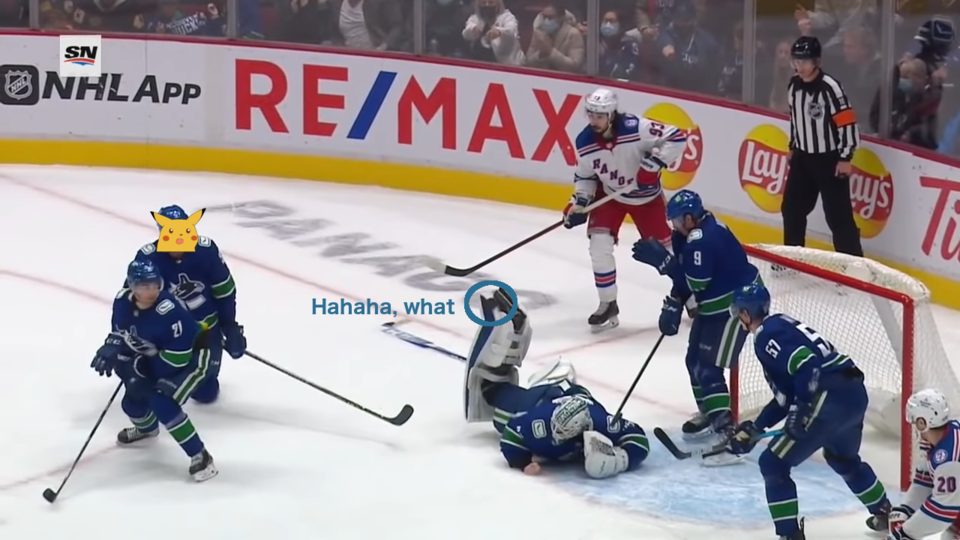 This save is incredible. I've circled the puck above because it almost seems impossible that Demko got the puck with his right pad, but he does. It's akin to Columbian goaltender René Higuita's absurd scorpion kick save in soccer, except for Higuita it was entirely unnecessary, a flashy bit of showmanship to please the crowd. For Demko, it was the only way he was going to stop the puck.
Meanwhile, Miller is cringing with anticipation of the pain that Panarin's shot will surely inflict if it hits him and trying to cover his face a little bit with his left glove.
"I'm just glad that those pucks didn't hit me and they hit him," said Miller after the game.
Let's take a closer, super slow-mo look at the save.
How in the ever-loving heck did he do that?
Again, the most mind-blowing part of this save is that it's entirely intentional. This wasn't an accident.
"It was weird. I don't know if I've ever done that before," said Demko. "Millsy said he was behind me but I've got my eyes on the puck and I was just trying to get a piece of it."
Somehow, the play still isn't over.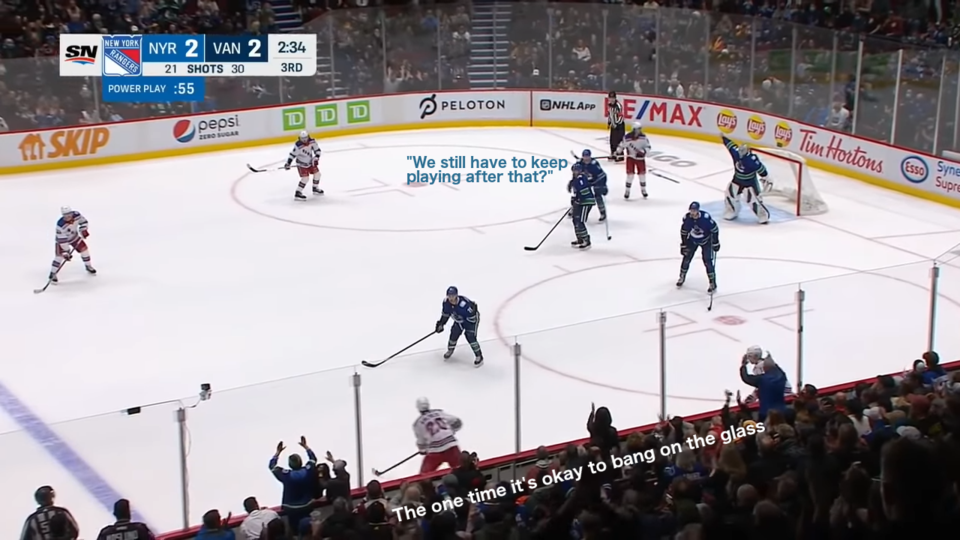 Kreider recovers the puck after Demko sends it over the crossbar and gets the power play set up again, while Demko waves frantically with his bare hand for the refs to blow play dead.
Either that or he's trying to call his blocker or stick to his hand, like Mjolnir.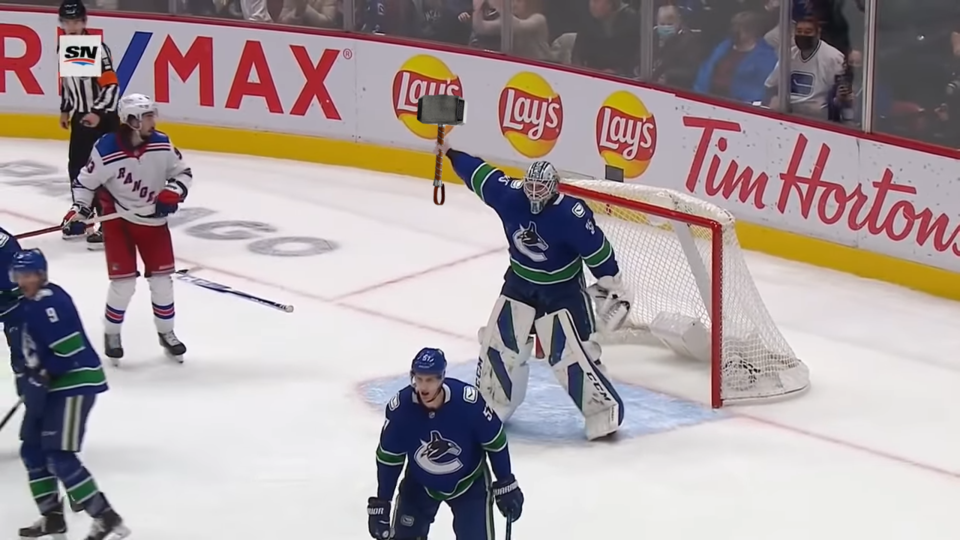 The danger once again is Panarin, lined up for a one-timer at the top of the left faceoff circle. He's already scored on a power play one-timer once this game and that was when Demko had a blocker and a stick.
It might behoove Miller to cheat across to Panarin to try to take away the one-timer but, to be fair, he's already been on the ice for a while at this point defending a 5-on-3, so his legs are likely a little dead.
Demko, meanwhile, finally accepts that play won't be blown dead and tucks his right hand behind his back so that he's not tempted to try to stop the puck with his bare hand.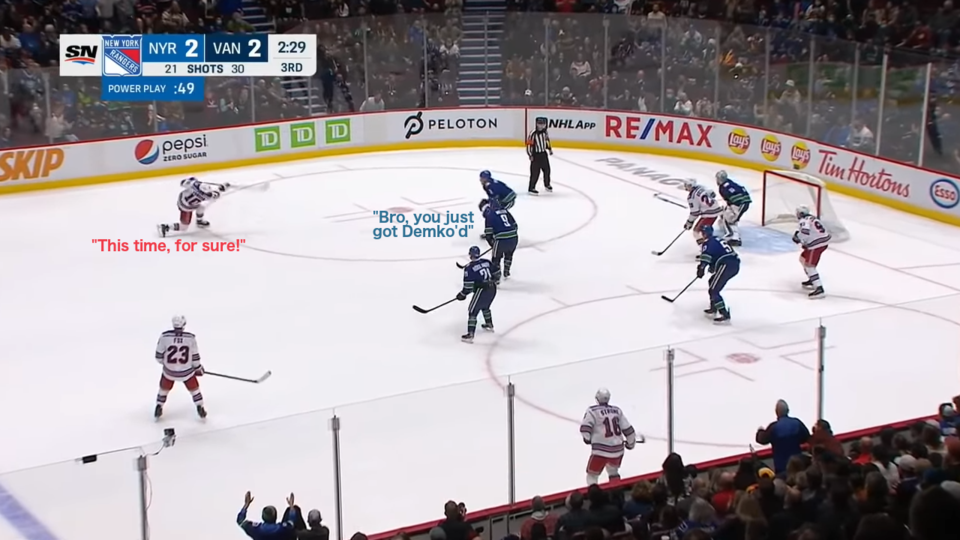 So, when Demko stops Panarin's third shot in the space of 12 seconds, he does it with one hand essentially tied behind his back.
"I was kind of cheating on that side," said Demko. "I knew I wasn't going to be able to use my hand, so I was trying to get as much coverage on that side as I could, just in case he raised the puck a little bit higher than my pad."
With the puck in the corner and Poolman heading to pick it up, the referee finally blew play dead. The crowd roared for Demko, who got an appreciative cuss and a cuff upside the head from Miller.
It's no wonder Miller is so pumped up. The crowd was roaring and Demko had just saved the game for the Canucks and potentially the entire season. This phenomenal sequence could be the turning point the Canucks needed. At the very least, it prevented an awful outcome: an 0-and-4 start at home.
Let's take one last look at the whole sequence.
Wow. Just...wow.