The Vancouver Canucks faced a lot of questions at the first media availability of the 2021-22 season. There were questions about Elias Pettersson and Quinn Hughes, who are as yet un-signed; questions about other players missing the start of training camp to injury or illness; questions about whether the Canucks are ready to become true contenders in the NHL.
But the most important question was left unanswered.
Until now.
PITB is here to answer the most vital question of all: which Canuck had the best hair at their first media availability of the season?
Hockey hair is a grand tradition in the sport. Like the Inuktitut language of the Inuit has approximately two dozen words for snow and ice, there are multiple words for hair in the hockey vernacular: salad, flow, and lettuce are a few of the most well known.
Limited access to barbers during the early days of the COVID-19 pandemic encouraged a return to the long, flowing locks of yesteryear, with many players embracing the type of hair that erupts out of the back of a hockey helmet. What's the hair situation after the offseason and are there any challengers to Brock Boeser's throne as the King of Canucks Hair?
Using in-person reconnaissance along with video and photo evidence, let's take a look at the locks of the Canucks.
We'll start with a newcomer to the Canucks: goaltender Jaroslav Halak.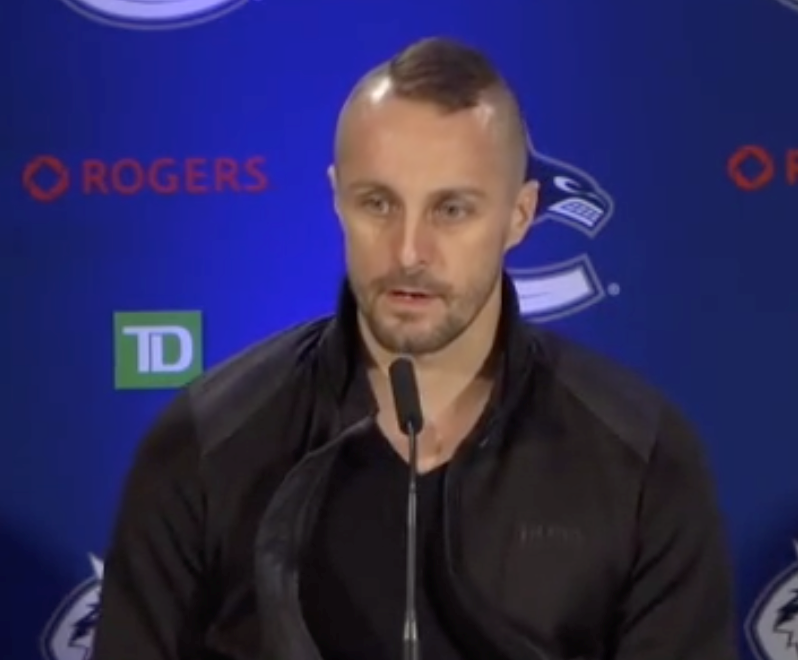 You have to give Halak credit: his hair isn't boring. His look — we'll call it the "reclining mohawk" — is certainly eye-catching and, while it might not be to everyone's tastes, I don't hate it. I'm definitely not going to call it the worst hair of the day — we're not looking for the worst, we're looking for the best.
His fellow goaltender, Thatcher Demko, does not have the best hair.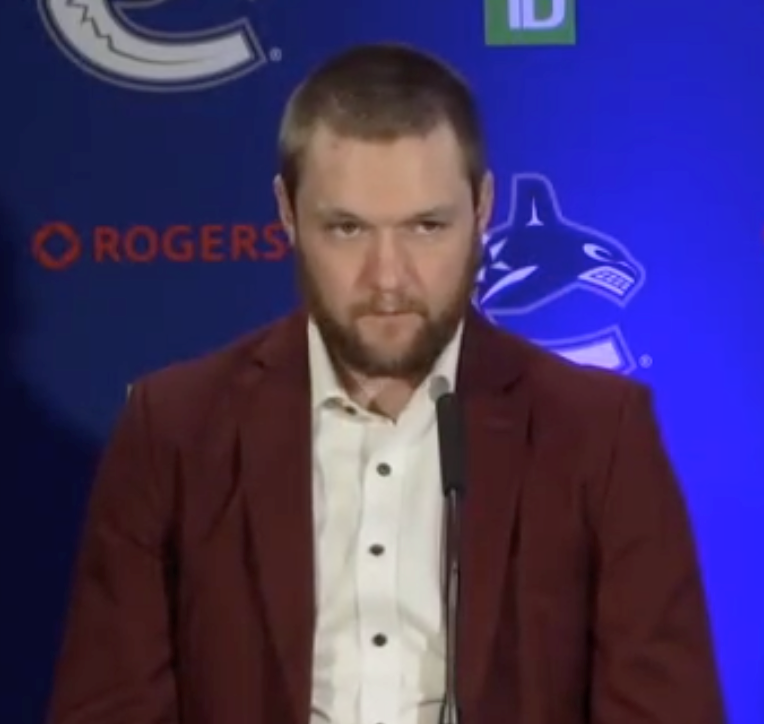 There's nothing wrong with a buzzcut, by any means, but it's always a litle strange when the beard is longer than the hair. It's also such an alarming change after his glamour shots at NHL Media Day showcased a short, controlled side part.
Change is scary.
New Canuck Jason Dickinson is pretty clean cut. It's a well-coiffed fringe-up look that suits his face.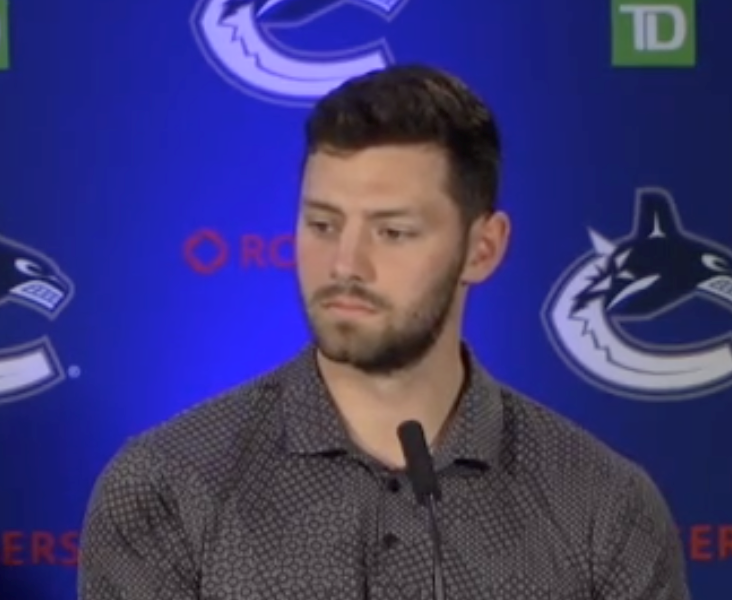 This is good hair. But we're looking for great hair.
How about another new Canuck, Conor Garland?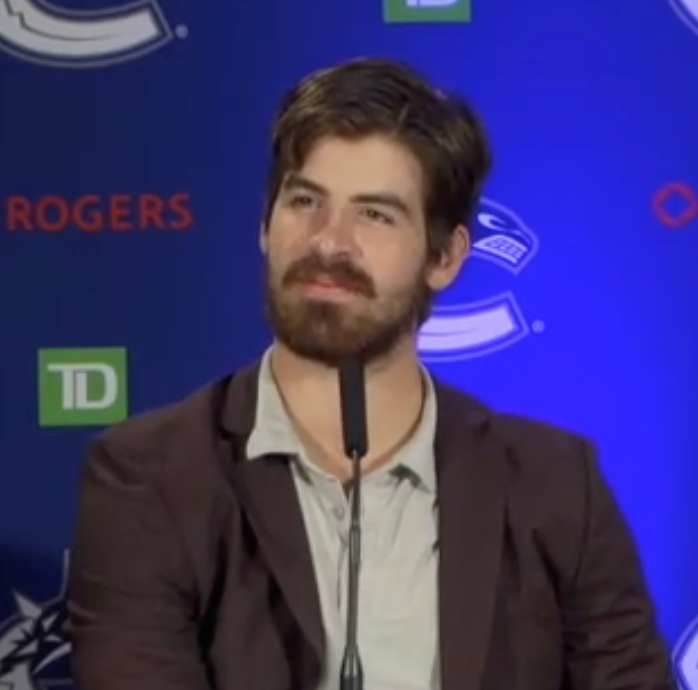 I'm just not sure about this hair. It's not bad but I feel it would work better with a moustache, like Garland rocked in his post-trade Zoom call with Canucks media.
That flow sticking out of the back of his hat, in combination with the moustache, was a strong look. Alas, there will be no moustache for Garland to start the season.
"I'm shaving this too," laughed Garland when I asked about the moustache. "I try to be clean-cut."
Speaking of moustaches, J.T. Miller showed up with one.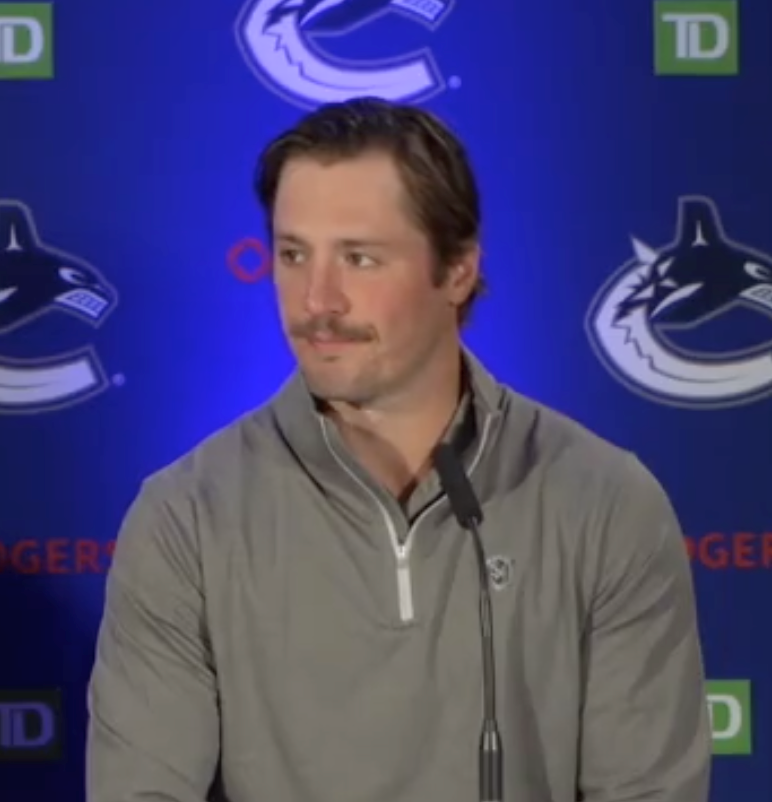 That's a solid look — really embracing the cranky uncle vibes in combination with the zip-up pullover.
The only issue is that his hair has more potential than this. He's grown it longer into a proper flow in the past and it has the tendency to stick out of his helmet at all sorts of fun angles. This is a little too tightly controlled, even with the added spice of the moustache.
"He had one and he shaved it as soon as I shaved mine," complained Miller, gesturing to Tyler Myers, who joined him at the podium even if he didn't join him in moustacheness.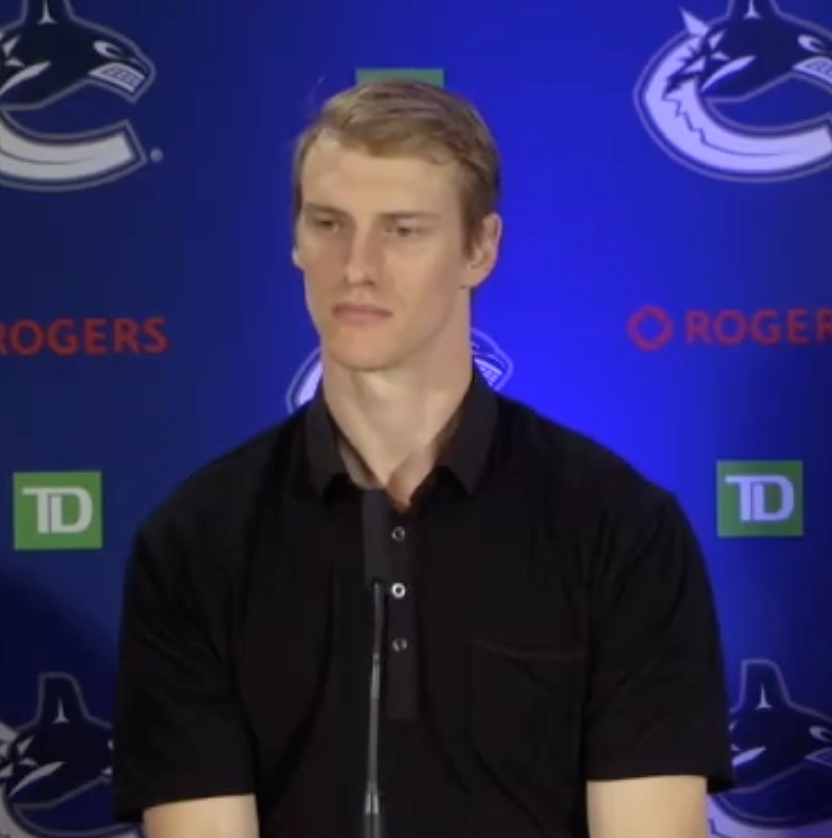 This is the type of hair that makes your elderly neighbour say, "What a nice, respectable young man."
But Myers' hair is hiding something: it's secretly the hair of a bad boy.
That's some quality hair-showmanship. Hairmonship. All he needs now is a switchblade comb.
But we're still not finding any challengers to Brock Boeser's hair. And we won't find it with Oliver Ekman-Larsson either.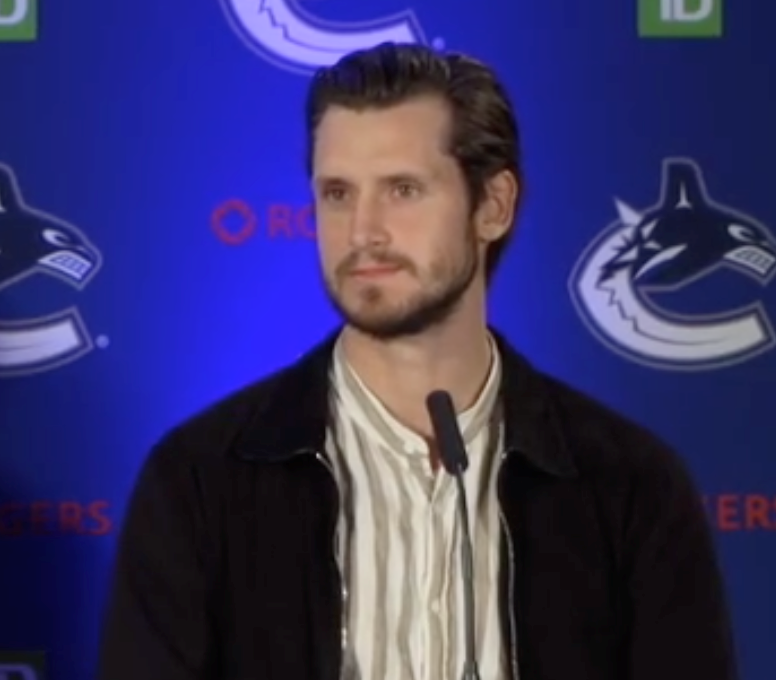 There's nothing wrong with Ekman-Larsson's hair. The problem is the neckbeard, which is giving me mild Amish vibes when paired with the collarless shirt. Hockey hair is about far more than the hair on the top of your head — facial hair matters.
Is there anyone who can contend with Boeser?
Fortunately, the two youngest players at the media availability stepped up to the plate. Let's start with Nils Höglander.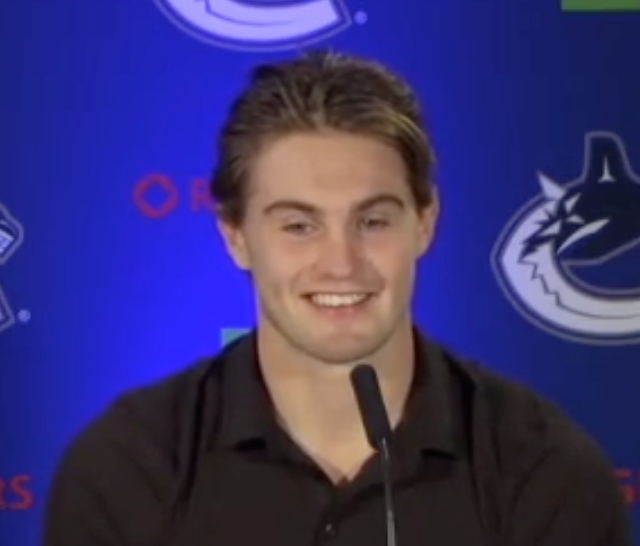 This lowly screenshot doesn't quite capture the full glory of Höglander's hair. The video of the media availability also cuts out how Höglander kicked things off: a quick finger comb of his hair, leaving it, as Max Bemis says, "Elegantly disheveled."
This is some quality lettuce but it's not quite at Boeser's level. Are there any true contenders?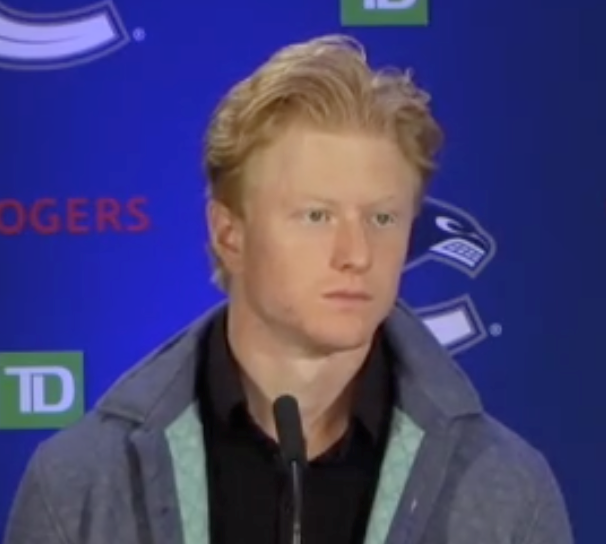 Bam.
Jack Rathbone brought the heat — and the height — with his hair. Rathbone isn't afraid to go big with his hair, with a towering quiff launching off the top of his head. The bright blonde colour — with a hint of strawberry blonde — also makes Rathbone stand out from the pack.
Rathbone has been coming for Boeser's crown ever since he showed up last season with a thick head of hair that couldn't be contained under a mere hockey helmet.
Can Rathbone topple Boeser?
Brock, what do you think?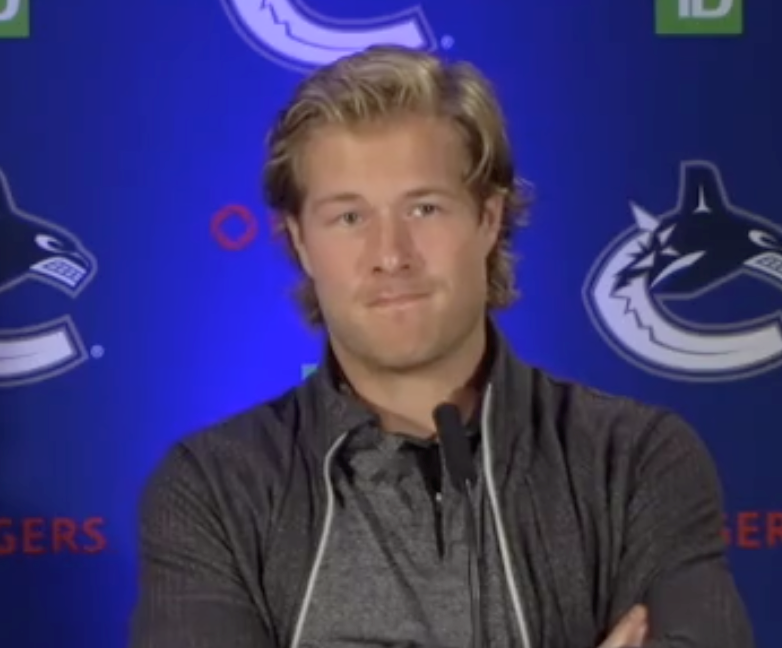 You're right, Brock, I'm sceptical too.
That's a great head of hair. Can we get a side view, Brock?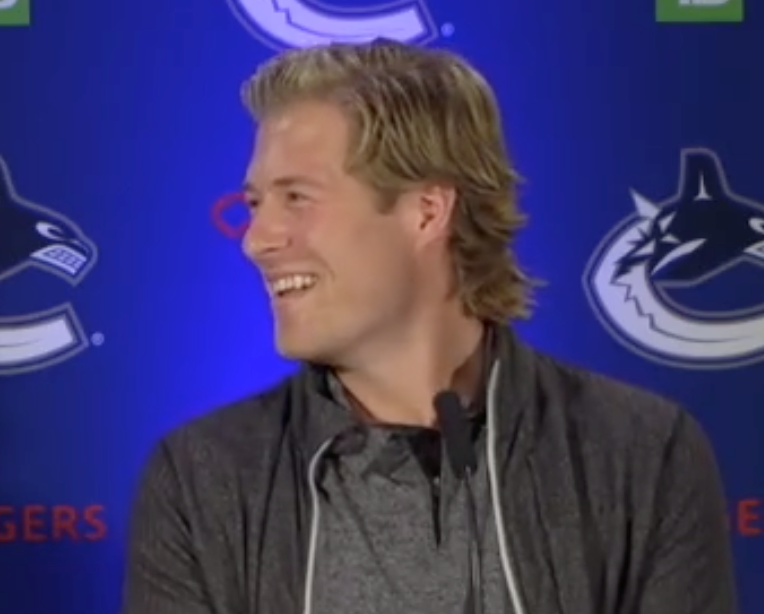 How can anyone compete with that?
The Canucks media day video on social media cuts pretty quickly from shot to shot, but when the camera lands on Boeser's hair, it lingers and for good reason.
Boeser is still the king.