Yes, yes, the Vancouver Canucks defeated the defending Stanley Cup Champions, the Colorado Avalanche on Wednesday night — a potential statement game for a team in desperate need of a turning point for their season.
But we need to talk about something far more important: exactly what candy hit Elias Pettersson in the third period?
Late in the third period, an irate Avalanche fan chucked a bag of multi-coloured candy on the ice, striking Pettersson in the left skate. The bag exploded, scattering candy across the ice and causing a lengthy delay.
Elias Pettersson got hit by a bag of candy thrown on the ice by a fan in Colorado 😬 pic.twitter.com/QkUTVT50pS

— Gino Hard (@GinoHard_) November 24, 2022
The fan was presumably mad at the referees, who had just called a penalty on the Avalanche with one minute remaining. That's despite the officiating arguably favouring the Avalanche, who had more power plays in the game than the Canucks — six in total, including a lengthy two-man advantage in the second period — while the Canucks had a goal disallowed for dubious reasons.
Perhaps that's what the fan was really mad about. As CanucksArmy's Lachlan Irvine pointed out, if that disallowed goal had counted, the Canucks would have had a two-goal lead in the third period and the Avalanche would have been guaranteed a comeback victory.
The candy wasn't the first foreign object thrown onto NHL ice on Wednesday. New Jersey Devils fans littered the ice with bottles and cans (just clap your hands) and at least one chicken finger.
At least the Devils fans had a good reason to be upset. The Devils had three goals disallowed in a one-goal loss to the Toronto Maple Leafs, ending a 13-game winning streak one win short of tying a franchise record.
Throwing trash on the ice is childish and dangerous no matter what the reason but it seemed particularly childish in Colorado given the situation, so maybe it's fitting that such a childish item was thrown. But what candy was it?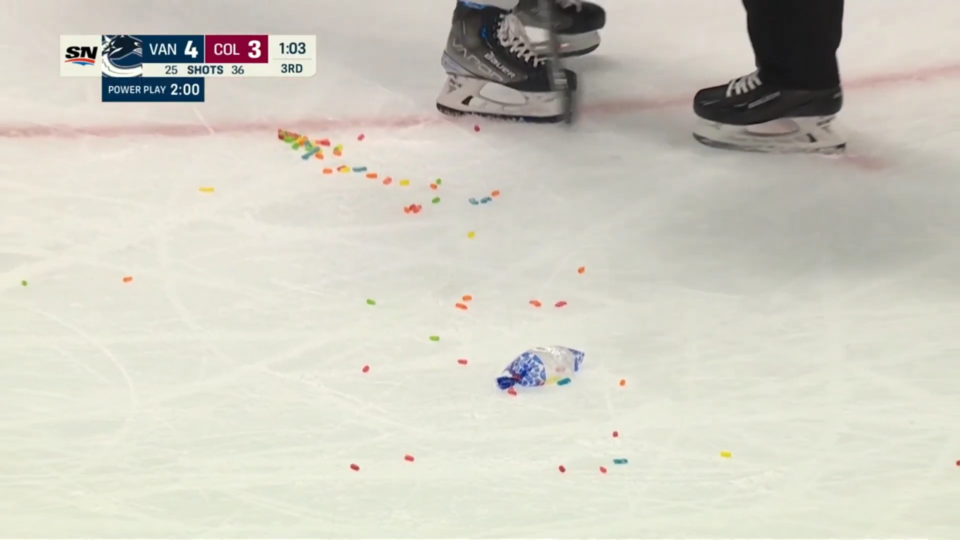 John Garrett confidently said it was jelly beans, but he and John Shorthouse also commented on the distance the commentating booth is from the ice in Colorado. Some speculated on social media that it was gummy bears or gummy worms, while others guessed specific name-brand candy.
What appeared to trip people up in identifying the candy is that it wasn't just one type. The fuming fan threw a grab bag of some sort — it appeared to be fastened at the top by a twist tie — that featured at least two types of candy.
As a long-time candy connoisseur, I can positively identify two of the candies: Sour Patch Kids and Mike and Ikes. That's a controversial mix, as the two candies are owned by completely different companies. We're talking unauthorized grab bag mixing at Ball Arena here.
There may have also been some sort of gummy bear in the mix and some fans swore they saw Swedish Fish but it was tough to tell as some of the scattered candy was out of focus. The candies that some thought might be gummy bears or Swedish Fish could have just been Sour Patch Kids or Mike and Ikes that were misshapen by the force of the fall to the ice.
Heck, I can almost convince myself I see a Sour Cherry Blaster in the blur at the impact point but that may just be candy pareidolia on my part.
One of the candies even got lodged in Pettersson's skate.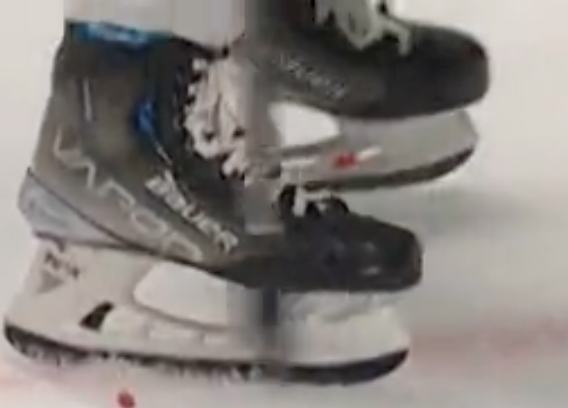 I'm leaning toward that being a Mike. Or maybe an Ike.
Prior to the candy calamity, the Canucks played a heck of a hockey game. And, sadly bereft of any candy of my own, I watched this game.
This was the type of full 60-minute effort the Canucks have been pushing for — and not getting — all season. The Canucks outscored the Avalanche 4-1 at even strength and had a disallowed goal to boot. "I thought 5-on-5, our game was the best it's been," said Ethan Bear and he's absolutely right.

It was just the still-lousy penalty kill that nearly did the Canucks in, giving up two goals on six power plays. Even then, one of the goals came on a 5-on-3, so you can forgive the penalty kill for that, especially against the league's best power play. The Canucks' penalty kill was at 65.6% heading into the game, so killing 4-of-6 for 66.7% actually slightly improved their season percentage.

The Canucks got off to a roaring start, scoring just 21 seconds into the game. Andrei Kuzmenko gained the zone and zipped the puck around the boards to Elias Pettersson behind the net and he chopped it to Ilya "Mix Master" Mikheyev, who was rock steady in the slot, popping the puck into the top of the net.

That was the Pettersson line's first shift against the Avalanche's top line of Artturi Lehkonen, Nathan MacKinnon, and Mikko Rantanen but not the last, as Pettersson was hard-matched against MacKinnon all night long. Meanwhile, J.T. Miller and Bo Horvat were sheltered from the top line. Wonder of wonders, it worked out. It turns out that Pettersson is completely capable of playing a match-up role. Who knew?

I mean, who knew other than me and countless other Canucks fans who have been screaming from the rooftops that Pettersson is the Canucks' best two-way player.

"I love it. I want to play against the best line, the best players," said Pettersson to Sportsnet's Iain MacIntyre. "I mentioned [to Bruce Boudreau] that I'm ready if he wants to play me there."

Pettersson continued to be a delight on the penalty kill, creating two great shorthanded chances by breaking up passes at the top of the zone. One was a breakaway for himself and the other saw him finding Tyler Myers as the trailer in transition. Having someone like Pettersson, who is both a savvy, intelligent penalty killer and also an offensive threat, almost makes up for how godawful the rest of the penalty kill is.

Kyle Burroughs came into the lineup for Riley Stillman, which was a long overdue lineup adjustment. Only, Burroughs had the worst corsi on the Canucks in this game, with the Canucks getting out-attempted 14-to-3 when he was on the ice at 5-on-5 and out-chanced 7-to-1. But the Avalanche only scored one goal when he was on the ice and it was the 5-on-3 power play goal, so everyone calling for Burroughs to get in the lineup still gets partial credit.

The Avalanche tied the game in the first period on an ill-timed line change by the Canucks, as they never got back into their defensive shape. Curtis Lazar had to leave his man, Devon Toews, to pressure the puck, but then Ethan Bear had to leave his man, Mikko Rantanen, to pressure Toews. Oliver Ekman-Larsson was several steps slow to cover Rantanen and couldn't box him out or tie up his stick as Toews gave him a tap-in goal.

A power play goal gave the Avalanche the lead heading into the first intermission. J.T. Compher smartly spun a rebound to Rantanen, instead of just jamming it back toward the goal. Spencer Martin was like a Gregorian Monk who has taken a vow of silence: no chance.

It looked like Connor Garland had tied the game in the second period when he tipped in a Luke Schenn point shot but it was challenged for goaltender interference and ruled no goal because all rulings on goaltending interference are made by throwing a dart at a board that just says, "Make up whatever you want, life is meaningless."

Garland was pushed into Pavel Francouz by Samuel Girard and Francouz had plenty of time to get reset after shoving Garland with his glove. What are we doing here?
November 24, 2022
There's a saying in basketball — "Ball don't lie" — which suggests that karma comes quickly on bad calls, with shooters missing free throws on lousy foul calls. Call Bo Horvat's tying goal "puck don't lie," as he made up for the overturned Garland goal with a tip-in of his own on an Ethan Bear point shot.

Just like that, Horvat has 16 goals this season in just 20 games, tying him with Connor McDavid and Jason Robertson for the league lead. Boy, it sure would have been nice if the Canucks had made re-signing him a priority in the offseason instead of a certain unnamed forward.

Speaking of a certain unnamed forward, it was his lazy hooking penalty while killing a Tyler Myers double minor that gave the Avalanche a full-length 5-on-3. Many Canucks fans called it a soft call but you can't get the blade of your stick into the hands of an opposing player — refs are looking for it and will call it, even if it feels like a chintzy way to hand out a two-man advantage.

Of course, the Canucks should have been given a two-man advantage shortly after that when Andrew Cogliano tripped Quinn Hughes while killing a penalty. Look, I never said NHL officiating was good.

Cale Makar hit the post first on one chance, then buried a one-timer on his second opportunity with the two-man advantage to make it 3-2. That guy is pretty good, it turns out.

The Avalanche had a whopping ten shots on goal during Myers' double minor and Miller's hook, not including Makar's post. The Avalanche out-shot the Canucks 36-to-25, so there's most of their shot advantage in the game in the space of just four minutes. That's the most shots in four minutes since the music video for "Shots" by LMFAO, featuring Lil John.

The Canucks' comeback started with a goal just after a power play ended, with Sheldon Dries chipping in a backhand after an Ekman-Larsson pass deflected towards the net. Dries spent three seasons in the Avalanche system, playing a total of 48 NHL games in Colorado, so he was clearly comfortable at elevation. Or, maybe at 5'9" the elevation didn't affect him as much.

Another former Avalanche player got the start for the Canucks: Spencer Martin. He was superb in net, in stark contrast to his three NHL games with the Avalanche six years ago, where he had an .865 save percentage. His best save came on Devon Toews, as he exploded across the net like Thibaut Courtois to get his blocker on the backdoor chance.
Spectacular save by Spencer Martin as he reads Makar's pass perfectly and robs Toews. #Canucks pic.twitter.com/Dm1WrtkmMO

— Lachlan Irvine (@LachInTheCrease) November 24, 2022
Dries added an assist on the game-winner for just his second multi-point game of his career. At 4-on-4, Mikheyev beat out an icing with his speed, sent the puck to Dries along the boards, and he relayed it to Ekman-Larsson at the point. Ekman-Larsson passed it along to Ethan Bear, who timed a slap shot perfectly with Mikheyev cutting across the front of the net to screen Francouz. Like the method that biologists are starting to use to estimate ursine mass, it was a Bear laser.

There were some nervous moments as the Canucks attempted to defend their lead — Martin got caught completely out of the net at one point and had to scramble back to stop a Makar chance — but they did it. Those crazy sons of mothers actually did it. Now they just have to do it a whole bunch more.