"In order to win in this league and to win in the playoffs...not only do your top lines have to score but you have to have that depth in your lineup."
That was Vancouver Canucks captain Bo Horvat at the end of last season. It was a comment borne out of frustration at once again being out of the playoffs. As he saw it, a lack of scoring depth was a major issue.
It's hard to argue with his assessment. Outside of the top-six, the team's top point producer was Brandon Sutter, who had 12 points in 43 games, then Tyler Motte with 9 points in 23 games. There wasn't much to speak of after those two.
Does Horvat think the Canucks did enough to address those concerns in the offseason?
"I do," said Horvat after the first skate of training camp. "I think with the guys we added and our guys that are currently on the team...I think everybody's got to step up this year."
There are several new players competing for a spot in the top six this season. Aside from J.T. Miller and Brock Boeser, who plays on the wings in the top six is entirely up in the air. Even Miller might end up at centre instead, particularly if Elias Pettersson hasn't signed a new contract before the start of the season.
That leaves at least two vacancies on the wing, both alongside Horvat on the second line, with five players potentially competing for those two spots. Horvat, for his part, was diplomatic about who he feels might win those spots.
"Whoever I play with, for me I just want to do whatever I can to help the team win regardless of who's on my wing," said Horvat. "We just want to go out there and win hockey games, so that's all I'm going to be focused on."
He was, however, optimistic that the increased competition will be a major boon to the team.
"Anytime you have people fighting for a job, who want to be the best, I think that's a great problem to have," said Horvat. "I think we have a lot of guys that have a lot of competitive edge out there and that's definitely going to help us this year."
"I got into the top six by taking somebody's job."
One of those players is Conor Garland, who comes into camp with a proven track record as a top-six forward with the Arizona Coyotes. In fact, Oliver Ekman-Larsson, Garland's captain with the Coyotes, said he was "our best forward by far."
Horvat certainly thinks highly of Garland.
"He's slippery, I think is the best way to put it," said Horvat. "He's really hard to knock off the puck and even to catch. Just his quick pivots and his agility on the ice is something to watch."
As much as Garland likely should be a lock for Horvat's line, he's certainly not taking the spot for granted.
"I got into the top six by taking somebody's job," said Garland. "There's guys that will be behind you and in the system that want that job as well, so you're gonna have to go out and perform each and every night to be able to hold that job."
On the first day of training camp, Garland skated on a line with J.T. Miller and Vasily Podkolzin, who is another player who will be pushing to make the top six.
Youth group: Podkolzin vs Höglander
The young Russian rookie was an early standout at camp, ripping heavy shots past goaltenders and impressing in battle drills. While he might be more likely to start the season on the third line, head coach Travis Green has shown a willingness to give rookies top-six opportunities if he feels they deserve them.
Podkolzin getting his start at camp with Miller and Garland seems like a vote of confidence for the rookie, who has both the skill and the strong two-way game to immediately step into the lineup and make an impact.
One of those rookies who did exactly that last season was Nils Höglander, who was one of the few bright spots in a tough season. Now the challenge for Höglander will be holding onto the spot he earned last season.
It has perhaps gone under-reported just how good Höglander actually was last season. Advanced statistics paint a picture of a dominant puck possession player, who excelled at getting to the inside in the offensive zone.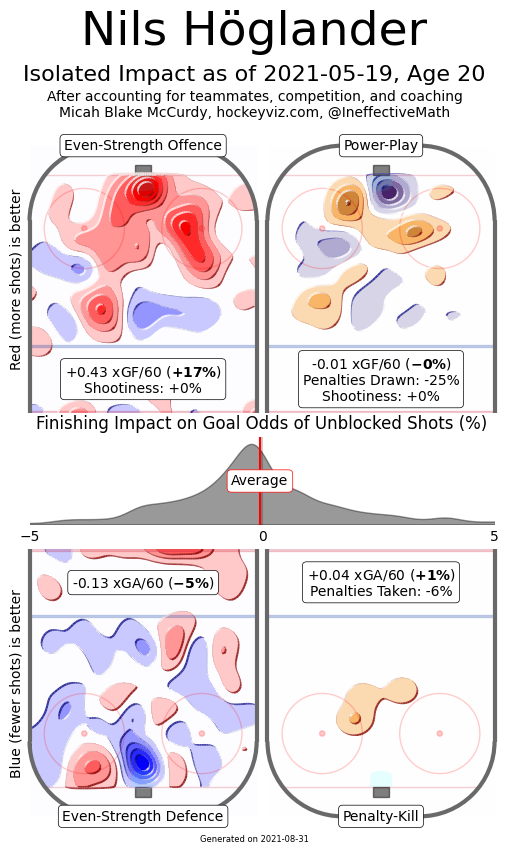 The question for Green and the Canucks, however, is how they feel about two smaller forwards on the wings with Horvat. Höglander and Garland are both on the smaller side, though neither is afraid of engaging in puck battles and driving to the net. In fact, Höglander plays like a power forward.
Caan Green overlook their size and play them both with Horvat, who frequently ends up in a matchup role? Podkolzin has that size that Höglander lacks, along with a strong two-way game. Could that give him an edge?
Höglander started camp on a line with Brock Boeser and Nic Petan. Perhaps the team could even try Höglander on the first line with Boeser and Pettersson.
"Pearson and I obviously work well together."
Horvat could also end up with the incumbent on his wing: Tanner Pearson. That's who he skated with in drills on the first day of camp, along with Zack MacEwen. And, as much as Horvat was magnanimous about who he might play with, it seems clear that he expects to play with Pearson.
"Building chemistry right from day one, it's going to be huge for us," said Horvat. "Pearson and I obviously work well together and we kind of know where each other is going to be on and off the ice. I think that's a good thing to have right from the get go."
Pearson is reliable and a known quantity for the Canucks but he struggled at times last season, finishing with 18 points in 51 games despite plenty of minutes and time on the top power play unit. It's understandable that Pearson might get first crack at playing with Horvat but it might end up limiting that line's offensive potential.
That said, Pearson has had a rollercoaster career, disappointing for long stretches, then suddenly putting up big numbers. Case in point, when he first joined the Canucks, he scored 9 goals in just 19 games after scoring 9 goals in 61 games prior to coming to Vancouver. Just two years ago, Pearson had 21 goals in 69 games, though that was boosted by six empty net goals.
The PTO wild card: Alex Chiasson
There is one more competitor for the top six — a real wild card. Alex Chiasson joined Canucks camp on a professional tryout — PTO.
Chiasson certainly has size on his side at 6'4" and he's scored goals in the past. In the 2018-19 season, Chiasson racked up 22 goals, albeit while playing frequently with Leon Draisaitl and Connor McDavid. Is it crazy to think that Chiasson might get a chance in the Canucks' top six?
The big winger rotated on a line with Jason Dickinson and Phil Di Giuseppe on the first day of camp, which looks more like an audition for the bottom six for Chiasson. That said, if contract negotiations with Pettersson drag on and Miller has to play in the middle, Chiasson could get a look in a larger role.
At the very least, Chiasson is worth keeping an eye on in camp and in the preseason. He can score goals, even from a depth role, and could turn that PTO into a real contract in a hurry.
The biggest positive from all this competition is that the Canucks should have that depth scoring that Horvat desired. Whoever doesn't end up on the second line with Horvat could make the third line a legitimate scoring threat.