The ghost of Cam Neely has been haunting the Vancouver Canucks since 1986.
That's when the Canucks traded Neely on his 21st birthday, only to see him blossom into one of the most dominant players of his era with the Boston Bruins. He went from 14 goals and 34 points in his last season with the Canucks to 36 goals and 72 points in his first season with the Bruins.
Neely eventually hit 50 goals in three different seasons, including incredibly scoring 50 goals in just 49 games in the 1993-94 season. He was the archetypal power forward — big, mean, and incredibly talented — and he was elected to the Hockey Hall of Fame in 2005.
The Canucks have been seeking that power forward archetype ever since, to varying degrees of success. There are some that hope Vasily Podkolzin, the Canucks' top prospect, could be that type of player but, surprisingly, the Canucks' best candidate to be a top-tier power forward might actually be their shortest player.
"He's a power forward but a tiny one."
Nils Höglander is just 5'9", but he packs a ton of power into his small frame. He's listed at 190 lbs, which is actually the same weight as the 6'3" Brandon Sutter. Most importantly, despite his high level of skill, Höglander doesn't play like a pure skill player: he grinds, he battles, and he drives to the net.
"He's strong on the puck, he's fast, he has had some grit in him," said Elias Pettersson about Höglander's rookie season. "He's a power forward but a tiny one."
People don't typically think of power forwards as tiny but that is the way Höglander plays. Sure, he might not bully his way to the front of the net like Todd Bertuzzi in his prime — Bertuzzi used to just stick his butt into defenders and back up and they were powerless to stop him. Instead, Höglander leverages his lower centre of gravity to fight through checks and still get to the front of the net.
For evidence, just look at this heatmap of shot attempts by Höglander at even-strength last season. The vast majority of his shots came from right on top of the crease or, at the very least, within the so-called "home plate" area in the slot.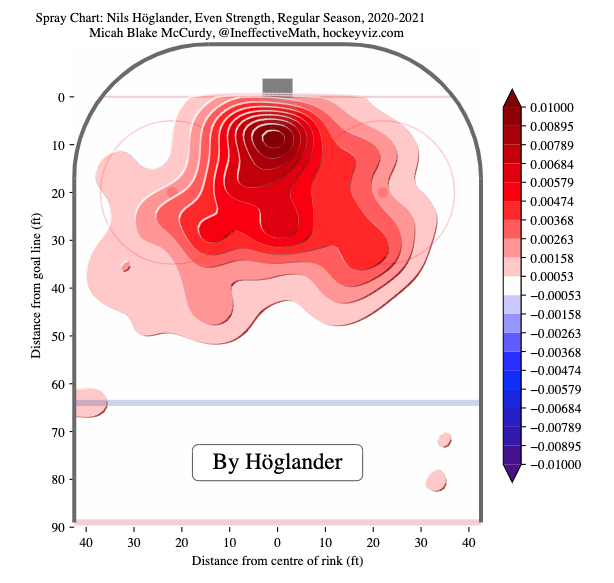 That willingness to drive to the net showed itself repeatedly all season long with Höglander. He looked for every opportunity to get to the inside to create scoring chances.
Here's an example against the Calgary Flames, where he creates some space with a nifty move between his legs, then cuts directly in front with a power move only to have the puck knocked off his stick at the last second.
This shift leading up to one of his 13 goals illustrates how well he protects the puck. He gains the zone with a spin move, shaking off a crosscheck in the process, then leans into his defender with a wide stance to get to the net for a scoring chance. He then intercepts the breakout and again fights off a check to keep the play alive.
By the time the puck takes a lucky bounce over the top of the net, guess who is already on top of the crease ready to bang it in?
Even when his drives to the net weren't successful, he was strong on the puck and frequently still maintained possession. Look at this play against the Montreal Canadiens: as soon as he gets the puck on the boards, he immediately looks to get to the net, only to be cut off by Phillip Danault, an elite defensive forward.
Höglander doesn't let it faze him. He keeps his body between Danault and the puck, creates some space, and finds Nate Schmidt at the point to maintain possession.
Perhaps the power of Höglander's game shouldn't have come as a surprise. At the 2019 NHL Combine heading into the Entry Draft, Höglander stood out among his peers, particularly in tests that measured strength and power.
Höglander was first in peak power output in the Wingate anaerobic test and first in total pullups. He came second in bench press power — athletes had to bench press half of their weight as quickly as possible and, considering Höglander weighs as much or more than players much taller than him, that's pretty impressive.
Still, even with his Combine performance and all the clips of him driving to the net from Sweden, Höglander's performance in his rookie year still came as a surprise. The question now is what can he do for an encore now that he's lost the element of surprise.
Höglander's

rookie season was better than you think

First, we need to have a proper understanding of just how good Höglander's rookie season really was. He may not have produced the gaudy numbers of the Canucks rookies that came before him — Brock Boeser, Elias Pettersson, and Quinn Hughes — but he still had an excellent season.

That's particularly true when you look at his advanced stats, but even his point totals were solid. Höglander finished the season with 27 points in 56 games, good for fifth on the Canucks. What's most impressive is that almost all of that scoring came at even-strength.

Höglander had little help on the power play, as the second unit was a messy mélange of healthy scratches and waiver-wire pickups, and he managed just one power play goal. That means Höglander put up 26 points at even-strength.

Höglander's 12 even-strength goals were second on the Canucks behind only Boeser and he was third on the Canucks in points per 60 minutes at even strength behind Boeser and Pettersson.

In fact, among the 341 forwards who played at least 400 minutes at 5-on-5 last season, Höglander was 81st in points per 60 minutes. In other words, he produced like a low-end first-line forward at even-strength in his rookie season.

What was missing, obviously, was power play production. With their offseason additions, the Canucks should have a much better second power play unit, which ought to help Höglander chip in a few more points in the coming season.

Beyond just the points, however, Höglander's biggest impact was on puck possession and his advanced statistics paint a picture of a far more impressive rookie season than some might think.

Höglander was the lone Canucks player with a corsi percentage above 50%, indicating the Canucks had more shot attempts than their opponents with Höglander on the ice at 5-on-5. The only Canuck with a higher expected goals percentage was Pettersson and only Bo Horvat had more high-danger chances. Höglander was borderline elite.

His isolated impact heatmap from HockeyViz illustrates just how good Höglander was at pushing the puck up ice and creating dangerous scoring chances.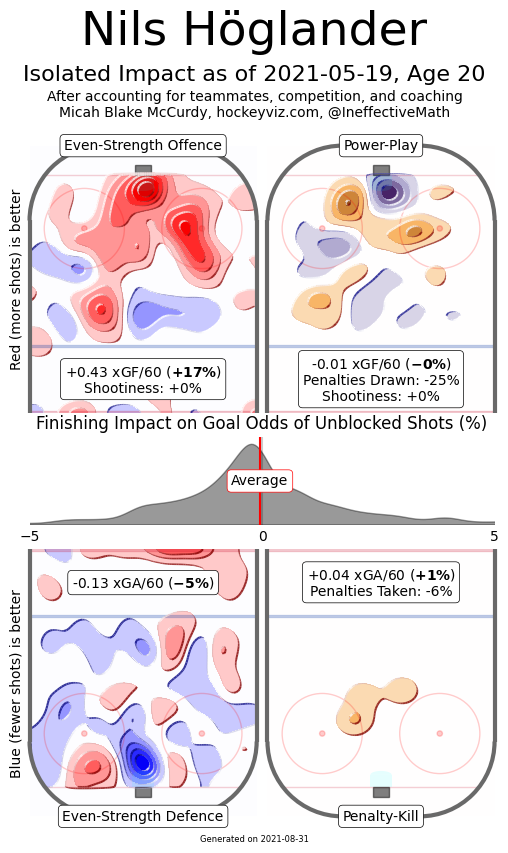 The +17% under even-strength offence indicates that Höglander created chances that were 17% more dangerous than the NHL average when he was on the ice. The -5% in the defensive zone means he was also effective at limiting dangerous chances against.
That's a massive influence on puck possession and scoring chances. No other Canuck comes even close to that kind of isolated impact in this model, not even Pettersson.
Höglander has some high-end comparable players
What Höglander lacked last season was the high-end finishing of Pettersson, Boeser, and J.T. Miller but the capability is there, which is what makes his sophomore season so exciting. That's particularly true when you consider the possibility of Höglander playing with new Canucks like Conor Garland and Vasily Podkolzin — there's potential for Höglander to break out in a significant way.
That said, it's a good idea to still keep expectations in check. Some players who put up similar points-per-game to Höglander at 20 years old have gone on to become top-end talents — like Mika Zibanejad, Elias Lindholm, and Bo Horvat — while others, like Zemgus Girgensons and Peter Mueller, slipped out of the spotlight almost immediately.
​​It would be great to see Höglander develop into a leader like Horvat, a first-line forward like Lindholm, or even one of the best players in the NHL like Zibanejad. But even looking at their success stories, what stands out is that their 21-year-old seasons were relatively modest successes. Zibanejad and Horvat both hit 20 goals, while Lindholm basically repeated his 20-year-old season, putting up an identical 39 points.
It seems reasonable to expect something similar from Höglander in his second season. 20 goals and 40 points doesn't seem either overly optimistic or pessimistic — it sounds just right. With some extra production on the power play, Höglander could certainly surpass those expectations.
There's another player who put up a similar points-per-game to Höglander at 20 years old, of course: Cam Neely. At 21, Neely joined the Bruins and immediately broke out. Maybe Höglander won't flirt with a point-per-game and score 30+ goals next season and he's unlikely to make Canucks fans forget about Neely, but maybe he can change the definition of what it means to be a power forward.