The deals are nearly official: Elias Pettersson and Quinn Hughes have all-but re-signed with the Vancouver Canucks.
The contracts were agreed to, in principle, Thursday evening but getting all the details finalized is taking a little bit of extra time. Their respective cap hits are out, however, and are slightly different than initially reported: Hughes' was a bit higher and Pettersson's was a bit lower.
Hughes is signing a six-year deal worth $7.85 million per year, while Pettersson is signing for three years at $7.35 million per year, as reported by Darren Dreger, Pierre LeBrun, and Elliotte Friedman, aka. The Usual Suspects.
The deals are right around what was expected for the two Canucks stars. Pettersson's deal can be compared to that of Mathew Barzal, who signed a similar three-year bridge deal in January with a $7 million cap hit. Pettersson, with his slightly higher scoring rate and defensive game, earned a slightly higher payday.
For perspective, Pettersson will become the 19th highest-paid centre in the NHL. The odds are very good that he will be much better than the 19th-best centre in the league for the next three seasons.
Hughes, meanwhile, will get a six-year deal that eats one year of unrestricted free agency. He comes in at a cheaper cap hit than Cale Makar and Miro Heiskanen, who he was frequently compared to in his rookie year. While he suffered a sophomore slump, there is still a lot of optimism that he can become one of the best defencemen in the league and make his $7.85 million cap hit look like a bargain.
Hughes will become the 16th highest-paid defenceman in the NHL and his contract is the fourth-highest among second contracts behind Makar, Heiskanen, and Thomas Chabot.
Why the Canucks couldn't go long-term on Pettersson
It was a long negotiation with both players for the Canucks. Benning called them "complex and unique deals," and there had to be significant movement on both sides to get a deal done.
Being a fly on the wall during those negotiations would have been fascinating, as the two players were represented by the same agent and were angling for a piece of the same pie. The bigger one slice got, the smaller the other would need to get in order to fit both contracts under the salary cap.
By necessity, the Canucks could only go long-term with one of the two. Pettersson undoubtedly would have been more expensive than Hughes on a long-term contract because of a longer track record — three seasons to Hughes's two — and the additional leverage of having the option to sign an offer sheet.
A max-term, eight-year deal for Pettersson could have been in the $10 million range. That would have left little room for Hughes, especially after Rasmus Dahlin signed a $6 million, three-year bridge deal with the Buffalo Sabres, raising the floor for what Hughes and his agent could command for a bridge contract. A bridge deal for Hughes and a long-term deal for Pettersson was untenable. Splitting up the pie between him and Hughes meant a bridge contract for Pettersson.
It's my understanding that the Canucks, at one point, had an $8 million deal on the table for Pettersson on an unknown term — likely a longer-term deal — but the Pettersson camp wanted more. An $8 million deal for Pettersson could have potentially left enough room for Hughes to sign a bridge deal — perhaps even a six-year deal like the one he signed if the Canucks were willing to make some tough decisions with the rest of the roster.
The long-term implications of Pettersson's deal are intriguing. In three years' time, Pettersson will still be a restricted free agent but will be one year from unrestricted free agency. If he is unhappy with the direction of the team, he could simply sign his required one-year qualifying offer instead of re-upping on a longer deal.
That qualifying offer would be 120% of the average annual value of his new deal, which comes out to $8.82 million.
It's more likely, of course, that Pettersson instead signs a massive, long-term deal with the Canucks. That's the risk of a bridge contract: he's cheaper for three years, but more expensive in the future than if they had signed him to a long-term deal now.
That's a future that the Canucks avoided with the Hughes contract. Considering how expensive defencemen have been this offseason — Seth Jones at $9.5 million and Zach Werenski at $9.58 million come to mind — the Canucks were wise to avoid a bridge deal for their number one defenceman.
Hughes will, however, be an unrestricted free agent when his contract expires. That could also be a very expensive third contract but that's much further down the road.
Canucks get clarity on this season's salary cap
Aside from the long-term implications, how do the new contracts for Pettersson and Hughes fit into the Canucks' current cap situation?
There are still many unknowns. It is still unclear whether Travis Hamonic will play for the Canucks this season, Brandon Sutter and Tyler Motte are still on the Injured Reserve (IR), and the final cuts haven't been made. Still, the picture is becoming a little bit clearer.
Here's a prospective roster using CapFriendly, which includes Hamonic, as well as Sutter, Motte, and Micheal Ferland, as the Canucks will need to have them on the roster at the start of the season to maximize their cap relief from placing them on IR.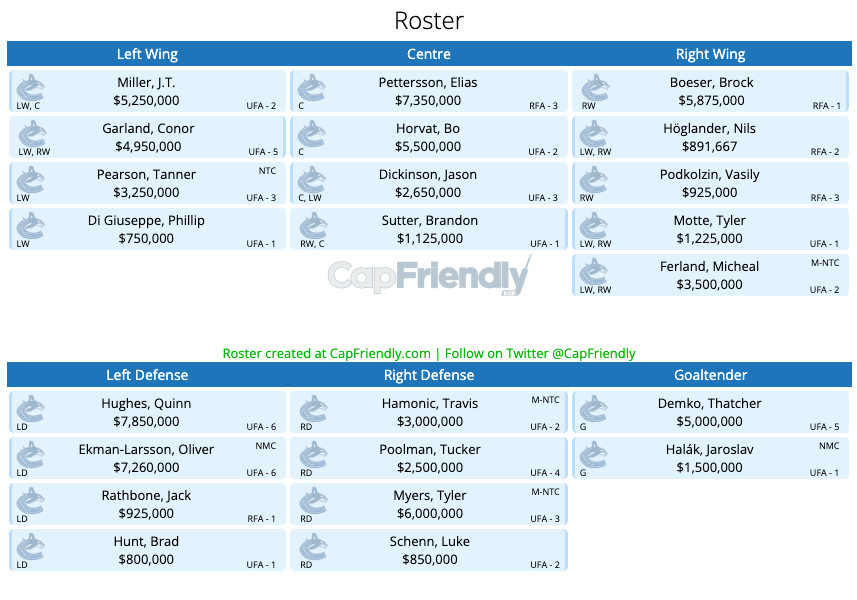 This roster is approximately $1.66 million over the salary cap but the Canucks can solve that issue by papering Nils Höglander and Vasily Podkolzin down to the AHL, then recalling them for the first game of the season. Since they are exempt from waivers, that can be easily done and their ~$1.82 million cap hit covers the overage.
Of course, all of this goes out the window if Hamonic does not play this season. His $3 million cap hit could potentially become available to the Canucks, though he would likely need to be replaced via trade, free agency, or the waiver wire.
Without Hamonic, it's unclear who would play with Hughes. While the two didn't have the best results together last season, it's unlikely that one of Tucker Poolman, Tyler Myers, or Luke Schenn would do any better. Hughes and Myers have played together quite a bit but almost always when the team was trailing and they were primarily deployed in the offensive zone. It's unlikely head coach Travis Green would be comfortable deploying the two of them together regularly at 5-on-5.