The first day of a Travis Green-coached training camp always ends in a bag skate. And not an easy bag skate, if such a thing exists — a gruelling, difficult bag skate.
"That was the hardest one I've ever been in," said Conor Garland, who lost his lunch at the end of the skate. It's traditional for at least one person to do so — for many years, it was always Troy Stecher.
As a new member of the Vancouver Canucks, Garland had a tough time, as did Oliver Ekman-Larsson. Evidently, the Arizona Coyotes had an easier time at their training camps. It was hardest on Olli Juolevi, who was left flat on his back by the end of the skate, gasping for breath.
The bag skate is only partly about evaluating players. Green noted that it helps the coaching staff know what a player has done over the summer to get ready for camp, especially if they're a returning player who knows it's coming. But in another sense, it's a statement of purpose — Our team is going to work harder than any other team; that's our identity.
"I'm confident in what I can bring."
This may have been Phil Di Giuseppe's first time at a Green training camp but he made a statement as well: if you want hard workers, here I am.
Where other new Canucks struggled to keep pace in the bag skate, Di Giuseppe led the way, barely looking out of breath by the end of it. While the veteran forward may not have been at a Canucks camp before, his experience with other teams meant he was ready for whatever Green could dish out.
"Rangers, a lot of skating, Carolina before that. Both teams pride themselves on speed getting up and down the ice," said Di Giuseppe. "I have a history of playing on teams where that was a main part of their identity, so it's become part of mine."
Di Giuseppe has legitimate NHL experience, with over 200 games played for the Carolina Hurricanes, Nashville Predators and New York Rangers. Last season, he worked his way into a regular role with the Rangers, playing in 31 of their 56 games, with some of those missed games due to time on the COVID protocol list.
It may have been easy to overlook Di Giuseppe coming into camp, as the Canucks have a bevy of forwards eying a spot on the fourth line. Their number includes a few players who have already suited up for the Canucks, like Matthew Highmore, Zack MacEwen, and prospect Will Lockwood.
It doesn't help that Di Giuseppe was signed at the same time that the Canucks signed a slew of players bound for Abbotsford in the AHL.
Di Giuseppe is intent on not being overlooked.
"I'm confident in what I can bring and the identity this team has and what they need," said Di Giuseppe, who skated on the wing with Jason Dickinson, who is expected to be the Canucks' third-line centre, as well as PTO Alex Chiasson.
"I used to be a pure skill guy."
While reading into lines on the first day of training camp isn't always beneficial, it's still a good sign that Di Giuseppe wasn't lined up with obviously AHL-bound players. There's a strong argument to be made that Di Giuseppe doesn't belong in the AHL, as he's been a solid defensive forward at the NHL level.
"I used to be a pure skill guy and then found a defensive role in Carolina and then New York I was more looked on as a defensive player," said Di Giuseppe, who was drafted by the Hurricanes in the second round in 2012 as a creative, offensively-gifted forward.
That "pure skill" showed up at camp in subtle ways. He was adept at taking passes cleanly, even if they were in his skates. His puck control was a step above what you might expect from a fourth-line forward. The best way to describe his performance in drills is that he was crisp and clean.
Meanwhile, his defensive commitment shows up in his analytics. He was among the leaders on the Rangers in his defensive analytics. Notably, he had the lowest rate of shots against on the team and the lowest rate of goals against.
His isolated impact heatmap from HockeyViz shows a player who severely limits chances from the slot at 5-on-5.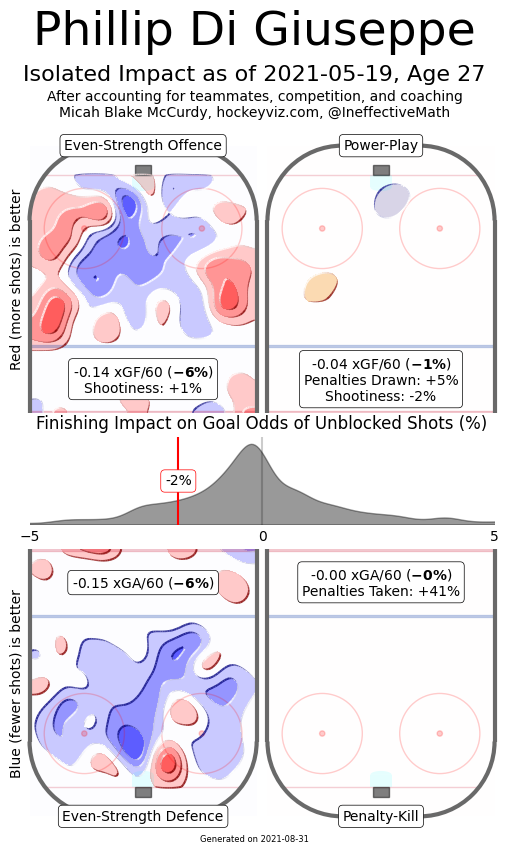 Considering that the Canucks gave up the fourth-most shots in the NHL last season, it has to be tempting to give someone who has shown that kind of defensive acumen a chance to play in the Canucks lineup.
The one hiccup is that Di Giuseppe didn't play much on the penalty kill, which is something the Canucks need with several penalty killers leaving in the offseason. With his defensive play at 5-on-5, it's surprising he hasn't received a longer look at shorthanded minutes.
"I started the year on the penalty kill and then they had their rotation," said Di Giuseppe. "That's something I want to do and didn't get the chance to for most of the year."
Beyond the penalty kill, Di Giuseppe believes he can also chip in more offence.
"Sometimes you're not put in a position to score and then sometimes you are and it doesn't happen, so you've got to find any way you can to get on a roster," said Di Giuseppe. "I was a pure skill guy, then I got the defensive end, so I look to mesh both and I think my ceiling's a lot higher than what I've proved so far."
"It had a different vibe the day I signed."
Di Giuseppe is also happy to be back in Canada. He was born and raised in Ontario but hasn't played in Canada in a long time.
"It had a different vibe the day I signed," said Di Giuseppe. "Staying within my native country, that's something special. It's weird not crossing the border and having to sort out visa stuff...I haven't played in Canada since Juniors, so it's been over a decade. It's something special."
Whether he's in the NHL or the AHL, Di Giuseppe will be playing in front of Canadian fans, with Abbotsford just a short drive away from Vancouver. Grreen made it clear, however, that there are openings available to players that fans might not expect.
"Everyone talks about some of the players that we signed — bigger name guys — but I like the depth guys that we've added," said Green. "It wouldn't surprise me if one of those guys, there's probably a list of four or five guys — made the team."
There's space available on the fourth line, particularly with Tyler Motte questionable to start the season as he rehabs from offseason surgery and Brandon Sutter sidelined with a mystery ailment that has left him fatigued. Di Giuseppe is gunning for one of those spots.
Even if he doesn't grab that spot out of camp, Di Giuseppe has had to work his way up from the AHL before and is prepared to do it again.
"I've had to do that my whole career," he said. "I believe in myself, I believe in my game, and obviously there's always stuff to prove to yourself and to your organization. I've got my eyes on Vancouver."