Not long after acquiring a third-round pick for one Travis the Vancouver Canucks traded another third-round pick away to get another Travis.
The Canucks acquired their own third-round pick in the 2022 Entry Draft from the Ottawa Senators for defenceman Travis Hamonic. Not long after, they traded a different third-round pick to the Toronto Maple Leafs for defenceman Travis Dermott.
Looking primarily at the players involved, the Canucks come out ahead. The 25-year-old Dermott is younger than the 31-year-old Hamonic. At a $1.5 million cap hit through next season, Dermott is cheaper than the $3 million Hamonic. And, although Dermott is left-handed, he can play on either side, so he can immediately step onto the Canucks' right side.
Most importantly, Dermott is a better player than Hamonic, with excellent underlying numbers defensively, as illustrated by his defensive heatmaps from HockeyViz.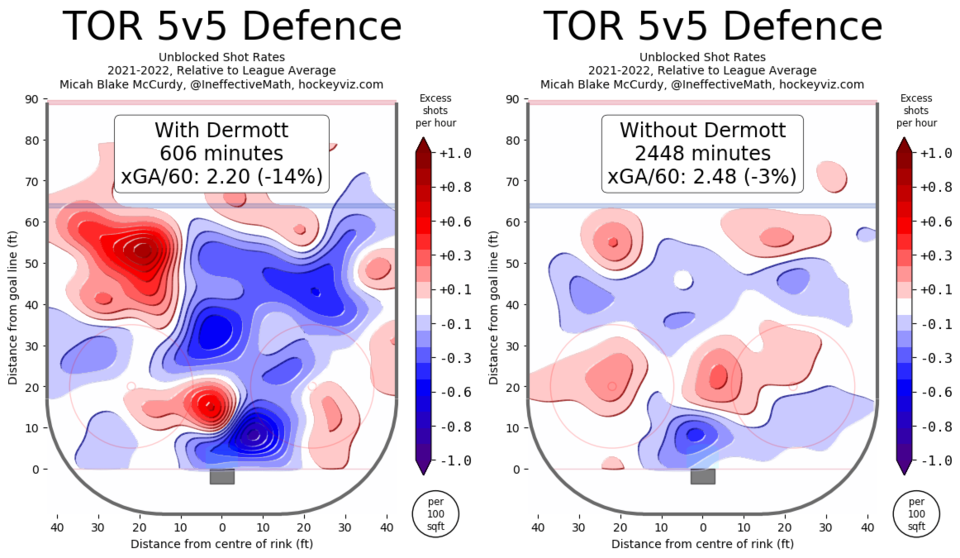 Dermott's style — aggressive at the blue line to break up zone entries — should mesh well with Canucks head coach Bruce Boudreau. He's got good mobility, which he uses to take an aggressive gap in the neutral zone. He's reasonably confident with the puck and can make a strong first pass but he's limited offensively. He's got decent enough size at 6'0" and 205 lbs.
In Toronto, Dermott was stuck on the third pairing and younger defencemen have pushed to take his place in the depth chart in Rasmus Sandin, Ilya Lyubushkin, and Timothy Liljegren.
In Vancouver, however, Dermott will potentially have more opportunities. They have room on the left side on the third pairing behind Quinn Hughes and Oliver Ekman-Larsson, but they also have plenty of space on the right side. It's entirely possible that he could get an opportunity to play with Hughes on the top pairing.
It may be a little alarming to see the new Canucks regime acquire a draft pick and then immediately send another one out for a player in their mid-20's who had fallen out of favour with their previous team. That starts to sound a little too much like Jim Benning, who made a similar move to acquire Linden Vey. But this regime deserves to be judged on its own merits and there's a lot to like about the pair of deals that swapped Travises.
The two third-round picks involved in the trade are weirdly related. Back in 2020, the Canucks traded their third-round pick in 2022 to the Vegas Golden Knights for Nate Schmidt. That pick was then traded to the Ottawa Senators and the Canucks reacquired it in the Travis Hamonic trade.
The other third-round pick was also traded for Nate Schmidt. The Winnipeg Jets sent their 2022 third-round pick to the Canucks in 2021 for Schmidt. That pick is the one heading to the Leafs for Dermott.
The Jets and Canucks are currently neck-and-neck in the NHL standings with an identical .532 points percentage. It's anyone's guess which of the two picks will end up being the higher pick.
Dermott will be a restricted free agent when his contract expires, so he'll remain under club control beyond next season. At 25, Dermott could potentially be a significant part of the Canucks' future, particularly if he thrives in a larger role.