After seven-straight losses to start the season, the Vancouver Canucks finally made a trade.
Okay, it's not exactly the game-changing trade that Canucks fans might have been envisioning — it's a minor deal that sends two prospects to the Boston Bruins for a depth centre. Another way to look at it is that they traded a third and a fifth-round pick for a second-round pick.
Or, we could be specific — the Canucks traded goaltender Michael DiPietro and defenceman Jonathan Myrenberg for centre Jack Studnicka.
DiPietro had fallen out of favour in Vancouver over the last couple of years, struggling to find his form with the Abbotsford Canucks last season after missing an entire year of development sitting on the taxi squad during the COVID-shortened 2020-21 season.
DiPietro's agent was given permission to seek out a suitor for a trade during the offseason and he hasn't played at all for Abbotsford this season, with Arturs Silovs and Collin Delia ahead of him on the depth chart. The odds of DiPietro developing into an NHL-caliber goaltender with Vancouver are low at this point, so moving on from him isn't a big loss to the system.
Perhaps DiPietro will see more success with another system — we'll see.
The bigger loss for the Canucks is Myrenberg, who may only be a fifth-round pick, but has shown some serious progress since he was drafted and was a standout performer at the Canucks' development camp in the summer.
More importantly, Myrenberg is arguably the only right-handed defenceman prospect in the Canucks' system with any NHL potential. Aside from Myrenberg, the Canucks have Jett Woo, whose development has crashed and burned, Viktor Persson, who the Canucks didn't even deem worth signing after his last year in the WHL, and former Wild bust Filip Johansson.
Of those three, Johansson might be the most promising of those three, but that's not saying much.
There's certainly no guarantee that Myrenberg will become an impact NHL defenceman — he's a long shot, as most fifth-round picks are — but right-handed defencemen isn't exactly a position of strength from which the Canucks should be trading.
Canucks general manager Patrik Allvin seems to be high on Studnicka, however, a centre who has produced well in the AHL. Studnicka has 96 points in 117 AHL games but has been unable to translate that production to the NHL, where he has 7 points in 38 games and has some ugly underlying numbers.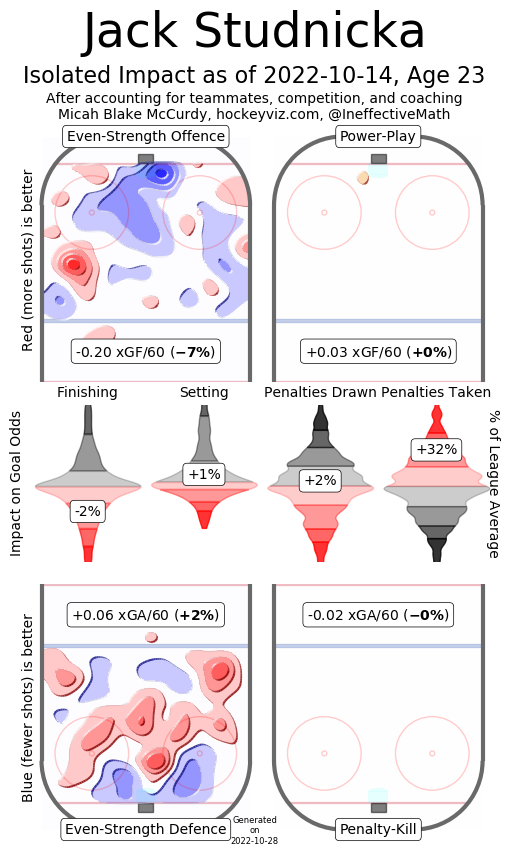 Studnicka also takes faceoffs, though he's below average with a career 47.7% faceoff percentage. He also kills penalties a little bit. As a right-handed centre, Studnicka potentially fills a hole with Curtis Lazar on the injured reserve.
If it is just a short-term move to replace an injured player, then it's troubling for the Canucks to trade a 19-year-old right-handed defenceman to do so.
If they legitimately believe that Studnicka has the potential to be better than he's shown in the NHL thus far, then we'll just have to see how it turns out. Studnicka has good size at 6'2", reportedly has good hockey sense and skill, but things haven't worked out for him yet.
Perhaps a change of scenery is just what Studnicka needs.