The Vancouver Canucks made some significant signings on the first day of NHL free agency. Andrei Kuzmenko, Ilya Mikheyev, and Curtis Lazar can all be expected to play a major role for the Canucks next season.
They also signed several players who are expected to be AHL depth, like depth defencemen Wyatt Kalynuk and Christian Wolanin and goaltender Collin Delia.
It would be understandable to think that Dakota Joshua would be among the latter group. The 6'2" centre spent most of last season in the AHL with the Springfield Thunderbirds, though he did play 30 games for the St. Louis Blues in the NHL.
Canucks general manager Patrik Allvin, however, made it clear where he thinks Joshua belongs.
"I definitely see him as an NHL player," said Allvin. "Our group believes that he's capable of doing more and, with more opportunity, become a full-time NHL player."
Allvin talked about how impressed Ryan Johnson and Trent Cull were with Joshua when he briefly played for the Utica Comets during the 2020-21 season when the Blues and Canucks were sharing an AHL affiliate. They believe he has a lot to bring at the NHL level, including on the penalty kill.
"His size, his skating ability, his versatility — he can play centre or wing — and he's a hard guy to play against," said Allvin.
It seems that Joshua, instead of being AHL depth, is likely to land on the Canucks' fourth line alongside Lazar — replacements for Juho Lammikko and Matthew Highmore. So, who is Dakota Joshua and why do the Canucks believe he can be a difference maker?
Joshua brings the hits in limited minutes
The box score numbers don't immediately jump off the page for Joshua. In 30 games with the Blues last season, Joshua had just 3 goals and 8 points.
While that may not seem like much, that's a higher rate of scoring than Highmore, Lammikko, and Jason Dickinson managed last season and is directly comparable to Tyler Motte's production.
Those points came while Joshua was averaging just 8:30 per game for the Blues. In the AHL, where he was more of a go-to forward for the Thunderbirds, Joshua had 9 goals and 20 points in 35 games, then elevated his game in the playoffs, scoring 7 goals and 15 points in 18 games.
Beyond goals and assists, Joshua brings other elements to the table. He led the Blues in hits per 60 minutes, with 18.13, which was the fifth-highest rate among NHL forwards with at least 25 games played. He's shown that he's ready and willing to play the body, even against some of the biggest players the opposition had to offer.
Joshua was also strong in the faceoff circle, winning 53.3% of his faceoffs. There's certainly a strong appeal to having both a lefty like Joshua and a righty like Lazar on the fourth line together so they can each take faceoffs on their strong side.
The underlying numbers add up for Joshua
Digging a little deeper into the numbers shows why the Canucks might believe Joshua can do more if he was given more opportunity than the 8:30 per game he played for the Blues.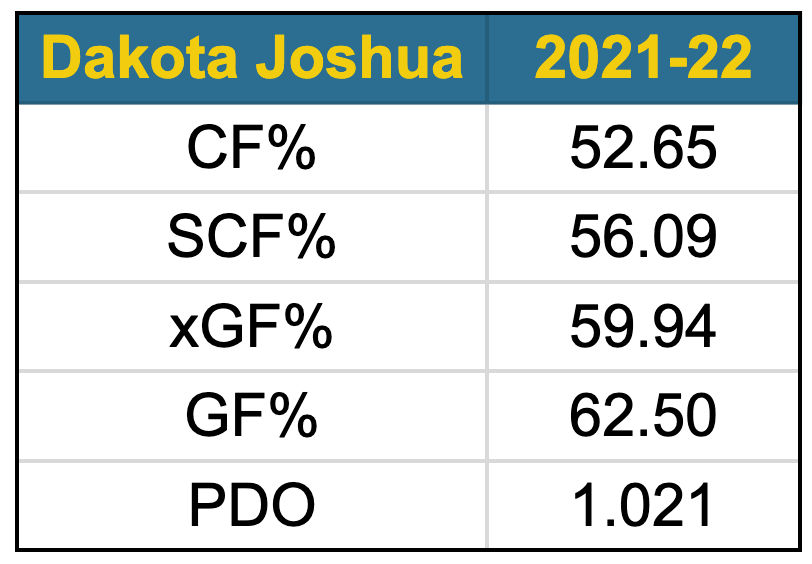 At 5-on-5, Joshua had a corsi percentage of 52.65% — when he was on the ice, shot attempts were 238-to-214 for the Blues. Corsi is considered a proxy for puck possession, so that indicates Joshua was adept at moving the puck in the right direction for the Blues.
Joshua looks even better by shot quality metrics. His scoring chances for percentage was 56.09% and his expected goals percentage was 59.94%. When he was on the ice at 5-on-5, the Blues creating far more scoring chances than their opposition.
Those scoring chances led to goals too. The Blues out-scored their opposition 15-to-9 when Joshua was on the ice at 5-on-5.
There are some caveats to those numbers. Joshua primarily played against other fourth-liners and only rarely saw tough competition. While he clearly feasted on that lesser competition, there's no guarantee that he can continue such strong results if tasked with tougher competition, an inevitability if he plays more minutes.
Joshua's PDO of 1021 also indicates there may have been a little bit of luck involved in the Blues out-scoring their opponents to the degree they did with Joshua on the ice. PDO combines on-ice shooting percentage and save percentage and Joshua's on-ice shooting percentage of 10.87% was higher than that of every single Canuck last season.
Still, there's a lot to like about Joshua's on-ice results. That seems clear from his heatmap from HockeyViz, which attempts to isolate a player's performance from contextual factors like quality of competition, quality of teammates, and usage. Joshua heavily tilted the ice in the Blues' favour last season.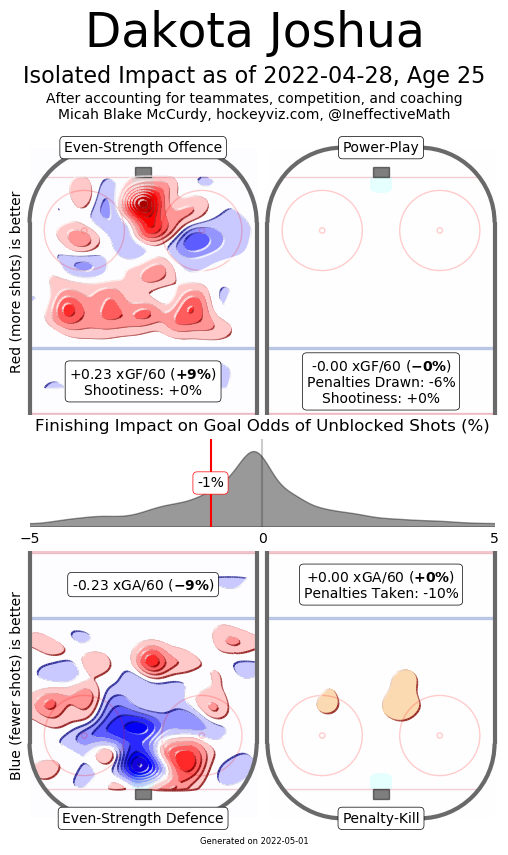 There is one last number that needs to be addressed: 22. That's how many seconds Joshua played on the penalty kill for the Blues last season. That's total seconds, not per game. In other words, though Allvin has said Joshua will be a benefit to the Canucks on the penalty kill, that's not really something he's proven he can do in the NHL yet.
Joshua does the little things to prolong possession
The numbers represent certain facts. It's a fact that shots on goal were 138-to-103 for the Blues when Joshua was on the ice at 5-on-5 and out-scored them 15-to-9. But the two most important questions you can ask in sports analytics are "how?" and "why?"
How did Joshua get those results? Why did the Blues out-shoot and out-score their opposition with Joshua on the ice? Was he a passenger along for the ride or was he the one driving those results? Was he the right fit in a specific system and might not get the same results in a different system?
Let's take a look at how Joshua actually plays.
Here's a portion of one shift from Game 3 between the Blues and Wild that showcases a little of how Joshua gets such great possession results.
The pass in the neutral zone is a little behind Joshua — #54 for the Blues — but he adjusts well to take the pass, stickhandles, then adeptly brings the puck into the offensive zone with possession as his teammates break in, hitting Marco Scandella with a nifty hook pass under the defender's stick.
With his agile skating and puckhandling ability, Joshua can do more on zone entries than just dump and chase, though he's got the speed for that to be an effective strategy as well. Gaining the offensive zone and maintaining control of the puck is a key to driving puck possession.
When Scandella loses the puck into the corner, Joshua nimbly darts past his man to get to the loose puck first — again, a key element of a puck possession game, and circles around the net to find a defenceman, Niko Mikkola at the point.
As Mikkola jumps up the right side, Joshua doesn't just cover for the defenceman at the point, but also hooks the stick of the Wild's Nicolas Deslauriers. It's a small thing, but a smart move that gives Mikkola just a little bit more room to maneuver.
When Mikkola's centring pass doesn't work and the puck comes out to the Wild's Brandon Duhaime, Joshua makes a calculated gamble. He's got a defenceman behind him and Mikkola is coming back to the point with speed, so Joshua pinches on Duhaime. He leads with stick on puck, then makes body contact, forcing a turnover that could have prolonged the offensive zone possession but is instead turned into a wishful thinking shot towards the net by Tyler Bozak.
In that one portion of a shift, you can see a great cross-section of how Joshua can drive puck possession: gaining the zone with control of the puck, smart passes, jumping on loose pucks, smart stick-checks away from the puck, and alert pressure to force turnovers.
It's something that shows up regularly when watching Joshua: he's not necessarily doing the most flashy thing, but he's doing the smart thing. He'll be in the right position on the ice to make one-touch passes to facilitate zone exits and zone entries, he'll take the correct path on the forecheck to force the breakout into traffic, and he'll always cover for a pinching teammate.
Joshua has strong defence and surprising skill
Defensively, he shows strong awareness, such as on this play where he tracks back when his defenceman gets caught on a neutral zone pinch. Joshua — #54 on the right side of the screen — doesn't cheat, even when it seems like his defenceman covering on the left side is going to come up with the puck. Instead, Joshua shoulder checks constantly and makes sure he stays with his man all the way to the boards behind the Blues net.
It may not seem like much but it's also something that a lot of fringe players struggle with. Joshua only disengages when he has help down low and immediately goes to the boards to provide an outlet option for the breakout.
Joshua primarily played on the wing in the games I watched but he showed some of the defensive habits of a centre, identifying threats in the middle of the ice and rotating down to over for teammates as they moved to the boards. He had solid scanning habits, keeping an eye on where everyone is on the ice, particularly making sure his man on the point didn't sneak past him.
Joshua has a lot more skill than your typical fourth-liner. Check out this stretch pass to send Jordan Kyrou on a breakaway, for instance.
Instead of trying to send a hard pass to Kyrou's stick, Joshua feathers a saucer pass over his opponents stick and the puck slides perfectly through to Kyrou in full flight. The ability to put that pass into space for Kyrou is incredibly impressive.
While Joshua does have some finesse to his game, most of his points are of the greasy variety, as he uses his large frame to get to the front of the net to set up screens and tip shots, like this assist on a Colton Parayko goal where he tips the puck through the legs of Alex Nedeljkovic.
But even greasy goals sometimes require a little finesse. On this goal against the Canadiens, Joshua goes so hard to the net that he ends up in the net himself.
Before he goes in, however, Joshua neatly goes from his backhand to his forehand to tuck the puck around Josh Allen.
Later in the same game, Joshua again showed his quick hands to come off the boards, fight off a stick check, and get a shot on net.
He followed it up by finishing a check to knock his man flat on his keister.
Joshua looks like a player who should be an everyday NHLer
Overall, there's a lot to like about Joshua's game. He's fast but has more than just straight-line speed, as he's quick to jump into holes and accelerate to loose pucks. He plays a physical game and will throw hits, battle along the boards, and go hard to the net, but he also has some nice hands and can make some surprisingly skilled passes.
Expectations should be kept in check, of course. Joshua is already 26 and has played just 42 NHL games in his career. He's a fourth-line forward, who shouldn't be expected to provide much in the way of offense and is relatively untested against tough competition and has yet to play on an NHL penalty kill.
But he's also a player who might be able to chip in some depth scoring for the Canucks while playing a detailed two-way game. He demonstrated some really intelligent habits with the Blues last season that made him look like a player who really should be an everyday NHLer, rather than bouncing between the NHL and AHL as he did last season.
Combine that with some really strong underlying numbers and there are a lot of reasons to be optimistic about what Joshua can bring to the Canucks next season.