Heading into free agency, the Vancouver Canucks were not in an ideal salary cap situation, as even president of hockey operations Jim Rutherford admitted.
"We haven't cleared as much cap space as we would have liked to," said Rutherford to Sportsnet's Iain MacIntyre. "We'll look for complementary players and build more depth and things like that but we're not in the position that we had hoped to be at this point in time."
It was somewhat surprising, then, to see the Canucks spend a good chunk of their minimal cap space on winger Ilya Mikheyev — a good player but not what most would consider the Canucks' most pressing need. Along with a few other forward signings, the Canucks thoroughly addressed their forward depth.
What the Canucks have yet to touch is their defence, which remains essentially the same as it ended last season, albeit without Brad Hunt, who signed a two-year deal with the Colorado Avalanche. Canucks general manager Patrik Allvin said there wasn't anything on the market to help them on defence and they'll likely need to go the trade route if they want to make any changes there.
There is still an entire offseason ahead for Allvin and the Canucks. By the time training camp comes around in September, their roster could look significantly different.
For now, let's take a look at the Canucks' current state of affairs — the roster and its salary cap implications.
Canucks are already nearly capped-out
We'll start with the big picture thanks to CapFriendly's Armchair GM tool then break it down from there. Here's a prospective 23-man roster, plus Micheal Ferland.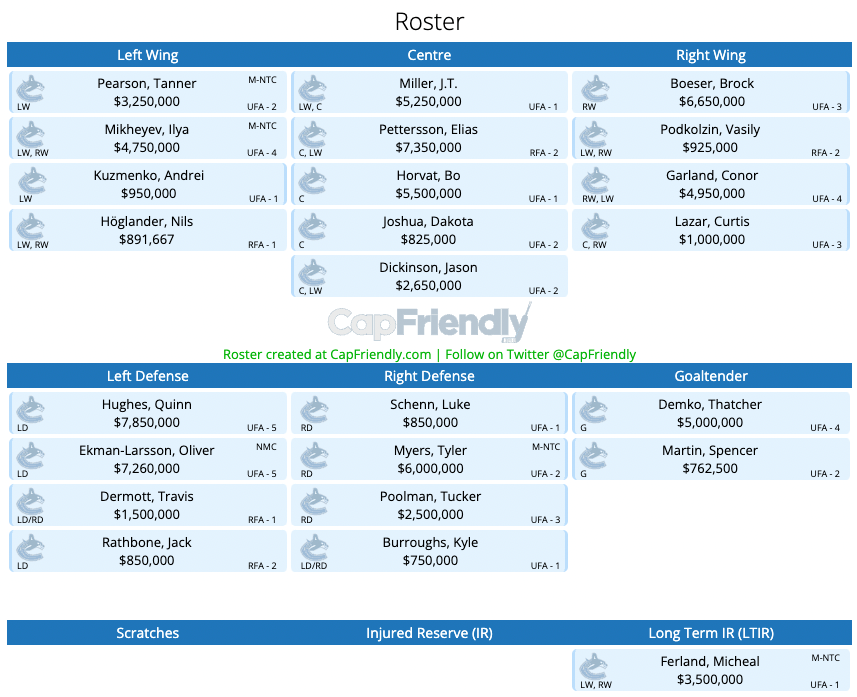 The total cap hit of this roster, not including Ferland, is $78,264,167. That's approximately $4.2 million under the $82.5 million salary cap, but it's not that simple.
The Canucks also have $2.4 million in buyouts from Braden Holtby and Jake Virtanen. That brings it down to approximately $1.8 million in cap space. But the Canucks also have $1.25 million in bonus overages from last season that have to be applied to this year's cap, including overages from Jaroslav Halak.
That leaves the Canucks with just $585,833 in cap space.
That's with Micheal Ferland on LTIR, but the one caveat to using Ferland's $3.5 million contract on LTIR is that to get full advantage, they have to be able to fit his contract under the cap at the start of the season, while getting as close to the salary cap as possible.
Since Nils Höglander, Vasily Podkolzin, and Andrei Kuzmenko are exempt from waivers, the Canucks have the option of temporarily sending them down to the AHL when it comes time to submit the team's opening day roster, then call them back up before the start of the season. Doing so would clear approximately $2.77 million in cap space to aid in fitting Ferland's $3.5 million under the cap.
That's not quite enough, of course, which means the Canucks would have to put a player on waivers and risk losing them in order to put Ferland under the cap at the start of the season.
Further moves over the next couple of months could render that issue moot, of course, so let's move on.
Can the Canucks afford to keep this forward group together?
The Canucks' forward group now looks pretty strong, with enough centres and wingers to put together a legitimate top-9 scoring group, rather than a more traditional top-6/bottom-6 configuration.
There are lots of options for how the forwards could line up, but this is one option:
Pearson - Miller - Boeser
Mikheyev - Pettersson - Podkolzin
Kuzmenko - Horvat - Garland
Höglander - Joshua - Lazar
Dickinson
Allvin was emphatic that Dakota Joshua is an NHL forward, so he slots in ahead of Will Lockwood, Linus Karlsson, and Nils Åman.
This line up has J.T. Miller, Elias Pettersson, and Bo Horvat all lining up at centre to create three scoring lines. The other option would be to have Pettersson on left wing, with either Jason Dickinson or Curtis Lazar moving to third-line centre.
There are two main issues for this forward group in terms of the salary cap: Tanner Pearson at $3.25 million and Dickinson at $2.65 million. Finding some way to move at least one of them would free up some cap space for potentially upgrading the defence, but moving money has proven difficult in the current NHL.
Burying a contract in the AHL isn't an answer either. Sending Dickinson to the AHL, for instance, would clear up just $1.125 million in cap space, as that's the maximum cap hit that can be buried in the minors. Dickinson would then need to be replaced in the lineup, which would take up, at minimum, $750,000 of that buried cap hit, leaving the actual benefit at just $375,000.
The other option is to move J.T. Miller and his $5.25 million contract, presumably for a package that would include a young right-handed defenceman. That would introduce other issues for the forwards, of course.
Will Tucker Poolman even play for the Canucks next season?
While the Canucks' group of forwards looks deep and talented, the same cannot be said for the defence.
Hughes - Schenn
Ekman-Larsson - Myers
Dermott - Poolman
Rathbone - Burroughs
This is the same defence corps from last season, just with Jack Rathbone replacing Brad Hunt. Considering Rutherford's blunt assessment of the Canucks' ability to move the puck up ice, that doesn't seem ideal.
"Our exits from our defensive zone are not good — probably one of the worst in the league," said Rutherford.
At this point, the Canucks options for a defenceman to play on the right side on the top pairing with Quinn Hughes are still Luke Schenn, Tucker Poolman, and Travis Dermott on his off-side. The team's shutdown pairing remains the miscast Oliver Ekman-Larsson and Tyler Myers.
Fixing and upgrading the defence is a long-term project that might not happen this offseason but it seems impossible that the Canucks will return with the same defence. We'll see what happens in the coming months.
The Canucks' defence also largely depends on what happens with Tucker Poolman, who missed half of last season while dealing with mysterious migraines. It's still unclear if he'll return next season or if he'll join Ferland on LTIR, though his agent is optimistic that he'll be back.
Assuming he does return, $2.5 million is a lot of money to be paying a third-pairing defenceman for the next three seasons, particularly one that struggles so much to transition the puck up ice.
Can the capped-out Canucks upgrade the defence?
So, this is where the Canucks sit. Without making any changes on defence, the Canucks are already out of cap space — or, rather, have just under $600,000 remaining.
In order to add anyone else to their roster, the Canucks will have to move money out. That means potentially adding assets to rid themselves of a bad contract in a trade — something that Allvin says he does not want to do — or biting the bullet on a major trade.
There is another option, of course. The Canucks could leave the defence as is and hope that between Thatcher Demko standing on his head and the improved forward depth hopefully scoring a whole bunch, the team can overcome all of their defensive deficiencies.