This is Halloween, everybody make a scene.
The Vancouver Canucks made a scene over the weekend, celebrating Halloween together ahead of the actual holiday. It was a very quiet scene, however, as the only sign that it even happened was a few solitary posts on social media.
Thanks to those posts, however, we know what some of the Canucks dressed up as for Halloween — but only some of them.
Even if Canucks fans only got a glimpse of a few of their favourite players in Halloween costumes, there's no doubt about who had the best costume of them all. Let's break them down.
Demkos and Boesers and WAGS, oh my
Ladies and gentlemen, we have a winner. This Wizard of Oz group costume is dynamite all together, but even separated out, these are great individual costumes.
Thatcher Demko's bearded Dorothy is absolutely incredible, complete with thigh-high tights, ruby-red slippers, and Toto in a wicker basket. His wife, Lexie Demko, makes for an excellent Scarecrow.
Brock Boeser fully commits with the silver face paint as the Tin Man, hopefully without the aluminum dust that poisoned the original Tin Man, Buddy Ebsen. Boeser's girlfriend doesn't look particularly cowardly as the Lion.
The video of them attempting the famous linked-arms skip down the yellow-brick road needs a little work — "That's the best we're gonna do," says Demko — but this is still fantastic work from this foursome.
All they need is Bruce Boudreau as the great and powerful Oz.
Meet the Millers as Ken and Barbie
J.T. and Natalie Miller give us a classic Ken and Barbie look, as opposed to the neon spandex rollerblading Ken and Barbie that are likely to be a popular Halloween costume, based on early shots of Margot Robbie and Ryan Gosling from the upcoming Barbie movie.
J.T.'s look is close to the Ken that appeared in Toy Story 3, complete with ascot and the rigid, open-handed arm.
Russian Canucks go German and Dalmatian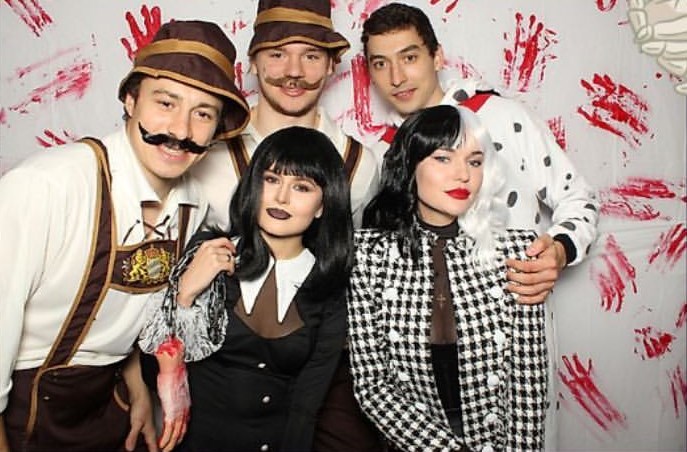 Vasily Podkolzin and Andrei Kuzmenko have been a great duo in the media, with Podkolzin acting as Kuzmenko's interpreter — quite the feat, considering Podkolzin needed an interpreter of his own at the start of last season.
For Halloween, Podkolzin and Kuzmenko were once again glued together at the hip, donning lederhosen and comedically-large moustaches for an Oktoberfest look.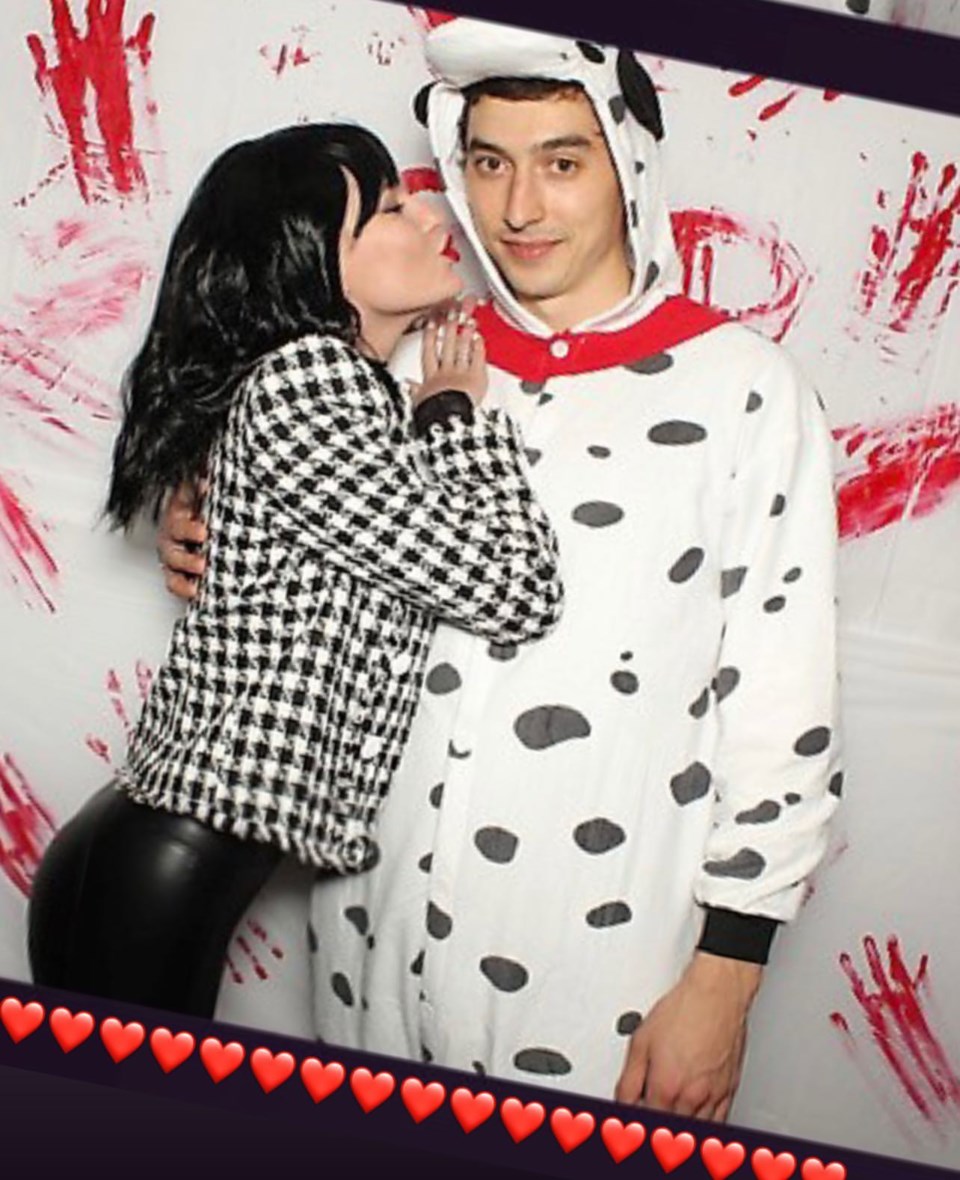 Meanwhile, their fellow countryman, Ilya Mikheyev, did a group costume with his wife, Kristina. Ilya dressed as one of the 101 dalmatians, while Kristina dressed as Cruella DeVille, which implies she wants to skin Mikheyev and turn him into a coat. Weird, but great costume.
Sasha Podkolzin's Wednesday Addams is, as the kids say these days, a serve.
Deerhunter, but not the band
Tucker Poolman puts on the camouflage and a bright orange hat to hunt his girlfriend, dressed as Bambi. Again, like Mikheyev and his girlfriend, weird messaging in this couple's costume.
Rathbone and Hughes are hippies
I don't even think this is a costume, I think this is just how Quinn Hughes and Jack Rathbone normally dress.
AHL Canucks are bananas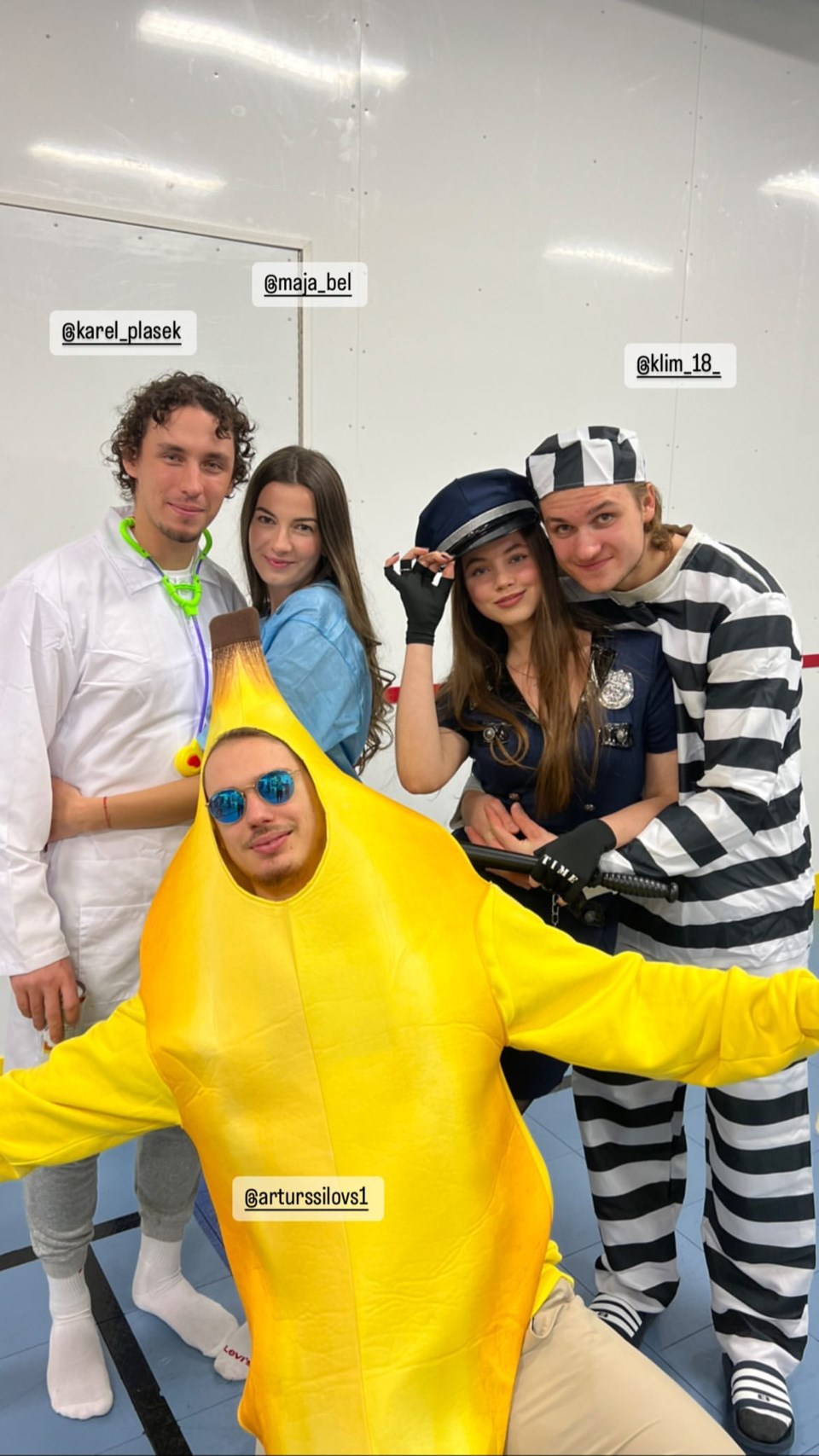 Okay, just one AHL Canuck is a banana: Arturs Silovs.
Danila and Natassia Klimovich have a couples costume as a prisoner and police officer — again with the mixed messages — while Karel Plasek is much more friendly with his partner as doctor and nurse.
To wrap things up, here's Bo Horvat and Tanner Pearson being incredibly wrong about chocolate.