The Vancouver Canucks are in dire need of right-handed defencemen, both in the NHL and in their prospect pool.
That's why it was baffling to see the Canucks trade away one of their few right-handed defenceman prospects and arguably their best one in Jonathan Myrenberg on Thursday as part of a deal for Jack Studnicka. The trade they made on Friday is much less confusing.
The Canucks sent a fifth-round pick to the Carolina Hurricanes in exchange for right-handed defenceman Ethan Bear and AHL centre Lane Pederson.
The Hurricanes are also retaining $400,000 of Bear's salary, bringing his cap hit down to $1.8 million for this season, after which Bear will be a restricted free agent (RFA), still under club control. Pederson will also be an RFA after this season, in which he is making a league-minimum $750,000 on a one-way deal.
"Hopefully, we can get him back on track."
While the Canucks are arguably in a position where they should be stockpiling picks and not trading them away, it's awfully hard to complain about acquiring a 25-year-old right-handed defenceman who could potentially step directly into the Canucks' top four.
"We have been a little bit depleted early on here on the backend," said Canucks general manager Patrik Allvin. "We wanted to add younger players. Here, we've got a right-shot defenceman that has been playing in the league for a couple of years...Hopefully, we can get him back on track here with our group."
A couple of seasons ago, Bear was playing top-four minutes for the Edmonton Oilers, playing on their second pairing in both the 2019-20 and 2020-21 seasons. In his rookie year in 2019-20, he averaged around 22 minutes per game, though that dropped to 18 minutes per game in the 2020-21 season.
After a trade to the Carolina Hurricanes, however, Bear found himself on the bottom pairing. In the playoffs last year and the start of this season, Bear slid out of the lineup altogether as a healthy scratch.
On the one hand, that's concerning. On the other hand, that's why he was available for just a fifth-round pick with an AHL centre thrown in.
"I just couldn't get my rhythm back."
The reasons why Bear didn't work out with the Hurricanes are multifarious.
Bear started last season on the top pairing with Jaccob Slavin and had strong results in that role. According to Natural Stat Trick, when Bear and Slavin were on the ice at 5-on-5, the Hurricanes had a 55.90% corsi, a 55.93% expected goals percentage, and out-scored their opponents 22-to-14.
Unfortunately, Bear had a tough bout with COVID-19 that took him out of the lineup for six games in late November. When he returned, he struggled with consistency as well as some breathing problems that he suspected might be caused by long COVID. He wound up on the bottom pairing with Ian Cole, then was out of the lineup entirely in the playoffs.
"I just couldn't get my rhythm back after that. It was tough," said Bear at the end of the season. "I've never been through something like that. For a long time, I was out of it. You couldn't breathe and I didn't know if I was out of shape or like you simply couldn't. I just feel like I never got my game back under me, then not playing in playoffs was pretty tough."
Bear was also a little too high-event for the Hurricanes system, which relies on defencemen playing as safety valves for the team's aggressive forwards. The Hurricanes got lots of shots and chances with Bear on the ice; they also gave up a lot of shots and chances.
Bear is reportedly back to 100% now but has found his spot in the lineup taken by former Canucks prospect Jalen Chatfield — a safer stay-at-home defenceman that is a better fit for the bottom pairing in the Hurricanes' system. Also, the Hurricanes' acquisition of Brent Burns took away any shot of playing in the top four.
What Bear can bring to the Canucks
The question is whether Bear can bounce back with the Canucks. He brings something to the table that the Canucks distinctly lack — an ability to break the puck out of the defensive zone.
Apart from Quinn Hughes, the Canucks don't have any defencemen that can consistently move the puck out of the defensive zone with possession of the puck. Too often, the puck is just jammed up the boards into traffic or lobbed out into the neutral zone in hopes that the Canucks' forwards can skate onto it. Rarely do the Canucks' defencemen hit the forwards in stride with a crisp, clean pass.
That is something Bear can do. Bear is a mobile two-way defenceman with a good first pass, though he's gotten in some turnover trouble in the past. He can kill penalties reasonably well and has played a little bit on the power play, though that's not something he's likely to do in Vancouver given the personnel already in place.
Prior to his time in Carolina, Bear had solid defensive results, but he might not have been the best fit in the Hurricanes' system. Or perhaps it was difficulties playing a consistent game while dealing with long COVID.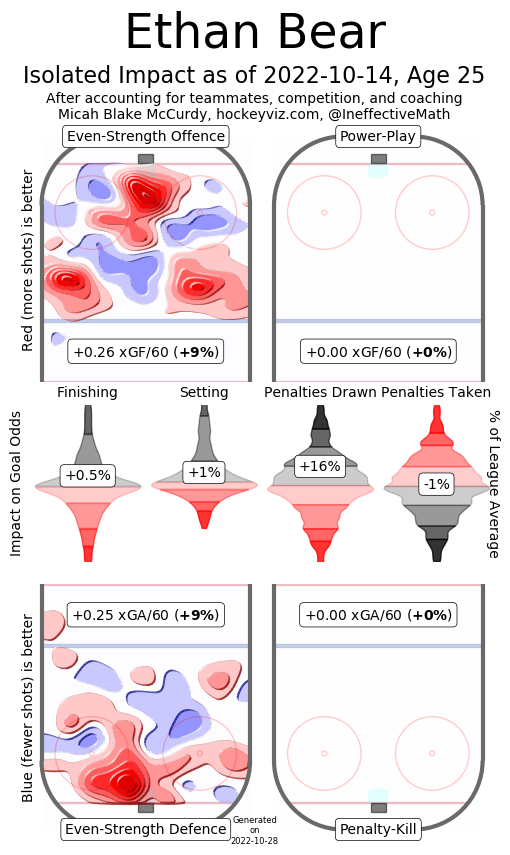 Bear has also matched up very well against elite competition in the past. With the Oilers, Bear regularly faced top-six forwards and handled himself well. According to PuckIQ, Bear had a team-leading 59.0% dangerous fenwick percentage when facing elite competition in the 2020-21 season with the Oilers. That would have led all Canucks defencemen last season by a wide margin.
The Canucks are gambling that Bear can recapture some semblance of how he played for the Oilers or even how he played early on with the Hurricanes on the top pairing. It's not even that much of a gamble, costing the team just a fifth-round pick.
As an added bonus, the Canucks get some centre depth in Lane Pederson, who has excelled in the AHL but has been unable to break through in the NHL, with just 5 points in 44 career NHL games. At 25, Pederson is unlikely to take a major leap in his development and become a consistent NHL forward, but he's at least capable depth with the Abbotsford Canucks.