She's starred on the small screen as Robin
Scherbatsky
in How I Met Your Mother and on the silver screen as Maria Hill in the Marvel Cinematic Universe.Now she's on the Vancouver
Canucks'
scoreboard.The pre-game hype video that airs before every
Canucks
home game features
Smulders
in a starring role as she lays out the plan for a Mission Impossible-style heist to be carried about by the
Canucks
players. "Gentlemen, I know how you feel: under the radar, underestimated," says
Smulders
. "But what if I told you all of that could change?"What follows is a full-throttle action movie trailer featuring the
Canucks
players pulling off a variety of stunts as they infiltrate a hotel to steal some sort of valuable item of power from a secret vault, mixed with some slick on-ice moves.It's the third dramatic pre-game video produced by the
Canucks'
creative director of in-game entertainment, Michael
Pohorly
, who has plenty of experience in film and television. He's worked on movies like 2010's reboot of
The A-Team
and Liam Neeson's critically-acclaimed
The Grey
, as well as TV shows like
Prison Break
,
Once Upon a Time
,
Legends of Tomorrow
, and
Reacher
.
"I was giving up."
Pohorly's connections in the film industry certainly help when it comes to production value, but they were less helpful than expected when it came to getting in touch with Smulders. When he was brainstorming the project with the game entertainment team, someone brought up Smulders, knowing she was a Canucks fan.
"I looked on
IMDB
to see if we had any mutual friends or people we had both worked with," said
Pohorly
. "Usually there's always someone that I did Prison Break with, someone I did A-Team with — I'd have some connection where I can send them a message. I had no direct contacts."
Pohorly
joked that it wasn't six degrees of Kevin Bacon — it was 26 degrees of
Cobie
Smulders
. He made a series of cold calls to producers, agents, and friends of friends, running into plenty of dead ends as he tried to find some sort of connection to Smulders.
"I was giving up because no one cared about some Canucks thing," said Pohorly. "Finally, I get through to Cobie's producing partner. The response was lukewarm — I said, 'Please just ask Cobie.' As soon as she asked, it changed to, 'Oh my god, yes, Cobie would be so excited to do this.'"
There were still some obstacles. Pohorly got emails from United Talent Agency, who represent Smulders, with a list of things that she definitely wouldn't do. Coming up to Vancouver to film, for instance, was out of the question. Pohorly and his whole crew would have to go down to California to shoot her parts of the video, something that was impossible to do with the Canucks' schedule and limited budget for the video.
"I said, 'Can you ask
Cobie
?
'
" said
Pohorly
. "Then they asked and she immediately said, 'I have to go to Vancouver to meet the players.
'
"At every turn, the non-
Canucks
fan gatekeepers put up obstacles, but
Smulders
repeatedly knocked down every one of those barriers — she wanted to be a part of the
Canucks
in-arena experience.
Smulders
is a serious
Canucks
fan
It's no wonder. Smulders is well-known as a Hollywood star but she's also well-known as a major Canucks fan. When the writers decided to make Robin a Canadian on HIMYM, there was no way that Smulders, who was born and raised in Vancouver, was going to let the character be anything other than a diehard Canucks fanatic.
On the show, Smulders wore a Roberto Luongo jersey, trash-talked Darcy Hordichuk, and name-dropped Mason Raymond, while in interviews she talked about Pavel Bure being her first crush and lamented her shooting schedule for The Avengers making it hard to keep up with the games. When the Canucks got to the 2011 Stanley Cup Final, however, nothing could keep her away, and she was in Rogers Arena for Games 2 and 7.
"Game 7 was crazy. I went with a girlfriend of mine who's a die-hard fan and she was having a hard time with it, we were both so stressed about it," said Smulders a few months later. "Then we rolled a few cars after, so we got it out."
Cracking self-deprecating riot jokes? Yeah, that's a
Canucks
fan through and through.
"Every single player wanted to be in it."
Pohorly
had his star for the video but now he had to figure out which
Canucks
players would be a part of it and where they would fit in. That proved to be a challenge because he had a lot of volunteers."One thing that made this a little more challenging was that previously, you get buy-in from a core group of players who want to participate," said
Pohorly
. "This year, every single player wanted to be in it."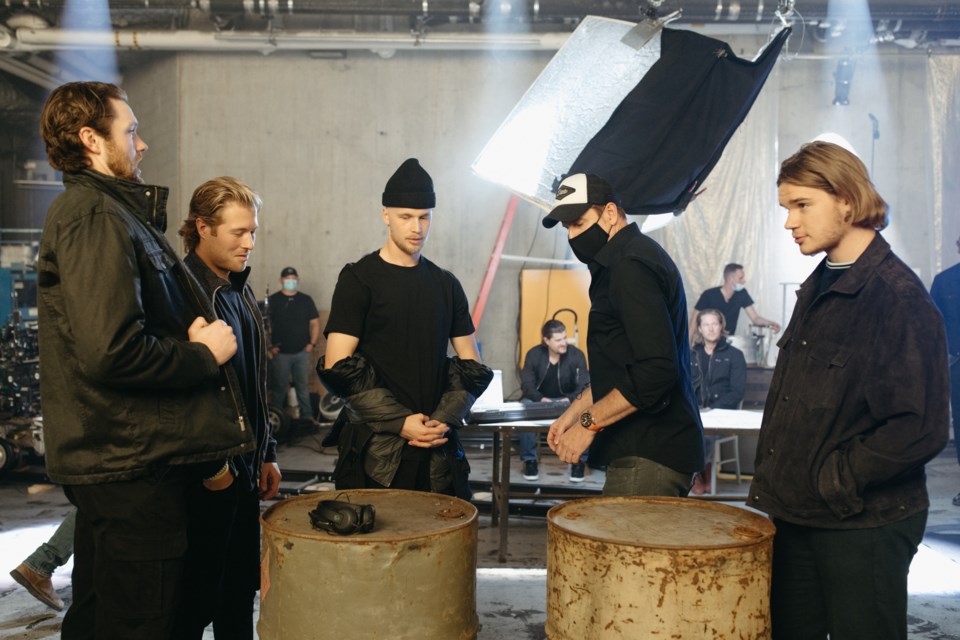 The players knew from
Pohorly's
previous two
pre-game videos
that, unlike
some other NHL teams' hype videos
,
Pohorly
would make them look cool."The players know I'm going to make them look as good as possible," said
Pohorly
. "It might take some editing, but they know that when they're on screen, they're gonna look great."Fortunately, the concept for the video, put together with
Pohorly's
writing partner
Kody
Zimmermann, meant there was a lot of room for players to be involved. Inspired by Mission Impossible and heist movies, the video features Smulders putting together a team to steal an object from a secure location, with every player having some sort of role in the heist. Some players are in disguise at the hotel where the item is hidden. Luke
Schenn
is in place as a valet and Tyler Myers dons a chef's outfit to infiltrate the kitchen.
Nils
Höglander
and Andrei
Kuzmenko
suit up in bow ties as bartenders, while Tanner Pearson is a waiter with a room service cart that hides a plasma cutter.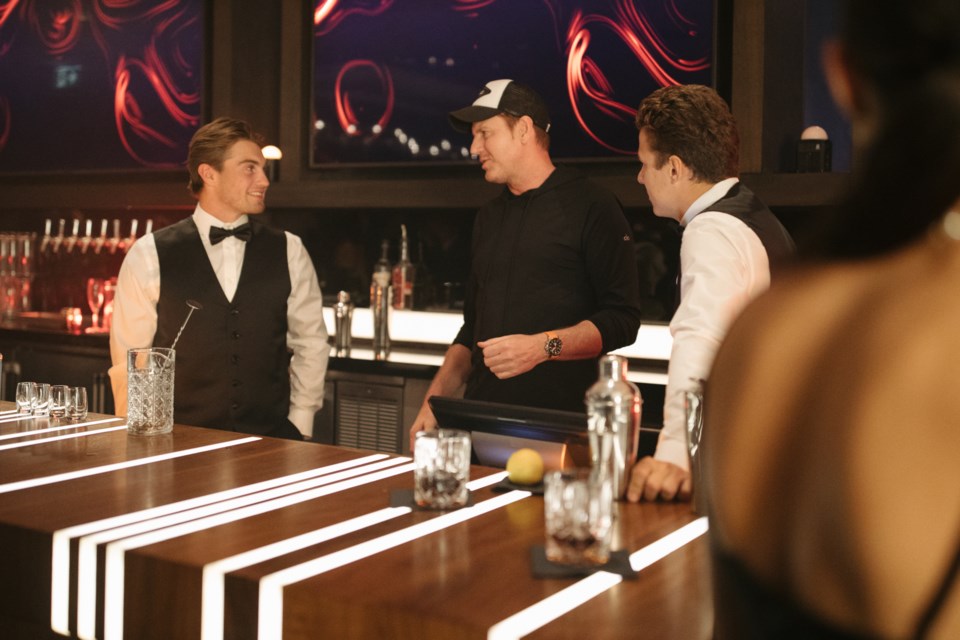 Brock
Boeser
enters the hotel's casino disguised as a high roller in a James Bond-
esque
suit. Quinn Hughes crawls through air ducts, before rappelling down to the vault.
Vasily
Podkolzin
is the team's resident hacker, while Curtis Lazar cuts wires for the bad
guys'
security cameras. Some players got a little more action — J.T. Miller takes on a bad guy with some stick fighting after his hockey stick is cut in half; Elias
Pettersson
does his best
Tom Cruise run
as a helicopter flies behind him; Thatcher
Demko
goes BASE jumping off of a building, stolen item in his briefcase.
The role other players are playing in the heist remains unclear for now. Why is Oliver Ekman-Larsson running through exploding sparks? Where is Spencer Martin going on his motorcycle? Who's driving the blue getaway car? At 1:13 there's the setup for a Mission Impossible mask reveal — who's in disguise as the old man? We'll have to wait until part two later in the season.
"Oh my god, Kirk McLean is here!"
The players are all up against some sort of criminal cabal composed of the rest of the teams in the NHL, as signified by tattoos of different logos on the backs of their necks. The ringleader, played by veteran character actor Mike
Dopud
, immediately sells this group as the bad guys as he stares down team captain Bo
Horvat
in a moment that recalls a similar scene in Ocean's 11 between Andy Garcia's Tony Benedict and George
Clooney's
Danny Ocean.It's all organized by
Smulders
, who meets the players in a warehouse — really the Rogers Arena loading bay — and lays out the plan.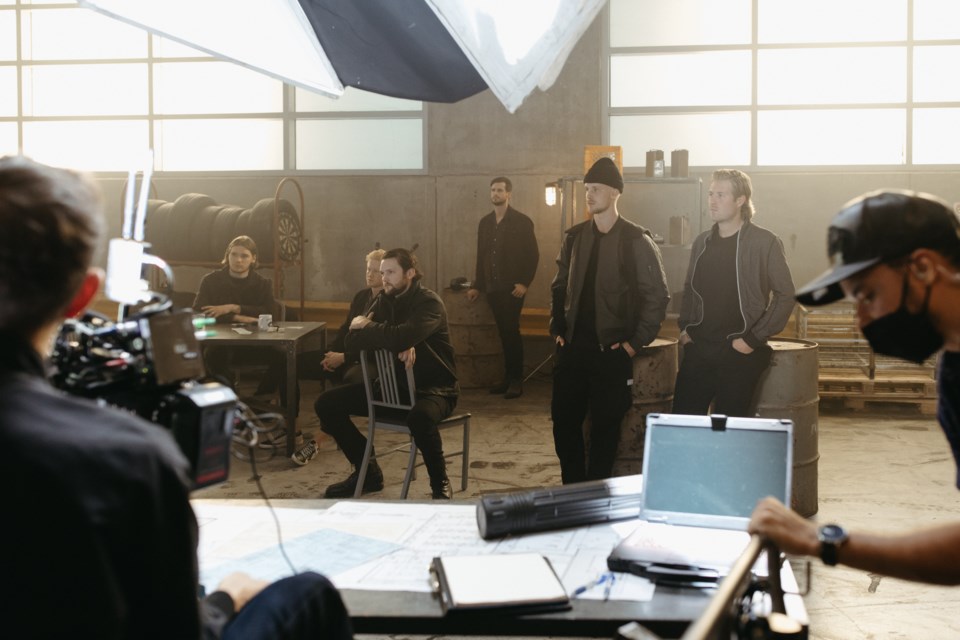 "One of the people from our hair department sent me the original look for
Cobie
and it was all glamour, looking like an Oscars red carpet," said
Pohorly
. "No, she needs to look all business. I mean,
Cobie's
beauty will shine through, but she needs to be this powerful, intriguing character."
The players were thrilled to be working with a legitimate movie star.
"The players were very excited to meet Cobie," said Pohorly. "They all knew who she was, of course. I saw when Podkolzin showed up on set, his eyes kind of shifted and he turned to whoever was next to him and goes, 'Is that…?' because he recognized her from the Avengers movies but he didn't put two and two together — he was so surprised it was actually her."
Smulders was just as excited to meet the players, especially when she found out who one of her co-stars would be.
"One of my assistants on the shoot came up to me when I was talking to Cobie and said, 'Kirk McLean is here,'" recalled Pohorly. "And Cobie is like, 'Oh my god, Kirk McLean is here! Can I meet him?' And I'm like, 'You're doing a scene with him.' She was over the moon."
McLean gets a film noir look in a trenchcoat in the rain in his brief cameo, delivering the plan to Smulders hidden on an unassuming object — a hockey card of former Canucks coach Roger Nielson. That's what Smulders tosses on the table to bring up her hologram plans.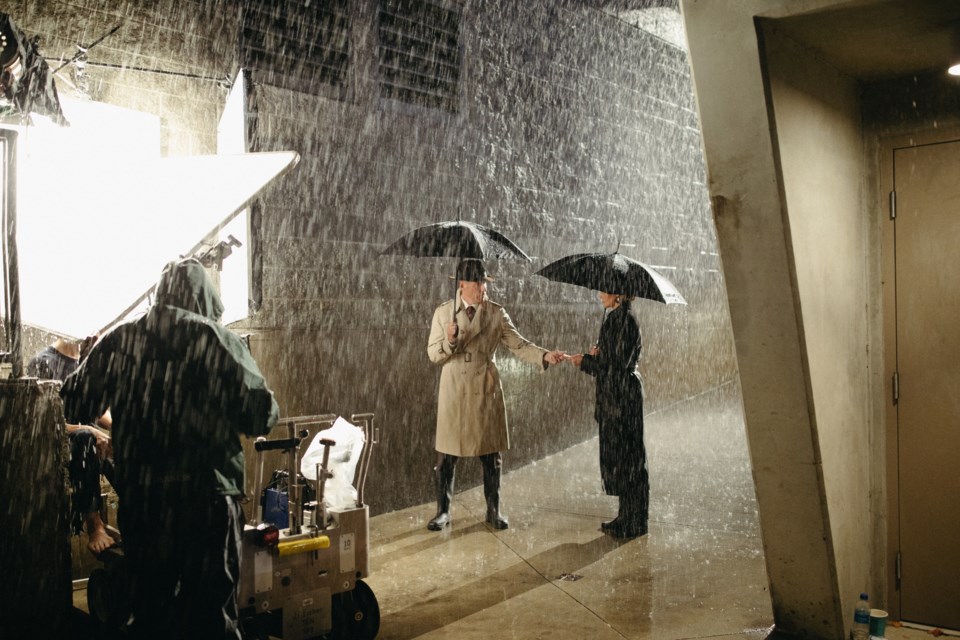 Pohorly got into a little bit of trouble after the "warehouse" shoot. The industrial light fixtures he ordered off Amazon to get the right look didn't work, so he had to quickly pivot.
"We got salad bowls from Canucks catering — giant salad bowls," said Pohorly. "Our special effects team cut holes so we could place them over film lights and painted them black. We did that 30 minutes before Cobie showed up."
Canucks catering later invoiced Pohorly for the salad bowls.
"These guys are elite physical athletes."
With only two days to shoot the video, plus a few hours on a third day with Smulders, Pohorly and his team had to figure out how to shoot dozens of setups with multiple players in a very short time frame. The players themselves had a tight schedule — they were shooting the video while getting ready for the season.
"It's a scheduling nightmare," said Pohorly with a laugh. "Each player comes in for a certain amount of time, about an hour or so, so they can get on the ice. There were shots like OEL running through sparks that we shot in eight minutes that would take three hours on a feature film."
The tight schedule meant being adaptable in the moment. One of the biggest moments in the video is Myers in his chef disguise kicking one bad guy in the chest, then throwing another over a table in the kitchen. That moment was a happy accident.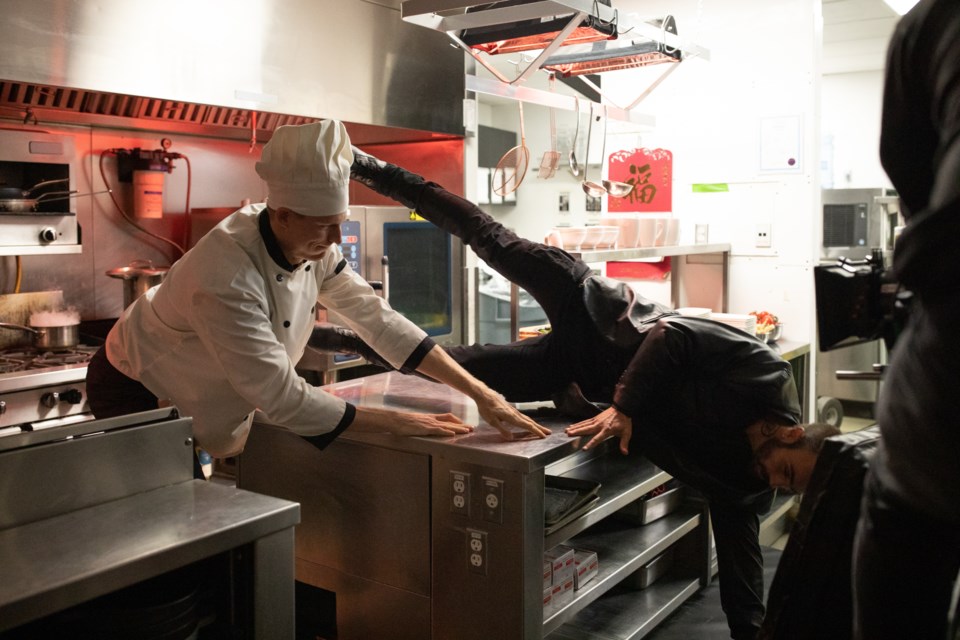 "Originally with Tyler, we were going to have him as a bartender," said Pohorly. "But due to when he was available in the schedule, that was the time we were in the restaurant, so he had to be a chef."
What was just supposed to be a small moment — Myers passing off a keycard to another player — turned into something more.
"I'm not bringing Myers in to do one shot," said Pohorly. "So Tyler went with the stunt guys, rehearsed that in three minutes, and then we shoot it. The benefit of working with professional athletes is that these guys are elite physical athletes — these guys will pick up stuff in a minute."
The physical action scenes that might take an actor a lot longer to learn were easy for the Canucks players. Pohorly praised Miller in particular for picking up the stick-fighting choreography in a hurry.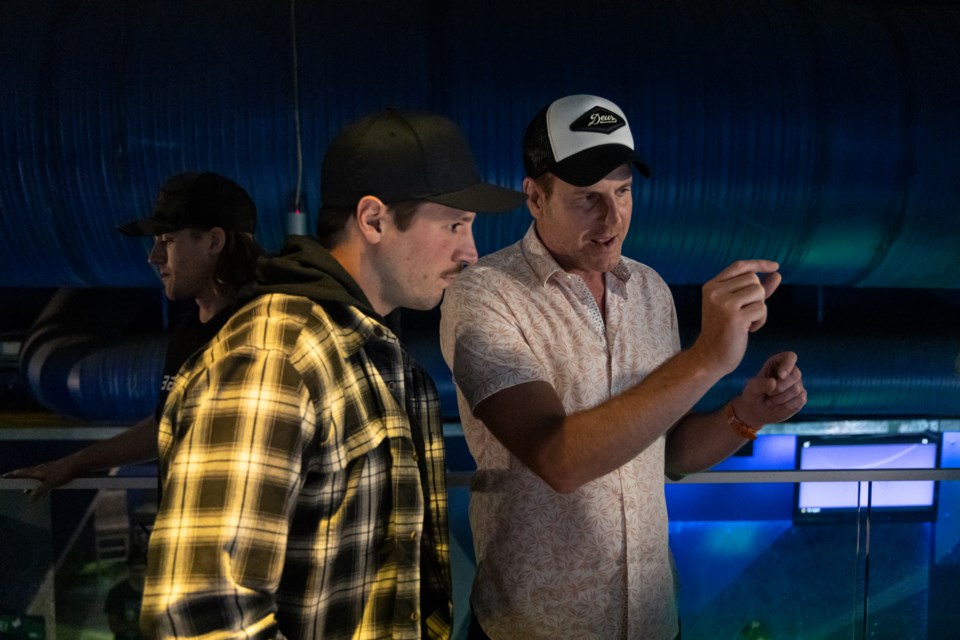 "The fluidity of movements that J.T. does — it's edited very quickly but when you watch that, it's like, wow, J.T. looks badass," said Pohorly.
"We had the high-speed camera and a robot."
With his Directors of Photography Corey Robson and Mark Ó Fearghaíl, Pohorly was able to create a cinematic look to the video. That included the on-ice action, meant to take place after the Canucks have recovered their mystery item, giving them the power to perform some amazing feats.
The use of slow-motion in the on-ice shoot meant some special equipment.
"We had the high-speed camera and a robot," said Pohorly. "You need a lot of light because we're shooting 400 frames per second. When you pause it, it's like a still image, there's so much detail."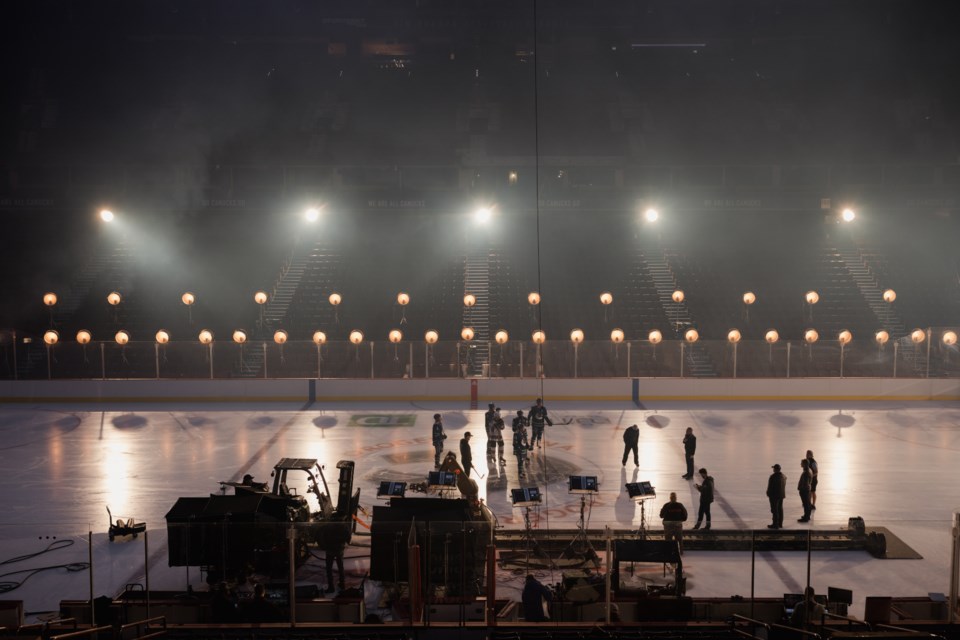 It certainly helps that Vancouver is a moviemaking hub, sometimes called Hollywood North. There were plenty of Canucks fans among the film crew who were thrilled to work with the Canucks players.
That extends to the visual effects, which were handled by multiple studios, like Gneiss Stuff and Framestore, who handled the helicopter in Pettersson's scene.
It leads to a higher production value than any other NHL team gets in their pre-game hype video. Heck, other teams in other, bigger professional sports leagues don't have videos like this. It's a great opportunity to see the Canucks players in an unusual situation.
The addition of Cobie Smulders elevates it even more. She couldn't have been happier to be a part of the video and took in a preseason game after in her Henrik Sedin jersey, gleefully waving to the crowd when she appeared on the scoreboard during a break in the action.
Now she'll be on the Canucks' scoreboard all season long.