For the Toronto Maple Leafs, Luke Schenn is considered one of their all-time biggest draft busts.
The Leafs traded up to pick Schenn fifth overall, the last of the "big four" defencemen available in the 2008 draft behind Drew Doughty, Zach Bogosian, and Alex Pietrangelo. Schenn was expected to be the face of the franchise, the next Scott Stevens or Adam Foote — a hard-hitting, two-way force who would revitalize a team that had missed the playoffs in three straight seasons.
Instead, Schenn struggled with his foot speed and mobility at the NHL level — he could certainly hit but his two-way game never materialized — and he was traded to the Philadelphia Flyers for James van Riemsdyk. The Leafs continued to miss the playoffs another seven times in the next eight seasons.
By the time he was 29, Schenn was in the AHL with the San Diego Gulls, considered not even good enough to play for the basement-dwelling Anaheim Ducks.
Then a funny thing happened. The Canucks traded for Schenn and gave him another NHL shot, eventually asking him to play alongside their own top-ten pick defenceman, Quinn Hughes. The two players couldn't be more different apart from their similar draft pedigree but that seemed to be for the best.
Perhaps it was the lack of expectations for Schenn in Vancouver but he quickly won over fans with his physical game. They didn't want or need anything more from him than that.
From there, Schenn didn't do much — just won two Stanley Cups as a depth defenceman with the Tampa Bay Lightning.
"He won two Cups when people thought he was done," said Canucks head coach Bruce Boudreau. "I marvel at him."
It seemed like Schenn had finally figured out how to work with his limitations instead of fighting against them. With the Lightning, Schenn didn't have to be Scott Stevens or Adam Foote. He could just be Luke Schenn and play a role in winning the Cup.
"It feels right being back here."
This offseason, Schenn jumped at the opportunity to come back to Vancouver, the place that had given him another chance to play in the NHL.
"It's something that's been on my mind since I left, is maybe getting the opportunity to one day come back," said Schenn during training camp. "I couldn't be more grateful and fortunate for the last couple years I had in Tampa, obviously, but it feels right being back here."
Back in Vancouver, Schenn has been reunited with Hughes. And now, 14 years after he was drafted, Schenn is a top-pairing defenceman. Sort of.
Hughes is a special defenceman, seemingly able to exit the defensive zone with possession of the puck at will under any type of pressure. His offensive upside is obvious – he's second on the Canucks in scoring and eighth among NHL defenceman – but he's taken strides defensively as well.
The trouble for Hughes has been finding a defence partner after Chris Tanev left the team in free agency before last season. Tanev's steadying presence on defence and underrated puck-moving ability was an ideal match for Hughes and other defencemen haven't been able to fill the same role.
Travis Hamonic wasn't a great fit last season and has been mysteriously absent for much of this season. Tucker Poolman struggles against tough competition and is much more comfortable and effective in a bottom-pairing role. Tyler Myers isn't anywhere near steady enough defensively, with chaotic tendencies that make him a poor fit.
But then there's Schenn.
"He just complements me really well."
Schenn certainly isn't Tanev, no more than he was Stevens or Foote, but he can play a steady, physical stay-at-home defensive game. He doesn't treat the puck like a grenade either and knows how to play to his strengths and away from his weaknesses, giving the puck to Hughes to exit the zone as often as possible.
You just want the puck on his stick, so he's an easy guy to play with," said Schenn about playing with Hughes earlier in the season. "Just give the puck to him and let him do his thing out there."
Schenn clearly benefits from playing with Hughes but it's not a one-way street; Hughes also benefits from playing with Schenn.
"I think he just complements me really well," said Hughes. "He's really good in the D-zone, he's strong, and he keeps me focused in that end. He moves it quick and he's smart in the O-zone — probably smarter than people give him credit for, he's got a good head for it. So, we've been working well together."
The numbers, via Natural Stat Trick, bear that out.

Without Schenn, Hughes still has a corsi above 50%, indicating the Canucks out-shoot their opponents at 5-on-5 when he's on the ice. His expected goals, however, suffers, as the team gives up more quality chances than they create.
When Schenn and Hughes are together, however, their defensive numbers are quite good, limiting shot attempts, shots on goal, and chances. Hughes' rate of expected goals against drops significantly when paired with Schenn.
Away from Hughes, Schenn's numbers at both ends of the ice get a little bit uglier. But when he's with Hughes, Schenn looks fantastic.
It seems clear that Schenn and Hughes each cover up for each other's weaknesses. Hughes's superb skating can make up for Schenn's more lumbering stride, retrieving the puck and covering for him defensively when he gets beaten. Likewise, Schenn's strength and physicality, particularly in front of the net, makes up for that limitation in Hughes's game, limiting chances against.
The difference that Schenn makes for Hughes is especially clear when you look at a heatmap of the defensive zone via HockeyViz.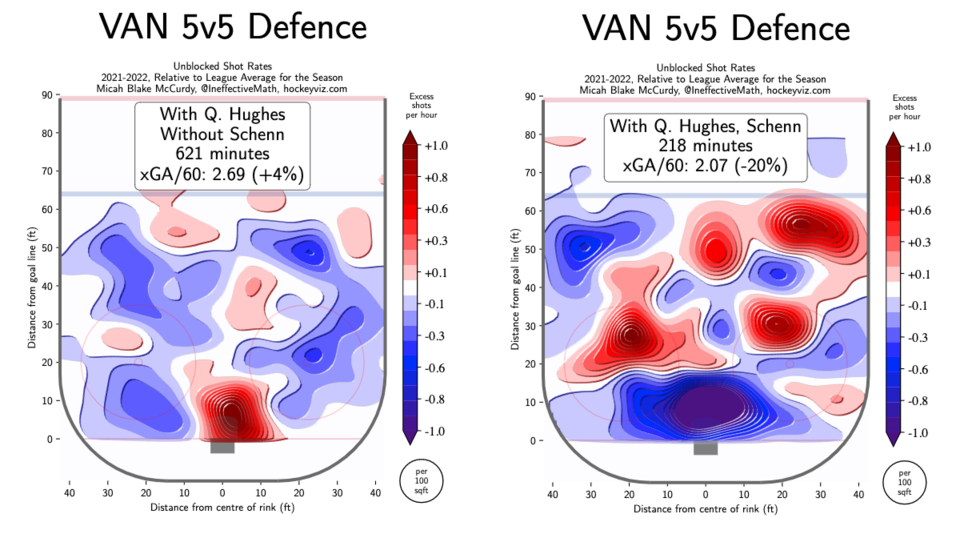 Hughes without Schenn is on the left — mostly very good at limiting shots in the defensive zone except for the most dangerous area of the ice, right in front of the net.
Hughes with Schenn is on the right — more chances from the tops of the faceoff circles but a well as deep as the Marianas Trench in front of and around the net.
To be clear, Hughes's numbers away from Schenn suffer from playing a lot of minutes with Poolman, who is miscast in a top-four role. But it's obvious that Schenn helps Hughes in ways that Poolman does not.
Is Schenn a long-term fit for Hughes. Well, probably not. Schenn is 32 and his game is likely to decline precipitously in the coming years. He's also not necessarily the best fit for Hughes's offensive game, as he's still limited in that area.
He does, however, provide a blueprint for what the Canucks can look for in a long-term partner for Hughes: a smart player with a physical edge to their game that defends well in front of the net but with better skating and offensive upside than Schenn. That will likely be a hard player to find.
For now, particularly at his near league-minimum cap hit, Schenn will do just fine.