Welcome to the NHL's silly season.
NHL free agency opens Wednesday morning, which means NHL general managers are going to open up their pocketbooks, hoping to find the player or players that put their team over the top. Some will sorely regret their choices.
It's Patrik Allvin's first free agency as general manager of the Vancouver Canucks but don't expect any big splashes. The Canucks don't really have the cap space for any major signings and it wouldn't fit with their declared timeline of a two-year retool.
Instead, expect some minor moves to upgrade the team's bottom-six forwards after letting Matthew Highmore and Juho Lammikko go to free agency and perhaps find a bargain on defence that can help the right side. If the Canucks do make a big move, it's more likely to be a trade than a free agent signing.
I'm at Rogers Arena and will keep you updated from here, as well as speak to Allvin at the end of the day once all the dust has settled.
The comments section is open below for discussing any signings, Canucks or otherwise.
---
9:16 a.m. | The Canucks have made their first signing!
It's Andrei Kuzmenko, who we've known about for weeks. Still, it's nice to see the deal made official, as Kuzmenko technically could have backed out of the verbal agreement at any time.
Kuzmenko is an intriguing player, with the potential to be a legitimate top-six forward and a weapon on the power play, but it's good to keep the hype in check.
9:19 a.m. | Shockingly, the news is coming fast and furious already. Curtis Lazar has signed a three-year deal with the Canucks worth $1 million per year.
Lazar is a bottom-six centre, who is very effective defensively, suppressing scoring chances and getting in on the forecheck. Most importantly, he's right-handed, something the Canucks were missing last season.
9:36 a.m. | The Canucks have made another signing: a one-year deal for Wyatt Kalynuk. He's a depth defenceman, who will most likely play in the AHL, where he spent 52 games last season. He did play five games for the Chicago Blackhawks.
Kalynuk's name even sounds kind of like "Canuck." It was meant to be.
9:58 a.m. | The signings keep coming for the Canucks, adding speedy Russian winger Ilya Mikheyev on a four-year deal. He had 21 goals for the Toronto Maple Leafs last season.
Some people were thinking that Jim Rutherford and Patrik Allvin would turn the Canucks into the west-coast Pittsburgh Penguins. With all the Russians, it seems more like they're becoming the west-coast Washington Capitals.
10:08 a.m. | The Canucks have signed AHL goaltender Collin Delia, which is a minor deal but could have major implications for the Canucks' goaltending hierarchy.
Dellia is on a one-way deal, so he'll be making an NHL salary with the Abbotsford Canucks. You don't pay a guy that much to not play but the Canucks also have two prospects in Abbotsford in Mikey DiPietro and Arturs Silovs. There has been buzz that DiPietro might be on his way out and the Canucks like Silovs and want to get him more games.
Does the signing of Dellia mean that DiPietro will get moved, leaving a goaltending tandem in Abbotsford of Dellia and Silovs?
11:12 a.m. | As things slow down, some thoughts on Dakota Joshua, a depth signing for the Canucks.
Joshua played for the Utica Comets during the COVID-shortened AHL season when the Canucks and St. Louis Blues shared the Utica Comets. Chris Gear, at least, is a fan.
In his 30 games in the NHL with the Blues last season, Joshua was pretty effective, albeit in a very sheltered fourth-line role. He pushed puck possession in the right direction and defended the middle of the ice well in the defensive zone.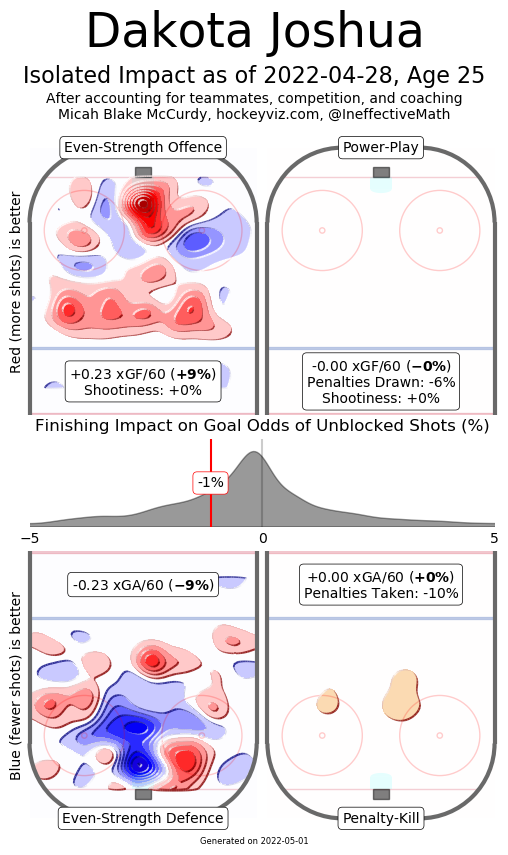 Joshua might not be anything more than a depth centre but he's a pretty solid bet on a two-year contract at the age of 25. It's possible that there is a useful fourth-line centre there or at least someone that can credibly fill the role in case of injury.
12:30 p.m. | Curtis Lazar proved his bona fides as a Canucks fan during his Zoom call with the media at noon. When asked about Canucks players with grit that he admired while growing up in B.C., Lazar quickly named a trio of truculent forwards — Matt Cooke, Raffi Torres, and Rick Rypien — before adding a few more well-known names.
"There's Matt Cooke, Raffi Torres, obviously the late Rick Rypien — watching those guys just inject that energy out there was pretty cool," said Lazar. "Kevin Bieksa was one too, he loved to get under opponents' skins. Alex Burrows, Ryan Kesler, the list goes on and on with those guys."
I'll have more from Lazar's media availability in a separate article.
2:18 p.m. | Patrik Allvin is a big fan of Dakota Joshua.
The Canucks' GM volunteered Joshua's name multiple times in his afternoon media availability when asked about other players. It's clear that he sees Joshua as more than just depth.
"I definitely see him as an NHL player," said Allvin. "Our group believes that he's capable of doing more and, with more opportunity, become a full-time NHL player...His size, his skating ability, his versatility — he can play centre or wing — and he's a hard guy to play against."
Joshua was good on faceoffs with the Blues, winning 53.3%, but he didn't kill penalties, though Allvin believes that's an area where he can help the Canucks too. Both he and Lazar could land on the Canucks' fourth line or perhaps Lazar gets bumped up to centre the third line. It really depends on what the Canucks do with Jason Dickinson and how they want to construct their top-nine forwards next season.
That's my final update for the live blog. Thanks for sticking around. I'll have more on Allvin's media availability in a separate article.
4:35 p.m. | I lied. One last update.
The Canucks have signed Phillip Di Giuseppe to a one-year, two-way deal. Di Giuseppe showed a lot of promise in training camp and seemed like the exact type of versatile bottom-six winger they needed, but then he was stuck in the AHL for the entire season.
Di Giuseppe had 36 points in 42 AHL games and played in all situations for the Abbotsford Canucks. We'll see if he gets another NHL shot next season.