There are six numbers hanging in the rafters of Rogers Arena, retired by the Vancouver Canucks so that no other player can wear them ever again.
Those numbers are synonymous with the names of the players who wore them. It's hard to imagine anyone other than Trevor Linden wearing #16 or someone other than Daniel and Henrik Sedin wearing #22 or #33.
But, before the Canucks' stars made those numbers famous — and sometimes after — other players wore the numbers 10, 12, 16, 19, 22, and 33. In fact, lots of other players wore those numbers. 23 players other than Pavel Bure donned the number 10 for the Canucks, for example.
Obviously, the Canucks who were responsible for those numbers getting retired are the best Canucks to ever wear those numbers — three of them are even in the Hockey Hall of Fame — but who is second best among the many players who wore them?
Thanks to Hockey Reference, which keeps track of esoteric trivia, such as every number worn with a team, we can figure that out. Let's go chronologically, starting with The Steamer, Stan Smyl.
The second-best #12 after Stan Smyl
Smyl wore the number 12 for all 13 years of his NHL career, all of it in Vancouver. There was no time for anyone to even consider wearing Smyl's number 12 after he retired at the end of the 1990-91 season, as it was sent up into the rafters on November 3, 1991.
The Canucks were only in existence for eight years before Smyl took the ice but somehow seven different players wore the number 12 before Smyl made it his own.
None of them were particularly good.
A couple of the Canucks who wore number 12 even managed to wear other future retired numbers during their brief time with the Canucks.
Right winger Barry Wilcox played just 33 games for the Canucks across two seasons. In the 1972-73 season, he wore Smyl's future number 12 in just 31 games. In the 1974-75 season, he got called up from the minors for two games and wore Trevor Linden's future number 16.
That's nothing: centre Jim Wiley managed to wear three future retired numbers in his three seasons with the Canucks.
Wiley started with Linden's 16, then moved on to Markus Näslund's number 19, before finally settling on Smyl's 12 in the 1976-77 season.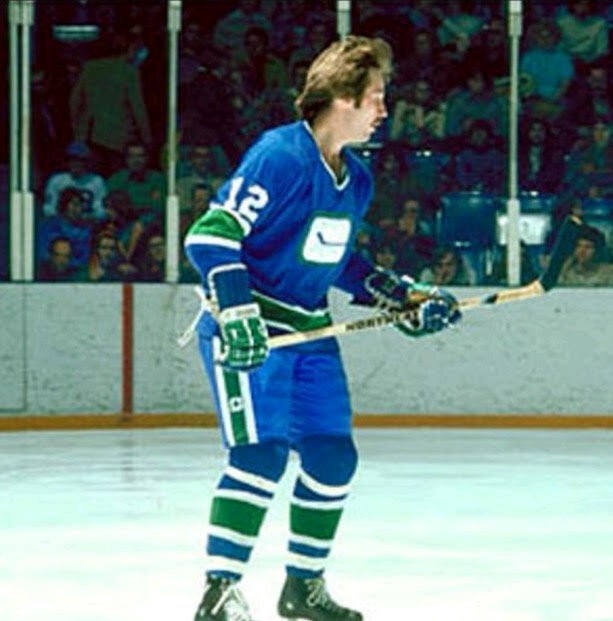 Neither Wilcox nor Wiley were the best player to wear number 12 before Smyl. For that, we have to go to a player from their very first season: Mike Corrigan.
Corrigan was better known for his contributions to the Los Angeles Kings, but he wasn't bad for the Canucks. He put up 21 goals and 49 points in the Canucks' inaugural season after he was claimed from the Kings in the 1970 expansion draft.
He lasted just over a season with the Canucks before he was waived by the Canucks early in the 1971-72 season — apparently because his attempt at giving some jeering fans the peace sign was misinterpreted as being a one-finger salute.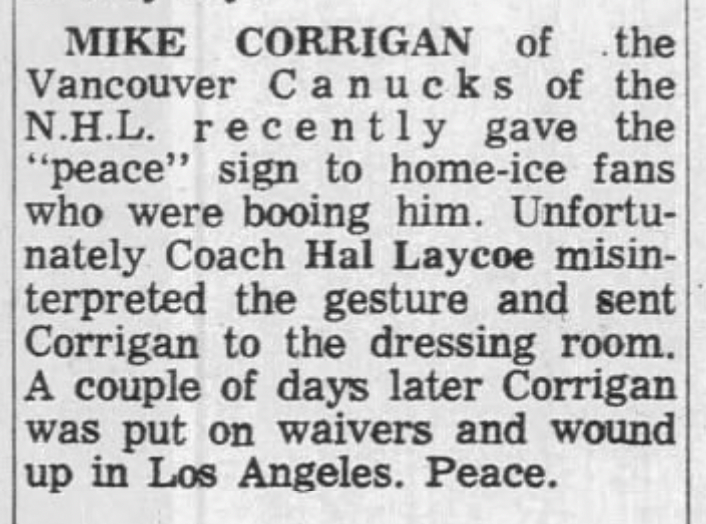 He was quickly reclaimed by the Kings off waivers and had a 37-goal season a year later.
The second-best #16 after Trevor Linden
Ten different Canucks wore the number 16 before Linden made it his own, including Wiley and Wilcox. There were a couple of decent players among them, though none lasted very long in Vancouver.
That includes a couple of 22-goal scorers. Don Tannahill and Per-Olav Brasar both scored 22 goals in a season while wearing the number 16. Brasar was the better of the two, with an underrated two-way game to go with 100 points in 181 games with the Canucks — his 63 points was good for third in scoring on the Canucks in the 1980-81 season.
That likely makes Brasar the second-best number 16 after Linden but I have to also give a nod to the all-too-brief Canucks career of Dan Hodgson.
Hodgson wore both 16 and 22 with the Canucks, giving him two retired numbers. The 22-year-old playmaking centre was wearing the number 16 when he put up 10 points in 8 games in the 1987-88 season after getting called up from the minors.
Unfortunately, Hodgson then suffered a spiral fracture of both the bones in his lower left leg when Calgary Flames defenceman Brad McCrimmon crashed down on the smaller forward while battling for a rebound. That ended his promising season but it was his 5'10" stature that ended his NHL career.
Hodgson was still effective after returning from his injury. He played 23 games for the Canucks in the 1988-89 season and put up 17 points while wearing the number 22 and was outright dominant in the minors, racking up 82 points in 47 games, but concerns over his size kept him from sticking in the NHL.
Instead, Hodgson went to Europe, where he had a long career in Switzerland. He even got a chance to represent Team Canada at the 1998 Spengler Cup.
I'll still go with Brasar as the second-best #16 in Canucks history but it's hard not to wonder what could have been if Hodgson hadn't suffered such a gruesome injury.
The second-best #19 after Markus Näslund
The number 19 has been worn by some incredible players in NHL history, like Steve Yzerman, Joe Sakic, Larry Robinson, and Bryan Trottier. The Canucks have a great 19 of their own in Markus Näslund, who was a three-time First-Team All-Star in the early 2000s as the linchpin of the dominant West Coast Express line.
Including Näslund, 19 players have worn 19 for the Canucks, including Ron Delorme and Jim Sandlak.
The second-best number 19 for the Canucks comes down to two players: Dale Tallon or Petr Nedved.
Both were highly-touted second-overall draft picks that didn't have the impact in Vancouver that the Canucks had hoped, albeit for different reasons. Tallon had a very good rookie season while wearing 19 but couldn't live up to the Canucks' sky-high expectations, particularly compared to the player they missed out on, Gilbert Perreault.
Nedved, on the other hand, left Vancouver because of a contract dispute after a very strong season where he had 37 goals and 71 points in 84 games. His departure resulted in the Canucks getting Jeff Brown, Bret Hedican, and Nathan Lafayette from the St. Louis Blues, but that's another story.
I'll give the nod to Nedved as the second-best 19, even though Tallon was legitimately very good in his rookie season before switching to the number 9 for his remaining two seasons in Vancouver.
The second-best #10 after Pavel Bure
Pavel Bure ought to have been a first-round pick if not for the fear of drafting players from the Soviet Union at the time, leading to the Canucks getting him in the sixth round in 1989.
Bure might not have been a first-round pick, but a number of the Canucks' first-round picks did wear the number 10, albeit some of them only temporarily: Don Lever, Dennis Ververgaert, Rick Blight, Bill Derlago, and Jere Gillis.
Beyond those first-round picks, who had varying degrees of success in Vancouver, there were other talents like Bobby Schmautz, Moe Lemay, and Brian Bradley who wore number 10 before Bure, sometimes only for a season or two before switching to another number.
That was also the case for Geoff Courtnall, who wore number 10 for just 11 games in the 1990-91 season after a trade from the St. Louis Blues before he switched to his more well-known 14 for the 1991-92 season, just before Bure made his debut on November 5, 1991.
After Bure left Vancouver, his number 10 wasn't considered sacrosanct. Even while he was in Vancouver, Bure didn't really hold his number in high regard, switching to 96 from 1995 to 1997, notoriously his worst and most injury-riddled seasons with the Canucks. During those two seasons, Esa Tikkanen wore the number 10.
Bure must have felt slightly superstitious after his struggles while wearing 96, as he switched back to 10 for his final season with the Canucks and stuck with 10 when he played for the Florida Panthers.
Bure's number wasn't taken out of circulation like some stars who later have their number retired, likely because of the contentious way he left town. Trevor Letowski, Brad May, Ryan Johnson, and Jeff Tambellini all wore 10 after Bure before his number was finally retired on November 2, 2013.
The trouble with deciding who the second-best number 10 is in Canucks history is that so many of the good players who wore that number only wore it temporarily and are better known for wearing other numbers. It's tempting to give it to Courtnall but he barely wore the number 10.
I think I have to go with Dennis Ververgaert, who put up 304 points in 409 games with the Canucks, including a 37-goal season in 1975-76, all while wearing the number 10 and only the number 10.
Sure, Ververgaert didn't have a career as good as Lanny McDonald, who was taken by the Toronto Maple Leafs one pick after him in the 1973 draft, but at least he's the second-best number 10 in Canucks history.
The second-best #22 after Daniel Sedin
Some talented players wore the number 22 before it became forever linked to Daniel Sedin.
That includes Markus Näslund, who wore 22 in his first ten games with the Canucks because Tim Hunter had the number 19. Näslund would be the runaway winner to be the second-best #22, except for the fact that he had just three points in those ten games while wearing 22.
Jocelyn Guevremont briefly wore 22 during his rookie season with the Canucks before switching to the number 2. Greg Adams wore 22 with the Canucks, but it was the other Greg Adams. Greg Boddy, Robert Dirk, and Bob Manno were decent defencemen for the Canucks while wearing 22.
Just before Daniel joined the Canucks for the 2000-01 season, Peter Zezel wore the number 22 in Vancouver for the final two seasons of his career, but he was a shadow of his former self.
For second-best after Daniel Sedin, it has to come down to two players who were acquired via trade and helped propel the Canucks to the Stanley Cup Final: Dave "Tiger" Williams and Jeff Brown.
Tiger Williams wore the number 22 when he put up 35 goals, 62 points, and a whopping 343 penalty minutes in the 1980-81 season, his first full season with the Canucks. He wasn't quite as good the next season, but was a key contributor to their 1982 playoff run, putting up 10 points in 17 games while piling up 116 penalty minutes.
Jeff Brown ended up in Vancouver as a result of the Petr Nedved contract dispute that landed Nedved with the St. Louis Blues. Brown proved to be a key component of the Canucks run to the 1994 Stanley Cup Final, as he was the high-end offensive defenceman they needed to run the power play.
Honestly, this is a tough one. Both are unique talents who gave the Canucks a dimension they needed. Perhaps it's my personal nostalgia talking as someone who grew up in the nineties, but I'm giving the nod to Brown over Tiger. The '82 Canucks might have still made the Final without Tiger but the '94 Canucks don't even get out of the first round without Brown.
Yeah, I feel okay about giving it to Brown.
The second-best #33 after Henrik Sedin
Unlike with his twin brother, there are slim pickings for the best Canuck to wear 33 before Henrik Sedin.
Nine players wore 33 for the Canucks before Henrik, none for very long.
Future Canucks bench boss Marc Crawford wore the number 33 for one game during his six seasons as a bruising winger for the Canucks in the eighties. Goaltender Steve Weeks also wore 33 for exactly one game. Jim Sandlak wore 33 in his rookie year before switching to 19, then 25.
With few other options, I'm giving the nod to Michael Peca, who wore 33 during his 37 games with the Canucks. Sure, this should probably go to someone like David Saunders or Jay Mazur, as Peca didn't do much in his brief time with the Canucks except nearly murder Teemu Selänne with a late hit.
At least Peca got the Canucks Alexander Mogilny when they traded him to the Buffalo Sabres.
Peca went on to win two Selke trophies as the NHL's best defensive forward, albeit while wearing number 27 for the Sabres and New York Islanders. Now he can add "second-best number 33 in Canucks history" to those accolades.