Vancouver Canucks head coach Bruce Boudreau has frequently referred to Elias Pettersson as the Canucks' "best offensive forward."
It's hard to dispute. Pettersson leads the Canucks with 44 points in 34 games and is on pace for 104 points, which would tie him for the fifth-highest point total in franchise history with Markus Naslund and Daniel Sedin. That's with opposing penalty kills going out of their way to cheat into his shooting lane to take away the threat of his shot on the power play. Pettersson is on pace for 40 goals this season despite having yet to score a single power play goal.
There's a strong case to be made, however, that Pettersson isn't just the team's best offensive forward; he's arguably their best defensive forward as well.
Pettersson isn't a one-dimensional player.
That's evident from just watching the games. Pettersson plays a smart, active game in the neutral zone to break up opposing rushes and zone entries and is excellent at shutting down passing lanes with a quick stick and applying pressure on the puck in the defensive zone.
It also shows up in the underlying numbers. A useful statistic for this is expected goals, which combines shot quantity and shot quality statistics by giving every shot attempt a probability of becoming a goal based on the context of the shot, such as the type of shot, where the shot came from, and whether it is a rebound from a previous shot.
Among the 13 forwards who have been on the ice for at least three hours — 180 minutes — at 5-on-5, Pettersson ranks second in expected goals against per hour.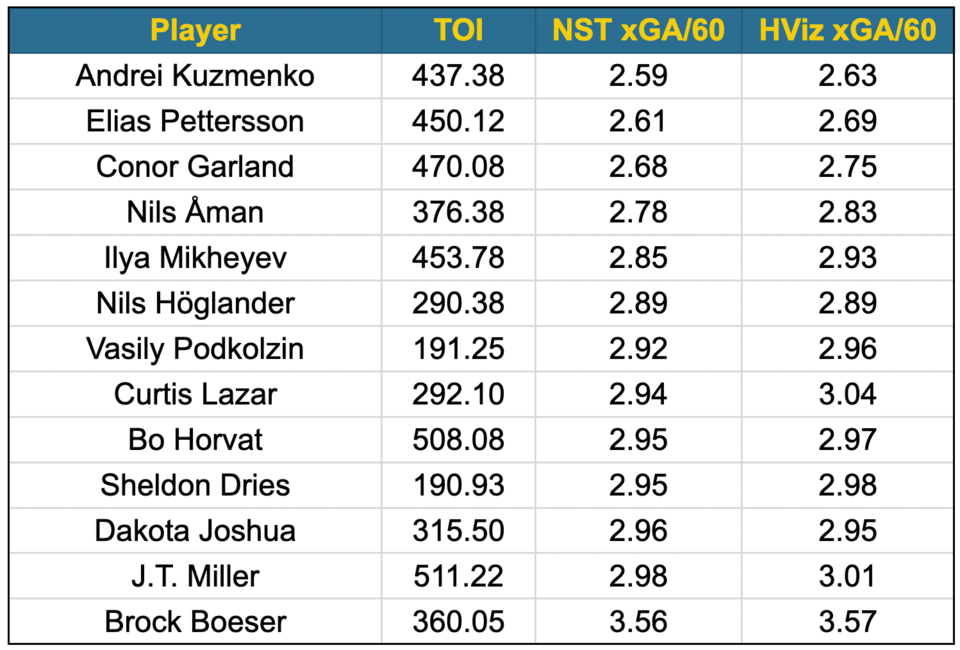 I've included both Natural Stat Trick's expected goal statistic and HockeyViz's expected goals statistic, but both formulas arrive at very similar conclusions.
Pettersson trails only Andrei Kuzmenko, who benefits from primarily playing with Pettersson, except with fewer defensive zone starts and less usage in situations where the team is defending a lead.
Also, unlike Kuzmenko, Pettersson is a go-to penalty killer for the Canucks. While the penalty kill as a whole has struggled, Pettersson has been one of the team's better options. He's been on the ice for the second-lowest rate of goals against on the penalty kill among Canucks forwards, behind only Nils Åman.
That makes Pettersson a true two-way star, contributing at both ends of the ice. Unfortunately, the same can't be said for all of the Canucks' stars.
Boeser, Miller, and Horvat have struggled defensively.
At the bottom of that expected goals chart, you can find a few fourth-line forwards, a journeyman AHLer, and three of the Canucks' highest-paid players.
J.T. Miller has attracted a lot of attention this season for his defensive issues, partly because he just signed a massive, seven-year contract extension and partly because he seems to lack any sort of self-awareness of his defensive struggles.
But Miller is far from the only Canucks forward with defensive issues this season and it's not even a new issue for him — he's always had defensive warts. While Miller has the second-highest rate of expected goals against at 5-on-5, Brock Boeser has the highest and it's matched by the highest rate of actual goals against at 5-on-5.It's not a small gap either — over half a goal more per 60 minutes is a major jump. In fact, Boeser's 3.56 xGA/60 is sixth-worst in the NHL among the 407 forwards with at least 180 minutes at 5-on-5 this season.
It's also massively worse than Boeser's career numbers — his career high was in 2020-21, when he had a 2.73 xGA/60. Boeser has taken strides in his two-way game in his career, to the point that it had become a strength of his game. This season has been a significant step backwards.
Bo Horvat also doesn't fare well by expected goals against, ranking just a bit ahead of Miller. Horvat's defensive game has never become the strength of his game that it was expected to when he was drafted, but he has made up for it with offensive production, particularly this season where he's one of the NHL's best goalscorers.
It's troubling, however, that three of the Canucks' top forwards have been so dire defensively. While the Canucks defence corps is a major reason why the Canucks have given up so many goals this season, the defensive play of Boeser, Miller, and Horvat hasn't helped.
What the Canucks really need is more Petterssons — players who combine their exceptional skill with solid two-way-play and hard work in the defensive zone. Or...
No, the Canucks literally need more Petterssons
Perhaps the solution is literally just more Petterssons.
The Canucks already have another Elias Pettersson on the way in defenceman prospect Elias Pettersson, who is currently playing for Sweden at the 2023 World Junior Championship. They even have a store-brand Pettersson, Lane Pederson, in the NHL right now, fitting in neatly on a line with Pettersson.
But maybe they need more.
The Canucks could start with Elias's older brother, Emil Pettersson. The elder Pettersson was a Nashville Predators draft pick and never cracked their NHL roster, but he's currently one of the SHL's top scorers. Maybe he deserves another NHL shot?
There's Pittsburgh Penguins defenceman Marcus Pettersson, who the Canucks were rumoured to be interested in at one point. Maybe the Canucks could revive those trade talks to increase their Petterssons/60.
Aside from defenceman Elias Pettersson, there's another Pettersson on Team Sweden at the World Juniors: Ottawa Senators prospect Oskar Pettersson, who plays a hardworking, intelligent two-way game — exactly what we've come to expect from Petterssons. To boost their Pettersson quotient, the Canucks have to talk to the Senators about acquiring him.
For goaltenders, there's a Jonathan Pettersson putting up good numbers in Sweden's junior league, the J20 Nationell, for Södertälje.
The Canucks could also tap into the Pederson factor like they already did with Lane Pederson.
The pickings are a little more slim among the Pedersons, but they could look to sign undrafted free agent Owen Pederson. The 6'3" forward is one of the top scorers in the WHL this season with 45 points in 33 games.
The Canucks have to be cautious in their pursuit of Pedersons. The team's worst trade in franchise history was for a Pederson, when they sent Cam Neely and a first-round pick to the Boston Bruins for Barry Pederson. The lesson is clearly to not overpay for near-Petterssons.
There's also an untapped Peterson market — the Canucks don't have any of those yet. Dallas Stars prospect Jacob Peterson is worth a shot, with 17 points in 24 AHL games this season, even if he can't quite crack the Stars lineup on a consistent basis. 6'4" centre Dylan Peterson, a St. Louis Blues prospect, also has some potential.
Don't forget Petersen. The Canucks could give goaltender Cal Petersen, who has had a rollercoaster career with the Los Angeles Kings, a fresh start.
If the Canucks play their cards right, they could soon be icing two forward lines plus a spare, a defence pair, and a goaltending tandem that looks like this:
Forwards
Pettersson - Pettersson - Pederson
Pettersson - Pederson - Peterson
Peterson
Defence
Pettersson - Pettersson
Goaltenders
Petersen
Pettersson
Or maybe the Canucks could just try to get their other forwards to follow Pettersson's lead and actually play defence. Either way.