Numbered lists to rank prospects? Old and busted.
Pyramids? The new hotness.
As Katherine Ryan once said, "The strongest shape is a triangle." It's also the best shape for ranking prospects.
It's an idea borrowed from Leafs yeller Steve Dangle. It's a better way to rank prospects than just putting them in a list as there's not really much point in trying to judge the minute differences in potential between the team's 9th best prospect is and 10th best prospect when really, those prospects are probably at about the same level.
So, the Prospect Pyramid instead sorts prospects into tiers and puts those tiers in a strong, aesthetically-pleasing shape.
The pyramid is narrower at the top than at the bottom, which makes sense — teams typicaly have only a few really good prospects and a plethora of merely okay prospects.
Here's the 2022-23 edition of the Canucks Prospect Pyramid, with a new face at the top.
Tier 1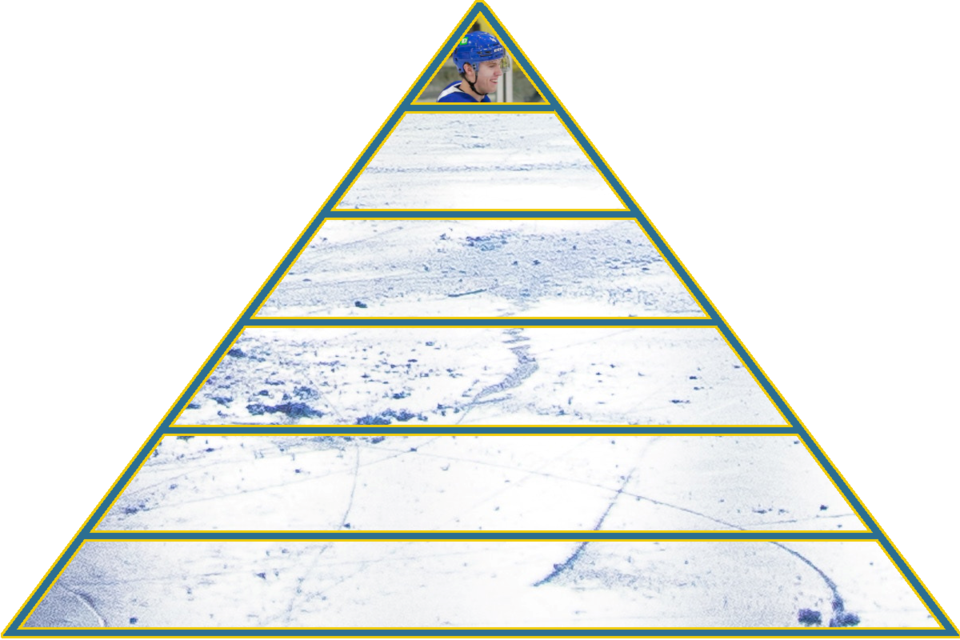 A Tier 1 prospect is a blue-chipper. They're the type of prospect that not only has the potential to become a first-line forward, top-pairing defenceman, or elite starting goaltender, but has a good chance to reach that potential.
Jonathan Lekkerimäki fits that criteria, if only just barely. He's not quite the same caliber of prospect as Elias Pettersson or Quinn Hughes, but he's still a very good, very promising prospect.
What makes him a Tier 1 prospect is his ability to put the puck in the net. He's a sniper with a wide array of weapons that are not just translateable to the NHL but already NHL-caliber.
"The catch-and-release, one-timer, wrist shot, snapshot, slap shot — Lekkerimäki has the tool for any occasion, and they're all already high-end-to-elite even by the NHL's standards," reads his scouting report from Elite Prospects. "You watch him shoot the puck, and it's self-evidently perfect."
That elite goal-scoring ability had a lot draft experts expecting him to be a top-10 pick — the Canucks felt very fortunate to get him 15th overall. That same elite goal-scoring ability lands him at the top of the Canucks' prospect pyramid.
Tier 2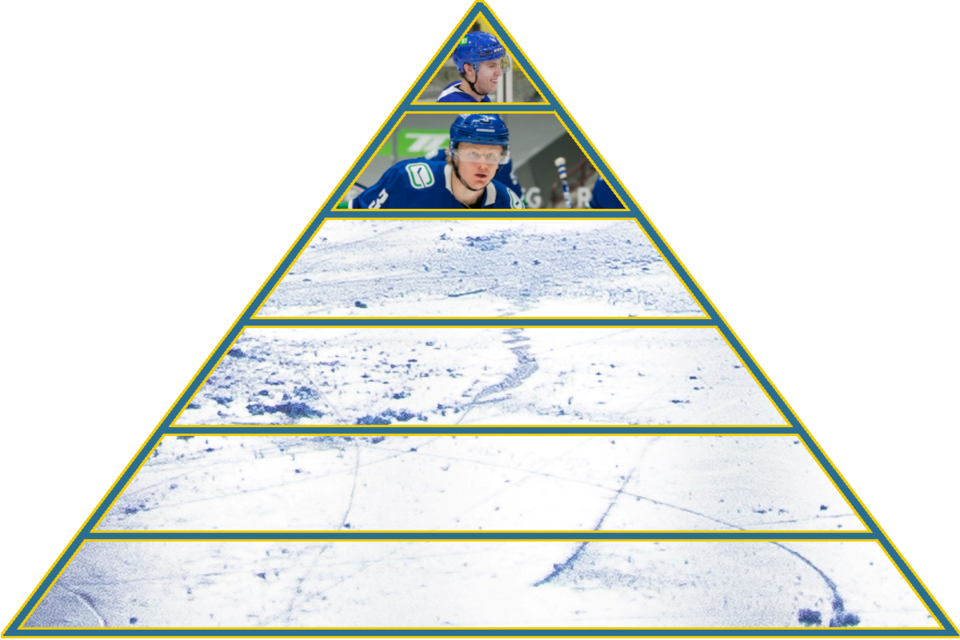 A Tier 2 prospect has the potential to be a top-four defenceman, a top-six forward, or a starting goaltender in the NHL and a strong chance of reaching that potential. Maybe they're not blue-chip prospects, but they could still become impactful players.
Already 23 years old, Jack Rathbone is barely hanging on to the second tier but it's not entirely his fault that he hasn't stuck in the NHL just yet. The smooth-skating offensive defenceman isn't exactly the type of staid, boring defenceman that coaches like to have on their third pairing and it's tough to fit him in the top four with Quinn Hughes and Oliver Ekman-Larsson already on the left side.
The Canucks have to find a way to get him in their NHL lineup, however, as he's far too good for the AHL. He dominated this past season, scoring 10 goals and 40 points in 39 games. That was good for second in points per game among AHL defencemen with at least 30 games played.
Rathbone also added more versatility to his game, adding the penalty kill to his repertoire and playing in all situations for Abbotsford. In his brief auditions in the NHL, he's struggled defensively, but it's an area he's worked on diligently.
With his ability to move the puck up ice, Rathbone would seem like a natural fit to help the Canucks' zone exits, which president of hockey operations Jim Rutherford called "one of the worst in the league."
The problem is, I don't see anyone else in the Canucks' system who belongs in the second tier. Perhaps that's understandable given that the Canucks didn't have a first-round pick for two straight drafts before picking Lekkerimäki and have only made one second-round pick in the last three drafts.
Tier 3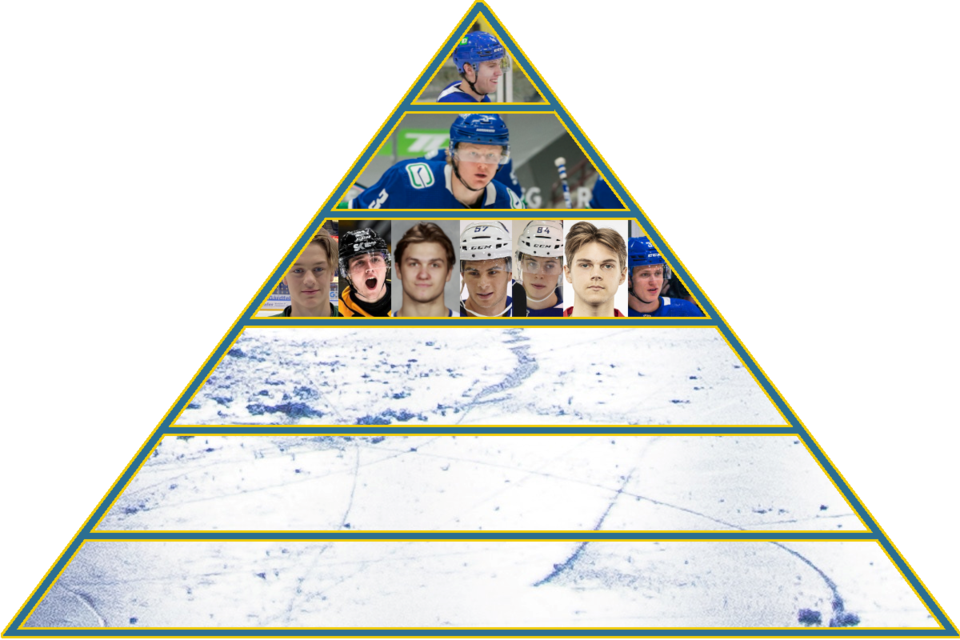 A Tier 3 prospect still has a good shot of becoming an NHL player but they're more likely to be a bottom-six forward, third-pairing defenceman, or a backup goaltender. If they do have high-end potential, they're more of a long shot to fulfill that potential.
Rathbone may be lonely in the second tier but the third tier is full to bursting, including a couple of prospects who could play in the NHL this coming season.
Lucas Forsell won't be playing in the NHL any time soon, but his ceiling has rapidly risen since he was a seventh-round pick in 2021. Forsell was one of the youngest players in that draft and those extra months to develop compared to some of his older peers have paid off, as he spent 30 games in the SHL as an 18 year old and has now been invited to Sweden's World Junior evaluation camp.
Canucks fans could see Linus Karlsson in Vancouver this season. Karlsson has rocketed up the Canucks' system since he was acquired for Jonathan Dahlen a few years ago, culminating in his rookie season in the SHL this past year, where he tallied 26 goals and 46 points in 52 games.
Now Karlsson has signed with the Canucks and could quickly make his NHL debut. The versatile forward has a strong two-way game to go with his excellent shot but has some flaws in his skating that could hold him back. It wouldn't be surprising to see him get a shot on the Canucks' fourth line if injuries crop up.
Danila Klimovich is a conundrum. The big winger has elite aspects to his game, but they're incredibly unrefined. In the defensive zone, he can charitably be described as a work in progress. While he has top-six potential, it's entirely uncertain if he'll ever realize that potential, so he lands in Tier 3.
Klimovich spent his 18-year-old season in the AHL, where the Canucks could have a major influence on his development, and he'll be back in Abbotsford again this coming season. He's arguably the biggest challenge for the Canucks' newly-rebuilt development department but there's the potential for a significant reward if he works out.
Will Lockwood doesn't have the highest ceiling among the prospects in this tier but has perhaps the strongest chance of reaching that ceiling in the coming season. The 24-year-old winger could become a staple on the Canucks' fourth line in the coming season with his speed and willingness to play the body.
His limited offensive upside means Lockwood likely won't be anything more than a bottom-six forward but he'll still win over fans if he can throw some big hits on the forecheck.
Aidan McDonough is heading back to Northeastern University for his senior year, so it will be a while before he suits up with the Canucks, but there's some serious potential in McDonough's game. McDonough was one of the top goalscorers in college hockey last season, with 25 goals in 38 games, second in the country. He could be expected to lead the NCAA in goalscoring in the coming year.
At 6'2" and 201 lbs, he has the size to play a power forward game and he possesses an NHL-caliber shot that can beat goaltenders from distance.
There are a couple of question marks for McDonough that keep him in the third tier. One is his skating, which still lacks pace even if it has improved since he was drafted. Another is his age, since he'll be 24 before his rookie season in the NHL. Scoring 25 goals as a 22-year-old in the NCAA is good — scoring that many goals at 20 or 21 would have been a better sign of his NHL potential.
Jonathan Myrenberg had a solid post-draft season that bumped him up a couple of tiers from last year's pyramid. He was one of the top-scoring defencemen in Sweden's J20 Nationell league and played 15 games in the SHL, where he played a regular shift as an 18 year old.
Myrenberg had a standout development camp with the Canucks, showcasing his strong skating and well-rounded game. Against his peers, Myrenberg can play a two-way game with an ability to jump up the ice and contribute offensively. His offensive skills might not translate to the NHL, however, and he's more likely to land on a third pairing as a defensive defenceman.
Considering the question marks on the Canucks' right side, Myrenberg's development is a great sign.
Elias Pettersson — the defenceman — also lands in the third tier. With his strong skating and physical game, Pettersson has the potential to be a shutdown defenceman at the NHL level in the future but there's also a hint of offensive upside to his game.
It will be intriguing to see how he develops in the coming year, as he is aiming to play in the SHL full time next season. If he can manage that, it will be a very good sign for his potential.
Tier 4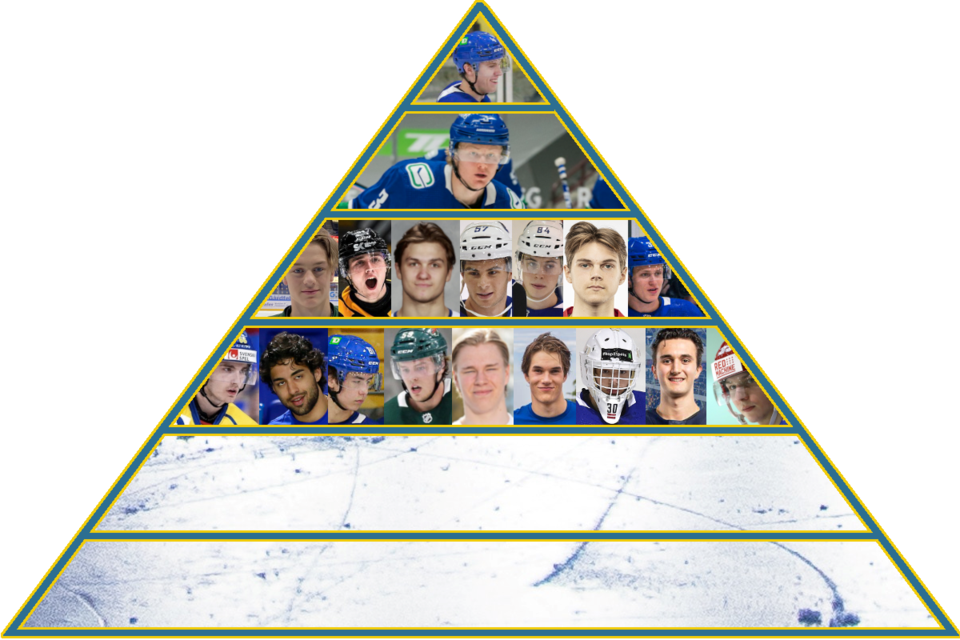 Prospects in Tier 4 could still make the NHL but they have a long road ahead of them or a lot of uncertainty surrounding their potential. Maybe they'll be a fourth-line forward, a seventh defenceman, or a bubble backup — maybe they'll be more than that — it's just not clear.
Nils Åman has a chance to outperform his Tier 4 ranking as early as next season. He's got the size and speed to impress the Canucks coaching staff and he's versatile, with the ability to play all three forward positions and both sides of special teams. There's a chance he leapfrogs Lockwood and Karlsson on the depth chart and either makes the Canucks out of camp or is an early call-up from Abbotsford.
The trouble for Åman is that his hands just can't keep up with his speed. There's a reason why he managed just 14 points in 51 SHL games last season despite already being 22 and if he can't handle and pass the puck at an NHL level, his size and speed will only get him so far.
Arshdeep Bains led the WHL in scoring this past season with 43 goals and 112 points in 68 games, so why is he in Tier 4? The simple truth is that undrafted players who excel in their overage seasons in the CHL still rarely become impact players in the NHL. As good as he was, he turned 21 in January and was playing largely against teenagers.
Bains could be the exception, of course. He has an excellent skillset and strong skating, with all sorts of highlight-reel moves to create offence.
The question for Bains is how much of his game will translate to professional hockey? Can he play at NHL-level pace? Does he have a strong enough two-way game to be a role player? He was consistent and coachable at Canucks development camp and there's every chance he could be a top player in Abbotsford this coming season. From there, we'll see.
Daimon Gardner has a lot of raw talent and great size but there's a lot of work to do to refine him into an NHL player. The 6'4" centre was dominant in Minnesota high school hockey with 45 goals and 83 points in just 30 games but it's hard to know how that will translate as the talent level is so variable in high school hockey.
Filip Johansson is still a year away from coming to North America as he's heading back to the SHL next season. Johansson was once a first-round pick of the Minnesota Wild but didn't take the next steps in his development and went unsigned by the Wild, leaving him available for the Canucks.
Still, Johansson might have an NHL future as a depth defensive defenceman even if his offensive game doesn't come around.
Joni Jurmo feels like a boom or bust prospect. He's got tremendous talent but he may be held back by his ability to read the play. If he can figure that out, however, his size, skating, and skill could turn him into a top-four defenceman.
At the very least, Jurmo finally getting an opportunity with Finland's national team suggests they're seeing development in his game.
The Canucks are high on Aku Koskenvuo and it's easy to see why. He looked great at Canucks development camp, using his 6'4" frame to repeatedly stymie shooters.
But Koskenvuo still only had an .897 save percentage in Finland's junior league, the SM-sarja, a league where younger prospects for other teams, Topias Leinonen and Niklas Kokko, had .916 and .914 save percentages. Koskenvuo has some work to do as he heads to Harvard University and aims to become their starter.
I believe Arturs Silovs is likely to pass Mikey DiPietro on the depth chart this season, if he hasn't already. The Canucks believe in his potential and there's a lot to like about his game but the truth is that he hasn't proven much at the AHL level just yet.
Silovs had an .888 save percentage in 10 games with the Abbotsford Canucks in the AHL. He was better in the ECHL, posting a .920 save percentage with the Trois-Rivières Lions, and was outstanding for Latvia at the World Championship, but he has to play better in the AHL before he can credibly be considered a backup option in the NHL.
Jacob Truscott has been solid in the NCAA and has shown enough to get an invite to Team USA's World Junior camp for the rescheduled 2022 tournament. His developing defensive game suggests he might have an NHL future even if his offensive game doesn't hit.
Finally, there's Dmitri Zlodeev, who requested that the "y" be removed from his last name. Zlodeev's potential is intriguing and yet also extremely uncertain. The 20-year-old centre has strong two-way game and could eventually find a role as a bottom-six centre is things develop right for him. But there's also an offensive element to his game that came through after a midseason move from Dynamo to Spartak in Russia.
With Spartak's junior team in the MHL, Zlodeev dominated offensively, with 17 goals and 34 points in 18 games after far more pedestrian numbers with Dynamo. Zlodeev might never play in the NHL but there's something truly intriguing about his potential. Another strong season should land him further up the pyramid.
Tier 5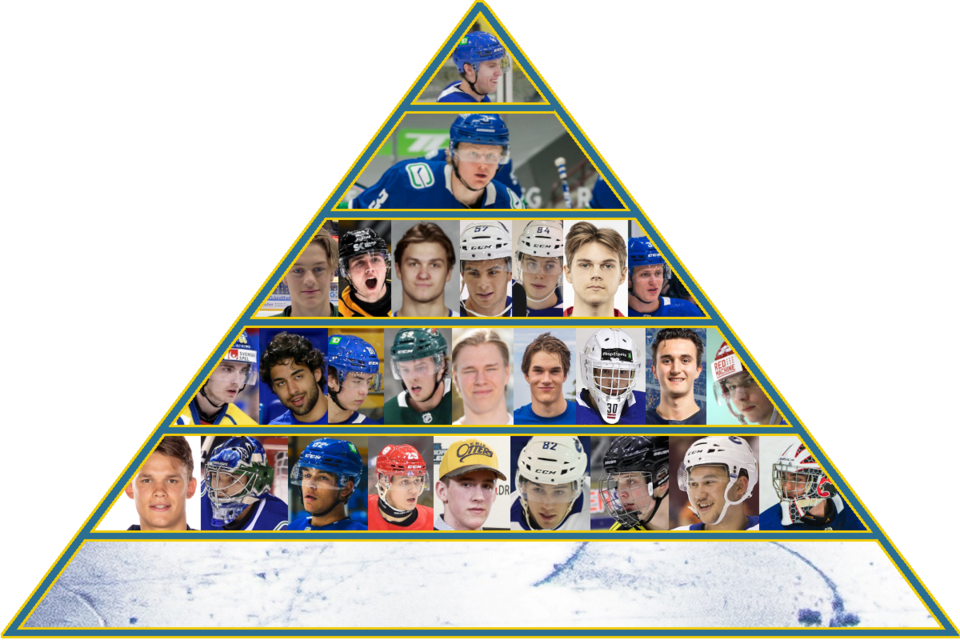 Tier 5 is for the long shots. There's nothing wrong with being in the fifth tier and some prospects might still surprise and work their way up the system. These are players whose potential leans towards being a bubble player: depth forward, depth defenceman, or AHL goaltender.
Late-round draft picks tend to land in this tier — that's nothing against them but just a realistic appraisal of their potential. It all depends on what they do after they're drafted.
Arvid Costmar made the jump to the SHL, but it wasn't a particularly compelling season for the centre, who managed just 7 points in 48 games and was underwater in puck possession with a 42.84% corsi. He just turned 21 and needs to take a big step in the coming season to prove he's worthy of a contract from the Canucks.
Mikey DiPietro was once much higher on this pyramid but last season saw him get passed on the goaltending depth chart by Spencer Martin and he has apparently requested a trade. The 23-year-old goaltender has simply been too inconsistent at the AHL level to have too much hope for his NHL potential at this point but there's still a fiery competitor behind his mask and his peaks have been high enough that he might still make it.
Jackson Dorrington is a smart player but needs some skills development to take better advantage of his hockey IQ. That makes him a good bet in the sixth round for the Canucks but it also lands him in the fifth tier of the pyramid because he has so much work ahead of him.
Kirill Kudryavtsev, the Canucks' seventh-round pick in the 2022 draft, also has a lot of work ahead of him. He had a solid draft season in the OHL with 39 points in 68 games and is adept at jumping up in the rush. Unlike Dorrington, he has all sorts of skill — what he lacks is pace and being proactive on the ice. If he can improve in that area, he'll climb the pyramid.
Connor Lockhart was an intriguing gamble in the sixth round in 2021 after missing his entire draft year when the OHL cancelled the season due to COVID-19. Lockhart's post-draft season wasn't terrible but it also didn't live up to expectations, with 23 goals and 48 points in 64 games.
It's tough for a player like Lockhart to lose an entire year of development and there's still a chance that he bounces back next season. He's got some great wheels and a sneakily great shot, but he lacks size and has a lot to prove.
Jack Malone had a pretty good season for Cornell University, putting up 20 points in 32 games. But he's also already 21 and has yet to take that next step that proves he's got potential beyond playing in the AHL in the future.
It's not a great sign for Viktor Persson that he doesn't yet have anywhere to play next season. He's too old to return to the Kamloops Blazers but hasn't yet been signed by the Canucks to play in the AHL. It seems likely that he'll return to Sweden but even Persson himself wasn't sure where he'll land when I talked to him at development camp.
"Not decided yet. I'm still waiting it out to see what happens. I'm not too worried about it," said Persson. "I'm too old for the Blazers now. I don't want to know too much — my agent is doing that stuff. I just want to focus on getting ready for the season — when there's a paper to sign, I'll sign it."
Persson has potential but there's a long development path ahead of him. His one season in the WHL was underwhelming, with 29 points in 65 games, but there was also a learning curve as he adapted to the smaller ice and faster pace of the North American game.
Jett Woo has come crashing down the pyramid over the years since he was drafted. The throwback defenceman has struggled in the AHL, even getting moved to play forward on the fourth line at times last season.
Woo was once the Canucks' top prospect on the right side on defence with a physical defensive game that made him a pain to play against. His derailed development is a red flag for the Canucks' AHL development but it also goes to show that not every prospect turns out the way you expect.
The only thing keeping Woo out of the bottom tier is the hope that the Canucks can rescue his development under a new development department and new AHL head coach. We'll see what next season holds for the 22-year-old defenceman.
The latest goaltender added to the Canucks' depth chart is Ty Young, selected in the fifth round in the most recent draft. He had an .899 save percentage with the Prince George Cougars in the WHL this past season, which isn't great, but he's 6'3", just 17 years old, and Ian Clark likes his underlying talent. Maybe Tier 5 is underselling young a bit but he's got a long way to go. His development path will be an interesting one to watch.
Tier 6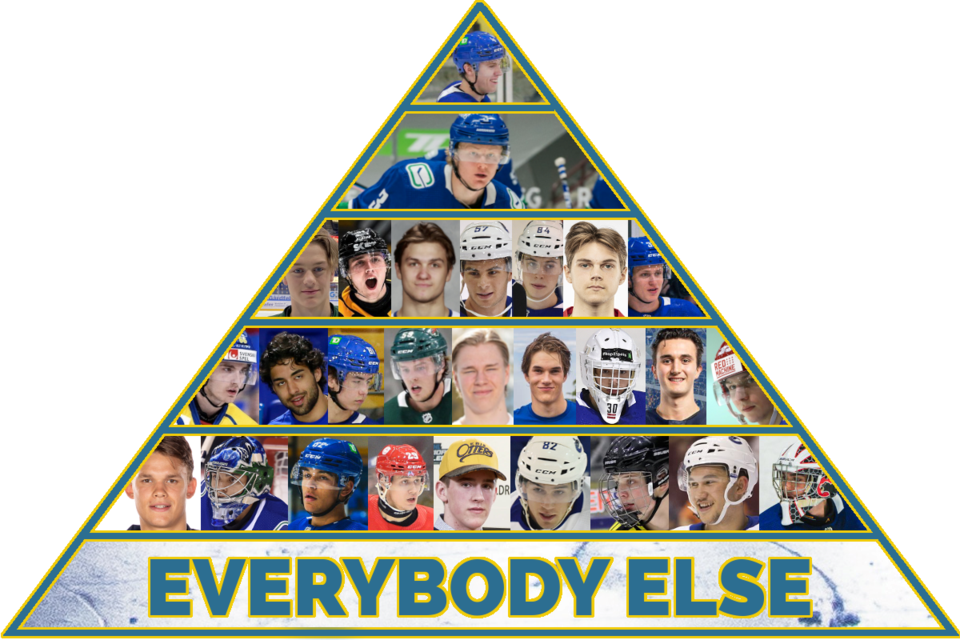 This is the tier for every other prospect in the system. The odds are definitely against any of these players making the NHL.
That includes a couple of players who have NHL contracts: Carson Focht and Karel Plasek. Neither have shown much in the AHL to suggest they have an NHL future. Focht was given opportunities to prove himself at the start of the season and just didn't grasp them, while Plasek was largely invisible before an injury ended his season.
Prospects can certainly pull themselves out of this bottom tier, of course. The two with the most potential to do so are Jackson Kunz, a 6'3" power forward with the University of North Dakota, and Hugo Gabrielson, a smooth-skating Swedish defenceman.
Kunz needs to be more consistent offensively next season while Gabrielson needs to show any offence whatsoever after just 3 points in 40 Allsvenskan games.