Since Oliver Ekman-Larsson suffered an ankle injury on February 15 against the New York Rangers, the Vancouver Canucks have a 10-3-1 record.
It's somewhat reductive to suggest that the Canucks have a winning record solely because Ekman-Larsson has been out of the lineup — the return of a fully-healthy Thatcher Demko has certainly helped — but it's hard to ignore how little the Canucks have missed him.
While it should be noted that Quinn Hughes has seen his ice time climb to unsustainable levels since the injury, Ekman-Larsson has essentially been replaced by Christian Wolanin, a 28-year-old AHL journeyman who has never been able to stick in the NHL for a full season, and Guillaume Brisebois, a 25-year-old who has played just 24 games in the NHL.
That's basically the exact definition of a replacement-level player.
The numbers behind Ekman-Larsson's lacklustre season
Ekman-Larsson's status as replacement level is further reinforced by Evolving-Hockey's Goals Above Replacement (GAR) statistic, which attempts to measure a player's contributions as compared to a replacement-level player. Ekman-Larsson has a 0.1 GAR this season, placing him almost exactly a replacement level. Even that is buoyed by an arguably overly-optimistic assessment of his value on the penalty kill — his even-strength offence and defence are a combined -2.0 GAR.
According to Natural Stat Trick, among the Canucks defencemen who have played at least 250 minutes at 5-on-5 this season, Ekman-Larsson has been on the ice for the highest rate of shots against and the second-highest rate of expected goals against and actual goals against, behind only Riley Stillman, who has already been traded.
For a visual of Ekman-Larsson's defensive performance, here are the heatmaps from HockeyViz that illustrate where the Canucks have given up shots with and without him on the ice at 5-on-5.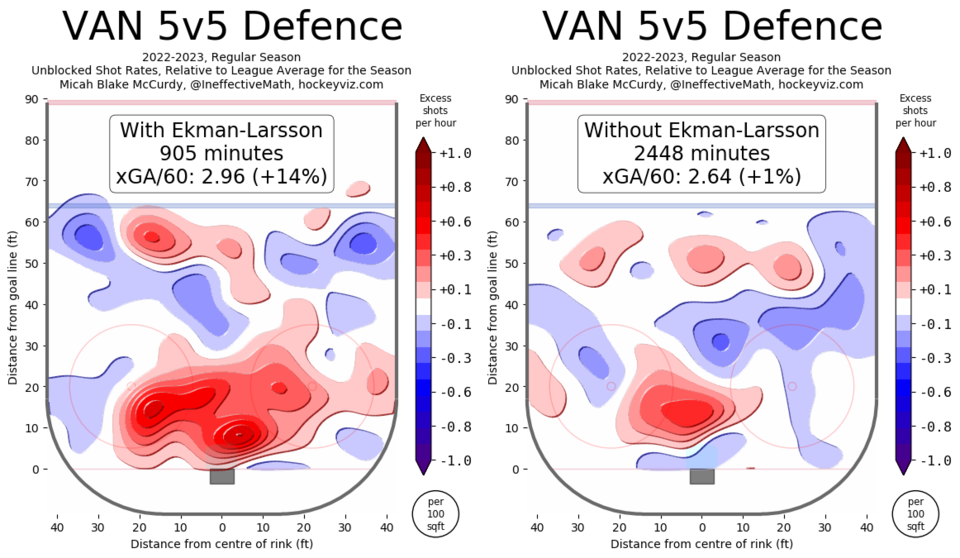 The difference is shocking. With Ekman-Larsson on the ice at 5-on-5 this season, the Canucks have given up a massive number of shots from directly in front of the net and a heavy concentration of shots within the home plate area on Ekman-Larsson's left side of the ice.
One might suggest that Ekman-Larsson's defensive performance has to do with his deployment, but he hasn't faced top lines much more than average. While he has started more of his shifts in the defensive zone than in the offensive zone, Ethan Bear has a higher rate of defensive zone starts and has the lowest rate of expected goals against among Canucks' defencemen.
Ekman-Larsson is a problem for the Canucks
The simple truth is that Ekman-Larsson hasn't been good this season. He hasn't even been average or mediocre; he's been downright bad. He was even a healthy scratch for a game this season, sitting against the Tampa Bay Lightning in January.
All of this is a major problem for the Canucks because Ekman-Larsson still has four years remaining on his contract at a cap hit of $7.26 million per year.
It's not just that Ekman-Larsson is failing to live up to his contract but that he's essentially playing like a defenceman who would be fortunate to be making more than the league minimum.
What can the Canucks do about Ekman-Larsson? The management team has made it clear that they intend to turn the Canucks around quickly, making moves that focus on improving the team within a one-to-two-year timeframe, but Ekman-Larsson's cap hit and on-ice performance could make that difficult.
There are a few things limiting their options but one of the biggest is his full no-movement clause. That means he can't be waived in hopes that some other team would take his contract off the Canucks' hands and he can't be sent to the AHL without his approval. That's just not going to happen.
So, what are the Canucks' options? Let's take a look at four of them.
1 | Buyout
This is the first and most popular option for some Canucks fans. Buying out Ekman-Larsson would immediately free up some cap space and take him off the roster. It's the cleanest and simplest of the Canucks' options.
Here's how a buyout would work: the Canucks would pay out two-thirds of Ekman-Larsson's contract and the cap hit would then be spread across twice the length of the remaining years on the contract, so eight years. The cap hit would also be partially split with the Arizona Coyotes, who retained salary when they traded him to the Canucks.
The player's cap hit on a buyout can change from year to year, depending on the actual salary a player was earning in a given year. CapFriendly has more details on how that calculation works in their FAQ.
Here's what it boils down to. Ekman-Larsson would only have a cap hit of $146,667 for the 2023-24 season, but would jump up to around $2.35 million in 2024-25, then $4.77 million for 2025-26 and 2026-27. In the remaining four years, the Canucks would have $2.127 million in dead cap on the books.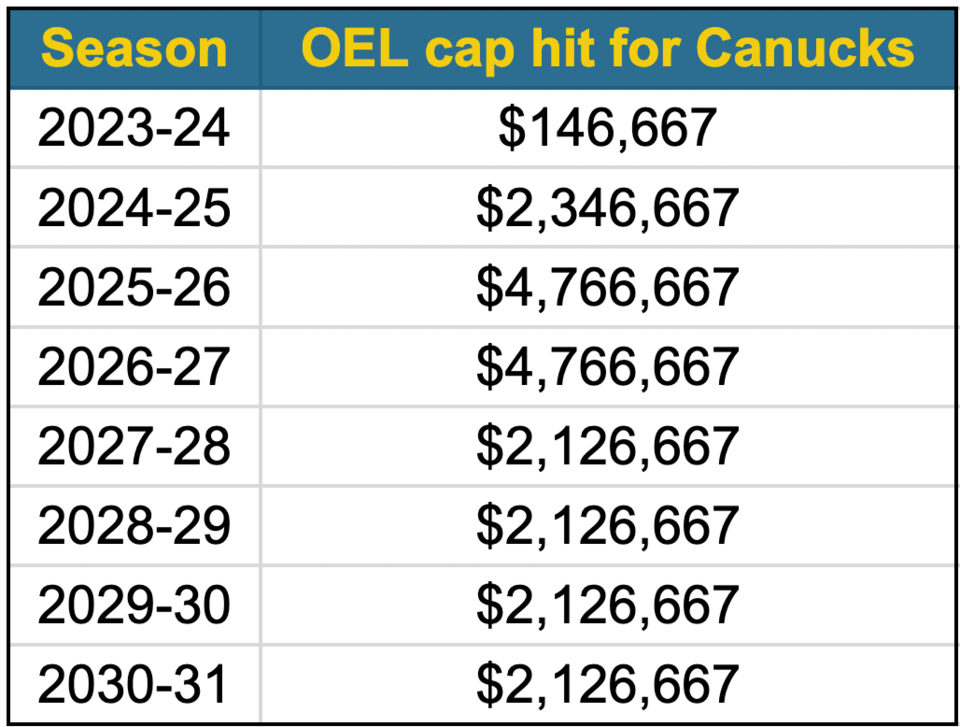 The question is whether the short-term gain of saving millions on the cap over the next few years is worth having Ekman-Larsson affecting the salary cap for an extra four years. This is a significant downside, particularly if you think a 4-5 year timeline for the Canucks to compete for a Stanley Cup is more realistic.
Even in the shorter term, the idea of having $4.77 million in dead money on the books in 2025-26 and 2026-27 is troubling, particularly with the likes of Elias Pettersson and Filip Hronek needing new contracts before then. Having to deal with that kind of salary cap hurdle just when the Canucks are (hopefully) building towards becoming a contender could be a major headache.
Still, a buyout is an option and $4.77 million in dead money might look more enticing than Ekman-Larsson at $7.26 million in the last two years of his deal.
2 | Retirement …or LTIRetirement
This is a bit of a sensitive subject, but sometimes, players on problematic contracts can be convinced that they don't need to play hockey anymore. Sometimes these players retire from hockey but, if they still have several more years on their contracts, sometimes they'll go on Long Term Injured Reserve and just never come off it.
Of course, a medical reason for going on LTIR has to actually exist. Hockey fans joke about Marian Hossa developing an allergy to his hockey gear, for instance, but it was a serious medical issue for him. The truth is, most hockey players, particularly ones in their thirties, are dealing with all sorts of long-term physical issues related to playing a very physical, demanding sport at a professional level for over a decade.
Players learn to manage those injuries and ailments with daily routines to keep their bodies in playing shape, but eventually, they can become unmanageable. Just ask Ryan Kesler.
Is this an option for Ekman-Larsson? He clearly is not as mobile as he once was and has dealt with various lower-body injuries. He underwent surgery on the meniscus in his left knee in 2019, which might be a long-term issue.
But really, Ekman-Larsson is still healthy enough to play, his current ankle sprain notwithstanding. It seems unlikely that he'll land on LTIR for good anytime soon.
3 | Trade
With a full no-movement clause, trading Ekman-Larsson is a dicey proposition at best. Would Ekman-Larsson really want to uproot his life and move to another city at this point in his career? It doesn't seem likely.
But, let's say that it is an option. Perhaps Ekman-Larsson could be convinced that he's more likely to win his first Stanley Cup on another team and be willing to waive his no-movement clause to go to a Cup contender.
The trouble is, the cost for the Canucks would likely be significant. Unlike when Jim Benning traded a first-round pick to the Arizona Coyotes as part of the deal to acquire Ekman-Larsson, the Canucks would need to trade a first-round pick with Ekman-Larsson to get another team to take his contract off their hands.
In addition, they would likely still need to retain some of Ekman-Larsson's cap hit, giving them dead cap money over the next four years. Depending on the amount retained, it could still be better for the salary cap than a buyout and would be off the books once his contract is up.
There are so many reasons why this is a bad idea and all of it presupposes that the Canucks could even find a team that is willing to acquire Ekman-Larsson's contract that Ekman-Larsson would also be willing to waive his no-movement clause to go to.
Let's be honest: that's not happening.
4 | Keep him and hope for the best
A buyout causes too much long-term pain, retirement is unlikely, and trading him is a pipe dream.
So, maybe the Canucks best option is to keep Ekman-Larsson.
Yes, Ekman-Larsson has struggled mightily this season but maybe he can turn it around. It's possible that he could have turned it around this season. Perhaps the Canucks would have still gone 10-3-1 over their last 14 games with Ekman-Larsson in the lineup and perhaps he would have performed better with the team's improved structure and better support on the breakout. Maybe Ekman-Larsson's underlying numbers and GAR would have improved just as the team as a whole has improved.
With a new, mobile defence partner in Filip Hronek on the second pairing and a fresh start to next season under Rick Tocchet, maybe we'll see a new-and-improved Ekman-Larsson. Alternatively, the Canucks could see if they could get more out of Ekman-Larsson by sliding him to the third pairing, limiting his minutes, and giving him easier match-ups.
Sure, Ekman-Larsson's game has been on the decline for years, but he bounced back a little bit last season, so maybe he can do it again.
This could also be part of a hybrid approach to dealing with Ekman-Larsson. If the Canucks wait one more season to buy him out, Ekman-Larsson will only be on the books through 2030 at a lower amount than if they bought him out this offseason. That would still help clear up money for extensions for Pettersson and Hronek while hurting the Canucks a little bit less long-term.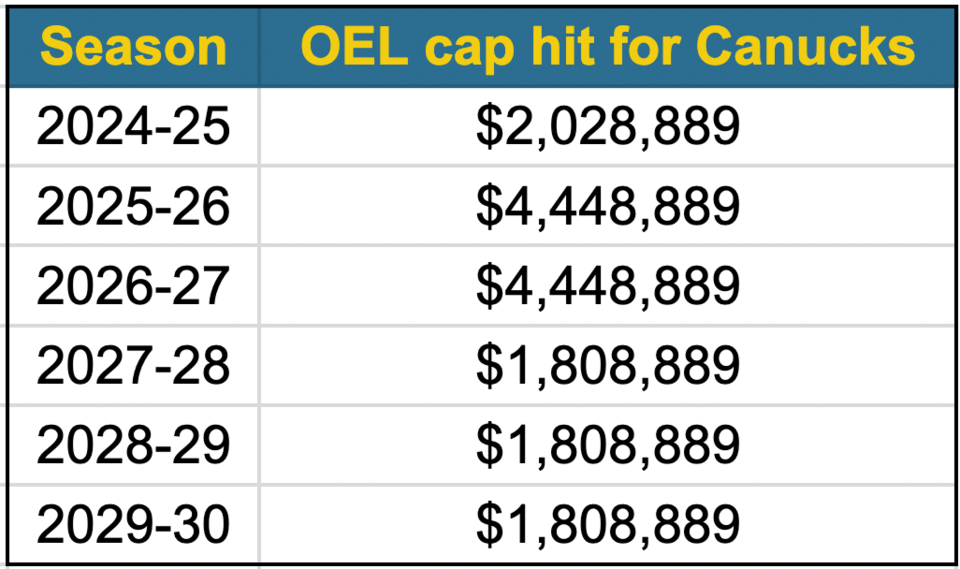 What this really shows, of course, is that the Canucks have no good options for Ekman-Larsson. Every option has its pitfalls or reasons why it won't happen.