The Vancouver Canucks have finally added another defenceman this offseason. Sort of.
On Friday morning, the Canucks announced that they have signed defenceman Danny DeKeyser to a professional tryout (PTO) contract. That means DeKeyser will be at the Canucks' training camp but does not have a contract for the season. He'll use the camp and preseason to attempt to earn a contract, whether that's with the Canucks or with another team.
NHL teams are required to ice at least eight veterans for every preseason game. With the Canucks starting their preseason with two split-squad games on September 25 against the Calgary Flames and likely wanting to limit preseason games for some of their veteran players, a PTO signing like DeKeyser can round out the lineup and help provide that minimum number of veterans to satisfy the rule.
DeKeyser has struggled for several seasons
DeKeyser is an odd choice for a PTO for the Canucks for a few reasons. One is that he's left-handed, so doesn't fit the Canucks' biggest need on defence. That said, what the Canucks truly need on the right side is a legitimate top-four defenceman to play with Quinn Hughes — between Luke Schenn, Tucker Poolman, and Kyle Burroughs, they already have decent options for the third pairing.
The bigger issue with DeKeyser is that he was dreadful last season.
The 32-year-old DeKeyser was once a solid top-four defensive defenceman, responsibly eating up minutes on the Detroit Red Wings' blue line. In recent years, however, he's struggled. This past season, he was fourth on the Red Wings' defence in ice time and primarily played with rookie Moritz Seider. While Seider thrived and put up 50 points, it was largely in spite of DeKeyser rather than because of him.
Of the 213 defencemen that player at least 500 minutes at 5-on-5 last season, DeKeyser was 197th in corsi percentage, meaning the Red Wings were badly out-shot when he was on the ice.
Looking at expected goals percentage, DeKeyser was 203rd at 42.53%. By those measures, he was one of the worst defencemen in the entire NHL last season.
A visual representation might help. Here's his isolated impact heatmap from HockeyViz.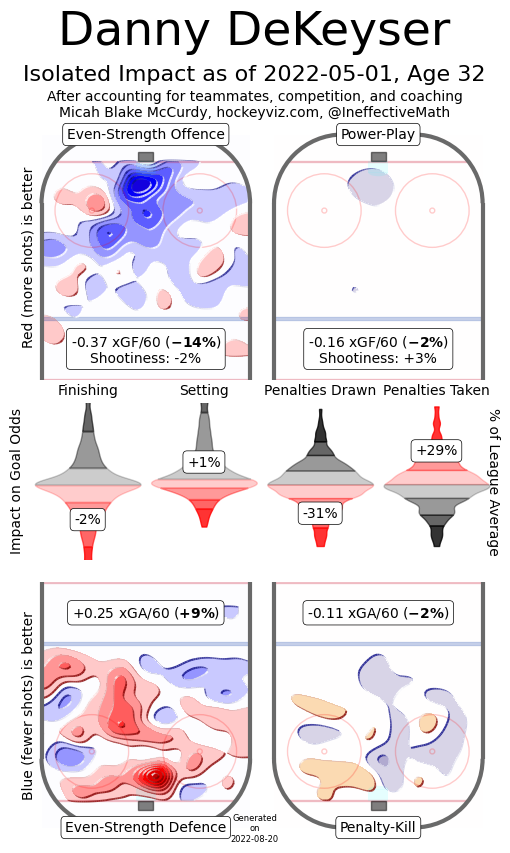 The red areas in his own end are where opponents get more shots when DeKeyser is on the ice — directly in front of his own net is where he's the worst but opponents get a lot of shots from almost everywhere. Opponent shots are 9% more dangerous than average when DeKeyser is defending.
At the offensive end of the ice, DeKeyser's contributions are pretty much nonexistent. His team's shots are 14% less dangerous than average when he's on the ice.
It's not just the statistics either. By the eye test, DeKeyser has lost a step. He had major back surgery a few years ago and he's never fully recovered his quickness or mobility and he's not the physical presence he once was on the back end.
The Red Wings placed DeKeyser on waivers last season — on his birthday — and he went unclaimed.
Canucks might hope DeKeyser fits in a smaller role
So, what's the point of signing DeKeyser? There are a couple of good reasons.
One is that the Canucks might want to see how DeKeyser fits in a third-pairing role on a better team.
While DeKeyser has struggled for several seasons, the Red Wings have struggled too and DeKeyser has had to play in a top-four role for which he might not be best suited at this point in his career. In a lesser role on the Canucks, DeKeyser might be able to contribute.
Despite slowing down in recent years, DeKeyser is still a solid penalty killer, where his mobility is less of an issue. The Canucks could use a good penalty killer on the third pairing.
His handedness might not matter either. While the Canucks have Quinn Hughes, Oliver Ekman-Larsson, and Travis Dermott on the left side, one of those defencemen could be moving to the right. Dermott has played extensively on the right side and there's been talk of trying Hughes on the right as well.
There's little risk involved in a PTO — if the Canucks determine that DeKeyser can't contribute in a depth role, he can be cut loose with no issues.
DeKeyser will push the Canucks' young defencemen
The other benefit to signing a veteran defenceman like DeKeyser to a PTO is that it provides some additional competition at training camp.
Jack Rathbone is looking to break through to the NHL after putting up 40 points in 39 games in the AHL for the Abbotsford Canucks last season. With Dermott or Ekman-Larsson potentially moving to the right side, that opens up a spot on the left side of the defence, with Rathbone the leading candidate to step into that spot.
Adding some competition means that Rathbone will have to earn the spot rather than just be gifted the spot. If Rathbone can't beat out DeKeyser, a player who was statistically one of the worst defencemen in the NHL last season, then Rathbone isn't ready.
There were arguably better defencemen that could have filled this same role. Calvin de Haan signed a PTO with the Carolina Hurricanes, for instance. But DeKeyser is a veteran with a lot of experience and leadership that he can pass on to the team's younger defencemen.
At this point, DeKeyser is likely to just fill out the Canucks' roster for the preseason — if he earns an actual contract with the Canucks, it will have to be because he's earned it and still has some hockey left in him to play.