VancouverIsAwesome.com has partnered with Nike 6.0 to bring an epic contest to Mount Seymour this winter...
Nike 6.0 knows Vancouver is home to sick spots with urban-legend status. This winter 6.0 is taking the best of Vancouver and re-building a local-legend feature at the Mt. Seymour Terrain Park alongside 3 other iconic features that have inspired riders around the world in some way. Nike 6.0 is partnering with Vancouver shops to rally you, the local riders, to vote on your favorite local shred spot. Stop by the Boardroom, Coastal Riders, or Second Wave to enter your fav spot/feature... the spot with the most entries will be resurrected at the Mt. Seymour Park on Jan. 30, 2010!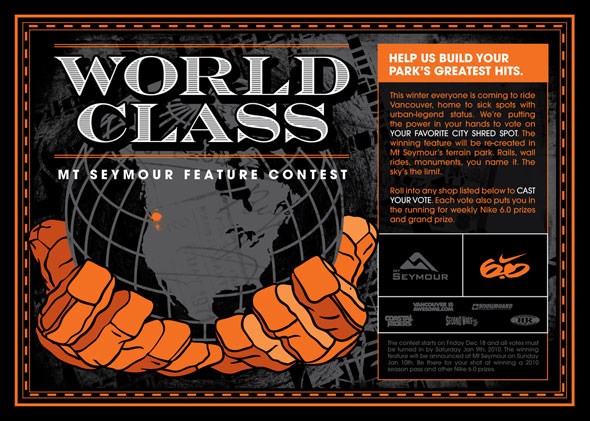 To submit your feature of choice, visit any of the shops below and fill out the entry card. Your entry puts you in the running for weekly 6.0 product and the grand prize of a season's pass at Mt. Seymour! Entries due by Jan 9, 2010.
Coastal Riders - Surrey
10310 152 Street
Surrey, BC V3R 4G8, Canada
(604) 581-9234
Boardroom - Upper Lonsdale Ave, North Vancouver
2057 Lonsdale Avenue
North Vancouver, BC V7M 2K9, Canada
(604) 985-9669
Boardroom - West 4th Ave, Vancouver
1745 West 4th Avenue
Vancouver, BC
V6J 1M2
(604) 734-7669
Second Wave - Lower Lonsdale Ave, North Vancouver
139 Lonsdale Avenue
North Vancouver, BC V7M 2E7, Canada
(604) 986-9283