We asked you to share you TravelSmart plan with us in order to enter to win this 6-week, 3-zone, 2010 Games Transit Pass and you delivered! 89 of you told us how you were going to get around during the Games (READ EM ALL HERE).
We randomly selected a winner and the most awesome thing happened; she gave us one of those faith-restored-in-humanity moments. Here's her e-mail she sent back to us when we told her she had won, apparently she is volunteering for some Olympics stuff:
I am really sorry but I seem to have made a very big mistake! I thought the pass was just a free pass to be used at anytime not just during the Olympics. As part of volunteering my accreditation gives me free access to all Transit. I feel it would be very unfair to take the pass and give it to a friend. Please accept my apology and I hope you could have another contest and give it to someone more deserving.
I think most people probably would have taken the card and sold it, but not Kistina S. So we just randomly picked another winner, we'll see what they say... hopefully we can get this thing into somebody's hands soon!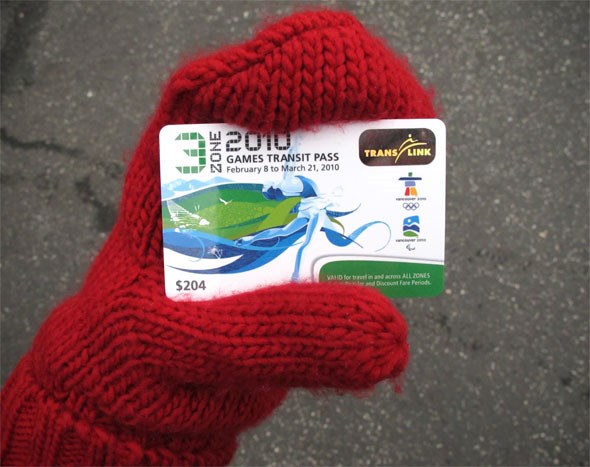 photo: self portrait of my hand wearing my Olympic mittens and holding the actual card we're giving away