A draft webpage with new advice on when the public should wear a face mask in British Columbia was accidentally posted online.
A spokesperson for the Ministry of Health told Vancouver Is Awesome that "a draft webpage was accidentally published" on Wednesday (Jan. 4) morning but that the "public health guidance on masking remains unchanged."
The webpage has been changed back to reflect the long-standing guidance, which notes that people are not required to wear a mask in public indoor settings but that they are encouraged to do so when travelling by air, train, public transit, or on BC Ferries.
In all public health care settings, however, face masks continue to be required, rather than recommended.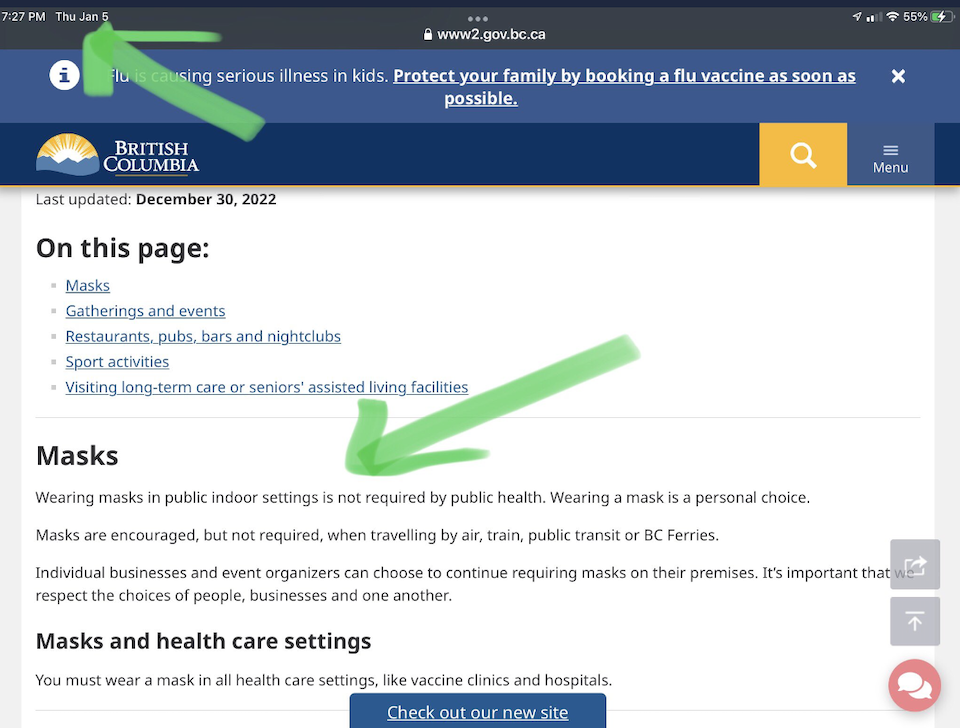 In the "draft" webpage that was published, public health "recommends" people to wear masks "in all public indoor spaces" but also notes that wearing one is a personal choice.
The ministry said an old "archived" webpage was published but that it does not have plans to change the guidance.
In the current guidance, masks are only encouraged when travelling, rather than in all public indoor settings.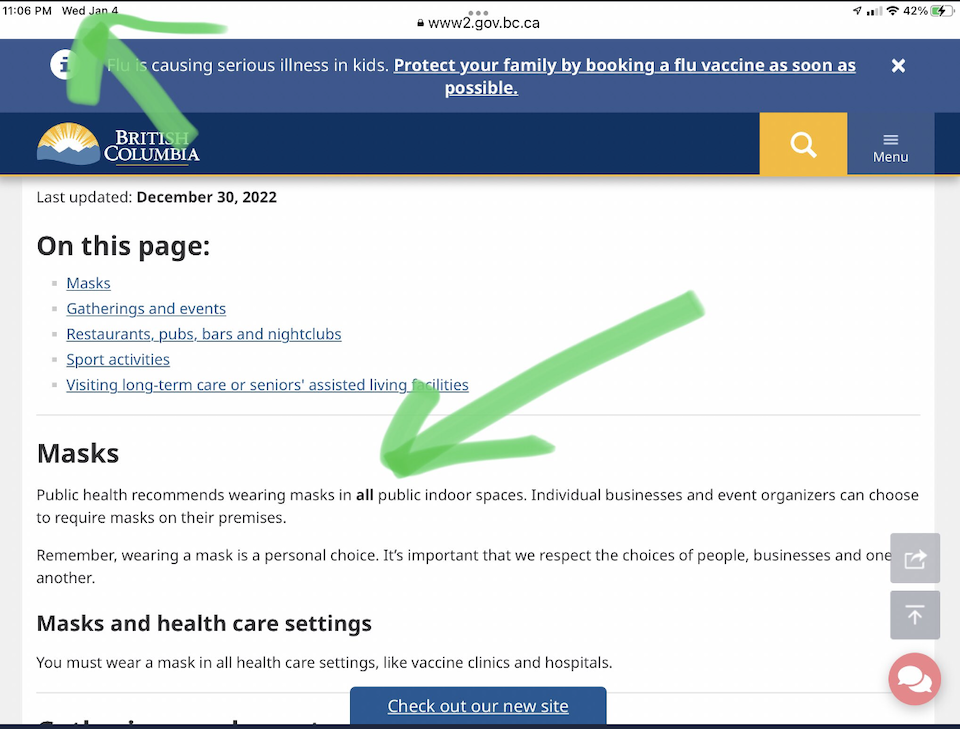 Face mask mandate and the COVID-19 B.C. situation
B.C. officials lifted the mandatory mask policy on July 1, 2022 but public health officials encouraged people to continue to wear them in public while indoors, particularly on public transit.
In October 2022, a coalition of groups called on the B.C. government to reinstate the face mask mandate in indoor public spaces.
A spokesperson for the ministry told V.I.A. that it is not looking at reintroducing mask mandates at this time. However, it will closely monitor the current epidemiological situation in the province and adapt its response accordingly.
Health officials say 12 cases of a new subvariant of the highly transmissible Omicron coronavirus strain have been detected in British Columbia.
While the new strain -- nicknamed the "Kraken variant" -- spreads more quickly, it does not cause more severe illness, according to the ministry.
V.I.A. has asked for additional comment from the ministry.