All Hallow's Eve is just a couple of weeks away and B.C.'s top doctor hopes people will stay safe on the big night.
Last year, Metro Vancouverites improvised new ways to keep kids safe when they went trick-or-treating on Halloween. One of the most popular inventions was the "candy slide" — a slide that was attached to a window in an upper storey of a house where people could send treats down to kids.
The BC Centres for Disease Control (BCCDC) also urged ghouls and goblins to keep safe by following some basic COVID-19 safety tips including using a face mask as part of a costume, using tongs to distribute candy, avoid crowds, and wash hands frequently.
This year, provincial health officer Dr. Bonnie Henry encourages trick-or-treaters to follow the safe pandemic-friendly protocol, which includes keeping the festivities outdoors.
"I do think that a lot of the creative things that we saw last year are good," she said during a press conference held Oct. 12. "We still have transmission. We know that this virus is transmitting in communities around the province.
"The new strain that we're seeing can transmit more effectively and we still do not have vaccine for young children — particularly the age group that enjoys going out trick-or-treating."
Henry encourages people to "keep it outside" and "keep groups small." In particular, events that involve children under 12 should be held outdoors.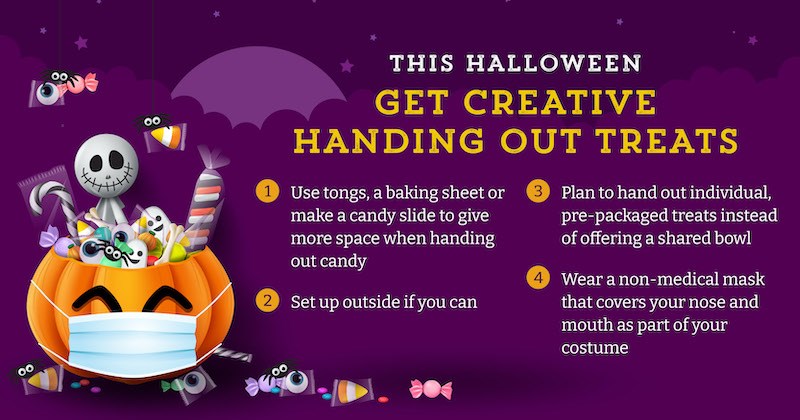 Last year, the BCCDC also recommended that people stand outside of their doors to hand out treats, or to regularly disinfect doorbells and knobs if they did not. Halloween decorators were advised to avoid using props that can cause smoking, such as smoke machines, too.
Last but not least, if you're feeling sick or self-isolating, turn off your porch light and stay home.