The 16th annual Canada Day Parade on Granville Island celebrates the 50th anniversary of the Canadian flag with art, dance and music. The parade begins at 1:30 p.m. at Ocean Construction and ends at Ron Basford Park at 2 p.m. — be prepared to cheer! 
The parade is followed by an official opening ceremony with Shannon Scott Band singing the national anthem, greetings from the Government of Canada and cake compliments of Dockside Restaurant. Other highlights of the day include a picnic at the Family Pavilion, a samba dance demonstration and Latin rhythms, Chinese lion dancers, hoop dancers from Lil'wat Nation, the MELA! Festival and more dance, music, bike decorating, roving performers, road hockey and food. A free bike valet service is available at Ocean Construction from 9 a.m. to 8 p.m. Visit granvilleisland.com.
Visit the Women's World Cup Fan Zone in celebration of FIFA Women's World Cup Canada 2015 and enjoy live music, bubble soccer, music, entertainment, food, beer and opportunities to meet athletes and get their autographs. The Canada Day party starts at noon and runs until 8 p.m. July 1, at Larwill Park, bordered by Georgia, Cambie, Dunsmuir and Beatty streets. All ages are welcome to this free event. For more information about the ongoing Fan Zone visit vancouver.ca.
On July 1, an estimated 250,000 people will celebrate this nation's 148th anniversary at the 28th Annual Canada Day at Canada Place festival, presented by Port Metro Vancouver.
This year's event once again features a full day of free family fun, including live music and performances on three stages, food carts and street hockey.
Daytime activities run from 10 a.m. to 6 p.m. at Canada Place, Jack Poole Plaza and on the surrounding streets. Live music includes performances from headliner Hannah Georgas, Don Amero, Rumba Calzada and Tim Chaisson on the main stage at Canada Place. The north point of Canada Place will feature a family-friendly licensed area with musical performances by the Hairfarmers, Watasun, Bellwoods and more. The Celebration Stage in Hall A of the Vancouver Convention Centre East is the location for the annual Canada Day citizenship ceremony welcoming 60 new Canadians, followed by multi-cultural performances.
Participants can also enjoy a wide selection of food options, Salty's Fun Zone featuring games and activities for the entire family, and the Vancouver Circus School show full of daredevil displays and fearless skills. Once again the popular Canadian Forces Zone will provide an up close experience with members from the Department of National Defence.
The Canada Day Parade, presented by Port Metro Vancouver, begins at 7 p.m. at the corner of Georgia and Broughton streets. This year's parade, a celebration of diversity and national pride, includes more than 50 entries. Wear your red and white to show your national pride.
Canada Day festivities at Canada Place are topped off by a fireworks display presented by Coast Capital Savings. Premium viewing is available to purchase in the Hudson's Bay Fireworks Viewing Zone, along the west promenade of Canada Place. Doors open at 8:30 p.m., entertainment runs from 9 to 10 p.m. and the fireworks start at 10:30 p.m. Visit ticketstonight.ca.
Flyover Canada is hosting its annual party July 1, at Canada Place with a private viewing zone for the fireworks on the "flight deck." (FlyOver Canada is a simulated aerial adventure offering views of this country's most stunning landscapes.) FlyOver will be open to the public from 9 a.m. to 6 p.m. with rides every 15 minutes. The private party, complete with a DJ and hamburgers from Vera's Burger Shack, starts at 8 p.m. Visit flyovercanada.com.
CruiseyT Party Cruises is hosting a Canada Day Fireworks cruise on the water with hosts Raye Sunshine, Jayne Smoker, Dan Bevan and Mateo McIntyre July 1. Board the MV Britannia for an evening of music, dance and drag with CruiseyT, the ultimate gay club alternative party venue. DJs Zach Shore and Mattilda Ho will keep the party shaking until 11 p.m. The Britannia hoists the rainbow flag and leaves the dock at the north end of Denman Street at 7 p.m. sharp. Visit cruiseyt.com.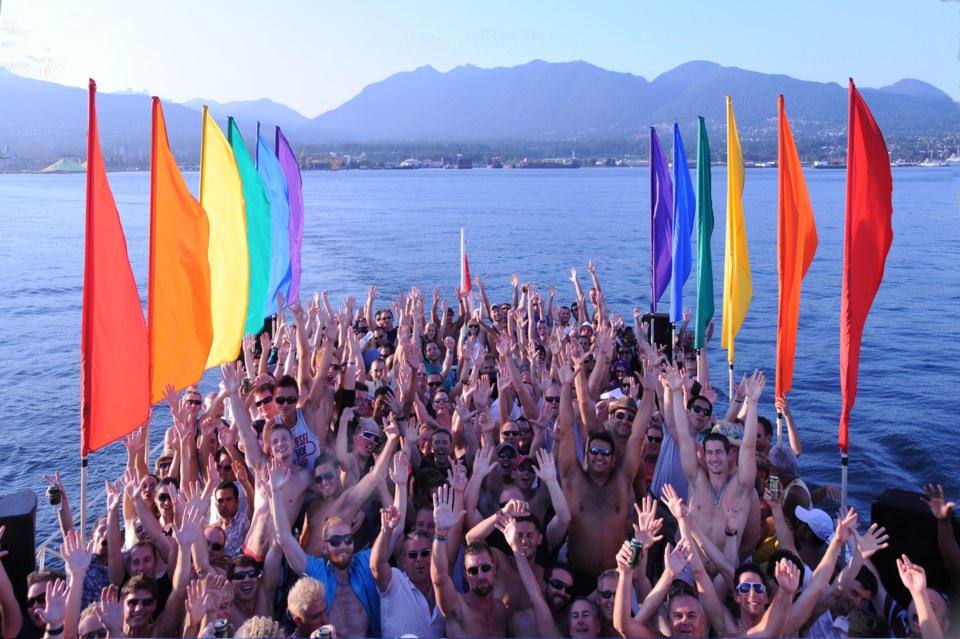 Many of the city's community centres are holding Canada Day celebrations July 1. Check with your local centre for details.
The Twisted Canada Day Yacht Party leaves from Plaza of Nations at 2 p.m. with DJs Pure Addiction, Ketafere and Ryker on the upper deck and Joachim Speidel and Yroc on the lower level. A complimentary light lunch is included. Note: Partiers must board by 1:30 p.m. For more information visit twisted.ca/CanadaDay.
The annual Crab Park Canada Day Festival is back, this year with the Stingin' Hornets, Pernell Reichert Band and Rootabeggars, featuring members of Roots Roundup.
This all-ages festival runs from 1 to 4 p.m. July 1 at Crab Park at Portside at the very north end of Main Street. The goal of the annual celebration is to raise awareness of the need for greenspace for the people of the Downtown Eastside and the importance of keeping Crab Park open for all. The festival is presented by Radio Bandcouver, Crab Water for Life Society, Port Authority Vancouver, Canada Heritage, Van City Savings and Northern Electric.
The TD Vancouver International Jazz Festival is ongoing now through July 1 at various locations. For Canada Day events visit coastaljazz.ca.
It doesn't get any more Canadian, or Vancouver-like, than watching a game of baseball at Scotiabank Field at Nat Bailey Stadium. On July 1, the Vancouver Canadians play the Spokane Indians followed by a fireworks extravaganza presented by Scotiabank. The game starts at 7:05 p.m.
Music Under the Clock begins in Kerrisdale July 1, with a variety of free concerts from noon to 4 p.m. The clock is located at West 41st Avenue at Yew. Visit kerrisdalevillage.com.
Canada Day celebrations in Chilliwack begin with the annual Kiwanis pancake breakfast at 8 a.m. at Evergreen Hall, featuring the Chilliwack Community Band and local dignitaries. But the real fun begins at 5 p.m., when the gates open to Field A at Townsend Park. The show goes live at 5:45 p.m. on the Chances Stage with live jazz, pop, country and a tribute to Canadian music, hosted by the always popular Trevor McDonald. Visit chilliwack.com/canadaday.
Bowen Island
A 20-minute ferry ride turns a one-day holiday into a mini vacation. Bowen Island's birthday party for Canada runs from noon to 3 p.m. and features the music of Black Molly. There's an express bus to the ferry terminal bcferries.com in Horseshoe Bay, but if you want to make it even more of an adventure, take the 40-minute English Bay Launch water taxi from Coal Harbour: eblaunch.com.
--


Have a Canada Day event to add to this list? Send them along to sthomas@vancourier.com prior to June 24 to be included online or in print depending on space.
@sthomas10