Red Gate Revue Stage on Granville Island was surrounded with the audio accouterments of tourist season this past Saturday afternoon. Amplified notes from busking musicians were punctuated with honking horns from cars whose drivers evidently consider the art of merging on equal footing with proving the Pythagorean theorem, and the screams of children mixed with those from French fry-thieving seagulls.
The theatre, though, offered respite from the cacophony by way of a special holiday for experimental musicians, and for anybody who wanted to space out. Saturday was Drone Day, an international celebration of drone and ambient music, initiated by Marie Claire LeBlanc Flanagan's Weird Canada in 2014.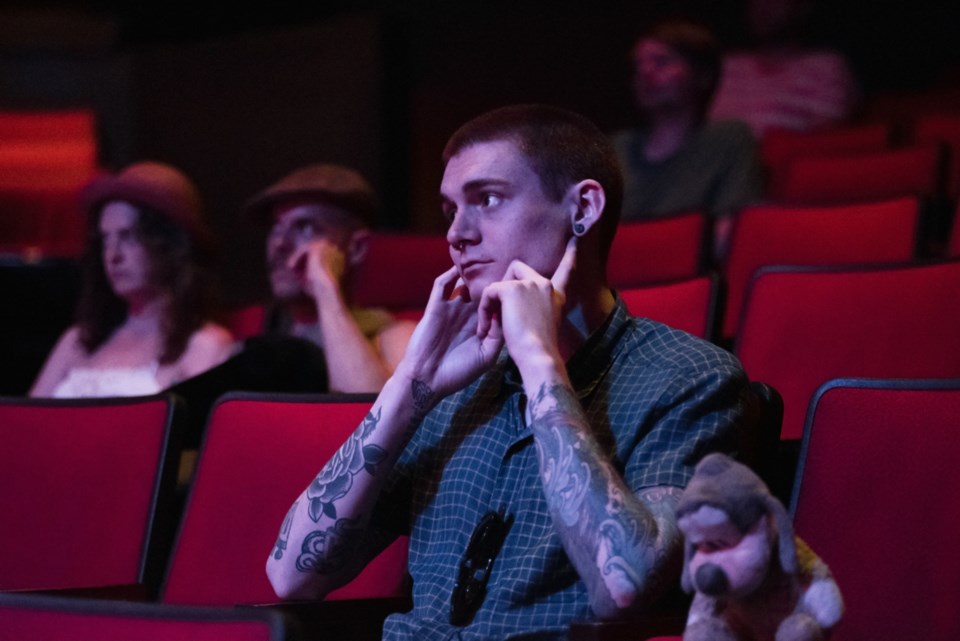 The Vancouver event, called Game of Drones, joined a chain of sustained tones that stretched across the country from here to Halifax, up to Yellowknife and reached overseas to Bulgaria, Romania, Germany and Australia. In keeping with the DIY culture of the community, each hive of drones celebrated the day in their own way.  Artist and Game of Drones organizer Constantine Katsiris figured it would be cool to do one continuous piece of music for 12 hours.
A call-out resulted in 47 artists contributing in a relay format that had each person playing for 30 minutes between noon and midnight. Every 15 minutes overlapped with another artist so there were always two on stage, blending ethereal soundscapes under pink and purple LEDs in an otherwise dark room.
"It's a relay style, pass-the-baton. There's not a lot of opportunity to be a soloist, it's more about he sounds mixing together. That's the magic of this project," said Katsiris. "We've never done this format before. We just came up with the idea and it snowballed. It had a life of its own, I guess. I never thought we'd have enough people to play for 12 hours and be a part of something this long."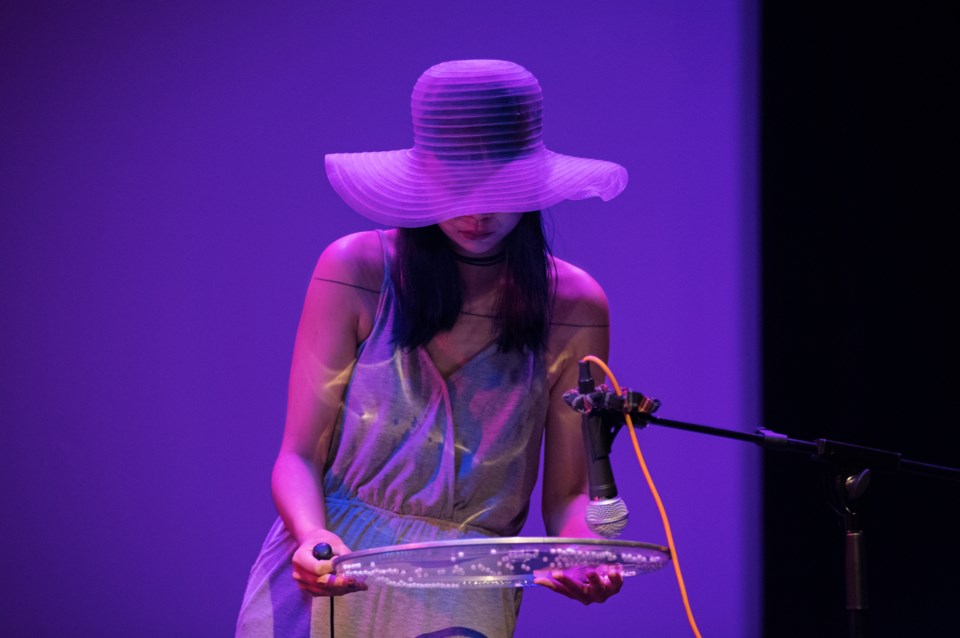 The collaborative vibe of Game of Drones, hosted by Quiet City and Vancouver New Music, included emerging artists who shared their 15 minutes with professional musicians. David Cowling's vocals filtered through effects pedals were overlapped by Jay Park's (Prepurity) guitar, then joined by sound artist Alanna Ho who rigged a mic to an old boxy television set. Ho, whose set was appealingly part performance art, also created sound by rolling beads on a disc that, combined with the white noise from the set, was not unlike the eerie recordings of space particles vapourizing into gas recently released from the satellite Cassini as it got close to Saturn's rings. Then, Anju Singh (the Nausea) stepped onto the stage with a violin and board to layer the kaleidoscope of sound into deep and dark places.
Just as there were no restrictions on what key the piece was to be played, there were no restrictions on instrumentation as evidenced when Kristen Roos set up a microwave on stage and zapped lasagna, using electromagnetic sensors to capture the sound of the radio waves.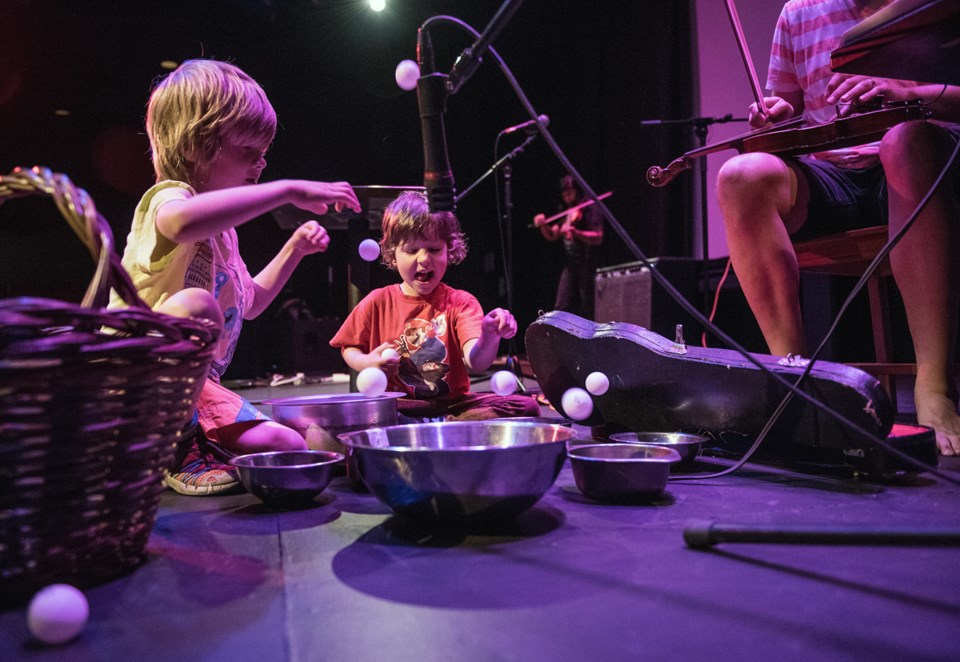 "The piece we're doing is really a big free-form jam with all different kinds of instruments that, in some cases, won't be so droney," said Katsiris, the last performer of the day with his solo project Scant Intone.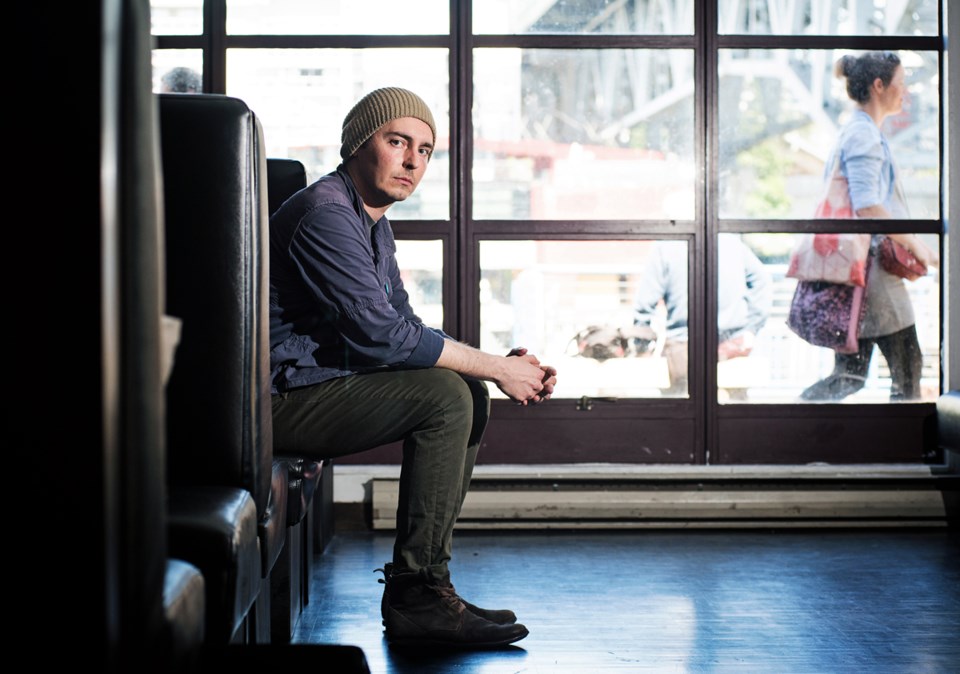 The trace origins of drone music are scattered about, from Australia's didgeridoo to South Indian classical music where the four-string tambura is a favourite. The repetition of tones can also be found in Aboriginal customs as well as Gregorian chanting, and so on. Drone's heyday in modern times was in the 1960s New York music scene where musicians experimented with creating compositions with sustained tones in which the group Theatre of Eternal Music was born. Drone Day appears to signal the form's popular resurgence over the better part of this decade, with a mission statement on its web site that calls for "all drones to come together annually to form a massive drone." In the balance, perhaps it's a reaction to the swamp of technological distractions in which society is mired.
As Katsiris pointed out: "There's definitely less of an entertainment and more meditative quality to the music."
rvblissett@gmail.com