Imagine getting home from work to find a family you've never met having a picnic on your front lawn. As you survey this scene of strangers, you realize it's just that: a scene.
The picnic is staged in an effort to capture a perfect moment under a stunning canopy of bright autumn leaves. Once the shot is captured, the family packs up their faux lunch and mills about in the street for a while.
Such odd activities and encroachments have become commonplace on Cambridge Street in East Vancouver every fall season. The red-hot attraction is a two-block cluster of towering, 60-foot red maple trees.
Each autumn, their leaves turn a dazzling crimson, accented even more so this season, contrasted against the bright blue skies that we've basked under for much of October.
Add it up and the result is a perfect fall storm of unexpected tree tourism in the Hastings-Sunrise neighbourhood.
When I went by the corner of Cambridge and Penticton Streets this weekend, it was like a street festival, with at least 100 people wandering around the intersection, iPhones, cameras and selfie-sticks aloft.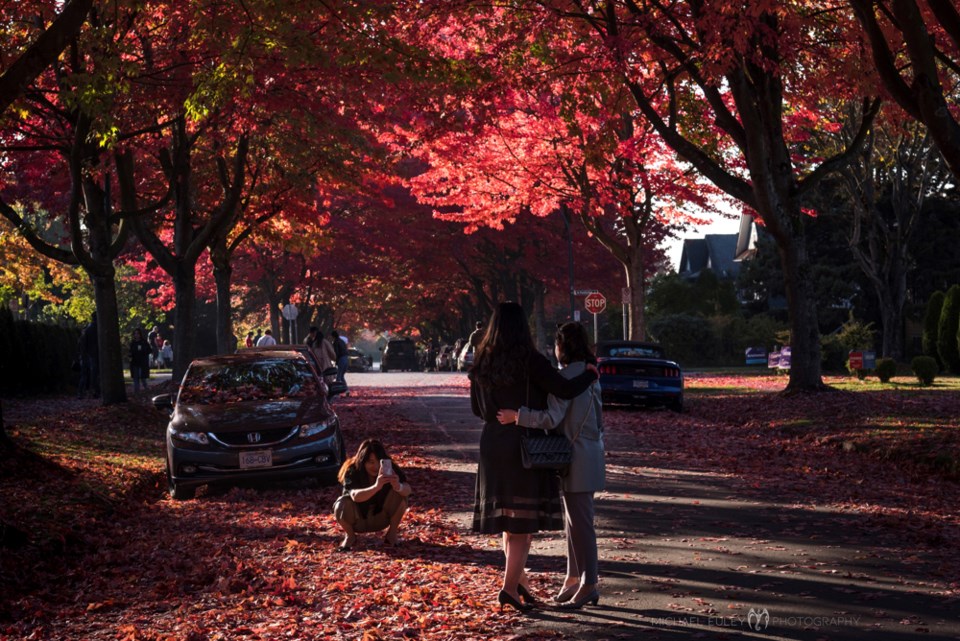 Dawn Pemberton is a renowned soul singer who has lived on Cambridge Street for 15 years. She's noticed a sharp increase in interest in the past half dozen years.
"It's getting out of control," Pemberton told me. "I'm right in the thick of the insanity. On the one hand, it's great that people are enjoying nature and loving the trees, but now there's tour buses showing up. Tourists are climbing on other people's parked motorcycles. They aren't paying attention to traffic as they try to get that perfect shot. I'm worried someone is going to get hurt."
I was stumped as to how this leafy street in East Van became such a spruced up hotbed for fall foliage. It seems the answer is a combination of old fashioned word of mouth branching into the power of the world wide web. When I rooted around the intersection, I met people pining over the trees from Shanghai, Hong Kong, India, San Francisco and South Africa.
"We found out about these leaves from Baidu.com," one woman told me. When I asked what Baidu was, she looked at me a little dumbfounded. "It's like Google," she replied, "for China and Chinese people." She also told me the colour red is very symbolic in Chinese culture. "Red is for luck, happiness and good fortune. Red is very special. This street is very special."
Another person from Victoria told me she had spotted the leaves on Instagram and had to see them for herself. Vancouver photographer Spencer Finlay's blazing shot of Cambridge Street's cardinal canopy has racked up nearly 3,000 likes and 137 comments on Instagram, many asking, "Where's that?" (I met another budding photographer named Michael Euley who kindly supplied some photos for this column.)
The turning of the leaves usually lasts about three weeks but has been extended this year, thanks to the lack fall storms and the prolonged ridge of high pressure that has kept Vancouver in unseasonal sunshine. But the popularity of the trees — and the antics of the tourists going out on a limb — has some neighbours seeing red.
Fee Johnson has lived on Cambridge off and on over the years and has never seen anything like she has this past month.
"I had people pose on my porch and then tell me off when I tried to open my door because it wrecked their picture," Johnson told me. "And yes, I had a family set up a picnic on my front lawn. Another guy was jumping up and down on the road and throwing leaves in the air. I almost hit him with my car even though I was going five kilometres an hour. I got told off again when I asked a man to move his tripod so I could park. I have a special needs son and two other boys and I need to park in front of my house."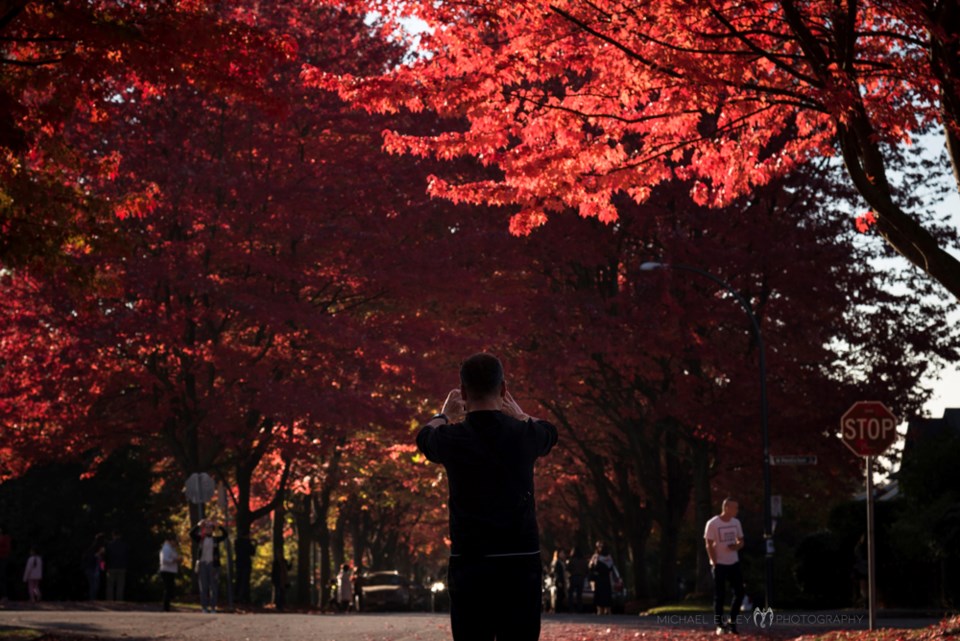 Sometimes, according to Pemberton, neighbours have taken their bark too far. "You hear people honking, but one guy really lost his mind," she recounted. "He was racist and rude and went way too far."
While I was on Cambridge Street, I witnessed an angry male cyclist yelling at several older women to get out of the street. I called him out for it, and he was immediately apologetic.
Pemberton offered a little bit of advice for those seeking sappy selfies under the tunnel of red fortune that is her block every October:
"Even though the street is a public place, it's not a park. People do live here. Please be respectful of that, and be aware of your surroundings. Enjoy the leaves, but feel free to come back and help us rake them up."
grantlawrence12@gmail.com