The Courier asked some popular chefs, butchers and bars to share their favourite Canadian-themed recipes.
Clam and lentil salad
"Canada Day is all about family, friends and our Canadian heritage," says Chef Ned Bell, executive chef at YEW Restaurant in the Four Seasons Hotel. "There's nothing more Canadian then to gathering together and celebrating with some of the fresh catches from our ocean right off of B.C."
Bell says this large clam and lentils recipe is healthy, quick to whip up and family-friendly in size. Bell notes this is a very simple recipe.
Garlic Confit:
12-24 cloves of garlic
1 shallot
4 cups olive oil
Bring the oil to a low simmer with the garlic and shallots. Bubble away for 20 minutes until the garlic Is tender and golden brown. Remove from heat and let cool in the oil.
Clams
Rinse 1.5 lbs. of clams and 1.5 lbs. of mussels under cold water, making sure to remove excess sand from the shells and de-beard.
To build this dish, start with a pot big enough to fit all the shellfish in the pot times two.
Sauté 2 whole diced shallots in some of the reserved garlic oil.
Add the clams, stir around for 20 seconds and then add the mussels. (Clams can take an extra bit of time to cook and open up.)
Add the garlic confit, as much as you want. I like it flavourful!
Add some of your fave local beer (or wine)!
Cover and cook for a few short minutes, just until the clams and mussels open up.
Toss in tons of fresh chopped herbs and a knob of butter. 
Serve immediately in the pot in the middle of the table.
Make sure to have lots of grilled bread to dip the tasty garlicky buttery broth!
Salad
2 cups yellow lentils
1 cup fresh corn, raw or cooked
½ cup small diced yellow peppers
½ cup diced yellow tomatoes or halved yellow baby tomatoes
½ cup yellow summer squash, diced small – it can be raw or quickly cooked (baked or even grilled)
Curry Lime Aioli
You can make your own mayo, which is super easy, and simply substitute half the canola or vegetable oil with camelina oil. (Basic whole egg mayo recipe: 1 cup oil, 1 egg, 1 tbsp. Dijon mustard, 2 tbsp. red wine vinegar.) Or buy pre-made mayo and mix with 3 tbsp. Canadian canola oil and 1 tbsp. curry paste per cup of mayo.
To assemble
Mix the salad with 1 tbsp. of the mayo per cup of mixed lentil & corn salad. Finish the salad with a squeeze & zest of fresh lime juice and you are good to go!
Urban Digs' Canada Day Maple Bacon Burger
Urban Digs Farm, which uses ethical and humane practices to raise its food animals, recently opened an artisan butcher store called Beasty Shop, located at 9247 Shaughnessy St., south of Marine Drive. This recipe comes courtesy of two of Urban Digs co-founders Ludo Ferrari and Julia Smith.  
1/4 lb. pastured, heritage pork bacon
1.5 lb. 100% grass-fed beef
1.25 lb. pastured, heritage ground pork
1/3-c maple syrup
1 1/2 tsp. salt
1/2 tsp. black pepper
1 tsp. chili flakes
2 1/2 tsp. sage
1/2 tsp. grated ginger
1/2 tsp. nutmeg
Mix together and grill to your liking.
Halibut, asparagus and brown butter
It was during the popular Restaurant Wars episode of Top Chef Canada Season Two that chef Trevor Bird came up with the name for a farm-to-table restaurant he dubbed Fable.
Upon returning to Vancouver, Bird turned that vision into a reality by opening Fable Kitchen on West Fourth Avenue with a goal to help define Canadian cuisine by sourcing local products and delivering great flavors in a fun and non-pretentious setting.
Bird offered up this halibut recipe as great example of Canadian cuisine he says is ideal for celebrating this nation's birthday.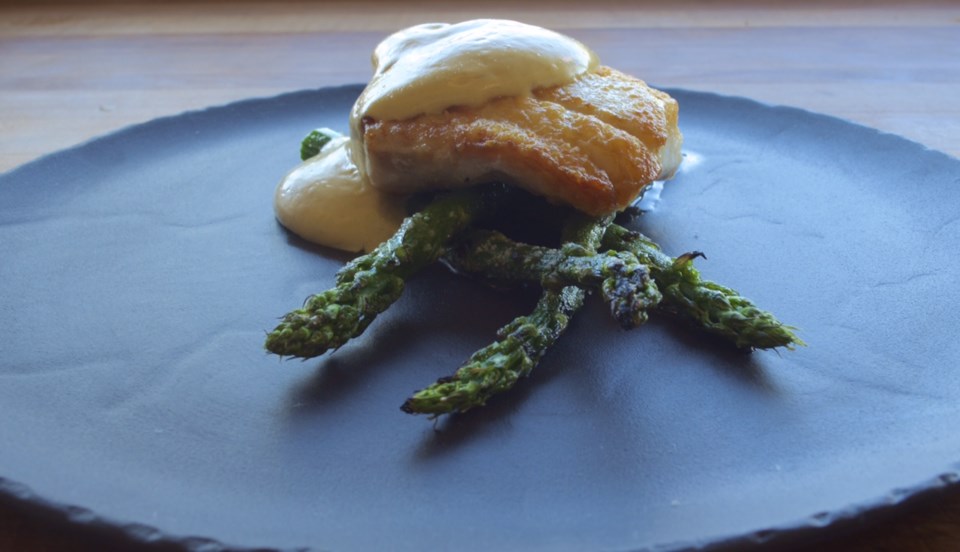 Hollandaise sauce
8 egg yolks
40g reduction (see below)
125g water
500g brown butter or any fat (olive oil, etc.)
4g salt
20g lemon juice
Method
Place yolks, reduction and water in a bowl and cook over an open flame on high, whisking constantly until a thick sabayon is achieved.
Emulsify in olive oil, season with salt and lemon juice.
Reduction
1 L white wine vinegar
1 shallot
5 sprigs tarragon
Slow cooked halibut
4 X 150g halibut
Pinch salt
50g olive oil
Method
Preheat oven to 225-F (very low heat).
Season halibut with salt and olive oil.
Cook halibut for 15 minutes until it's just falling apart when you push on it with your finger.
Grilled asparagus
2 bunches asparagus
50ml olive oil
Large pinch of salt
Method
Preheat a grill or BBQ. Season asparagus heavily with salt and oil, cook on grill on high heat for 5 minutes till charred and bright green. Remove.
To complete the dish, place asparagus down on plate. Put halibut on top of asparagus and cover in as much hollandaise as you like.
Serves 4-6
Cedar Sour
The bar manager from the Tofino-based Wolf in the Fog has created a cocktail so Canadian, it's made with real cedar wood. Hailey Pasemko's Cedar Sour is a favourite at the restaurant, which prides itself on using locally sourced ingredients.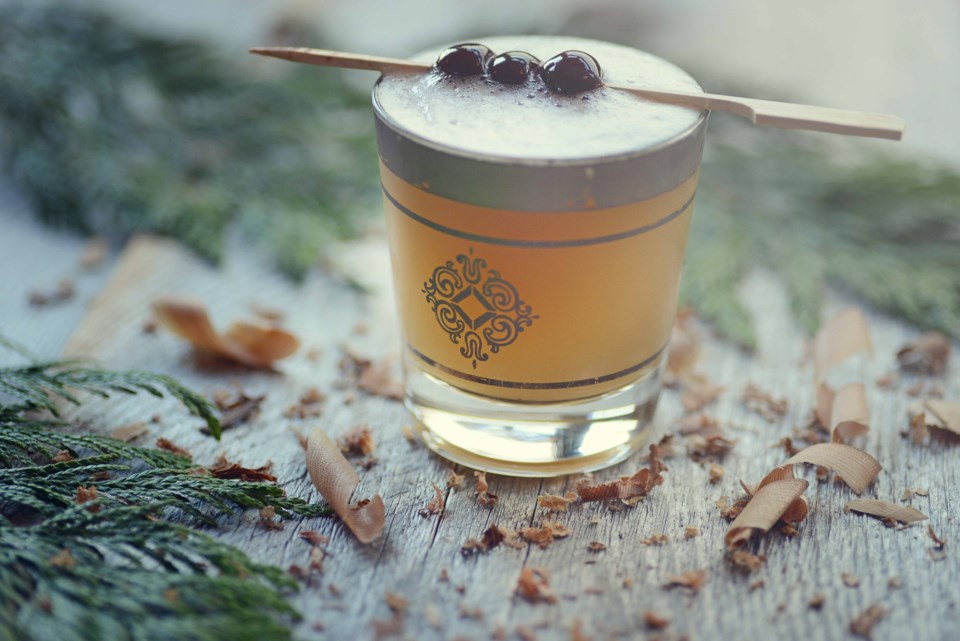 Cedar Rye
1.14 L bottle Wiser's Deluxe Whiskey
4-inch section of a cedar shim or plank
Sterilize the cedar by scrubbing off any dirt or dust
Soak cedar in warm salt water for 1 hour and then in fresh water to remove the salt
Break the wood down and place in a clean glass jar and add the Wiser's
Let stand 5-7 days and then filter out any wood particles
Lemon Thyme Syrup
¼ cup fresh lemon thyme (or alternately ¼ c regular thyme and the rind of ½ a lemon)
4 cup sugar
4 cup water
Combine water and sugar in a saucepan. Bring to a boil and remove from heat.
Ensure sugar has completely dissolved
Place the lemon thyme in a container and pour the hot syrup over it
Let cool before refrigerating and leave overnight to infuse
Strain out the herbs the next day and keep refrigerated
Cedar Sour
Combine in a cocktail shaker
2 oz. cedar rye
1 oz. lemon juice
¾ oz. lemon thyme syrup
1 egg white
Dry shake without ice and then shake again with ice. Double strain into chilled rocks glasses. Serve neat with cherries.
@sthomas10
1-Chef Ned Bell says there's nothing more Canadian then gathering with friends and family and celebrating with a fresh catch straight from the ocean off of the coast of B.C.
2- Ludo Ferrari and Julia Smith, two of three co-founders of Urban Digs Farm, recently opened a butcher shop south of Southwest Marine Drive called Beasty Shop.
3-Chef Trevor Bird's halibut recipe is quintessentially Canadian.
4- The Cedar Sour served at Tofino-based Wolf in the Fog is a cocktail so Canadian, it's made with real cedar wood.