It's time to meet your Vancouver neighbours. Each story in the Courier's new "Vanthropology" series will introduce you to someone who shares the city with you. Read along as we go down sidewalks and alleys and into homes and haunts with your fellow Vancouverites.
It was late-August and Henry Ng was tidying up his store on Main Street at the edge of Punjabi Market. He was cleaning an ice green Adler sewing machine when a woman walked in with a pair of tan wedges. She would be one of the last customers of his half-century career.
"The soles are coming off," said the woman.
Ng — who says he's 88, but his wife tells people he's 90 and should've retired a long time ago — took the wedges from her and lifted the curling soles with his fingers.
"I can fix it," said Ng. "I need to use nails."
"Nails?" said the woman. "Can't you just use glue?"
"They would come off again," said Ng.
The woman resisted for a while, but Ng reassured her.
"I've been doing this for 50 years," he said with a laugh.
At that, she surrendered them. He handed her a small piece of cardboard with a piece of green tape on it as a receipt — Ng's regular patrons know that if you lose this, good luck getting your shoes back.
Ng said goodbye to his profession, goodbye to his shop and goodbye to 12-hour, seven-day workweeks on Sept. 1. He was a unique cobbler, mending not only shoes, but everything from handbags to baseball gloves. Ng's training as a tailor in southern China, where he's from, gave him extra craftiness as a cobbler. Mending hockey pads and sharpening skates were specialties of Ng's, sent his way from Cyclone Taylor Sports on Oak Street. Cynthia Taylor said her father, Fred Taylor Jr., "always used Henry because he was the best."
The Sunset neighbourhood lost a rare, veteran tradesman with Ng's retirement, but chance is bringing someone new to his old workshop.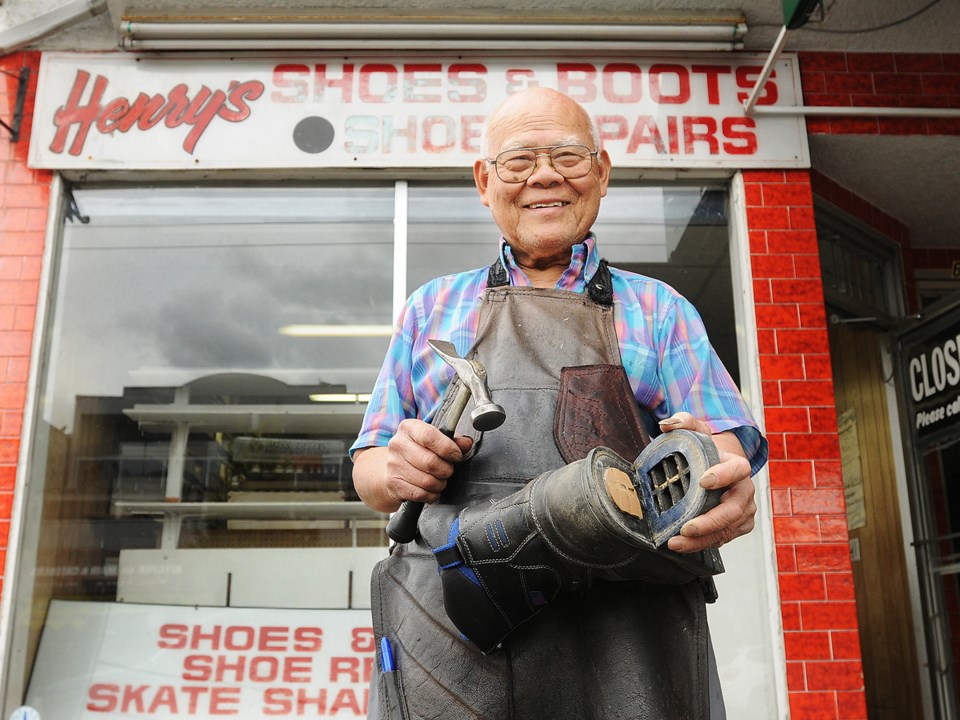 Les Both said the "Go get a job, kid!" attitude of his day got him into shoe repair right out of high school. He hasn't been cobbling for half a century yet, but he's a veteran of the trade at 58.
Both worked at half a dozen shoe repair shops in Vancouver. One was J.R. Donald at Oakridge, back when it was an open-air mall. Eventually, he opened his own shop in 2002. It's aptly named Both Feet on Main Street. He's the fourth cobbler in the shop on Main near 28th since the 1970s.
"Back then, this was the hinterland," he said. The buzz was on Main north of him. It's crept over since.
Both's shop is in a one-storey building shared with an antiquarian, a barber and a clothing store. Developers have been buying flat Main Street buildings like Both's and redeveloping them with more density. When his longtime landlord sold the building to a numbered company over a year ago, Both knew he needed a new home.
Soon after, he heard that Henry Ng — "who said he would never retire," said Both — was retiring, due to declining health. Both paid him a visit, made an offer to buy the business, and Ng accepted.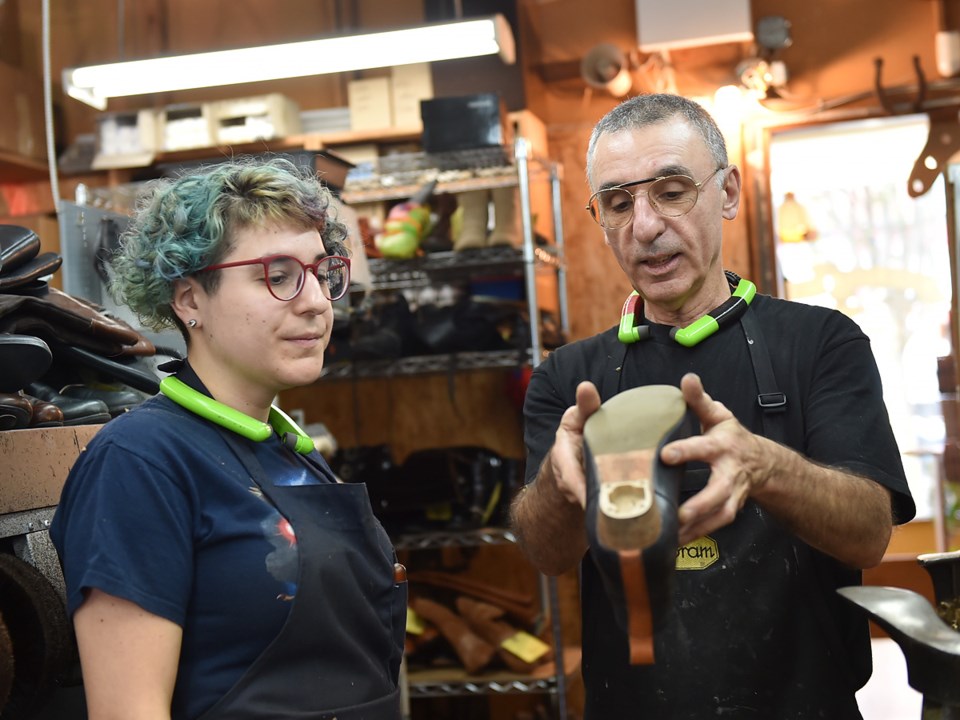 This passing of the torch is more than simply swapping one cobbler for another. Ng and Both have different styles.
Ng kept his store like a workshop; Both's is tidier. Ng was a pro at skate repair; Both loves to re-sole western boots. Ng worked on all types of footwear, but never knew the brands; Both says he loves working on the "stuff that's top drawer."
As customers trust him, they give him nicer shoes to work on. "Levelling up" is a good feeling, said Both.
Both just finished working on a special pair. "This guy lives in Kamloops," he said, "and he doesn't let them work on his stuff in Kamloops because they do western boots, they don't do Guccis. So he gets his brother to bring them down to me because he knows he's going to get them back looking great."
They're a pair of black leather Gucci loafers. When Both opens the box to admire them, he sighs.
Both's got nice shoes himself. "Salvatore Ferragamo," he said. "What a great guy. They cost a little bit, but," Both then whispers, "these things are unreal."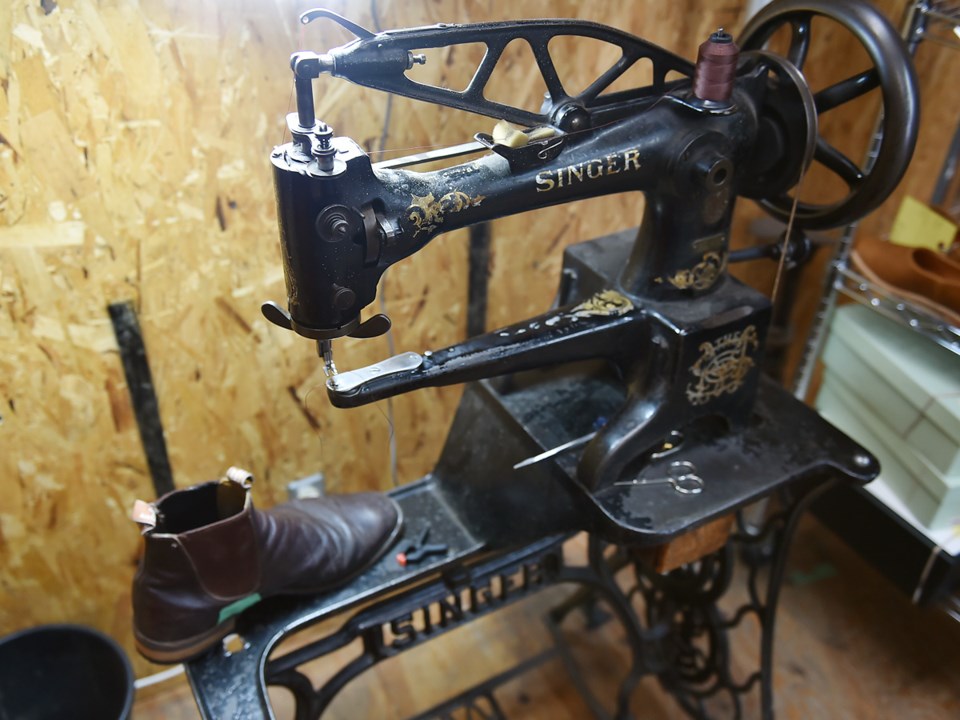 Both will be moving into Ng's old store in February. It's not quite "hinterland," but the Punjabi Market area near the store has been on the decline in recent years. That could change however. Under construction is a 75-unit rental building that will anchor the southwest corner of Main and 49th, with rumours that the building's retail tenant is London Drugs. The tide of buzz down Main Street has finally reached this strip of south Vancouver.
Both said the timing was perfect with this new activity, his building's sale and Ng's retirement. He'll still be keeping Both Feet on Main Street.
bychrischeung@gmail.com
@bychrischeung