James Chamberlain grew up in a rural area outside Abbotsford, while his husband, Jean-Marie Russell, was raised in a small town in northern Quebec.
They've lived in Vancouver for decades — for the past 20 years in a strata property they own in a three-unit complex near Vancouver General Hospital. But the neighbourhood has changed significantly. Houses have been knocked down to make way for apartment buildings, families have been priced out and the population has become increasingly transient, making it more difficult to create long-term relationships.
Chamberlain, an elementary school principal, and Russell, an IT professional, fear they're losing something critical: community.
So they're planning a move.
The couple wants to live in a multi-generational environment. "Because having young children around us, and older folks, is part of the vibrancy of community," Chamberlain said.
Their solution? A form of collaborative living that's been dubbed "cohousing lite."
Chamberlain and Russell are members of Our Urban Village Cohousing, a group that's partnered with a small development firm called Tomo Spaces Inc., run by the brother-sister team of Leslie and Mark Shieh. If rezoning is ultimately approved, they plan to build Vancouver's first "cohousing lite" complex on a site at the corner of Main Street and Ontario Place between East 41st and 42 avenues. An open house about the project takes place Feb. 1, and it will go before the Urban Design Panel a few weeks later.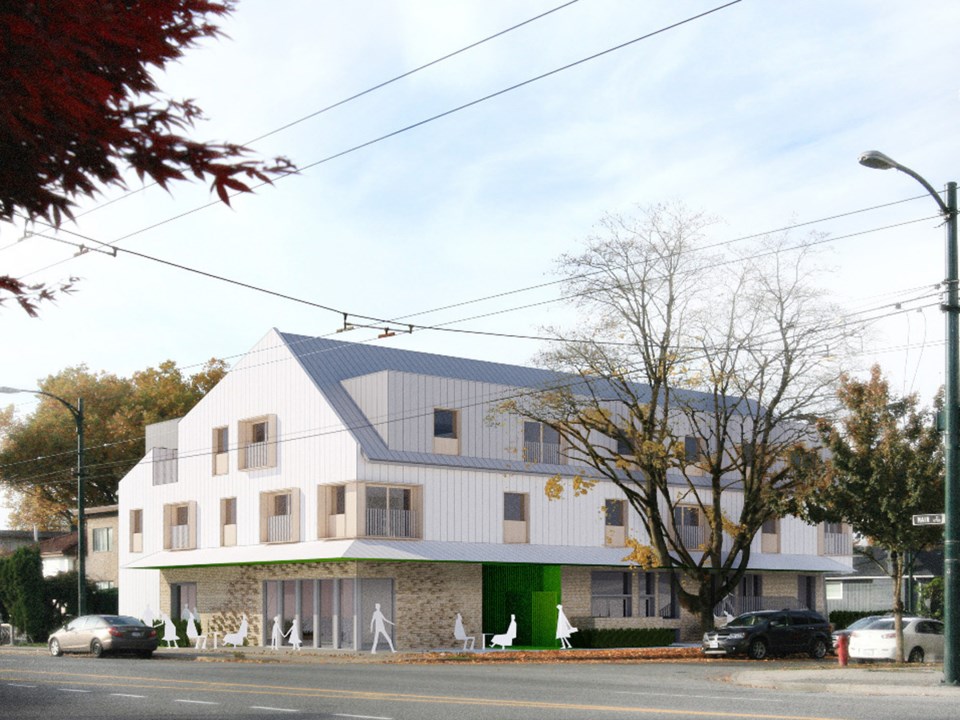 All involved hope the Tomo House project will serve as a prototype for similar projects in Vancouver, as well as other cities, considering there appears to be high demand — cohousing communities have long wait lists.
Chamberlain, meanwhile, considers it an ideal way to create what he and Russell value most.
"Neighbours and relationships with people are very important to us. And, if we stayed in this house, we would basically just grow old and 20 years from now we would be seniors and we would not know anyone," he said.
"Community is the main reason why we are doing this — it always has been because we don't need to move. The nimbyism of everybody having their own home or their own plot of land or whatever you call it — that destroys the city over time. We want to be innovators."
Cohousing versus cohousing lite
"Cohousing lite," as its name suggests, is a streamlined version of cohousing, a style of living built on strong social relationships that's emerged in Vancouver in recent years. In cohousing, residents own private units within a larger building, which features common areas such as a communal kitchen, various activity rooms and outdoor areas. Uses are determined according to the needs of the group. Shared meals are held several times a week, decisions are based on consensus and residents divvy up duties for the overall complex.
Members of the first such group in the city, Vancouver Cohousing, moved into a townhouse complex they developed on three double-deep lots in East Vancouver's Kensington-Cedar Cottage neighbourhood in February 2016. 
Construction on a second cohousing complex in Riley Park — dubbed Little Mountain Cohousing — is expected to begin in April with occupancy anticipated for late spring or summer of 2019. Their multi-storey building is being constructed on three 99-by-110-feet lots.
In both cases, the groups acted as the developer.
But Chamberlain, Russell and Our Urban Village Cohousing co-founder, Kathy Sayers, thought there had to be an easier way to set up a cohousing community.
They consulted with Vancouver Cohousing to find out what worked and what they found challenging, visited cohousing communities in North Vancouver, Bowen Island and Langley, and ultimately forged a new path forward with "cohousing lite."
The concept: Our Urban Village Cohousing would relinquish control over design and plans for a building to a developer, albeit retaining some degree of input. In this way, they wouldn't be responsible for the complicated and time-consuming bureaucratic details involved — assembling land, finding a builder, picking an architect and handling rezoning and development approvals. In return, the developer gets confirmed buyers for a project without the expense of marketing and advertising.
The rationale behind the new approach was that a cohousing project could theoretically be realized more quickly and easily than what's possible through a traditional cohousing model.
All Our Urban Village Cohousing needed was a developer.
Finding their match
Chamberlain and Sayers met with about 14 small, medium and large-scale developers over a year-and-a-half to discuss possibilities. One of their initial thoughts was to buy a handful of units on a couple of floors in a multi-storey development along with space for common use.
"Some of them were interested, but it was always on their terms. They weren't very flexible. They were mostly profit-driven and it was all about them making their bucks, which developers need to do, but it wasn't a relationship of give and take," Chamberlain said.
One obstacle was how the cohousing group would function within a larger strata.
"It was kind of grey how we would still be able to operate in the building and make some of our own decisions because all of our decisions are made from consensus," he said, pointing out the group worried what would happen if they made decisions the strata didn't agree with.
"It might become difficult for us, or we would be seen as the outliers on a couple floors within a large building, which was never our intent because we're all about community."
Soon, the notion of working with a large developer in a multi-storey project was abandoned.
Enter Tomo Spaces, a small developer whose name stands for "together more."
Chamberlain describes the company as "socially progressive" and said they created a "relationship of trust" over a handful of meetings.
The company and Our Urban Village Cohousing began collaborating on the cohousing lite project in the fall of 2016.
During the design phase, Tomo Spaces held occasional workshops with group members on key matters such as what kinds of uses they anticipated for the common space. The group also formed a site and design committee to give input as requested by the developer.
"But we don't own the land, we didn't pick the architect, we didn't pick the builder — they make all those decisions," Chamberlain said. "And when we entered into the agreement with them, we basically said we only have three criteria — open concept units, lots of natural light and nine-foot ceilings. That was it. And so it was low barrier for the developer."
The complex
A rezoning application for Tomo House was submitted to the City of Vancouver in November 2017. Aside from Tomo Spaces, companies involved in the project include Marianne Amodio Architecture, builder Lanefab and landscape architecture firm Jonathan Losee Ltd. Collaborators also include the organization Happy City. More on that later.
The proposed complex, meanwhile, features 12 units — three three-bedroom, four two-bedrooms, two one-bedrooms and three studios.
All but three have been allocated. Those will be assigned after rezoning, assuming it passes, when it's clear how many units are approved. But members of Our Urban Village Cohousing already decided by consensus that they will be designated for families with young children because they want a "really good mix" of residents.
"It's a multigenerational community, so we have young families with children who are six and under, people who are seniors and on their own, people who are middle aged like my partner and I, and then there are a few single people," Chamberlain said.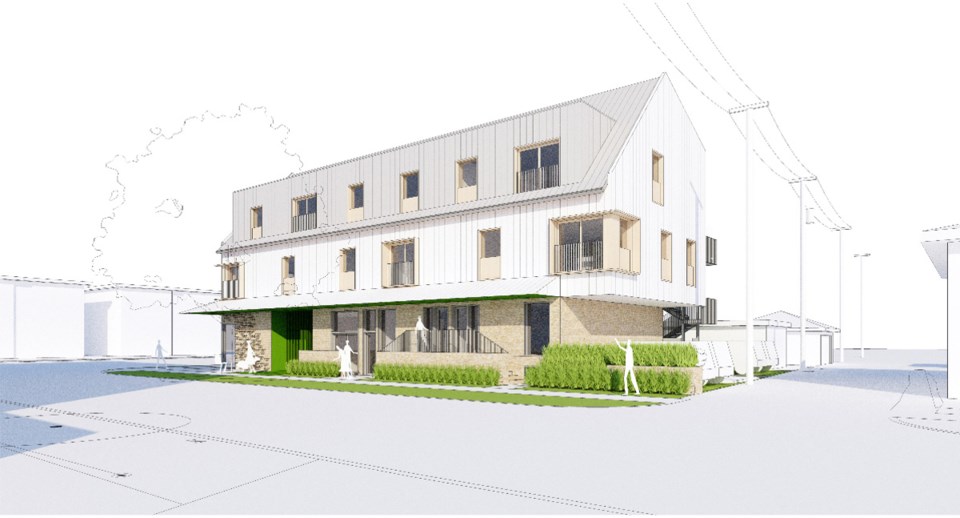 The Tomo House proposal calls for 2,000 square feet of common area, including a guest room and bathroom, as well as a kitchen and dining space that opens on to the courtyard. That multi-purpose space will also be made available for community events.
"We want to integrate with the existing community. We don't want to be seen as an isolate new building in the community. We want to integrate with our neighbours," Chamberlain said.
Members have agreed to sell their vehicles in favour of car sharing — the proposal envisions four designated spaces onsite for one of the city's car sharing companies. The vehicles would be available to Tomo House or neighbourhood residents. Our Urban Village Cohousing anticipates it will save between $50,000 and $60,000 per unit by not having an underground parkade.
Chamberlain said the car-sharing decision was made unexpectedly quickly — and unanimously.
He and Russell have shared a car for 25 years and don't expect to miss it since the site is close to public transportation and they have bikes.
Cycling is also a popular mode of transportation among other members of the group, so, as in most modern developments, there will be a bike room in the complex as well as space for cargo bikes and commuter bikes outside of the building in the courtyard area.
Other cost-cutting measures include using a standard floor plan, rather than custom ones for each unit, external hallways, passive house design, which will recapture 90 per cent of the heat, and shared laundry.
"We don't need 24 machines," Chamberlain said. "Some decisions, because the community is so strong, have been easy to make. Everyone is very generous of spirit with each other. They're very good at putting the needs of the community before their personal needs."
Overall, the Tomo House proposal is based on three key drivers: sociability (the cohousing piece) sustainability (the complex will be built to passive house standards) and affordability.
"They are working with the city to try to work out the affordability piece. The hope is to have some of the units under market value in perpetuity for young families or seniors," Chamberlain said.
What the prices of the units will be is still unclear. The developer needs to get through rezoning before construction costs can be finalized.
"Once we get through rezoning, we'll be putting deposits down in trust for the developer so I think we'll probably know pricing in the fall," Chamberlain said.
Unit prices at Vancouver Cohousing, however, ended up ranging from about $285,000 for a studio to just over $800,000 for a large unit. Cohousing units are usually based on market prices in an area, although if the group acts as developer it saves on the developer markup. There are also savings associated with sharing costs on expenses such as childcare, vehicles, tools, etc.
In cohousing lite's case, members are saving on some construction costs, as well as project management and parking costs.
The developer
Leslie Shieh, Tomo Spaces' co-founder, said the idea behind its "together more" philosophy is that "we are more when we do things together or share."
"[Tomo House] is in line with what we want to do with development. We wanted to build homes that had other impact. [Profit] is not the driver behind this project. It was like a challenge — it's a double lot, it's scalable. It's something that homeowners or small-scale developers or even neighbours could do on their own," she said, pointing out double lots are more readily available than larger development sites that require complex land assembly.
Shieh said this project, and future ones Tomo Spaces hopes to build, aim to link affordability with sociability and sustainability and be geared toward the so-called "missing middle demographic."
"We are hoping to provide housing choices for teachers and professionals who work in Vancouver, as well as retirees who are downsizing," she said.
Previous efforts by developers to solve affordability have primarily focused on compressing floor area, according to Shieh, but when multiple families share spaces, resources and activities, they enjoy more social interactions.
"These interactions are key contributors to happiness and help build a trusting community with strong social capital. Furthermore, in sharing resources, energy and material consumption costs are reduced and housing, transportation and childcare costs are lowered."
Chamberlain said the company is very committed to families staying in Vancouver.
"They're a young innovative company and they want to make a progressive mark in the city," he said.
With that in mind, Our Urban Village and the developer plan to continue their relationship beyond build-out by working with the organization Happy City, led by Charles Montgomery who wrote the 2013 book Happy City, Transforming Our Lives Through Urban Design. Happy City will track how the community functions for a couple years after move-in.
Happy City staff will interview members and conduct focus groups to see what's working, what's not working and what can be tweaked.
"We want something beyond our own building and our own project. We're just as committed as Tomo is for it to be successful because we want other communities to be able to thrive in the city," Chamberlain said.
It took a village
If all goes according to plan, members of Our Urban Village Cohousing could move in sometime in 2020. If that happens, it will have taken five years for the project to be realized from concept to completion. This is slower than what's expected for future cohousing lite initiatives because it's a prototype and they took a long time to find the right developer.
But now that the rezoning application has been submitted, Chamberlain sees an end in sight.
"We're really optimistic. We're really looking forward to 2018 because rezoning will be the big turning point for us," he said. "Once we get past rezoning, we can progress. Our members will have certainty that they're actually going to move there for sure and we can finish building our community. People are very excited and very optimistic for this coming year."
The community open house for Tomo House is Feb. 1 from 5 to 8 p.m. at the Baha'i Centre, 5880 Main St. City staff and the applicant team will be on hand.
Find rezoning application details here.