An appearance of Canuck the crow is never a guaranteed thing; he is a wild bird after all. Chances of him dropping out of the sky for a visit greatly improve, though, if you happen to be hanging out with his best human friend, Shawn Bergman.
The East Vancouver crow is known far and wide, and not just because of a viral photograph of him with knife in beak and wearing what looks to be a mini ankle monitor on his left leg (the orange zap strap was placed there for identification purposes by the son of Bergman's landlord who found Canuck as a helpless and homeless hatchling last spring).
He has loads of friends in the Cassiar and Hastings neighbourhood who welcome the corvid's visits. Canuck's daily rounds include cawing greetings to the rollercoaster maintenance people at Playland, stealing keys from the Hastings Racetrack stables (where, about three months later, he dropped the same set of keys square on an employee's head) and watching a man's daily tai chi ritual from the vantage of a stop sign. Canuck took an interest in the city's transit system for awhile, riding the first eastbound SkyTrain of the morning from the Commercial-Broadway station, exiting through the car doors at Metrotown.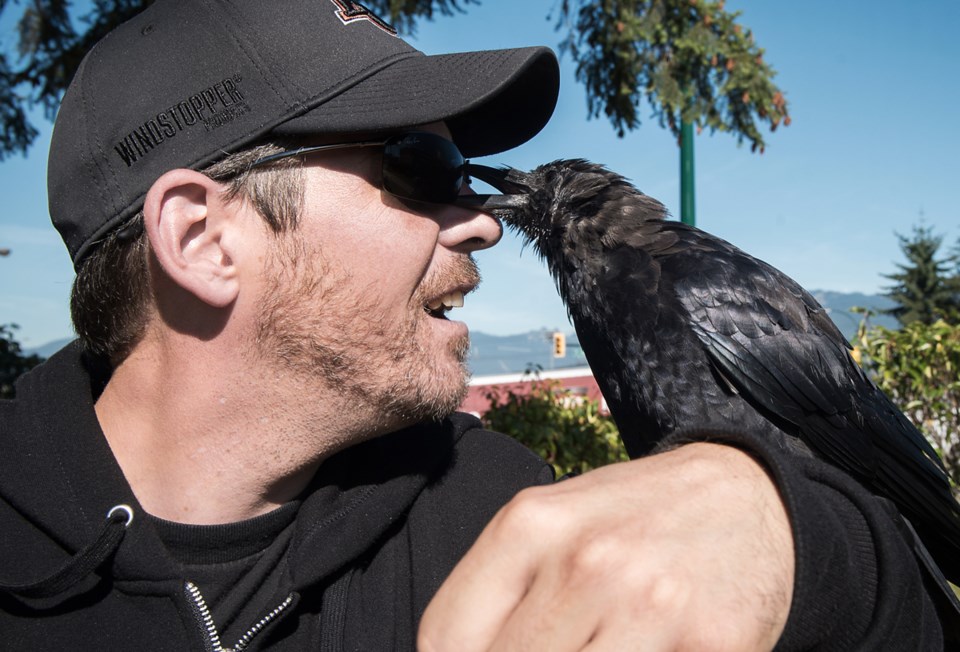 The McDonald's at the corner of Cassiar and Hastings is where Canuck went from local story to international. It was the afternoon of May 24 when Vancouver police were called to the restaurant's parking lot, a place Canuck likes to hang out on any given day, never mind one with the excitement of a car fire and a non-fatal shooting by the police of a man who had come at them with a knife.
Bergman was on the bus, going home from work, when he heard the news.
"I was thinking, 'Don't be there, don't be there,'" he recalled, concerned for Canuck. "And sure enough, he's sitting on top of a white SUV right in the middle of the crime scene. I'm like, 'Of course you're there. Of course you are.' I walked all the way around because I really did not want to be associated with what's going on and I don't know how involved he had been. I walked down the back alley and whistled for him and he came to me."
Bergman didn't know Canuck had attempted to steal a piece of evidence — the knife. The Courier's Mike Howell was the only reporter on the scene to see Canuck's antics and the story went viral. All this was unknown to Bergman until he checked his email the next morning to see dozens of messages from media around the world.
Bergman's "Canuck and I" fan page ballooned to 31,000 people, a number that blows his mind as it's six times more than the population of Morden, Man. where he lived as a boy.
When the son of Bergman's landlord first found Canuck in a Vancouver park, he took him home and nursed him to a fledgling. When the family released Canuck, they alerted Bergman to what was expected to be a meaningful experience of a bird embracing the sky's unlimited freedom with a purposeful stretch of the wings. Instead, Canuck flew to the backyard fence and stayed. Bergman held out his arm.
"And he actually did hop up on my arm, it just made my heart go like crazy," he said. "I can't believe this crow is actually on my arm and, from that moment on, it was like he was stuck to me."
Canuck followed Bergman everywhere. Getting coffee is a routine — Canuck knows when Bergman comes home from work and he suspects Canuck's Northwestern crow friends, who are both familiar with Bergman and who finally accepted Canuck into their territory, alert him to that fact. It's a likely scenario as crows are smart; they have excellent facial recognition skills and communicate with one another, especially within their flock of family members. Local crows spend their nights at several roosts, including the largest recorded one in the province near Willingdon and Highway 1, where Bergman believes Canuck sleeps.
As soon as Bergman told the tale about his coffee runs with Canuck in tow, the crow appeared, walking on the patch of grass by McDonald's, puffed out and stiff legged like a New York crime boss entering an interrogation room. The word mafiusu, appropriately enough, is a Sicilian adjective for swagger.
"Somebody asked me what tricks I've taught him and I don't want to teach him tricks because he's a wild crow," said Bergman as Canuck made off with this writer's pen. "For me, it's just hanging out with my buddy. I realize he's getting older, changing, and doing his own thing. I will take every day as much as I can."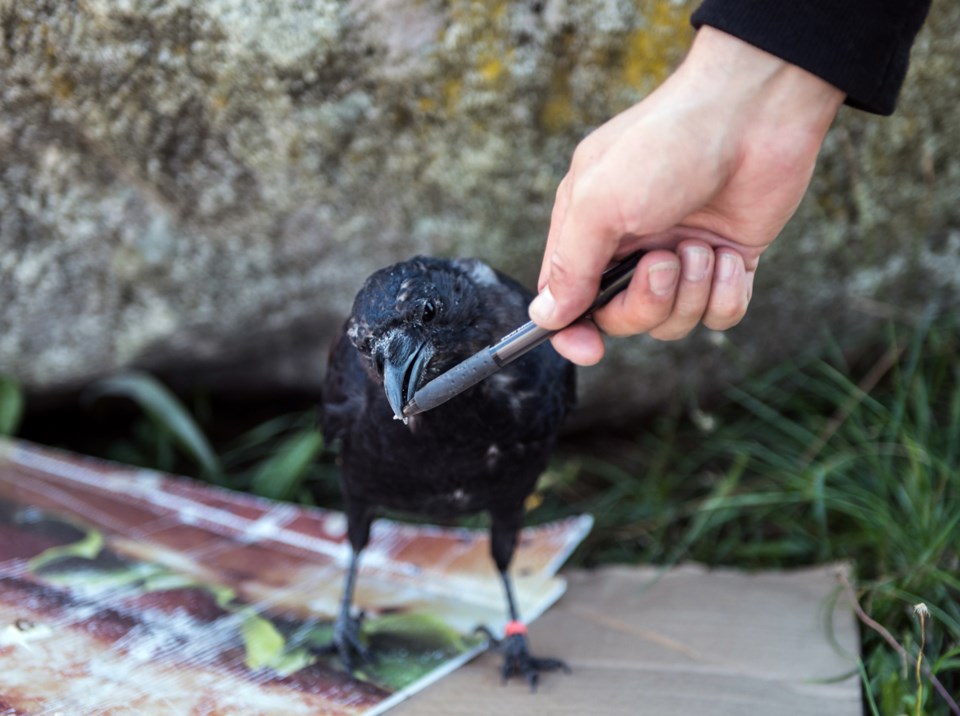 rvblissett@gmail.com
@rebeccablissett