The non-profit Parent Support Services Society of B.C. says addiction, including the recent opioid epidemic, incarceration, abandonment, child abuse or neglect, and violence in the home are just some of the reasons grandparents are giving up their dreams of a leisurely retirement in order to care for young grandchildren.
And with children facing these issues at an early age, grandkids often need extra support from what's known as their "grandfamilies."
That's where Grandparents Raising Grandchildren (GRG) and the Walk for Grandparents come in. The Parent Support Services Society of B.C. is asking people across the province to walk Sept. 9 to celebrate the important role grandparents play in so many lives.
The walk coincides with Grandparents Day, created to recognize grandparents everywhere. The society wants everyone to also think about the growing number of grandparents — and other relatives — who take on the enormous responsibility of raising children when the parents are unable to. In B.C. more than 13,000 children are being raised full time by their grandparents or other relatives.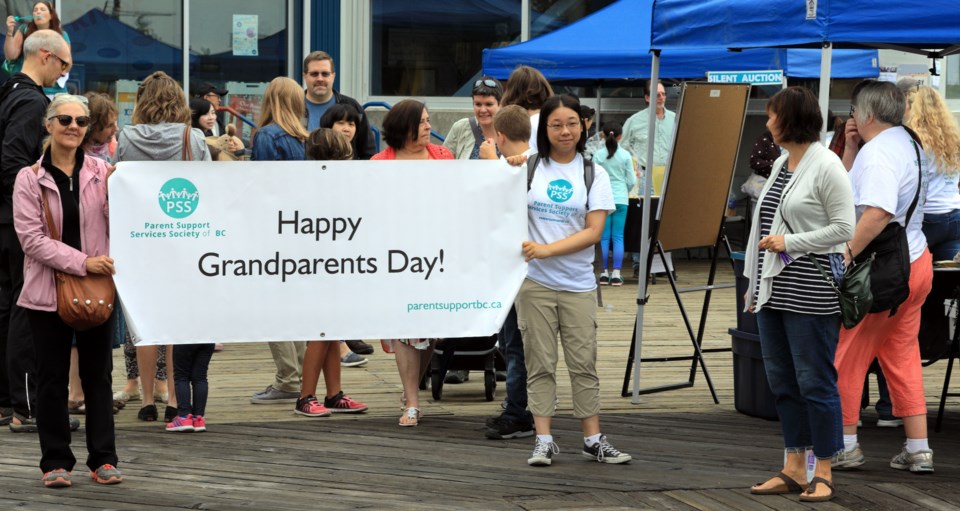 Parent Support Services of B.C. say the unique issues of "grandfamilies" include:
The children have often experienced trauma — 68 per cent of the children in the Grandparents Raising Grandchildren families surveyed in 2009, had physical, emotional or behavioural challenges.
Often both the grandparents and the children are experiencing grief and loss.
Most of these families experience financial hardship and many use up all of their retirement savings for child raising. 
The grandparents often have to deal with a range of legal issues, many related to access and guardianship.
 Grandparents are parenting for a second time.
 It's unexpected — most grandparents do not expect to be parenting again at this stage of life and have had to abandon plans to travel, etc.
Services provided by Parent Support Services Society of B.C. include:
GRG/Kinship Care Support Circles: Peer-to-peer support groups with trained volunteer facilitators, where caregivers can connect with others going through similar situations.
GRG Support Line: This toll-free line (1-855-474-9777) assists grandparents and other relatives raising a family member's child to navigate complex services. The GRG Support line is staffed by advocates with expertise in advocacy, social work, family law, and government services pertaining to kinship caregiving.
 Website: parentsupportbc.ca has a number of resources for GRG/kinship care givers including a legal guide found at parentsupportbc.ca.
 Respite and connections: The society has summer picnics and nature camps that allow kinship care families to connect with other similar families. These events are often profound experiences for the children who discover they are not alone. They are also an opportunity for respite for grandparents and kinship caregivers.
For more information on the Grandparents Raising Grandchildren walk please visit, grgstroll.ca. In Metro Vancouver the walk and festival take place at the New Westminster Quay from 10 to 2 p.m., Sept. 9. This fun event includes music, entertainment, kid's games, face painting, a silent auction, information tents and a walk to raise funds for programs that support Grandparents Raising Grandchildren and other diverse families. Similar events are also taking place in Prince George, Victoria and Nanaimo.