Almost everybody at Saturday's Dash for Dogs run at Stanley Park knew the story of Dynasty, a beautiful yellow Labrador retriever owned by a fellow by the name of Craig Slagel who started the fundraiser inspired by his dog, two years ago.
"Craig ended up with a guide dog that failed guide dog school, basically," said race director Solana Klassen while organizing runners and sponsors prior to the run's start.
Anita Cymet, manager of development and communications for BC & Alberta Guide Dogs, doesn't use the word "failed."  
"We call that a 'non-qualifier' dog," she said.
Dynasty's owner uses a completely different term: "She's a career-changed dog," said Slagel.
The press release for the fundraising run used the word "retired," which might be a bit generous considering Dynasty didn't graduate from guide dog school, an intensive two-year-long training process that starts at puppy age. There are 114 dogs teamed with those blind or visually impaired in B.C. and Alberta, and there are 70 dogs in training. All are bred and raised by the charity, and about 50 per cent of the dogs graduate as guide dogs. The majority of the others are placed with other programs, such as the Vancouver Island Compassion Dogs Society, which matches dogs with veterans suffering from Post Traumatic Stress Disorder or with families who have children with disabilities.
"We have jobs for many of our dogs," said William Thornton, who started B.C. and Alberta Guide Dogs with his wife Linda 20 years ago. "We call them VSPs — Very Special Placements."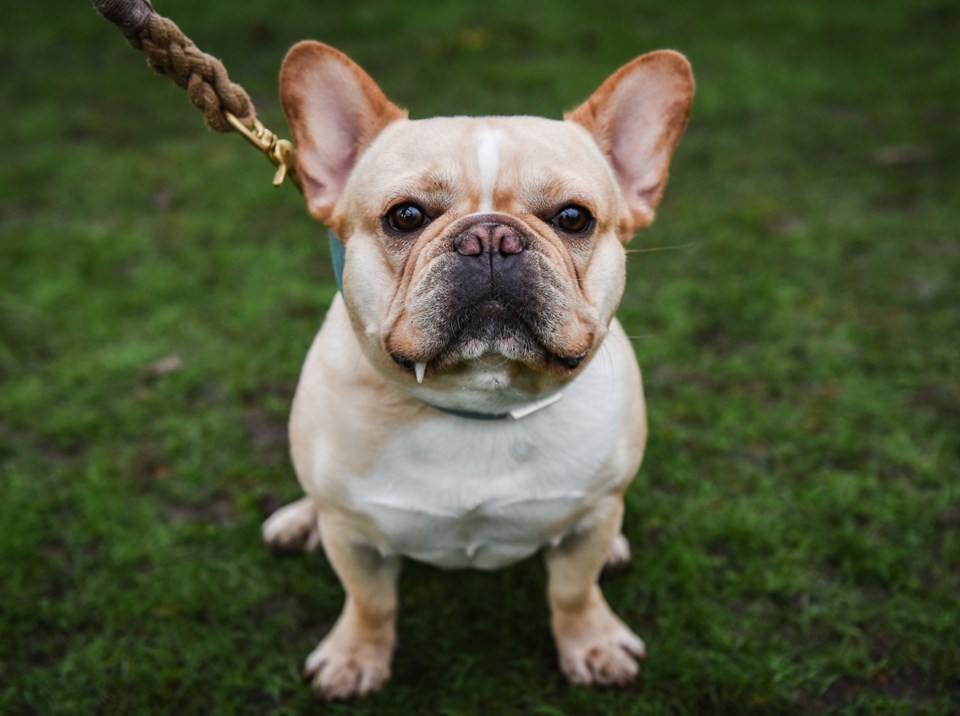 There are also 34 dogs teamed up with moderate to profound autistic children between the ages of four to 10. The organization found these children bond to animals that provide calmness, stability and security.
"It opens up a whole different world to a child with autism," said Cymet. "The dog anticipates the child's insecurity and keeps them calm, keeps them relaxed. You know there are a lot of children who have autism in the public school system who don't have too many friends so it opens up a world of companionship."
It costs the charity $35,000 for each dog to go through training, and dogs are provided to blind and visually impaired people at no cost. When Slagel had the rare opportunity to adopt a failed/non-qualified/career-changed/retired guide dog, he had the idea to create a phone app to assist runners and walkers with navigating routes — an electronic guide dog of sorts. Slagel's friends, aware of his tendency to get lost when exploring new cities, jokingly wondered if Dynasty would help prevent that.
Slagel, a marathon runner, launched the turn-by-turn voice navigation called RunGo that was used for routing Dash for Dogs instead of race markers. The fun run is proving to be popular, judging by the increase in runners and donations. Last year, it raised $2,866 with 80 people participating in the 2km, 5km, or 10km walk or run. This year, $6,700 was raised with 200 participants, some who brought their dogs for the first time thanks to permission from the Vancouver Park Board (dogs weren't allowed in the first year).
Amongst the pugs, shepherds, greyhounds and crosses of this and that, the quintessential guide dog — the yellow lab — was also part of the run and received lots of attention from those who can't resist the opportunity for a good pat and dog kiss. However, anywhere else, it is generally considered to be bad form to approach somebody's guide dog.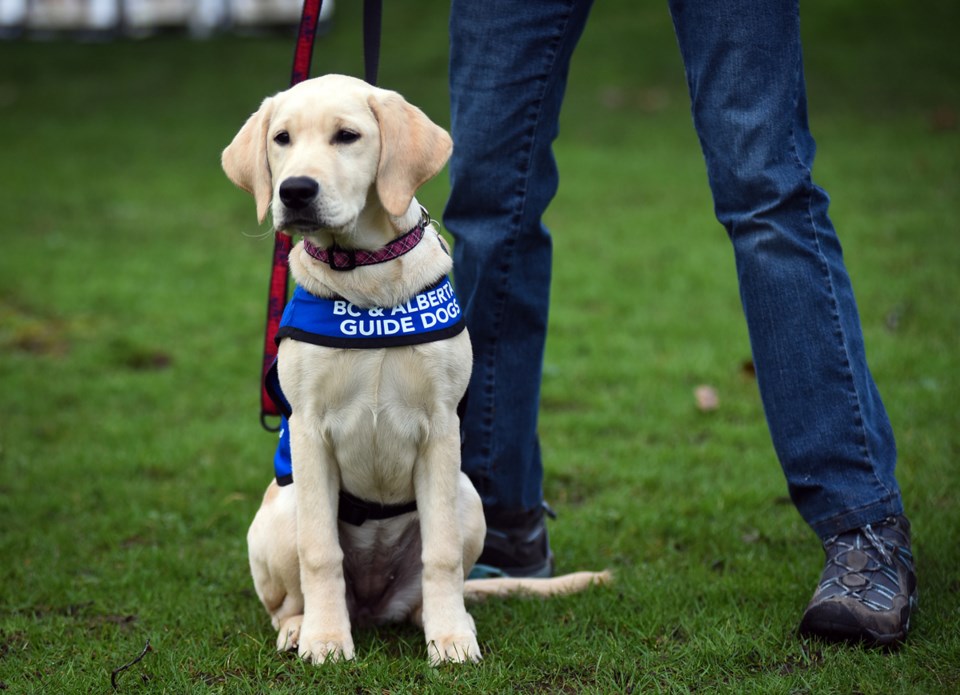 "The idea is that when they're working, we don't want them to be looking constantly for affection from third party unknown people. That's the goal," Thornton explained.
"When it's in its harness, it's sitting at its desk, working — that's the best analogy… They do have a lot of play time when they're not at work. Today, we let people touch the dogs, kiss and cuddle, show and tell. It's important dogs have physical interaction with people, it's part of their psyche."
Dynasty, the guide dog that wasn't meant to be, also received much of this attention. On a side note: There's also another, very natural, reason that Dynasty failed her guide dog training, according to race director Klassen. "She took a poop in the middle of a crosswalk!"
rvblissett@gmail.com
@rebeccablissett