Maybe you've already noticed it, or maybe you've already used it.
There's a large new park on the shore of False Creek, and it might be a world record holder.
My friend James lives in one of the Main Street towers that overlooks the northeast corner of False Creek.
A few weeks ago, he posted a photo of the view from his condo.
Wait a second. Since when is there… a beach volleyball court down there? And… is that an outdoor amphitheatre with log seating? Is that actual… grass?
After a brief exchange with James, he told me that it was a "new, temporary park" that Vancouver real estate titans Concord Pacific opened earlier in the fall.
For years, if you've ever walked, jogged, or cycled along the north False Creek seawall, you'd be used to seeing a barren, cracked concrete wasteland in that ugly armpit of the city — a no man's land between Science World and the former Plaza of Nations.
If you think about it, it's shocking that prime waterfront property has remained undeveloped for more than three decades since Expo 86. Over those years, that vast and mostly vacant space, owned by Concord Pacific, has been occasionally used for special events such as the Molson Indy (from 1990 to 2004), Cirque de Soleil, or that outdoor dinner where everyone wears white. But mostly, the land has sat inexplicably drab and empty.
I had to cycle down and see the new park for myself. Sure enough, there it was: brand new, pristine and deserted. I wondered if it was even open. That's when I spotted a sign that read "Welcome to Concord Community Park."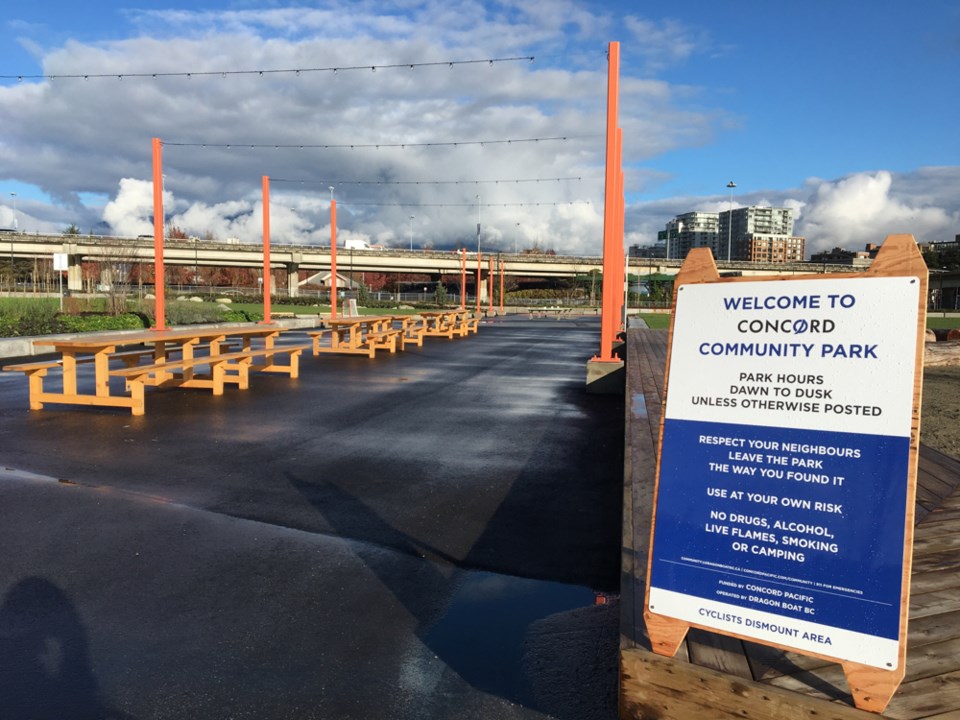 I wandered its large, sparkling expanse. I spotted bright Adirondack chairs, a dozen large picnic tables, a ball hockey court, ping pong tables, acres of emerald green lawn space, and, yes, the faux sandy beach complete with volleyball net, and an amphitheatre with log seating and views of False Creek to the south and the mountains to the north. All of it sat as vacant as a Twilight Zone episode.
It turns out this pop-up park officially opened Sept. 30 (it was supposed to pop up in the summer, but you know how these things go). According to Patsy McMillan, the chair of the False Creek Residents Association, a park in that space or close to it has been more than 18 years in the making.
"The original development plan for North False Creek stated that Concord Pacific was permitted to build 7,650 residential units in exchange for certain community amenities, including 42 acres of park or green space," McMillan explained to me.
Today, much of that green agreement already exists along the north shore of False Creek, including several parks stretching from the Granville Bridge to the Cambie Bridge, and yet the northeast pocket of False Creek remained undeveloped, even though, to McMillan's count, Concord Pacific has in fact developed 11,500 residential units.
"There have been several delays for a final permanent park. The economy, the Olympics, and now the impending viaduct removal," McMillan said.
With the viaduct takedown slowing up a permanent park's placement, Concord Pacific offered to build a temporary "pop up" park on an interim basis.
"What Concord offered wasn't enough," McMillan said. "So we worked with them to secure that 3.5 acre corner site for which they were responsible for the design — with our input."
Once the viaduct does come down, a swap will be made: a permanent park will be built inland, and Concord Pacific will likely develop more condo towers on the waterfront site.
"The permanent park will be under the SkyTrain track, rather than the waterfront park we were promised," McMillan said.
But at the rate things progress in this town, McMillan thinks the waterfront pop up park could be there anywhere from three years to 15 years. No one can say for sure.
Ann Phelps has been the executive director of Dragon Boat B.C. for 29 years and was named the project manager for the new Concord Community Park. When I spoke to her, she was giddy with excitement over the fact that the park could be a world first.
"The other day I heard on the CBC that the biggest pop-up park in the world was somewhere in Europe, and it was something like an acre," Phelps told me. "But our park is 3.5 acres, which would make ours the biggest, and it's right here in Vancouver."
According to Phelps, when many of the residents purchased their apartments, they were promised a park would be built on that corner of the creek shore.
"It's been a long time coming. Dragon Boat B.C. became involved because we are going to build a new community boating centre there, for all paddling sports, and we've had a lot of support from Concord Pacific, so it was a simple step to take over the day-to-day operations of this new park."
Concord Pacific foots the bill. According to Phelps, the pop-up park was slated to cost around $500,000, but construction came in closer to $2 million.
"It's quite the commitment from Concord Pacific, and it's something they should be commended for," said Phelps. "It costs Concord about $250,000 a year to maintain the grounds, and right now the park is employing four people, including three Indigenous youth from the area."
Phelps was also quick to point out that I must have popped in to the park on an off day.
"The park is open from dawn to dusk, and on sunny days there are people playing basketball, volleyball, table tennis, or just enjoying the view from the big Adirondack chairs. It's great to see."
Both Phelps and McMillan are eager to see the park utilized and want more people to know about it.
December ping pong, anyone?
grantlawrence12@gmail.com