Imagine being in the throes of high school, trying your best to fit in and be cool, when a couple of your friends point across the playing field to a woman digging through a garbage can. She's bent over the can, pulling out discarded bottles, placing them in a plastic bag.
One of the kids says, "Johnny, isn't that your mom?"
That exact scenario happened to Johnny Tran when he was attending Sir Charles Tupper secondary in East Vancouver. It was indeed Johnny's mom, Gia.
At that moment, Tran wanted to curl up and die with embarrassment. He was 16 years old and aware that his mom did this every day: she sifted through garbage cans, climbed into dumpsters and poked through recycling bins, searching for refundable bottles and cans.
When Tran got home that day, he was angry with his mom. He begged her to stop binning near his school, to stop binning altogether. Besides the social embarrassment, Tran and his two sisters were worried that their single mother, a Vietnamese immigrant who came to Canada in 1980, would get hurt.
Back then, their mom would start her quest near Main and 28th, walking all the way to Hastings and back, a distance of about 70 blocks, round trip, every day.
Tran offered to get a job and give his mom his pay if she would stop binning. She refused, and told her son to keep his money — that she was going to do what she wanted, and that in Vietnamese culture, a child does not tell a parent what to do. That was more 15 years ago, and Tran's mother has never stopped.
Gia is now 62, and still hits the streets at all hours of the day and night, 365 days a year, much to the constant consternation of her now-adult children. For years, her kids assumed their mom collected to help make ends meet as a single parent of three.
You can imagine their collective shock when they finally found out the truth. Their mom was only keeping a small portion of the money she received for the thousands of bottles and cans she cashed in. In fact, Gia has faithfully donated the majority of her hard-earned cash to a string of Vancouver charities for more than 20 years.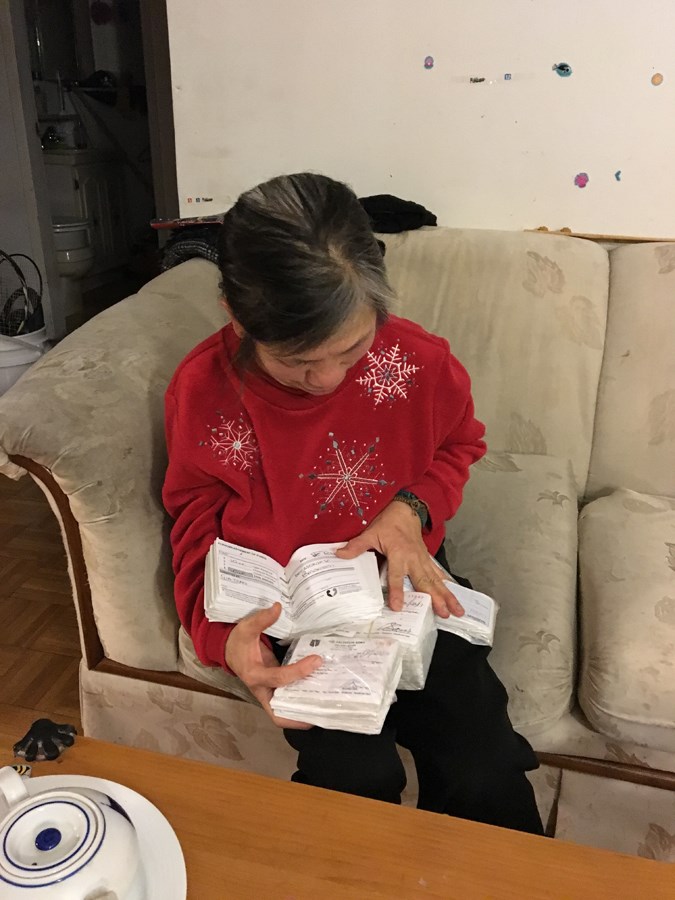 It's estimated that Gia, a devout Buddhist, has contributed more than $15,000 to the B.C. Cancer Foundation alone. She visits the society office daily, handing over $5, $10, $15, whatever she managed to collect that day. Gia has also contributed sums over long periods of time to the Union Gospel Mission, the Red Cross, the SPCA and the Children's Hospital. She has the stacks of receipts to prove it.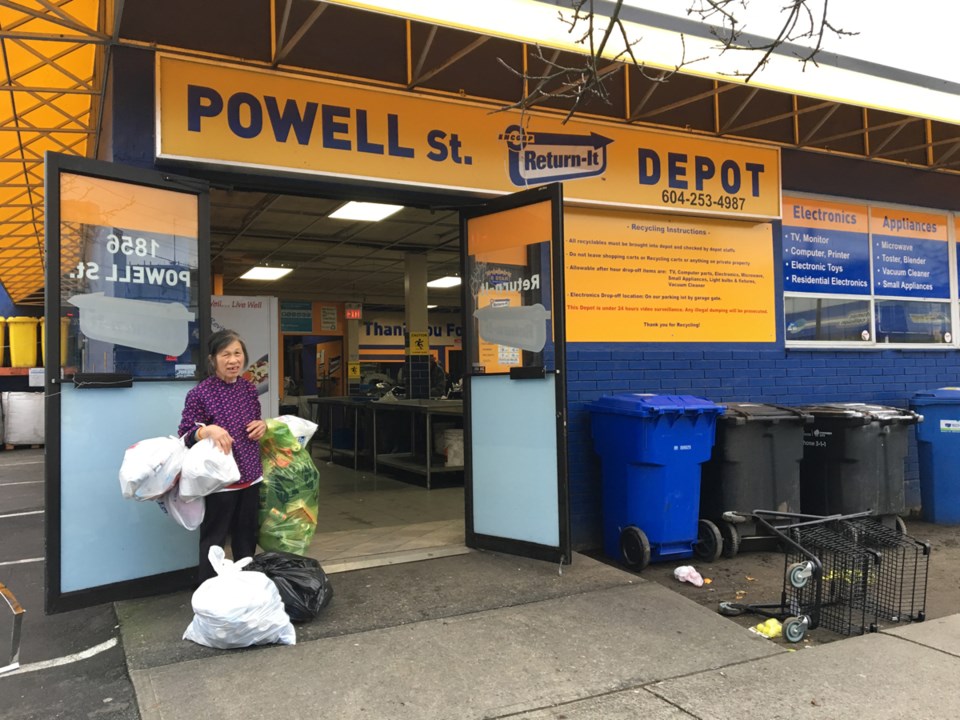 In November, Gia was awarded the Terry Biggar Award from the B.C. Bottle Depot Association, given to those whose work positively impacts the environment. Representatives from the B.C. Cancer Foundation presented the award to Gia. It's one of several awards and citations she's received for her work, many of which are framed on the wall of her modest Hastings-Sunrise home.
Over steaming green tea, I asked Gia why she does what she does, day in, day out.
With a smile wider than East Broadway, she told me that she simply wants to help people.
"I see people, no food, no money, sleep outside, they need money, I give them money."
I asked her about the dangers of sticking her hands into garbage cans or climbing into dumpsters.
"I don't care," she laughs. "I do what I want! Nobody tell me what to do. I start at 4 a.m., come back 9 a.m. for breakfast, go out again."
Once, she was hit by a car while doing her rounds. Miraculously, she suffered only minor bruising and was back in the bins within days. She received a settlement of $3,000.
"And she gave it away," her son told me with a sigh. "She donated all of it." Johnny Tran is now 32 and an education assistant with the school system, as well as a group home and special needs worker. And while and he and his sisters still worry about their mom, the embarrassment is long gone. They are now very proud of their mother's achievements and selflessness.
"Our mom has always taught us that it is very important to help others, and to never judge," he said. "And she's right."
I had the pleasure of accompanying Gia on one of her rounds earlier this month. With bare hands, she unflinchingly dug through a garbage can on East Hastings, looking for the recyclable, refundable containers that we throw away. She instantly found several beer cans.
"Oh, wow!" she exclaimed.
She led me around back, into the alley, and flipped open the lid of a dumpster. After peering over the rim, she hopped into it with the dexterity of a teenager. She emerged in two seconds clutching two more beer cans.
In no time she was weighted down with bags stuffed with refundables. Pretty soon I was carrying a couple of full bags as well. They were heavy. Gia, who is barely five feet tall, powered on towards the Powell Street Bottle Depot. It was all I could do to keep up with her. Her morning's haul totalled just over $15.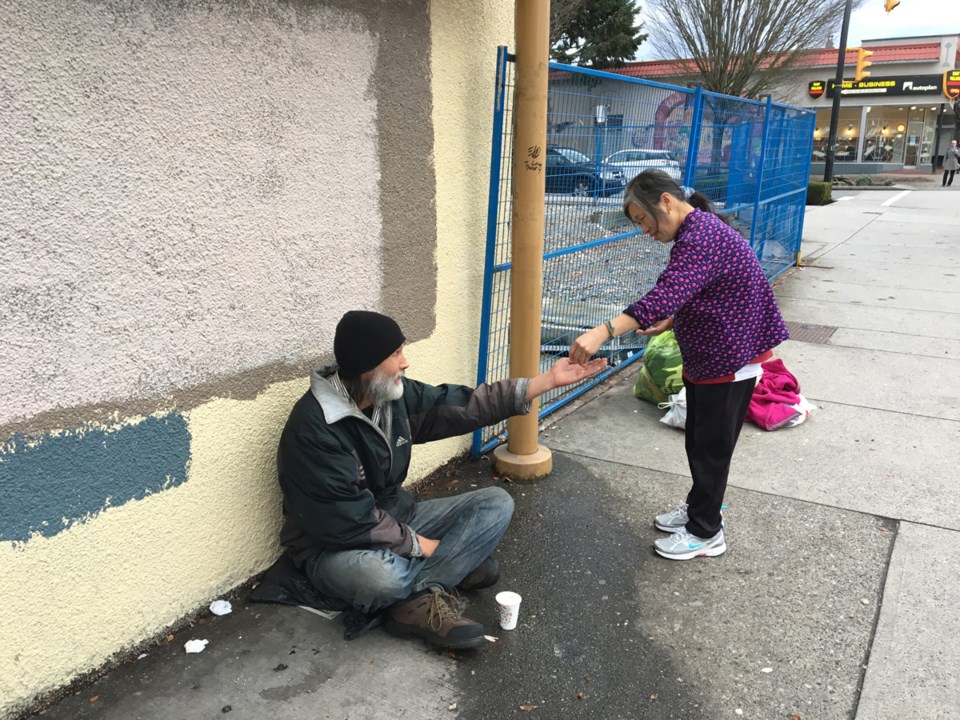 Gia also stopped to chat with every person asking for change. Each time, she dug through her pocket and handed them a loonie or a toonie. I asked one guy, a down-on-his-luck Yukoner, if he knew Gia.
"Oh yeah," he replied. "I see her every day. That there's the angel of East Hastings Street."
grantlawrence12@gmail.com