Between East Hastings and Cordova, there's a stretch of well-worn road locals call "Crack Alley." Situated on the "zero block" behind Overdose Prevention Society's supervised injection site and the Downtown Eastside Street Market, it's one of the busier alleys in the neighbourhood, filled with garbage, the stench of urine, rampant drug use and overdoses.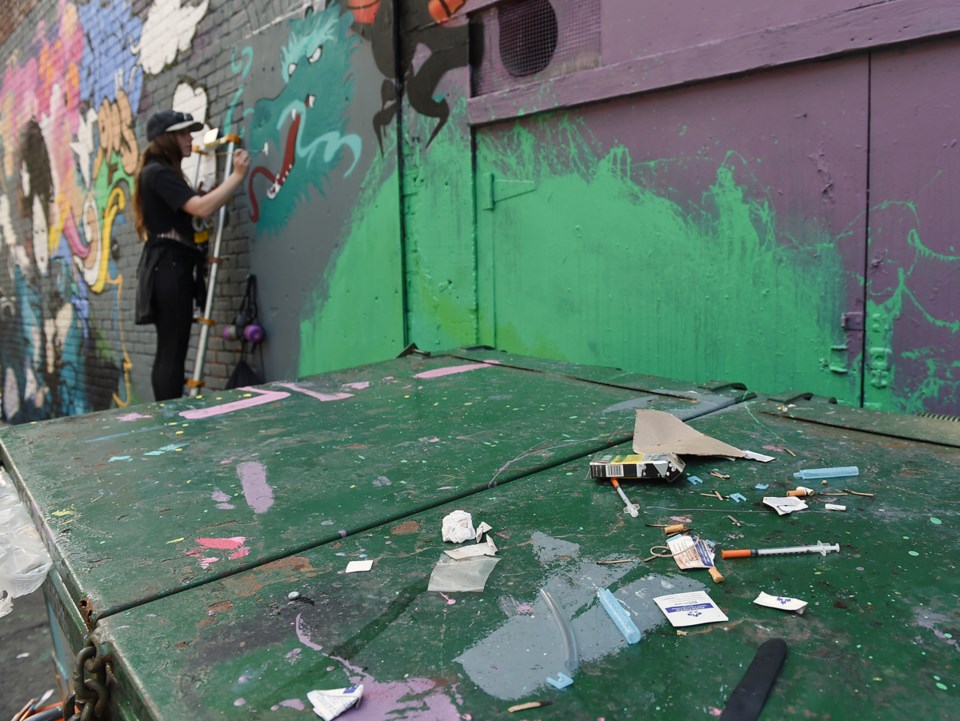 It's a bleak scene that Trey Helten, a peer supervisor and volunteer coordinator at Overdose Prevention Society, hopes to make a little less grim for those who frequent the alley. Helten, who goes by the handle Ashtrey, oversees the DTES Alley Mural Project. With paint donated by the Vancouver Mural Festival, artists from the neighbourhood, including Helten, are bringing some colour to the alley with a series of message-filled murals and memorials depicting everything from robots and geishas to hypodermic needles and the life-saving powers of NARCAN and Naloxone kits. 
"It's about taking back space," Helten says. "Instead of having some dirty wall, you can look at it as a canvas."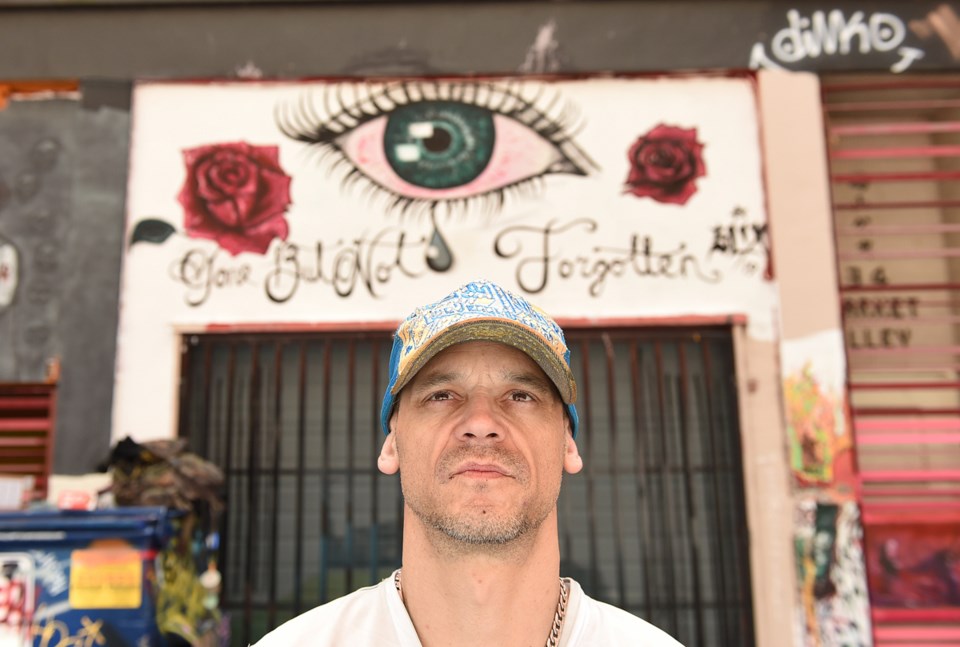 Steve "Slix" Rogal lost his mom, uncle and many friends to the city's fentanyl overdose epidemic. His mural "Gone but not forgotten" is a tribute to them, and his accompanying piece depicting the Grim Reaper above a clock and the words "Game Over" etched in blood on the knuckles carries a cautionary message.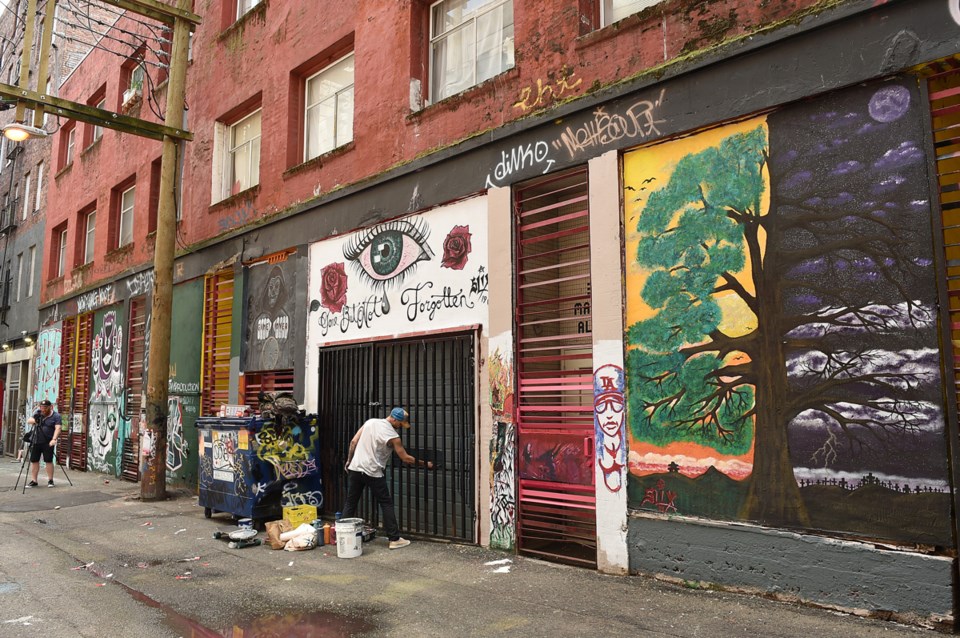 "There's a lot people who don't realize how dangerous this place is until they experience it firsthand," Rogal says. "If you're not careful back here, your time will be up, you know."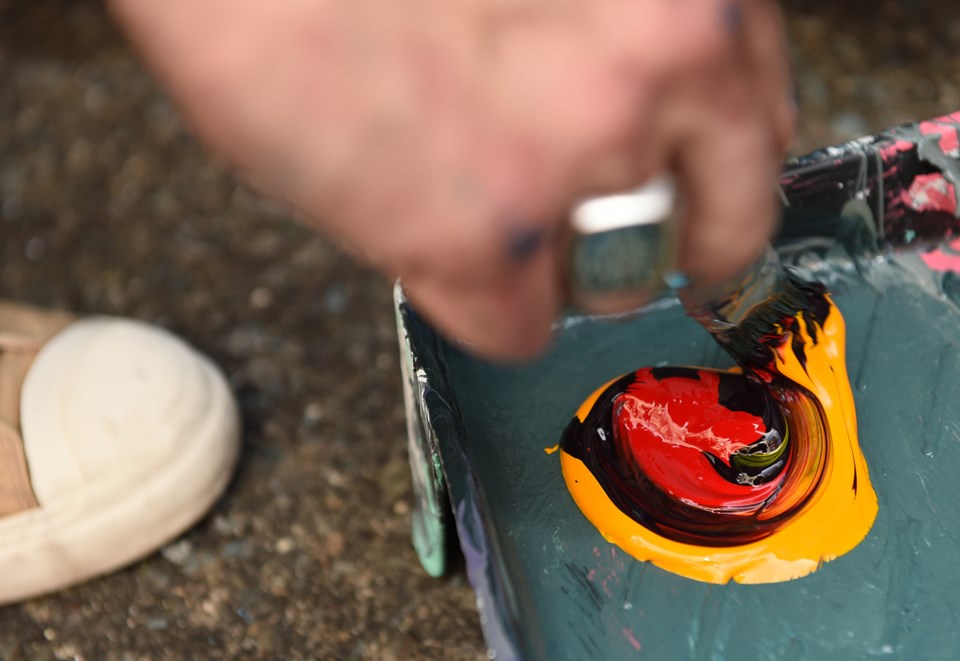 Jocelyn "Jose" McGillivray incorporated the neighbourhood's Asian influences into her sprawling mural that mixes bits of anime with geishas and dragons.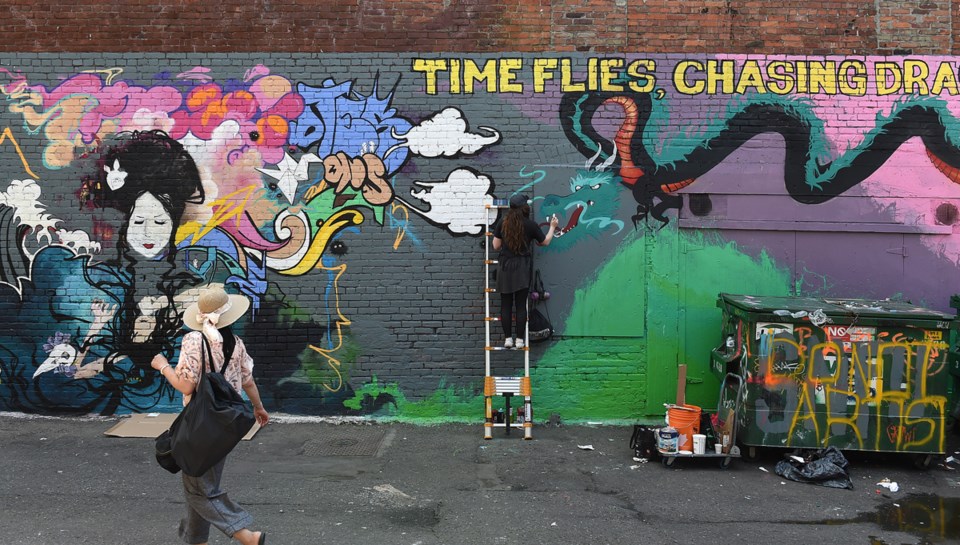 "It's a self-reflection of a girl," McGillivray says. "The bottom half is negative and the top half is positive. So you have a choice which to choose, positive or negative."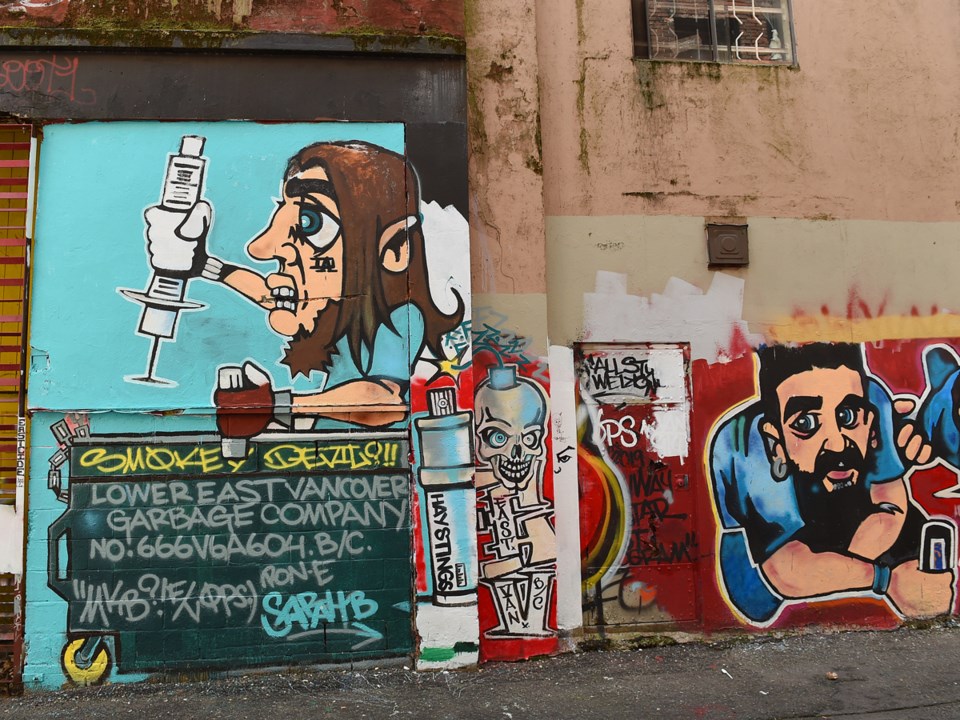 Graffiti artist James "Smokey Devil" Hardy is another neighbourhood resident lending his talents to the alley project. His cartoon character-like depictions of drug use and paraphernalia are well known across the Downtown Eastside.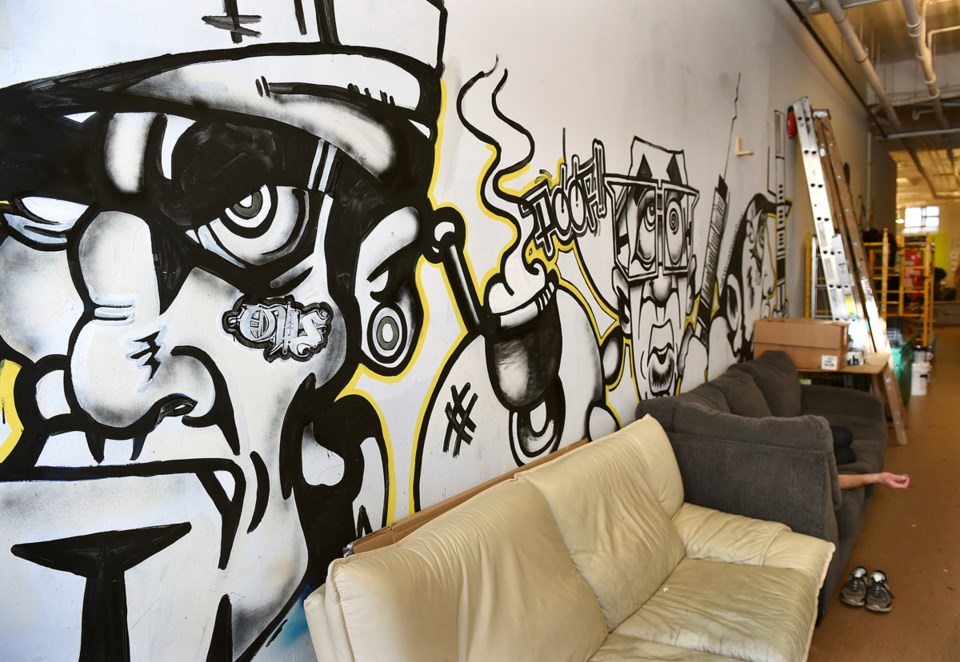 "I try to leave a message of some sort so someone can quickly read it and check it out and maybe think twice about being safe, and try and bring a brighter kind of outlook onto a dark area," Hardy says.
Besides sprucing up the alley, the mural project provides a venue for local artists, says Helten. There's also a GoFundMe campaign to fund some of the artists who live in the neighbourhood.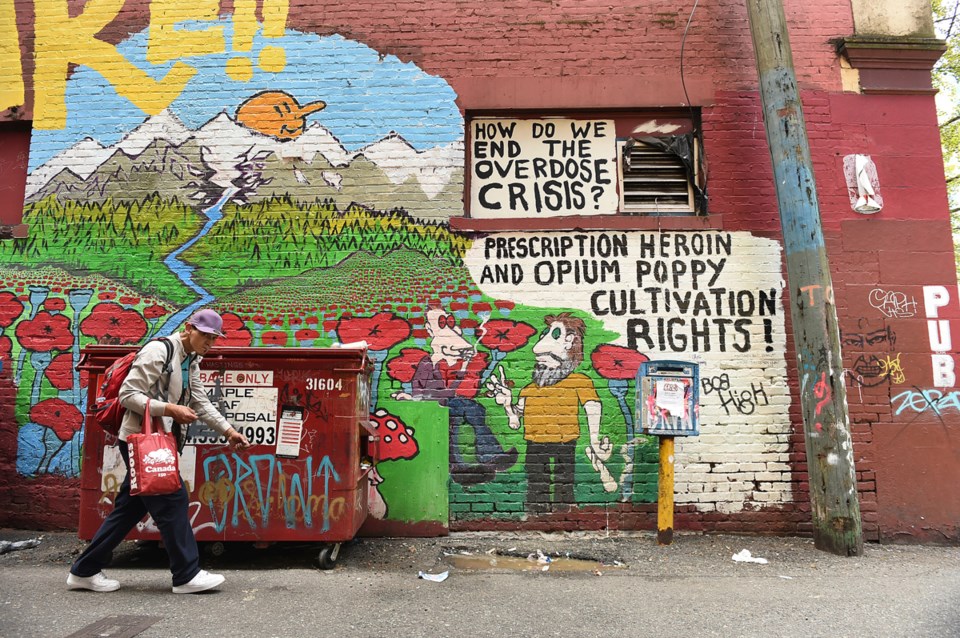 "The goal of the GoFundMe is to raise money to pay Downtown Eastside artists within the community a respectable artist's fee to paint and do what they love." Helten says. "Art is therapy. It's a really healthy thing for a lot of people."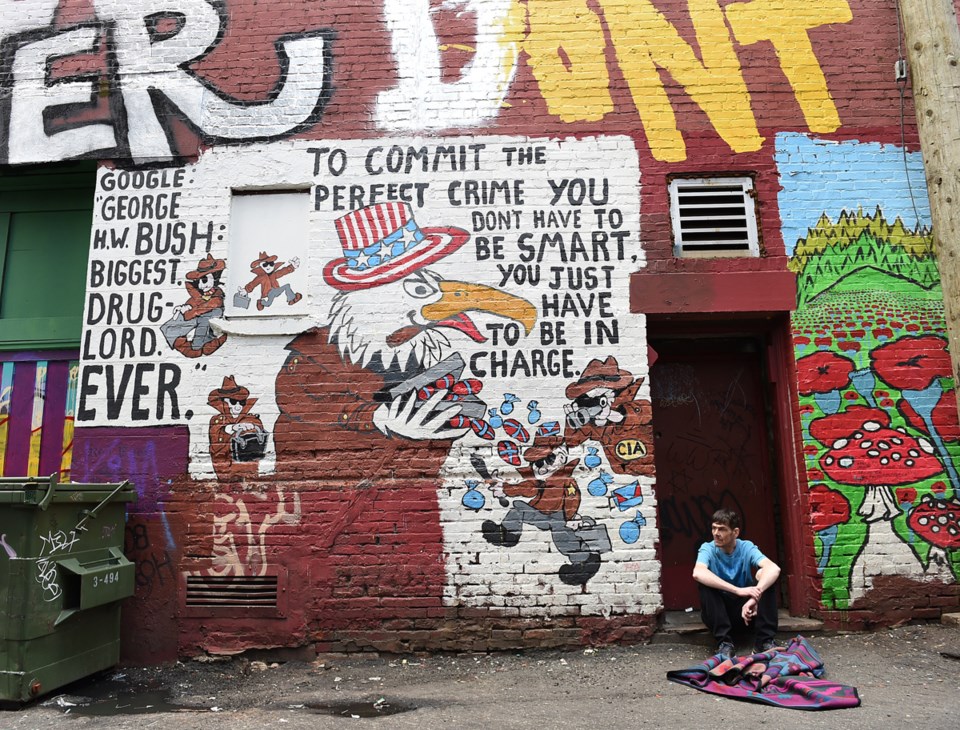 Other artists involved in the project include Shawn Hefele, Rybel, Boy, Tristan a.k.a. "Crack Baby," Colm Knight, Derrick Walker, Damien Mowry and Bob High.
For information about the GoFundMe campaign, go to gofundme.com/f/dtes-alley-mural-project.
For more on the mural project, watch the Courier's video BELOW: