Most of Vancouver's churches were built decades ago. They sit on often large chunks of land now worth up to millions of dollars. Meanwhile, church attendance in most denominations has fallen in the intervening years and many churches are underutilized. Even if congregations have remained large and vital, the buildings may not be accessible to the disabled and church buildings also tend to be poorly maintained.
As single-family homes are being demolished to accommodate multi-family or multiple-use buildings, so too are churches realizing that it is in their best interests to densify. This is not entirely new, but it seems to be more common than ever. In fact, a non-profit development company exists to guide them through the process and innovative financial institutions are sometimes encouraging churches to think of ways to maximize the impact of their holdings.
Catalyst Community Developments Society is a "nonprofit real estate developer," says president Robert Brown, "which many may think is an oxymoron."
A non-profit developer works with groups — not just churches but other charitable and non-profit groups with land holdings — to leverage their real estate for social change. The idea, Brown says, is to provide benefits for the non-profit and also for the community at large.
"Our focus is affordable rental housing and also affordable program space for community groups," he says.
Many churches have services and other programs throughout the week and lend or rent space to other groups. Still, it has always struck me that churches are among the most underutilized spaces in the city. Some churches are recognizing that their space could be more effectively used.
Oakridge Lutheran Church is one of many examples of churches undertaking imaginative steps to give their congregation a new lease on life while doing good for the community.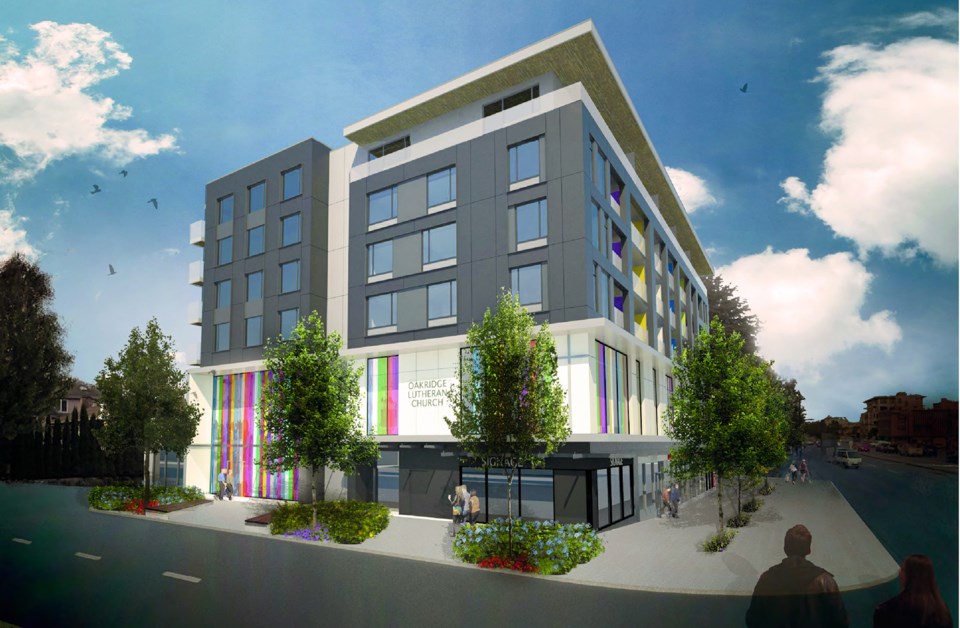 The church, just west of Cambie on 41st, directly across from Oakridge shopping centre, is into its sixth decade. It's a pleasant-looking building, with stone facia reflecting the Icelandic origins of those who built it. But while it is sitting on a sweet piece of real estate, it is inaccessible to the disabled and elderly and is in need of substantial upgrades.
About three years ago, the congregation started assessing its options, says Pastor Dorothy Chu.
"It's become a congregation that mainly are elderly people," she says. "We are lacking the younger generation." In addition to the structural and accessibility issues, the congregation concluded it could have more impact on its community by leveraging its superb location with better facilities and by providing something the city desperately needs: affordable housing.
The church is by no means giving up its core mission, says Chu. With a new building, they hope to expand their outreach to potential new congregants. But they also hope to do God's work in very tangible ways.
"If we can provide more services to the community, what can we do?" was the question congregants asked themselves. "We decided perhaps affordable housing is most appropriate on this location. I think gradually we decided to come to that point."
It was through Vancity credit union that Oakridge Lutheran made contact with Catalyst.
Together, they developed a vision for the project, and Catalyst is now shepherding it through the city's approval process. The plan is to build six levels, with retail space at street level. The second level, with its own entrance off Ash Street, would be the church's sanctuary and multipurpose community space. Atop this would be four more stories accommodating 46 units of housing intended to be offered at below market rates.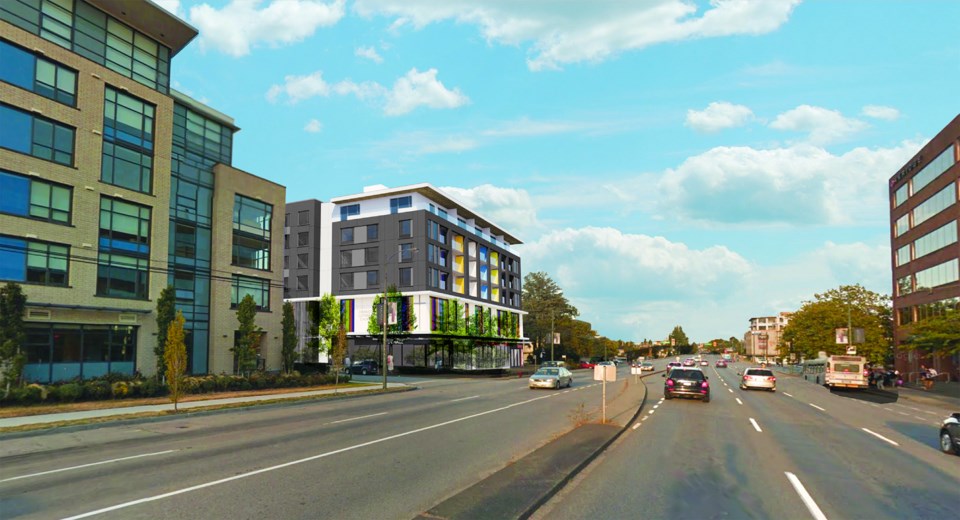 The ownership structure is what makes the whole undertaking financially ideal for everyone involved. The church will fully own its fresh new space with no cash outlay. The church and Catalyst divvy up the rental units, generating income in perpetuity. The retail space would be owned mutually with the income divided between them. The church gets a brand new space, constant and presumably not insignificant income, the community gets 46 units of below-market housing and a central space available for events and programs.
Oakridge Lutheran is not a heritage building but neither is it hard on the eyes. Could the pleasant old stone façade be incorporated into the new plan, I ask.
"The big challenge is that a lot of the buildings are actually in quite poor condition and kind of arguably are at the end of their useful life," says Brown. Probably more significantly, churches are often plunked right in the middle of a large piece of land, making it difficult to incorporate into a new plan so, like so many other nice looking but inconvenient structures in town, this one will likely see the bulldozer.
Although Vancouver is a notoriously perverse real estate market, this sort of partnership is becoming more common across Canada, Brown says.
"Everyone's trying to solve the same problems," he says, from churches needing to confront the renovation or replacement of their buildings to communities seeking more affordable housing, which means more efficient use of land.
Although Brown has been in the Vancouver real estate and development industry for years, Catalyst is only a couple of years old. At first, he wondered if the options open to his organization might be finite.
"I think, when we started Catalyst, we thought we might be limited by the opportunities but in fact that's just not the case," he says. "There's just so much potential and as churches become more aware of what their options are, then and the idea of being able to get a new facility, retain ownership in something more than just a church and being able to generate a revenue stream, I think there's going to be just more and more interest in it."
@Pat604Johnson