In the last days of Killarney Market, the beloved grocery store with the shamrock logo at 49th and Elliott, a customer browsing sale items came to a halt when she spotted the owner.
"Why are you retiring?" she cried.
"I'm 75!" said Tito Chiang with a smile, because he's actually 68.
It's the end of an era for Tito, who opened Killarney Market with his brother John in 1993. For 25 years, it was the anchor of a plaza in residential south Vancouver that was also home to medical offices, a Chevron and a Wally's Burgers.
Killarney Market was a rare independent grocery store that boasted the size of a chain supermarket and carried products from all over the world — everything from Turkish comb honey to smoked eel from Holland. Because the Chiangs came from Peru, there was an impressive Peruvian section with stock such as ají amarillo paste, made from a local chili, and cans of golden Inca Kola.
There's no "ethnic aisle" here. International goods are everywhere. "We have products from forty countries," said Tito proudly. He loves to travel, and every time he visited somewhere new, he'd pop into a grocery store to see if there's anything good he could stock at Killarney.
There was a joke among employees that "if you couldn't find a product, that country probably doesn't exist."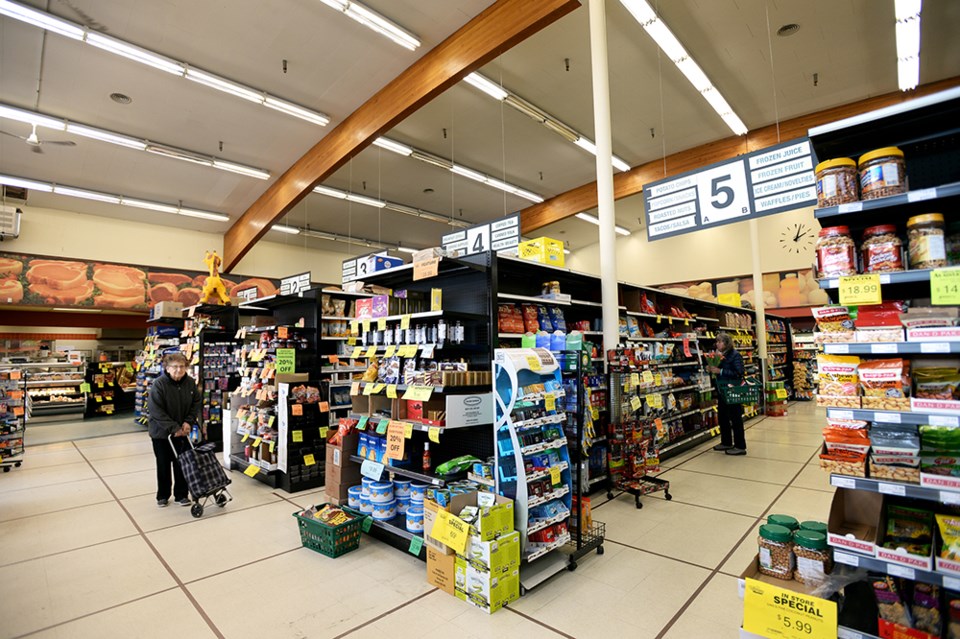 Tito was born into a family with connections dotted along Pacific coasts — the old routes of emigration from southern China. In 1967, after finishing high school, Tito visited Vancouver with his family, but by way of Mexico, Los Angeles, San Francisco, Honolulu, Japan, Hong Kong and China. "We were tracing those old routes," he said, "visiting my father's friends and family."
Tito settled in Vancouver in 1970 and went to the University of British Columbia.
"I became a chemical engineer by trade," he said. "I did very well, but the problem was, every time I got a promotion, I had to move somewhere else. Then the day after marrying, my wife said, 'None of this moving. I want to live in Vancouver.'"
To stay in one place, Tito decided to pursue what he knew: the grocery business. His family had a store back in Peru, which he had helped with.
In those days, a big Vancouver name in the grocery business was Tong Louie. He grew his father's company, H.Y. Louie, from a small family business in Chinatown to a grocery distribution giant. The company, with Tong at the head, also bought London Drugs in 1976 for $9 million.
Tito had a meeting with Tong Louie, who was Canadian-born but with Cantonese roots like Tito, and they started talking about family history. The topic of Tito's Canadian grandfather, who had lived in Vancouver since 1920 and had a farm on Marine Drive near Oak, came up. Louie asked his name, and it turned out they knew each other.
"Back then, Pender Street and Keefer Street used to be all wholesalers," said Tito. "All the farmers would take their produce there and merchants would go and buy stuff there. So that was how Tong Louie knew my grandfather.
"And because of that, just with a handshake, he helped me get financed and get started. At the time, that was all you needed: just a handshake, instead of a lot of contracts."
In the 1980s, the Chiang brothers had an IGA grocery store. It was family affair; their sister Nancy and their wives helped.
Then in 1993, the brothers decided to "go their own way" and open their own store, complete with a new name. They took a cue from the neighbourhood.
"We decided to call it Killarney Market," said Tito. There was once a community of Irish immigrants in the area, hence the neighbourhood's Irish namesake. The Chiangs added a shamrock to their green Killarney Market sign for good measure.
With a local name, they made sure the grocery store did local good.
Killarney Market helped local companies grow by carrying their products when they were starting out – there were Que Pasa's tortilla chips and Dan-D Pak's dried fruits, nuts and crackers. Donations were made to nearby churches and elementary schools; gift certificates for fundraisers and pumpkins in the fall. Tito made sure full-time employees got benefits. He hired a lot of young people, many from the nearby Killarney Secondary School, and watched as they graduated university. "One is doing her doctorate. I'm so proud. She's studying oysters and how global warming is affecting the oyster industry!"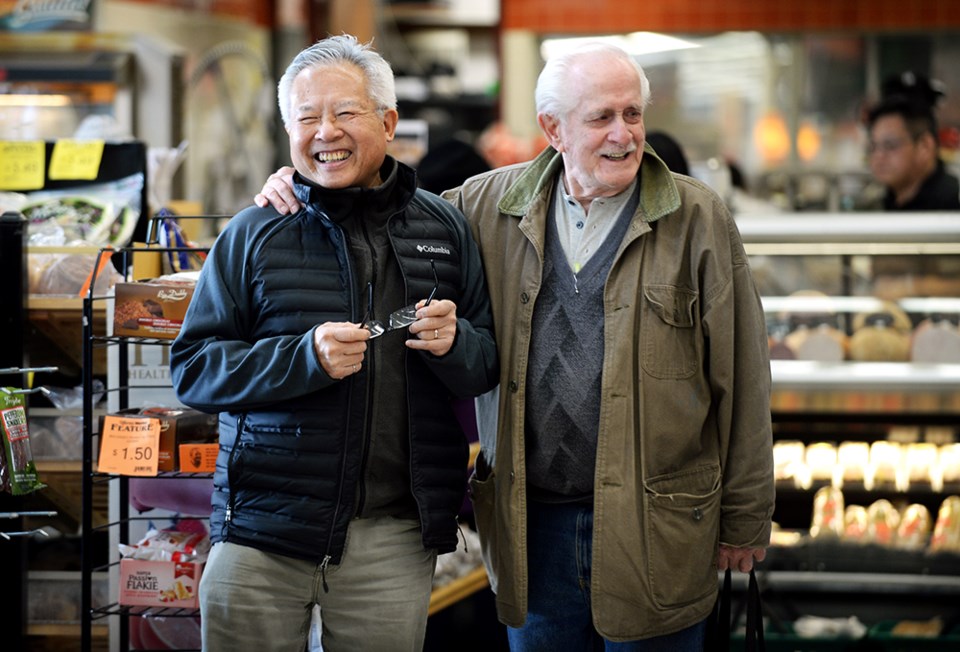 Tito hires very intentionally.
"Let me tell you one of my secrets," he said. "If young people come by themselves and they knock on my office door and say, 'Hello, sir. How are you? I'm looking for a job,' that's a plus.
"If they say, 'Hey, you got a job?' Or if their mom comes?
"Then I say, 'Hey, sorry.'
"We're in a business where you need to know how to deal with people. I need people who are alert. Somebody could fall on the floor, somebody could trip. So, on purpose, sometimes I look like I'm looking for something and drop my keys on the floor. You know only one of 10 kids pick up the keys? Most of them don't!
"And I say, 'Sorry, I don't think we can hire you.'
"They say, 'Well, I saw it, but I thought you were going to pick it up.' Or, 'Oh, I didn't notice.'
"We get a lot of older customers. If they drop their keys or their wallet, you need to be alert to immediately respond to them. So that's been a big part of us having such good workers."
One of those workers was Felipe Leon, who started at Killarney Market in 1996.
"It wasn't really something I wanted to do, though my parents also had a grocery business in Peru like Tito's," said Leon. "I had just come to Canada and I wasn't doing anything, so I worked part-time."
While still working at Killarney Market, Leon tried accounting, but didn't like it.
"And so Tito told me, 'You know, if you want more responsibilities, I'll give them to you.'"
Leon became a store manager, and was still there 22 years later.
"I had many opportunities to move to another store," he said, "but working with Tito has been a great experience. He was a mentor to all of us. Some people that worked with him already run a store, like Nesters Market."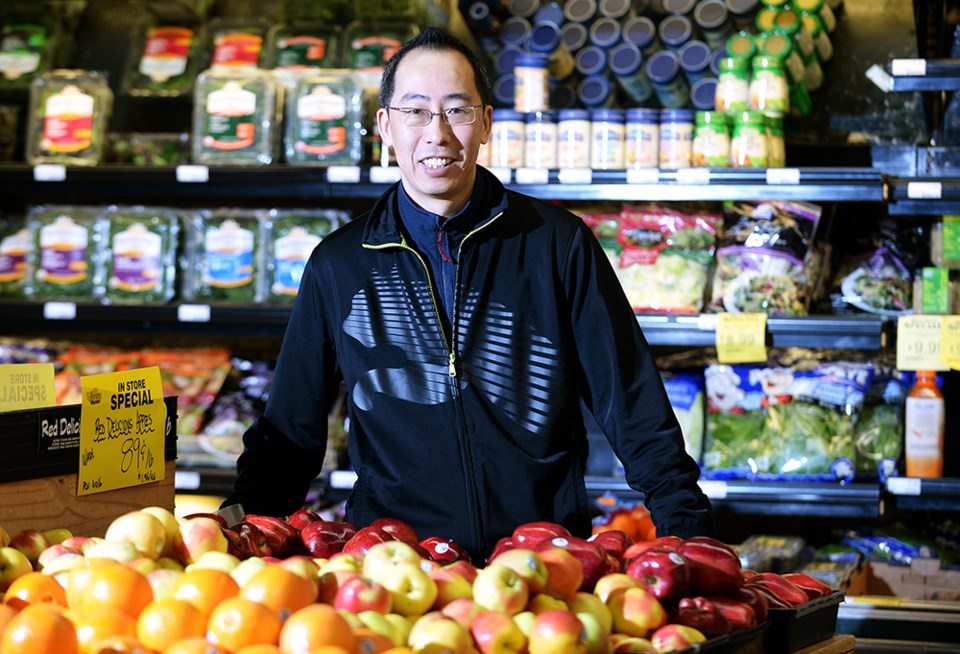 One important lesson he learned about Killarney Market from Tito: "Don't compete with the big guys."
"There's no point," said Leon.
Rather, play to the strengths of being independent.
"A small store like us, customers ask for something and we can source it right away," said Tito. "The response time is very quick."
It was direction like this that kept the store alive in a competitive industry, and in a city with escalating land costs that make it challenging for independent businesses to survive.
Well, direction, and a little bit of star power.
A man showed up at Killarney Market one day, but not to shop. He was looking for a local grocery store to film a music video for a Michael Bublé song called "Haven't Met You Yet." John Chiang got it set up.
"Michael didn't want a Safeway," said Tito, "But normally when they film a video, they erase the name — no Killarney Market.
"You know, the girl who is in the video, her name is Luisana Lopilato, and she's very popular in South America. She's gorgeous. She's got her own shows. She was an actress. And Michael started going out with her. She didn't speak English, so when she came here, she was delighted! My sister-in-law Violeta went to talk to her. We sold products from Argentina [where Lopilato is from] including their famous yerbe mate, and she said, 'Ah! Now I can cook something for Michael!'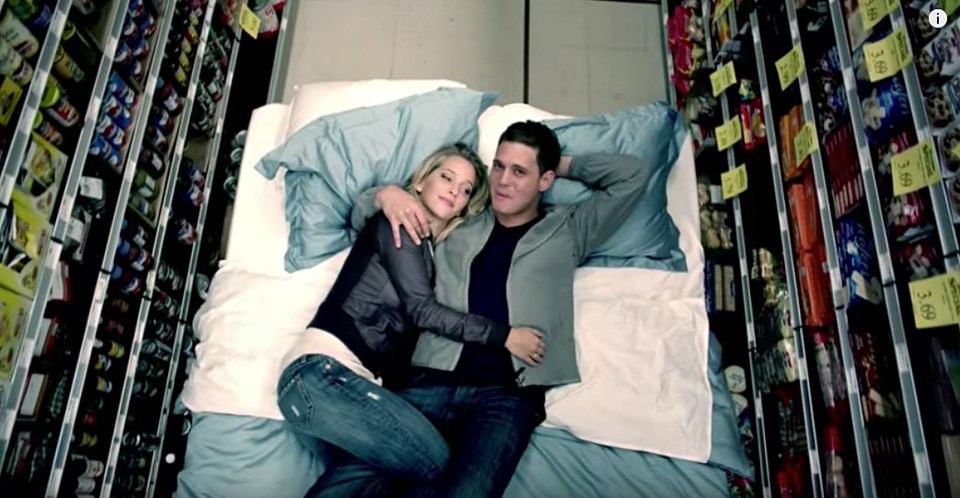 "And then my sister-in-law asked Luisana if they could leave the name of the market in the video. And she said, 'Don't worry. I'll get him to do that.'
"They filmed the video for two nights," Tito recalled. "The second night, the whole neighbourhood was watching." There was a big dance scene in the parking lot with confetti. Bublé took the time to sign some autographs.
"And then one day, I got a call: 'You should tune into Oprah!' Because that's where the video came out. I saw the first shot, and there it was: Killarney Market! Luisana did it! She got Killarney Market in there!'
"And of course, it made us known. People kept asking us, 'Did Michael come back?' And we said, 'We've been begging him not to use Killarney Market anymore 'cause it's time he made a name for himself.' Just kidding, of course."
Tito sent a link to the video to his friends and relatives in Peru. "They didn't know who Michael Buble was. He wasn't so famous yet. Luisana they knew, but not Michael. They said, 'Oh, by the way, the guy who sings? You guys should tell him to pursue a career.' They thought he worked in our store. They thought it was a commercial for the store."
That was 2009.
Seven years later, John Chiang decided to retire. Two years after that, Tito decided it was his turn as well. He worked around seven days a week.
But Tito didn't want to sell Killarney Market to just anybody.
"I wanted to find somebody who would take care of my workers," he said. "I didn't want to sell it to a chain store. To the big guys, you're just another person. Most of them won't give you more than 30 hours so that they don't have to pay your medical, dental plans."
It happened that there was another grocery store, not too far away, that was looking for a second home. It was also an independent shop.
At Victoria Drive and 32nd, on the same block as the German community's Vancouver Alpen Club, is 88 Supermarket. Ken Chau, who had a Richmond seafood business, opened the grocery store in 2006. While there are lots of mom-and-pop food businesses on Victoria Drive — most of them Cantonese: bakeries, meat shops, greengrocers — Chau said he wanted 88 to be a "one-stop shop."
Like Killarney Market's shamrock, 88 also a bit of luck in its brand; 88 is a lucky number in Chinese cultures, because, when spoken aloud, the number eight sounds like the word for fortune.
88 has an impressive Southeast Asian selection, but also carries products from around the world: tortilla presses, Portuguese sardines, longaniza, and Coco Rico, a Puerto Rican soda that you can drink, but is popular at 88 with Vietnamese customers who like to use it in braised dishes like catfish and thịt kho (caramelized pork).
88 doesn't have as much square feet as Killarney Market, but it's got more employees. Killarney Market has about 40; 88 has more than double that. Lines are often long. So owner Ken Chau was looking for a spot for a second location.
"A common friend of ours got us together," said Tito, "and we hashed things out."
As Killarney Market transitions into an 88, Khaleel Qureshi, 88's general manager, said, "People are keeping their jobs. Nobody is getting laid off. Killarney Market has had people there working for 15, 20 years, so we're going to treat them as if they've been working for us that long."
Qureshi's also been in the grocery business for a long time. In 2002, he started working at the Buy-Low that was at 88's Victoria Drive location before it took over. Before that, in Pakistan, he helped out at his dad's store, which sold agricultural goods such as seeds and fertilizer. "He taught me a lot," he said.
In recent years, North American chain supermarkets like Safeway have been trying to tap into the immigrant market.
Qureshi says the best kind of market is one that responds to and reflects the people. That's why 88 is both global and local. They carry international goods, but also basics like cereal and peanut butter.
"Right now, the Spanish and Latin communities are very big at Killarney, so we're going to give more space to those kinds of products," he said. "If later we have a high demand for Chinese products, then we might bring in more of that.
"If we know something is not working, then we respond to it. We change very quickly. We're not just focused on one community. We're focused on everyone who's around. That's diversity, and we embrace it."
Killarney Market is closing today (Feb. 27). But its sale to 88 is bucking a trend in an industry that Tito describes as "big stores eating little stores."
Even Leon is sticking around. "I'm taking Tito's job!" he said.
Everything was 20 per cent off during Killarney Market's final days. The shelves slowly cleared – Russia, Poland, the Balkans, Peru.
"It's so empty," said Tito on one of his final afternoons.
But it won't be for long.
bychrischeung@gmail.com